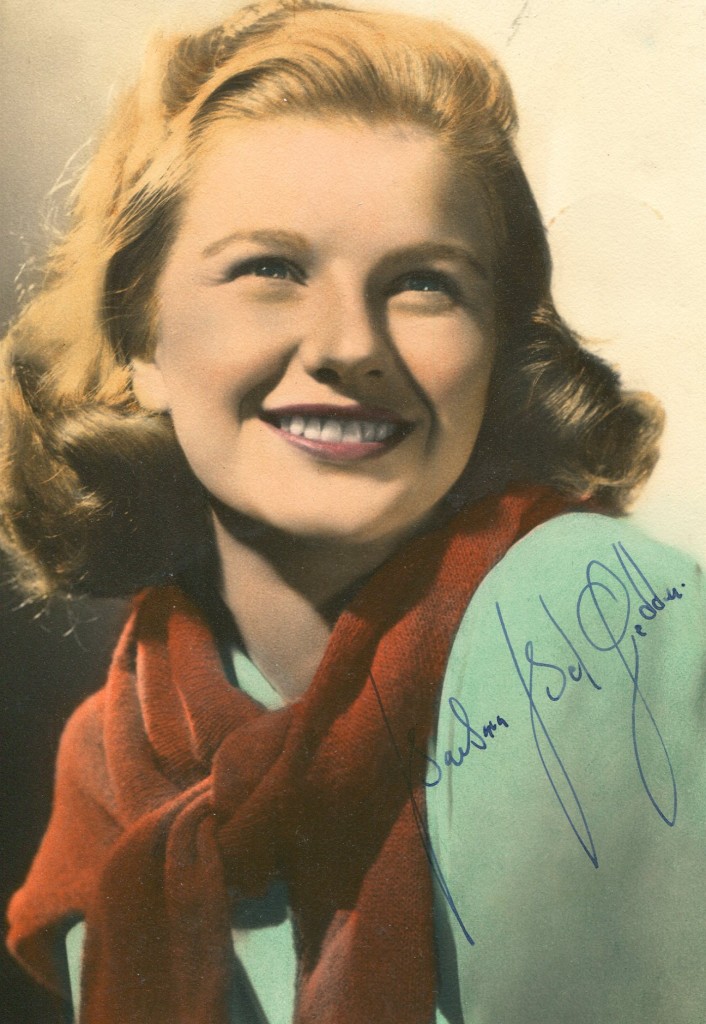 Barbara Bel Geddes is remembered today for her performance as'Miss Ellie' in TV's long-running "Dallas" which ran from 1978 until 1991. She did though star in some fine movies during the 1940's and 1950's such as "The Long Night" opposite Henry Fonda in 1947, "I Remember Mama" in 1948 and "Vertigo" opposite James Stewart and Kim Novak in 1958. She died in 2005.
"Guardian" obituary:
To viewers, all over the world, of the television series Dallas, Barbara Bel Geddes, who has died of cancer aged 82, was Miss Ellie, mother of the evil JR and his younger, wimpish brother Bobby. As the matriarch of the Ewing oil clan, she starred in that extraordinarily successful television series from its premiere in 1978.
When Jim Davis – the actor who portrayed Ellie's ruthless husband Jock Ewing – died of cancer at 72 in 1981, scripts for Dallas were rewritten so that he was killed in a South American helicopter crash. Miss Ellie finally came into her own, copiously grieving for Jock, but now firmly at the centre of the hilariously complicated family intrigue.
In Dallas, Bel Geddes brilliantly portrayed the kind of mother one has always longed for, or had nightmares about. Without batting a tearful eye she automatically gave absolution to her children, husband and in-laws for their seemingly endless cycle of chicanery. The family was all; one felt she would have forgiven Hitler if only he had been a Texas Ewing.
Most Dallas fans had little idea Bel Geddes had a long stage and film career. Born in New York City, she was the daughter of the futuristic architect and stage designer Norman Geddes and an English teacher, Helen Belle Sneider. Educated at private schools, at 16 she was expelled from Putney School in Vermont for being a "disturbing influence" – she had apparently kissed a boy.
It was via her father that she got her first jobs in summer theatre in Connecticut in her teens and had her first walk-on in the comedy, Out Of The Frying Pan, in 1940. In 1945 she was chosen by the director Elia Kazan for the leading role in Deep Are The Roots, an interracial love story for which she won the New York Drama Critics Award as the outstanding young actress of the year.
It was around then that she told a journalist that she wanted to appear in the movies: her ambition, she said, was to work for directors like Kazan, Frank Capra, George Cukor or Alfred Hitchcock. She didn't abandon Broadway but, in 1946 signed her first film contract, with RKO, which stipulated that she had to make only one movie a year; however, as she said later, she loved movies. She was very effective as the innocent waif in her first film, Anatole Litvak's The Long Night (1947), a remake of Le Jour Se Lève in which Henry Fonda rescues her from the Svengali-like embrace of Vincent Price.
The following year she won an Academy Award nomination for playing Irene Dunn's 17-year-old daughter in George Stevens's I Remember Mama – Bel Geddes was 26 at the time. In 1948 she co-starred with Robert Mitchum in an impressive western, Blood On The Moon, directed by Robert Wise. Then Howard Hughes purchased RKO and dropped Bel Geddes, because, he decided, she wasn't sexy enough.
She was deeply upset, and refocused on Broadway, while remaining in the movies. In 1949 she starred in Caught, directed by Max Ophuls, opposite James Mason, and distributed by MGM. The following year Kazan cast her as yet another worried nice girl in Panic In The Streets for Twentieth Century Fox.
In 1951 she appeared in Henry Hathaway's thriller Fourteen Hours. That was her last film until Alfred Hitchcock's Vertigo (1958). There she played James Stewart's former fiancée, who witnesses his deranged pursuit of Kim Novak. Her work with the director extended to television's Alfred Hitchcock Presents. In 1958 she played the wife who batters her husband to death with a frozen leg of lamb – and then eats it.
On Broadway she was in The Moon Is Blue (1951) and Graham Greene's The Living Room (1954). In 1955 she played Maggie in Tennessee Williams's Cat On A Hot Tin Roof, but she was rarely given a chance to explore this angry, sexual side of herself. Thus, Bel Geddes never quite outgrew ingenue roles – in one interpretation, Miss Ellie is only a cute teenager with developmental problems.
After Cat On A Hot Tin Roof, she was in Terence Rattigan's The Sleeping Prince (1956) on Broadway and in 1959 played opposite Henry Fonda in Robert Anderson's Silent Night, Holy Night. Her greatest commercial triumph on Broadway came two years later with Jean Kerr's comedy Mary, Mary, which ran for 1,500 performances. In 1967 she starred in Edward Albee's Everything In The Garden.
While Bel Geddes was often typecast as a chronic worrier over impending disaster, there was another quality buried deep inside her performances that was seldom allowed release: a certain maternal malice, a penchant for psychic murder while smiling through tears. In the suspenseful run-up to the climactic "who shot JR?" episode of Dallas, a surprising number of viewers predicted (wrongly) that Miss Ellie did it. They saw something in her that most directors preferred to ignore or sublimate.
After the 1950s, Bel Geddes' movie roles had dwindled. In 1959 she featured as the wife of Red Nichols (Danny Kaye) in a biopic about the jazz cornet player, after which there were only a further four films. Indeed, she had retired from acting to tend for her sick husband Windsor Lewis, who died of cancer in 1972.
In resuming her career she had trouble finding parts until, in 1978, Dallas came along. In 1984 Bel Geddes had a heart attack, with the result that the role of Miss Ellie was taken over by Donna Reed. But, after six months Bel Geddes returned – Reed sued to keep the job – and remained in the role until a year before Dallas ended in 1991.
Bel Geddes also wrote and illustrated two children's books.
Her first marriage, in 1944, was to Carl Schreur, an electrical engineer; they had a daughter, and divorced in 1951. She married Lewis, a Broadway director that year, and had a daughter. Her daughters survive her.
· Barbara Bel Geddes, actor, born October 31 1922; died August 8 2005
Her Guardian obituary can also be accessed here.