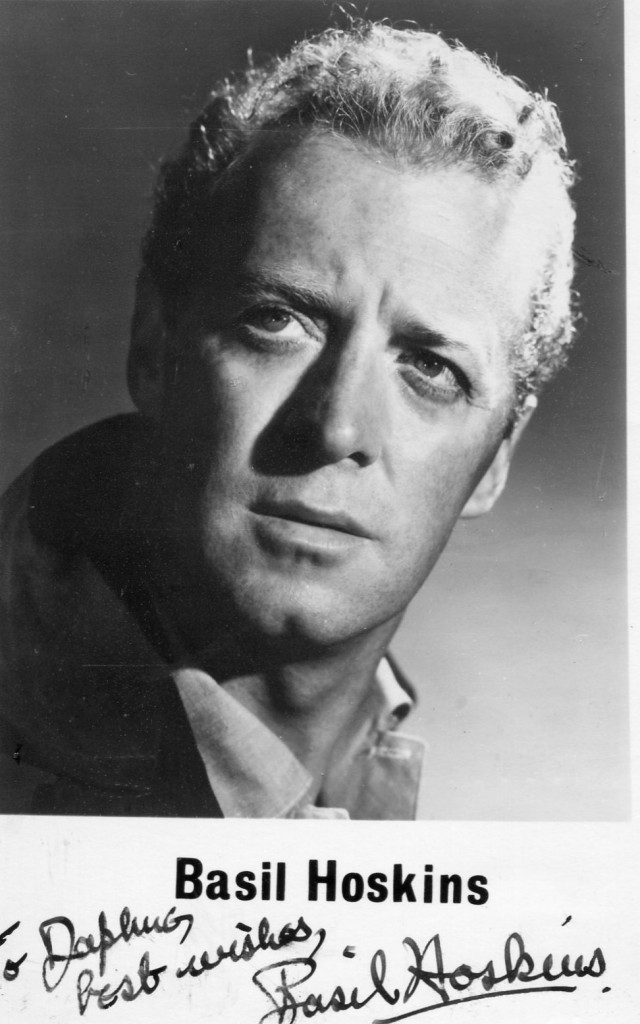 Basil Hoskins was born in 1929. He trained at RADA in London. He spent five seasons with the Shakespeare Memorial Company at Stratford. He played opposite Lauren Bacall in "Applause" in London's West End in 1971. His movies include "Ice Cold In Alex" in 1958 and "North West Frontier" in 1959. He died in 2005.
His obituary from The Telegraph :
Basil Hoskins, who has died aged 75, was a character actor in the romantic mould and dedicated his career, which spanned nearly half a century, to the theatre.
Alternating between the classics and musical comedy, Hoskins had the height, looks, carriage and voice to range from suitors and flirts, deceived husbands and anxious lovers, to sardonic men of the world. Heartthrobs were an early speciality.
To earn a living he had, somewhat against his will, to work in television. In Emergency Ward 10, Hoskins was the flirtatious Dr Lane-Russell; and, when he wanted to return to the theatre, it proved difficult to write him out.
Lane-Russell had already been up before the General Medical Council, so the scriptwriters had him propose to a staff nurse who turned him down, driving him to find work in a public health department.
Hoskins did, though, still appear in television dramas, among them The Prisoner, Clayhanger, New Avengers, The Return of Sherlock Holmes, The Blackheath Poisonings and Cold Comfort Farm. His film credits included Ice Cold in Alex, The Millionairess, North-West Frontier, Lost in London and Heidi.
Basil William Hoskins was born on June 10 1929, and trained at Rada. A devotee of Shakespeare from the beginning, he joined the old Nottingham Playhouse company as Duncan for the revival of John Harrison's production of Macbeth in 1951; after a stint in Victorian music hall he moved to Robert Atkins's Open Air Theatre in Regent's Park.
According to The Daily Telegraph, as Orlando to Mary Kerridge's Rosalind Hoskins covered "the vast distances of the grassy stage with a good stride" and put on a wrestling match "in which necks seemed likely to be broken at any moment".
Hoskins then spent five seasons with the Shakespeare Memorial Theatre Company at Stratford-on-Avon. He appeared as Bassanio in The Merchant of Venice; Demetrius in A Midsummer Night's Dream; Fortinbras in Hamlet; Ferdinand to Geraldine McEwan's Princess in Peter Hall's first Stratford production, Love's Labour's Lost; and as Lucius to Laurence Olivier's Titus Andronicus (with Vivien Leigh and directed by Peter Brook).
Touring Australia with the Old Vic in the 1950s, Hoskins played Bassanio opposite Katharine Hepburn's Portia in The Merchant of Venice.
Hoskins's first West End lead came opposite Vivien Leigh in Jean Louis-Barrault's production of Jean Giraudoux's last play, Duel of Angels (Apollo, 1958). Opposite Alec Guinness in Terence Rattigan's Ross (Haymarket, 1960), Hoskins appeared as a Turkish Captain; and three years later he enjoyed himself as Worthy, a lady-killer, in Virtue in Danger (Mermaid), Paul Dehn's musical version of Vanbrugh's Restoration comedy, The Relapse.
With Robert Tannitch's Highly Confidential (Cambridge, 1969), Hoskins launched the first of a series of manly admirers of star actresses; three years later he had a similar part in the American musical Applause (Her Majesty's) opposite Lauren Bacall.
After touring in Stephen Sondheim's Little Night Music, Hoskins found himself again singing an actress's praises – this time Noele Gordon's – in Irving Berlin's Call Me Madam (Victoria Palace, 1983). He continued to appear in musicals in London into the 1990s, and also did much fine work out of London.
Basil Hoskins never married; for many years he was the companion of the late Harry Andrews.
The Telegraph original obituary can be accessed here.