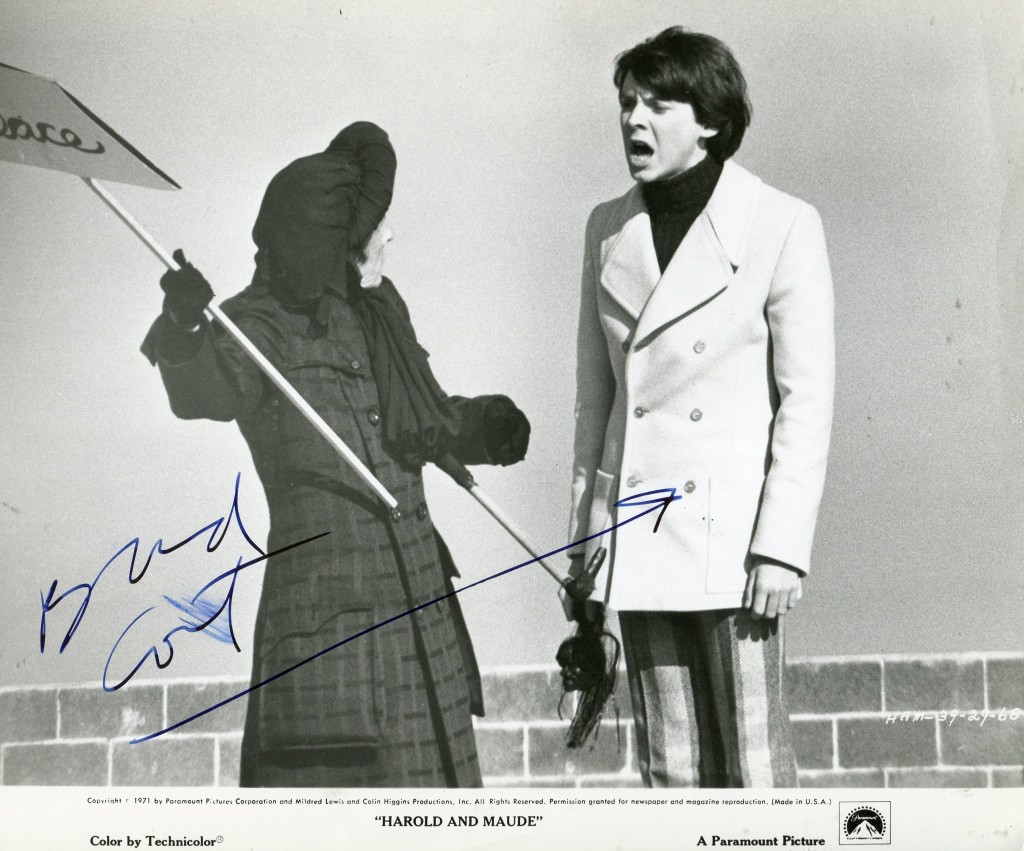 TCM overview:
Branded as Hollywood's preeminent manchild after playing misunderstood youths in Robert Altman's "Brewster McCloud" (1971) and Hal Ashby's "Harold and Maude" (1971), Bud Cort found it difficult to find steady work as an actor when the film industry homogenized mid-decade. Sidelined by traumatic injuries suffered in a 1979 automobile accident that coarsened his youthful appearance, the former mentee of Groucho Marx turned to character work at home and abroad. In addition to contributing memorable supporting roles to Amy Jones' "Love Letters" (1983), Andre Konchalovskiy's "Maria's Lovers" (1984) and Tobe Hooper's 1986 remake of the sci-fi classic "Invaders from Mars," Cort was called upon to play the occasional lead in such offbeat projects as "The Secret Diary of Sigmund Freud" (1984) and "Bates Motel" (1987), a busted pilot for a proposed NBC series based on Alfred Hitchcock's "Psycho" (1960). More than a decade after his film debut, one of the actor's more prominent film appearances found him shunted out of the frame entirely as the voice for a lovelorn computer pining for cellist Virginia Madsen in the CD-rom-com "Electric Dreams" (1984). Seen later in his career in diverse roles in Michael Mann's "Heat" (1995), Kevin Smith's "Dogma" (1999) and Wes Anderson's "The Life Aquatic with Steve Zissou" (2004), Cort proved himself to be the unlikeliest of Hollywood survivors and a rare juvenile performer able to transition successfully to mature roles.
Bud Cort was born Walter Edward Cox in New Rochelle, NY on March 29, 1948. Raised with his four siblings in the nearby town of Rye, where his parents ran a clothing store, Cort was influenced by his father's interests in art and music. A child protégé who won commissions to paint portraits before he had reached his teenage years, Cort became interested early on in a career as an actor. By age 14, he was commuting into Manhattan to study the craft with renowned coach William Hickey at HB Studios in Greenwich Village. Following his graduation from New Rochelle's Iona Preparatory School, Cort applied to New York University, where he later enrolled as a scenic design major. Continuing his study of acting off-campus, Cort performed in a number of musical and comedy revues while winning bit parts in such films as Warner Brothers' "Up the Down Staircase" (1967) and Universal's "Sweet Charity" (1968). Discovered by film director Robert Altman, Cort was slotted into the ensemble of the auteur filmmaker's Korean War satire "M*A*S*H" (1970), in a memorable bit as a wide-eyed Army private who bungles his duties during emergency surgery. In short order, the fledgling actor racked up a number of memorable roles on both coasts, in Stuart Hagmann's campus protest drama "The Strawberry Statement" (1970), in Roger Corman's apocalyptic fantasy "Gas-s-s-s: Or It Became Necessary to Destroy the World in Order to Save It" (1970), and in Jack Smight's bizarre capital punishment comedy "The Traveling Executioner" (1970), for which Cort received third billing after stars Stacy Keach and Mariana Hill. Though the latter role offered Cort's his widest potential national exposure, the MGM release's failure at the box office made it a negligible résumé-builder.
Cort fared better when Robert Altman called upon him to be the star of "Brewster McCloud" (1971). A quirky independent comedy that helped define the renegade spirit of the New Hollywood of the early-to-mid 1970s, "Brewster McCloud" foregrounded Cort as a reclusive genius who lives in a fallout shelter beneath the Houston Astrodome. Part fish-out-of-water tale, part murder mystery, the film was crammed, in true Altman fashion, with a score of outsized characters but Cort remained the centerpiece and his intentionally awkward but endearing performance made him Hollywood's go-to young weirdo. That characterization was minted when he was cast opposite elderly actress Ruth Gordon in Hal Ashby's "Harold and Maude" (1971), as a morbid young man who falls in love with a senior citizen. The film drew early negative notices from the critics, prompting the studio to pull the film from wide release. The feature did better in university cities such as New York and Boston, where word of mouth turned it into a bona fide cult movie which ran for years on the repertory circuit. In real life, Cort moved to Los Angeles and developed a strong, if strictly platonic, relationship with another feisty senior citizen – Groucho Marx, who at the time had suffered a debilitating stroke. Marx and Cort shared the same analyst in Los Angeles and Marx eventually invited the young actor to share his Bel-Air home. When Marx died from complications of pneumonia in 1977, Cort was at his side.
Cort's popularity with cult film aficionados came at the price of reduced value in Hollywood. He spent two years working as a juice-maker in a health food store on the Sunset Strip and when he made the decision to return to acting he found he had to travel for work – to Italy for a role as a college student involved in the drug trade in "Hallucination Strip" (1975), to Canada to play a Depression era frontier school teacher in "Why Shoot the Teacher?" (1977), and to Germany for "Son of Hitler" (1978), to play the presumed heir of the late Fuhrer. On TV, Cort appeared in the NBC miniseries "Brave New World" (1980), based on the dystopian novel by Aldous Huxley. After a June 1979 automobile accident in which he suffered a fractured skull, traumatic facial lacerations and the loss of several teeth derailed Cort's career for a year and a half. While Cort underwent physical therapy and follow-up surgeries, producer Jon Peters pushed back the start date of a film in which Cort had been cast before his accident, providing the ailing actor with a much-needed paycheck. Cast as a villain in the screwball comedy "Die Laughing" (1980), Cort was able to use his facial deformity to his advantage but subsequent film offers were few and far between. Turning to television, he played a man coping with disfigurement in a 1982 episode of the syndicated religious series "Insight" (1960-1984). A decade after their first onscreen pairing, Cort reunited with his "Brewster McCloud" co-star Shelly Duvall for two episodes of "Faerie Tale Theatre" (1982-1987), an anthology series broadcast by the cable channel Showtime.
Hiding his scars behind the bangs of a New Wave haircut, Cort contributed a cameo to "Love Letters" (1983), starring Jamie Lee Curtis, and wore a beard for the title role in "The Secret Diary of Sigmund Freud" (1984), filmed in Yugoslavia. He provided the voice of a capricious home computer who develops strong personal feelings for symphony cellist Virginia Madsen in MGM's "Electric Dreams" (1984) and popped up in Andre Konchalovskiy's post-WWII drama "Maria's Lovers" (1984), providing support to stars Nastassja Kinski, John Savage, Keith Carradine and Robert Mitchum. Pushing 40 years of age, Cort segued to character parts in Tobe Hooper's "Invaders from Mars" (1986) remake and in John Moffitt's historical satire "Love at Stake" (1987) but played a rare leading role in "Bates Motel" (1987), the unsold pilot for a proposed NBC series based on Alfred Hitchcock's classic horror film "Psycho" (1960). In 1991, Cort directed the offbeat romance "Ted & Venus," whose supporting cast consisted of Woody Harrelson, James Brolin and LSD guru Timothy Leary. Memorable assignments in features included an uncredited bit as a nasty diner manager in Michael Mann's "Heat" (1995), roles in Kevin Smith's "Dogma" (1999), Wim Wenders' "The Million Dollar Hotel" (2000), and Ed Harris' "Pollock" (2000), and an extended turn as explorer Bill Murray's long-suffering business manager in "The Life Aquatic with Steve Zissou" (2004), directed by Wes Anderson. Cort provided additional unbilled cameos to the Jim Carrey vehicle "The Number 23" (2007), appearing onscreen barely long enough to slit his own throat, and to Mitch Glazer's "Passion Play" (2010), alongside Mickey Rourke, Megan Fox and Bill Murray.
By Richard Harland Smith
The above TCM overview can also be accessed online here.