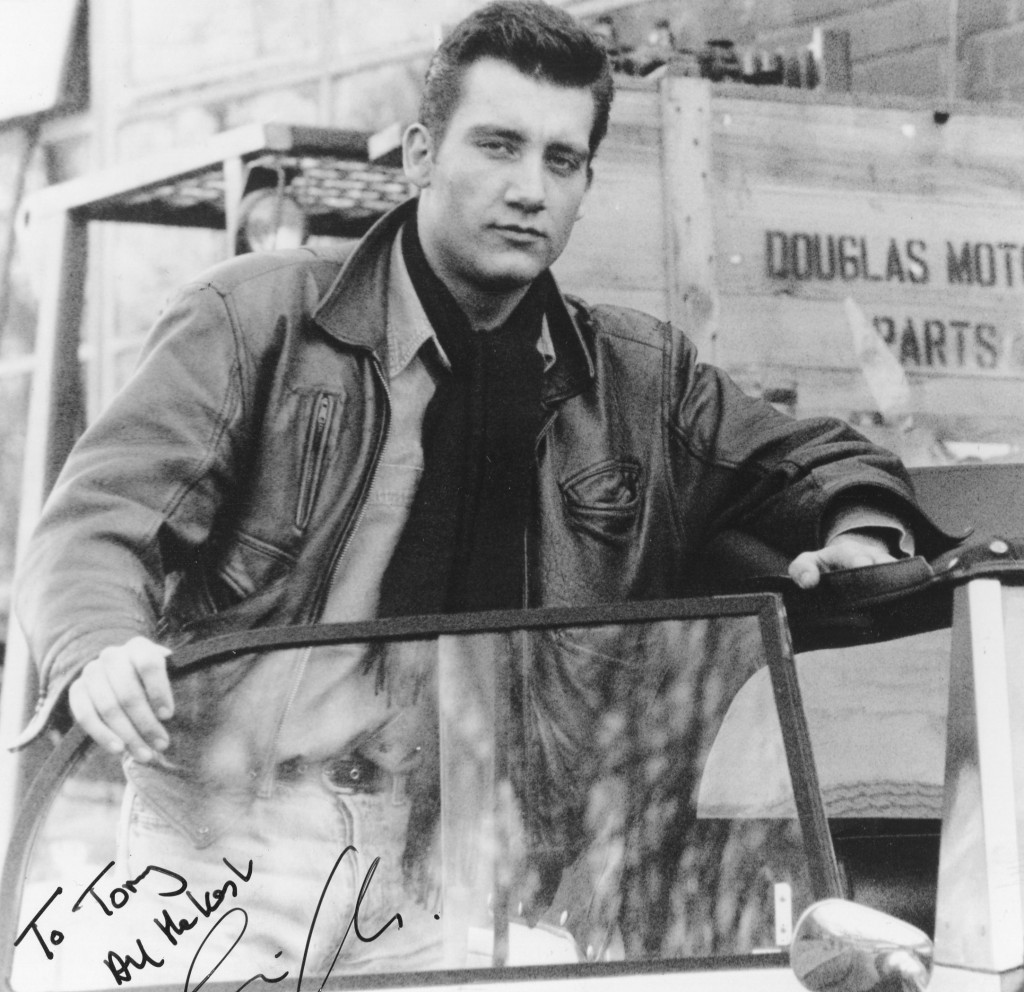 Clive Owen was born in 1964 in Coventry. He first came to prominence in the UK with his performance in the lead in the cult TV series "Chancer" in 1990 and 1991. His cinema fame came with "Close My Eyes" in 1991. He has since made films in Hollywood and on the international scene. His movies include "Gosford Park", "The Bourne Identity", "Closer" and "Sin City".
TCM overview:
After a decade of steady work on British television, actor Clive Owen broke out internationally with American art house success of the taut crime-thriller "Croupier" (2000). With his rugged good looks and low key charm, comparisons to the great Sean Connery seemed inevitable as he delivered a series of strong performances in such films as "Gosford Park" (2001) and "The Bourne Identity" (2002). Nearly unanimous praise was heaped on the actor for his wicked performance in Mike Nichols' brutal relationship drama, "Closer" (2005) – in a role he had originated on the stages of London – followed by a stylistic about-face as part of Robert Rodriguez's hyper-stylized neo-noir "Sin City" (2005), adapted from Frank Miller's graphic novel. His work in the intelligent, affecting and ultimately terrifying look into the near-future "Children of Men" (2006) secured Owen's status as one of Hollywood's top talents. He showed exceptional comic timing opposite Julia Roberts in the sexy satire "Duplicity" (2009) in addition to a willingness to tackle historical icons in acclaimed work like "Hemingway & Gellhorn" (HBO, 2012). While harkening back to the leading men of film's golden era, Owen also brought to the table an unmistakably 21st-Century artistic sensibility, making him both an actor's actor and bona fide movie star.
Born on Oct. 3, 1964 in the small town of Coventry, England, Owen was raised in a fairly rough neighborhood by his country music singing father, who was divorced from his mom in 1968. Owen knew early on that he wanted to be an actor after playing the Artful Dodger in a school production of "Oliver!" When he was 13 years old, he joined a youth group run by the Coventry Theatre while a student at Binley Comprehensive. Accustomed to poverty and occasional violence, Owen spent two years after graduating high school on the dole while trying to jump-start his acting career. He previously tried applying to the Royal Academy of Dramatic Art (RADA), but decided instead to drop out of civil society and make it on his own terms. Two soul-sucking years later, Owen reapplied to RADA and got in. He was fortunate enough to be working with a group in school that was workshopping a Howard Barker play that had yet been put to market. The play later opened at the Royal Court, attracting agents wishing to represent young Owen before he had the chance to even graduate.
After graduation, he took to the stage at the Young Vic, playing Romeo in "Romeo and Juliet" – where he met his soon-to-be wife, Sarah-Jane Fenton, who played Juliet – and Claudio in "Measure for Measure." Owen made his feature debut in "Vroom" (1988), a story about three people – Owen, David Thewlis and Diana Quick – who escape their dreary surroundings and go on a road trip that suddenly turns disastrous. That same year, he displayed his darker side as a psychopath in the BBC adaptation of "Precious Bane," which aired in America on PBS' "Mystery!" before turning roguishly heroic for the British TV series, "Chancer" (1990-91). Owen delivered a strong portrayal of an ambitious businessman who is seduced by his older sister (Saskia Reeves), then becomes obsessed when she tries to break the affair off in Stephen Poliakoff's excellent drama "Close My Eyes" (1991). Owen was tapped again by Poliakoff, this time to play a Jewish doctor who clashes with the head of a medical center (Charles Dance) in the period piece "Century" (1993).
Owen crossed the Atlantic to appear in the ABC drama "Class of '61" (1993), as an Irish graduate of West Point who goes off to fight in the Civil War. Owen received strong notices for his seductive hedonist in "The Return of the Native" (CBS, 1994) and as Halle Berry's lover in "The Rich Man's Wife" (1996). After starring as a British private investigator in the series "Sharman" (1996), Owen essayed his most challenging role to date, playing a concentration camp inmate in Sean Matthias' film version of "Bent" (1997). As Max, the actor gave a powerful performance, skillfully negotiating the characters evolution from selfish and debonair decadent to caring individual. Owen and co-star Lothaire Bluteau worked off one another to great effect, with both delivering star-making performances.
After co-starring on the London stage in "Closer" (1997), the actor appeared opposite Alex Kingston in director Mike Hodges' absorbing crime drama "The Croupier" (1999), the film that would provide his breakthrough role. As a hard-boiled dealer who conspires to defraud a casino, Owens' performances prompted critic Roger Ebert to compare his steely reserve to that of Sean Connery, noting "he doesn't give himself wholly to the action, but seems to be keeping a part of his mind outside of it, measuring and calculating." Not surprisingly, Owen quickly began topping the lists of potential successors to the James Bond role after Pierce Brosnan. Meanwhile, the actor's popularity increased when he starred in a series of four "Second Sight" telepics for the BBC, playing hot shot British detective Ross Tanner in 1999 and 2000, and he became an icon of cool as The Driver in a series of avant-garde action shorts sponsored by BMW and helmed by directors John Woo, Ang Lee, Guy Ritchie, Tony Scott, Joe Carnahan and John Frankenheimer.
On the big screen, Owen again impressed with his turn in "Gosford Park" (2001), director Robert Altman's delightful ensemble riff on British drawing room murder mysteries, playing the brooding Robert Park, who emerges as a central figure in the storyline. Off that success, he was cast in the big budget studio adaptation of Robert Ludlum's spy thriller "The Bourne Identity" (2002) as the ruthless, steel-nerved assassin, The Professor. Owen next starred opposite Angelina Jolie in the disappointing melodrama "Beyond Borders" (2003), the story of a disaster-relief worker who falls in love with a socially conscious wealthy woman. He rebounded strongly, however, when he reunited with Hodges for the noirish "I'll Sleep When I'm Dead" (2004), playing a retired British gangster who emerges from his secluded countryside life to investigate the death of his brother.
Next up was Antoine Fuqua's supposedly "demystified" retelling of the legend of "King Arthur" (2004), a big budget, action-oriented film that cast Owen as England's once and future king, this time set in a more historically correct context, if indeed a King Arthur actually existed. Owen's next role made him an overnight star in the States. The highly literate, often romantically brutal drama "Closer," directed by Mike Nichols followed the complex relationships between two couples (Owen, Natalie Portman, Julia Roberts and Jude Law) who become messily intertwined in a love/sex gender war. Despite such starpower, it was the relatively unknown Owen's hard-edged performance that was the most heavily cited by critics and viewers. Not surprisingly, Owen took home the Golden Globe for Best Performance by a Supporting Actor and was nominated for an Oscar in the same category.
Amid furious rumors that he was being courted to become the next James Bond – he later admitted he wasn't interested in the role, which ultimately went to Daniel Craig – Owen appeared to splendid effect in director Robert Rodriguez and writer-artist Frank Miller's co-venture "Sin City" (2005), a visceral, visually stunning adaptation of Miller's crime noir comic book series. Headlining the segment drawn from Miller's story arc "The Big Fat Kill," Owen played the hard-edged but noble Dwight McCarthy, who becomes embroiled in a sudden, violent battle over control of Sin City's Old Town, where prostitutes armed to the teeth reign. A portion of Owen's storyline, the eerie sequence in which he drives the talking corpse of the corrupt cop Jackie Boy (Benicio del Toro) was also directed by Quentin Tarantino. Next was the thriller "Derailed" (2005), which cast Owen and Jennifer Aniston as two married business executives having an affair who are forced into violent and illicit acts by a sadistic criminal, and must turn the tables to save their families.
After the blackmail thriller came and went without much notice, Owen starred in Spike Lee's impressive genre piece, "Inside Man" (2006), playing a brilliant and cool-headed thief who remains one step ahead of a smooth-talking hostage negotiator (Denzel Washington) in an effort to pull off the perfect heist. Owen rounded out the year on a high note, starring in Alfonso Cuarón's multi-award nominated "Children of Men" (2006), a futuristic dystopian tale about a former political activist (Owen) turned down-and-out bureaucrat who is convinced by a former lover (Julianne Moore) to help transport a young woman pregnant (Clare-Hope Ashitey) with the infertile world's only child to the fabled Human Project in order to save the future. He was next cast as Sir Walter Raleigh in "Elizabeth: The Golden Age" (2007), Shekhar Kapur's follow up to "Elizabeth" (1998) in which the Virgin Queen (Cate Blanchett) becomes involved in a relationship with the famed poet and explorer during one of the British Empire's many entanglements with Spain.
Proving himself comfortable in virtually any and all imaginable genres, Owen starred opposite a scenery-chewing Paul Giamatti in the cartoonishly violent "Shoot 'Em Up" (2007), as a nameless, carrot-chomping gunslinger, united with a beautiful prostitute (Monica Bellucci) in the guardianship of an infant targeted by a ruthless criminal (Giamatti). Far more somber in its tone was the espionage thriller "The International" (2009), in which Owen played an Interpol agent investigating a global banking organization involved in money laundering, arms trading and murder. Also that year he demonstrated nearly irresistible chemistry with co-star Julie Roberts in the jaunty "Duplicity" (2009), a romantic comedy in which they played two corporate spies conning a pair of captains of industry, even as they alternately scammed and wooed each other. Working with actor-turned-director, David Schwimmer, Owen gave a heart-wrenching performance in the drama "Trust" (2010) as a father whose world is turned upside down after his teenage daughter (Liana Liberato) is stalked and later raped by a man she met on the Internet. Returning to pure action, he paired with Robert De Niro and Jason Statham for the thriller "Killer Elite" (2011), prior to working alongside actress Nicole Kidman in the lauded period biopic "Hemingway & Gellhorn" (HBO, 2012), which covered the great American writer's (Owen) love affair with war correspondent Gellhorn (Kidman) during the Spanish Civil War. His performance as Hemingway earned him an Emmy Award nomination for Outstanding Lead Actor in a Miniseries or a Movie – the first such honor of his career. He also received a SAG nod in the same category.
The above TCM overview can also be accessed online
here.