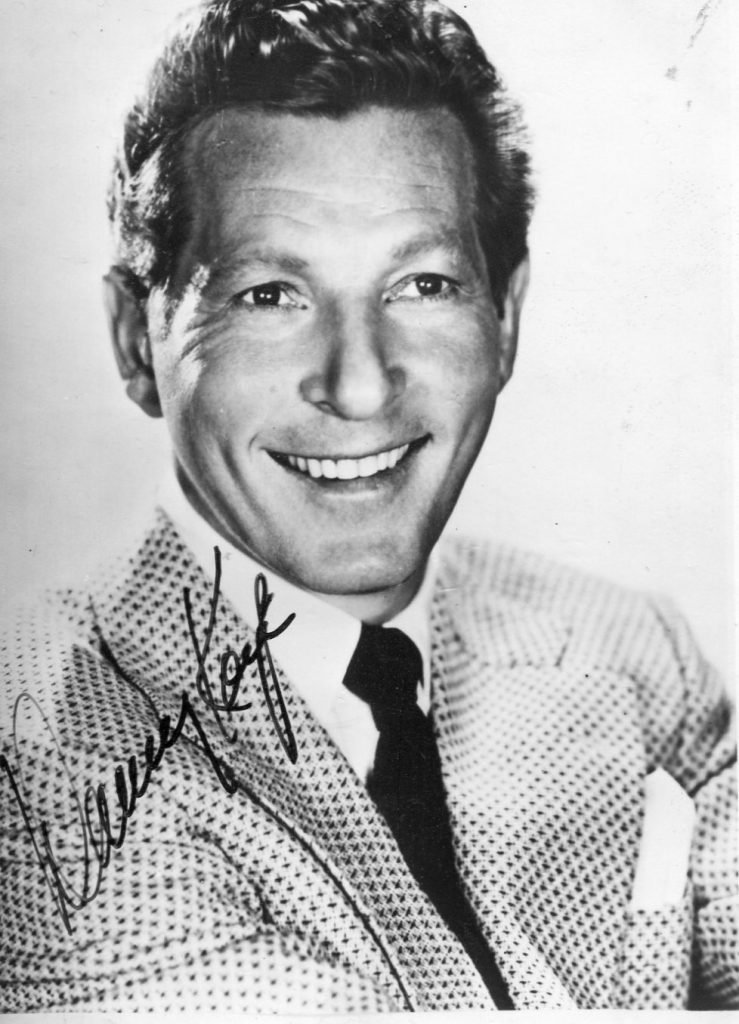 Although little remembered today, Danny kaye was one of the most popular movie stars of the 1940's & 50's. He was born in 1913 in Brooklyn, New York. His first major movie was "Up in Arms" in 1944. He has starred in such classics as "The Secret Life of Walter Mitty" with Virginia Mayo in 1947."hans Christian Anderson" in 1952, the brilliant "The Court Jester" in 1956 with Glynis Johns and Angela Lansbury and "The Five Pennies". He spent much of his later years as a goodwill Ambassador for UNICEF. He died in 1987.
TCM profile:
An entertainer of prodigious gifts, Danny Kaye blended dance, popular song, classical music, tongue-twisting lyrics and mimicry into a personal style that was at once unique and irresistibly lovable. This exuberant redhead conquered practically every form of show business, ranging from vaudeville, nightclubs and radio to the Broadway stage, television and movies.
Born David Daniel Kaminski in Brooklyn in 1913 to Russian Jewish immigrants, Kaye dropped out of high school to work the "Borscht Circuit" in New York's Catskill Mountains as a clowning busboy. After performing as part of a dance act and making some two-reel movie shorts, he made his Broadway debut in 1939 in The Straw Hat Revue. Two years later he created a sensation in Broadway's Lady in the Dark, supporting Gertrude Lawrence and stopping the show nightly with a number called "Tchaikovsky" in which he rattled off the names of more than 50 Russian composers in 39 breathless seconds.
In 1940 Kaye had married Sylvia Fine, who began managing his career and helped create many of the routines, gags and specialty songs that cinched his stardom.
Kaye was signed for films by Samuel Goldwyn and made his feature-film debut in the starring role of Up in Arms (1944), playing a hypochondriac World War II soldier who ends up single-handedly capturing a platoon of Japanese soldiers and wooing songstress Dinah Shore. Two songs co-authored by Fine — "The Lobby Number" and "Melody in 4-F" — spotlight Kaye's ability with tongue-twisting lyrics.
Goldwyn's other film showcases for Kaye's irrepressible personality include The Kid from Brooklyn (1946), a remake of the 1934 Harold Lloyd comedy in which Kaye plays a shy milkman who goes into boxing after accidentally knocking out a champion fighter; and The Secret Life of Walter Mitty (1947), with Kaye as James Thurber's daydreaming would-be hero. Kaye's last film for producer Goldwyn was the box-office smash Hans Christian Andersen (1952), a fictionalized biography of the great Danish storyteller with a tuneful score by Frank Loesser.
Another huge hit was Paramount's Irving Berlin musical White Christmas (1954), starring Kaye and Bing Crosby as pals who rescue a failing inn by staging a big musical show. For MGM, Kaye made The Court Jester (1956), a rousing spoof of medieval swashbucklers in which he plays a royal babysitter who poses as a jester in order to help overthrow an evil pretender to the throne. The songs are by Fine and Sammy Cahn, and Kaye performs his justly famous "Pellet with the Poison" routine: "The pellet with the poison?s in the vessel with the pestle; the chalice from the palace has the brew that is true." Kaye's final film part was that of The Ragpicker in The Madwoman of Chaillot (1969), but he earned great notices for a dramatic role as a Holocaust survivor in the television movie Skokie (1981). Earlier he had enjoyed a great success with his own TV series, which ran for four years beginning in 1963 and brought him an Emmy award.
Awarded an honorary Academy Award in 1954 and the Jean Hersholt Humanitarian Award in 1982, Kaye worked extensively with the United Nation's Children's Fund, raising millions in benefit concerts. He died of a heart attack in Los Angeles in 1987.
by Roger Fristoe
The above TCM profile can be accessed online here.