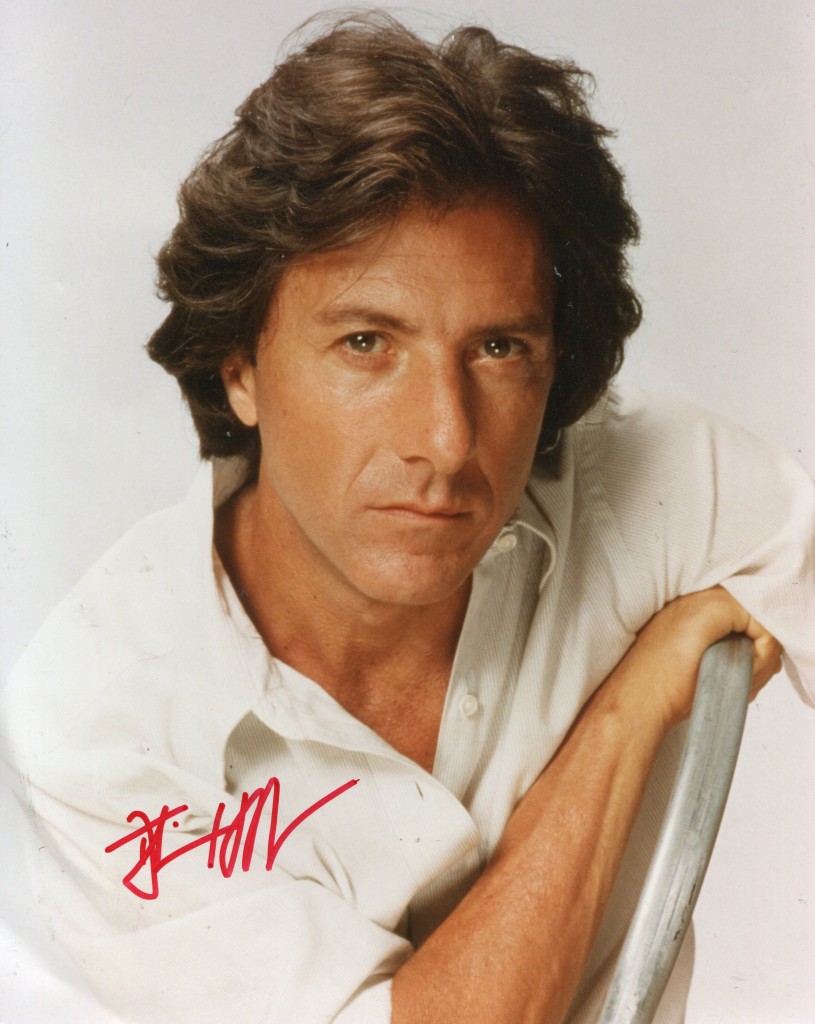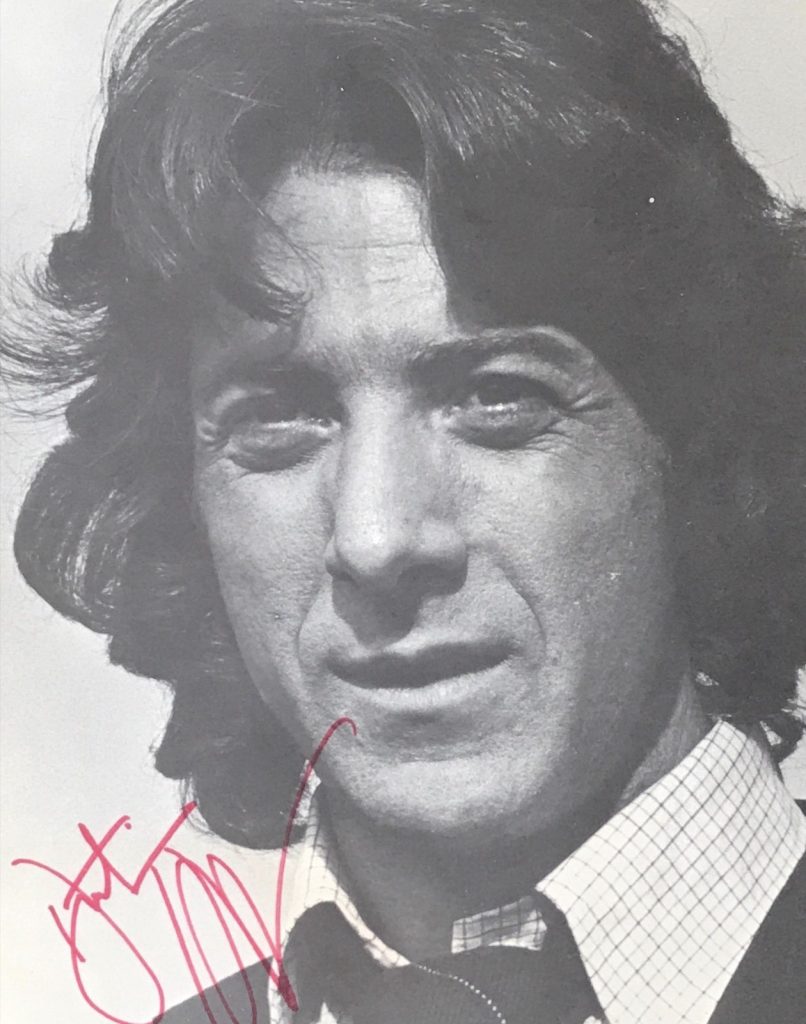 TCM overview:
Dustin Hoffman emerged as a key figure in the Hollywood Renaissance period of the 1960s and 1970s, personifying identifiable misfits and antiheroes in films embraced by a new breed of filmgoer. After struggling on and off Broadway, the Strasberg-trained actor rocketed to fame as the star of director Mike Nichols' seminal "The Graduate" (1967). Chameleon-like characters in such diverse efforts as "Midnight Cowboy" (1969), "Little Big Man" (1970), "Straw Dogs" (1971) and "Papillon" (1973) solidified his growing reputation. The one-two punch of the hits "All the President's Men" (1976) and "Marathon Man" (1976) proved Hoffman could deliver at the box office as well. More so than any other actor of the period, he pleased critics and fans alike with his performances in "Kramer vs. Kramer" (1979), "Tootsie" (1982) and "Rain Man" (1988), winning Best Actor Oscars for two of these three nominated performances. Over the decades that followed, Hoffman divided his energies between strong supporting work in projects like "Sleepers" (1996) and sharing top-billing with fellow heavy weights like Robert De Niro in such films as "Wag the Dog" (1997). In the new millennium, he enjoyed a creative and commercial resurgence with a run of playful comic performances in "I [Heart] Huckabees" (2004), "Meet the Fockers" (2004), and the hit animated feature "Kung Fu Panda" (2008). Hoffman boasted a film career that spanned more than four decades and consistently delved into new creative territory, validating his status as one of the most gifted actors of his generation or any other.
Dustin Lee Hoffman was born on Aug. 8, 1937, in Los Angeles. His father worked at Columbia Studios in props and set dressing before shifting to furniture design, launching his own short-lived store, Harry Hoffman Furniture Company. His mother was a former jazz pianist and set Hoffman up with a piano and a teacher from the age of five. He was a restless student who frustrated parents and teachers with his poor grades and was first kicked out of school in the third grade. He harbored dreams of becoming a jazz musician, studying piano at with the L.A. Conservatory of Music, but he eventually became frustrated with what he felt was his limited talent, giving up music in his late teens to try his hand at something else. When he graduated from Los Angeles High School in 1955, Hoffman enrolled at Santa Monica City College, and within a year, was in danger of flunking out. He was desperately looking for a way to boost his grades when a friend suggested an acting course, which would be an easy three credits and a guaranteed no-fail. Hoffman found much more than just an easy-A class – he found his true passion. He was not the greatest actor initially, but for the first time in his life, he found himself focusing for hours on end on something.
After barely making it through a year at Santa Monica College, Hoffman convinced his parents to fund his new found passion with tuition to the Pasadena Playhouse, where he became fast friends with fellow student Gene Hackman. At the time, the Playhouse was populated with square-jawed matinee types hoping to become the next Rock Hudson, while Hoffman and Hackman stood apart with their anti-establishment reverence for Beat poetry and Method acting. Factor in their average looks and Hoffman's 5'5″ height, and they seemed destined for character actor status. They shared the stage in a number of productions over the next two years, including "Of Mice and Men" and "The Taming of the Shrew," before Hackman headed to Manhattan. Hoffman soon followed his friend, arriving in New York City in 1958 and spending his first few weeks too scared to leave Hackman and his wife's postage stamp-sized apartment, where he spent nights nestled between the refrigerator and the bathtub. Eventually the newlyweds wanted their kitchen back and Hackman sent Hoffman to live with his friend Robert Duvall. The three remained close during the ensuing decade of off-off-Broadway productions, workshop training and odd jobs. They shared a dedication to their art, playing bongos on rooftops in homage to their hero Marlon Brando, and resigning themselves to a broke, bohemian existence rich with meaning. Becoming movie stars was never even a goal for the budding thespians, who would have been happy scraping by far from the Great White Way.
It would be several years before Hoffman would grace even the smallest stages; instead starting his New York career working in a mental institution and typing phone books while auditioning for roles for which he was consistently rejected. By 1960, he was ready to give up acting altogether, when he finally landed onstage in one of Gertrude Stein's final plays, "Yes is for a Very Young Man." The following year, he had a small part on Broadway and his first walk-on television role. Just as he was beginning to build some momentum, however, an accident left Hoffman hospitalized with burns so severe that he was not expected to live. Following extensive surgery, he was able to make a full recovery, but his brush with death made him more determined than ever to pursue his passion. When he was able to resume a normal life, Hoffman began training with Method acting legend Lee Strasberg at the Actor's Studio. It was there, that he refined his technique and began to hone the dramatic approach that would become his trademark. He spent a year onstage with the Theater Company of Boston before returning to the New York stage in 1965's "Harry, Noon and Night." He gained further theatrical experience as an assistant director on "A View From the Bridge" and as manager on the Broadway play "The Subject Was Roses." All the while, the starving actor was hawking toys at Macy's and waiting tables. In 1966, Hoffman began to receive critical recognition for his work, earning Drama Desk and Theater World Awards for the farce "Eh?" and an Obie for the war drama "Journey of the Fifth Horse," which was recorded and shown on public television the same year.
Little did Hoffman know that his years of Method training and his non-traditional looks would be tailor-made for the filmmaking renaissance that exploded in the late 1960s with character-based dramas that boldly explored the darker side of the American dream. Hoffman was among the establishing figures in "New Hollywood" when director Mike Nichols improbably cast the unknown in "The Graduate" (1967). Despite playing a protagonist that the novel characterized as a tall, blonde, athletic New England blueblood, Hoffman happened to possess the perfect blend of awkwardness, goofiness and disaffected melancholy in his portrayal of Benjamin Braddock, a recent college graduate reluctant to sign up for the empty, post-Atomic lifestyle of his cocktail-chugging parents. Benjamin's complicated relationship with the older generation, further complicated by an affair with family friend Mrs. Robinson, resonated strongly with young audiences battling with their own value systems. Due to his career-making performance in his first of many hit films, Hoffman became a symbol of that generation, despite being 30 years old when the film was released.
For skillfully navigating the treacherous strait between satiric caricature and Method drama, Hoffman received an Academy Award nomination for his subtly hilarious yet profoundly moving performance. Hoffman's payday for the landmark film was paltry – a concession he had made in order to avoid signing a multi-picture deal that would put him at the mercy of the studio. His career breakthrough was followed by a trip back to the unemployment line – where aLife magazine photographer happened to capture the unglamorous moment – before Hoffman returned to Broadway in Murray Shisgal's "Jimmy Shine." The film offers poured in, but most were pale "Graduate" variations and none captured Hoffman's interest until John Schlesinger approached him for a very different role. Advisors told Hoffman he was nuts for following up an Oscar-nominated starring role with a supporting one opposite some unknown named Jon Voight, but his instincts were spot on when it came time to choose his next project, "Midnight Cowboy" (1969). The absorbing film adaptation of Leo Herlihy's novel about a pair of desperate outsiders barely surviving New York's sordid underbelly became a landmark of American cinema. Hoffman was again nominated for an Oscar for his portrayal of Enrico "Ratso" Rizzo, a limping, tubercular nickel-and-dime conman who forms an unlikely support system with a Texas hustler (Voight). Upon Hoffman's second nomination, a Life magazine cover featured a sketch of Hoffman and fellow nominee John Wayne, with the headline "A Choice of Heroes." The Academy was apparently not ready to embrace the new face of Hollywood, instead awarding the statue to Wayne.
On a definite roll moving into the 1970s, Hoffman starred in a new take on Wayne's Western genre with the satirical "Little Big Man" (1970), earning a BAFTA nomination for the subtle anti-war protestation. He joined director Sam Peckinpah for "Straw Dogs" (1971), playing an expatriate mathematician caught up in escalating violence with local English toughs before a gritty turn opposite Steve McQueen in the prison escape drama "Papillon" (1973). Hoffman was again recruited by John Schlesinger for the thriller "Marathon Man" (1976), now portraying a troubled college student caught up in a conspiracy plot with former Nazi Laurence Olivier. In 1974's "Lenny" (1974), Hoffman was nominated for an Academy Award for his complex, multi-dimensional portrait of hard-driving social comedian Lenny Bruce. The same year, he made his directorial debut on Broadway with Murray Schisgal's "All Over Town." Hoffman tackled the portrayal of another real-life figure in the gripping Watergate docudrama, "All the President's Men" (1976), playing aggressive, young Washington Post reporter Carl Bernstein who, along with Bob Woodward (Robert Redford), tirelessly unraveled the crimes of the Nixon administration. "Straight Time" (1978) failed to attract popular attention, but Hoffman's acclaimed performance as a hard-core criminal stood as a hallmark of his approach to performance – one which eschewed easy sentiment in favor of three-dimensional grit.
Hoffman scored both a critical and popular success in 1979 with "Kramer vs. Kramer." In the film, his role as a father left to forge a relationship with his young son after his wife leaves them, hit close to home for the actor who was simultaneously struggling with the end of his own marriage. Finally, after turning in over a decade of incredible performances, he received his first Best Actor Oscar for his painfully honest portrait. His next outing, "Tootsie" (1982), was considerably more lighthearted but also explored the evolving role of gender in society. The story, developed by Hoffman and Shisgal with an uncredited Elaine May, revolved around a desperate unemployed actor who masquerades as a woman in order to land a part on a soap opera, and unwittingly becomes a role model of the liberated, modern woman. Hoffman's ability to move between genders believably and hilariously made his portrayal of Michael Dorsey/Dorothy Michaels perhaps his most beloved performance, but the shoot was not without its troubles, with the notoriously difficult Hoffman clashing often with director and co-star Sydney Pollack. Hoffman's well-informed performance as a struggling New York actor may have induced nostalgia, for he next returned to Broadway for a revival of "Death of a Salesman," winning a Drama Desk Award, but curiously overlooked by the Tony committee for his run as Willy Loman in the Arthur Miller classic. Competing with the ghost of Lee J. Cobb's original stage performance, some found Hoffman too slight and too young, ignoring the fact that he was almost a decade older than Cobb when he played the role on Broadway. However, a taped version of the play aired on CBS in 1985 and Hoffman was recognized with Emmy and Golden Globe awards.
Sadly, a charming Elaine May script called "Ishtar" (1987) suffered from highly-publicized budgetary failures, forever tarnishing the enjoyable Dustin Hoffman/Warren Beatty comedy about a pair of cut-rate lounge singers. Hoffman rebounded from this embarrassment with a second Academy Award for his riveting portrayal of an autistic savant in "Rain Man" (1988), hailed by some as one of the most objective, unsentimental portraits of a handicapped person in the American cinema. Hoffman and co-star Tom Cruise spent months in preparation for their roles, befriending real-life counterparts to the film's brothers to bring as much realism as possible to Hoffman's behavior and the pair's strained relationship. Returning to the beloved immediacy of the stage, Hoffman next enjoyed a long run on London's West End as Shylock in "The Merchant of Venice." In 1990, he reprised the role on Broadway, receiving a Tony nomination. There was no question that Hoffman had a solid reputation as one of America's greatest actors, but even his high performance standards were not enough to boost a string of failures like "Family Business" (1989) "Dick Tracy" (1990) and "Hero" (1992). In Steven Spielberg's lavish but uneven update of the Peter Pan "Hook" (1991), Hoffman's villain was more comical than menacing and though curiously successful overseas, "Hook" was seen as a flop at home. Hoffman bounced back in a surprisingly traditional heroic role in the hit thriller "Outbreak" (1995). As a military specialist in epidemiology, Hoffman's serious and dedicated Colonel Sam Daniels was a thorn in the side of Army brass but the best man for the job when an unknown virus in the African rain forest spreads to the United States.
Hoffman reunited with director Barry Levinson for a three-picture run, beginning with "Sleepers" (1996), in which the actor offered a scene-stealing turn as a pony-tailed defense lawyer with substance abuse problems. "Wag the Dog" (1997) cast him as a slick Hollywood producer called upon to create a fake war to divert the country's attention away from a presidential sex scandal. The actor's droll turn – reputedly inspired by legendary producer Robert Evans – was the highlight of the film. "Sphere" (1998) teamed Hoffman with Sharon Stone, Samuel L. Jackson and Peter Coyote as scientists on an underwater mission investigating the crash of a possible alien spacecraft. In 1999, Hoffman produced his first feature, the Vietnam-era family portrait "A Walk on the Moon" (1999), and was honored by the American Film Institute in "A Tribute to Dustin Hoffman," a televised ceremony during which he was presented with a Lifetime Achievement Award.
What should have been a career highlight was followed by several years of doubt and anxiety over his work. Having temporarily lost his spark, Hoffman reevaluated his career as an actor in his mid-fifties and toyed with ideas of writing and directing. Ultimately, he decided to cast aside many of his self-imposed limitations and approach offers with a new openness and renewed zeal for his art. He returned with a run of wonderful, mature dramas beginning with "Moonlight Mile," where he played half of a married couple (opposite Susan Sarandon) grieving over the death of their daughter with the aid of her fiancé, Jake Gyllenhaal. He was surprisingly intimidating as a nightclub owner and crime boss in the neo-noir caper "Confidence" (2003) before starring for the first time opposite longtime friend Gene Hackman in "Runaway Jury" (2003). In the adaptation of the John Grisham bestseller, Hoffman played a courtly Southern attorney drawn into a deadly confrontation over the attempts of a ruthless jury manipulator (Hackman) to influence the verdict of a case.
Hoffman joined the cast of writer-director David O. Russell's eccentric "I [Heart] Huckabees" (2004), playing opposite Lily Tomlin as a husband-and-wife team of "existential detectives" and continued his career upswing with a supporting turn in "Finding Neverland" (2004) as the nervous but charming financier of "Peter Pan" creator J.M. Barrie (Johnny Depp). He teamed with Barbra Streisand to play Ben Stiller's eccentric parents in "Meet the Fockers" (2004), with Hoffman nearly stealing the entire film with his genial, ever-smiling characterization of proud papa Bernie Focker. Hoffman earned equal comedic accolades for his more understated performance as a literary expert enlisted to help protagonist (Will Ferrell) identify the author he hears narrating his own life in his head in "Stranger Than Fiction" (2006). The pair's rapid-fire exchanges were among the film's comedic highlights.
Hoffman's role as a French perfume maker in the stylish period thriller "Perfume: The Story of a Murderer" (2006) was well-reviewed though little-seen in the United States; however it was a box office hit internationally. He returned to mainstream cinema in the cartoonish title role of "Mr. Magorium's Wonder Emporium" (2007), a film about an enchanted toy store and its 243-year-old proprietor. Unfortunately, the suspiciously "Willy Wonka"-like tale failed to inspire critics, though its whimsical promise lured a fair amount of families to the multiplex. After voicing martial arts master, Shifu, in the hugely successful "Kung Fu Panda" (2008), Hoffman delivered a comically touching performance in "Last Chance Harvey" (2008), playing a down-and-out jingle writer and spurned father who finds his life and romantic passions renewed when he meets an intelligent and compassionate woman (Emma Thompson) at the airport. Hoffman made a long-awaited return to award contention when he received a Golden Globe nomination for Best Actor in a Comedy or Musical.
Hoffman followed soon after with a scene-stealing performance as the father of Paul Giamatti's curmudgeonly title character in the dark comedy "Barney's Version" (2010). Arguably less daring on an artistic level, although certainly more lucrative were his contributions to the inevitable sequels "Little Fockers" (2010) and "Kung Fu Panda 2" (2011). Far more intriguing was Hoffman's first venture as the star of the ensemble television drama "Luck" (HBO, 2011-12). An insider's look at the lives of various denizens in and around a Los Angeles area racetrack, "Luck" centered around the story of Chester "Ace" Bernstein (Hoffman), an ex-con with mob connections looking to get back in the game, take over the racetrack, and exact a bit of revenge on the people responsible for landing him in prison. Created by David Milch and co-produced by Michael Mann (who directed the pilot episode), "Luck" met with exceptional reviews and strong ratings, ensuring it a second season. Amidst the accolades, however, concerns over the deaths of two horses during production threatened to change the fortunes of the show for the worse. When a third thoroughbred died in March 2012, HBO – under siege from outraged animal activism groups – scrapped the planned second season and cancelled the show altogether in a move that shocked the industry.
The above TCM overview can also be accessed online here.