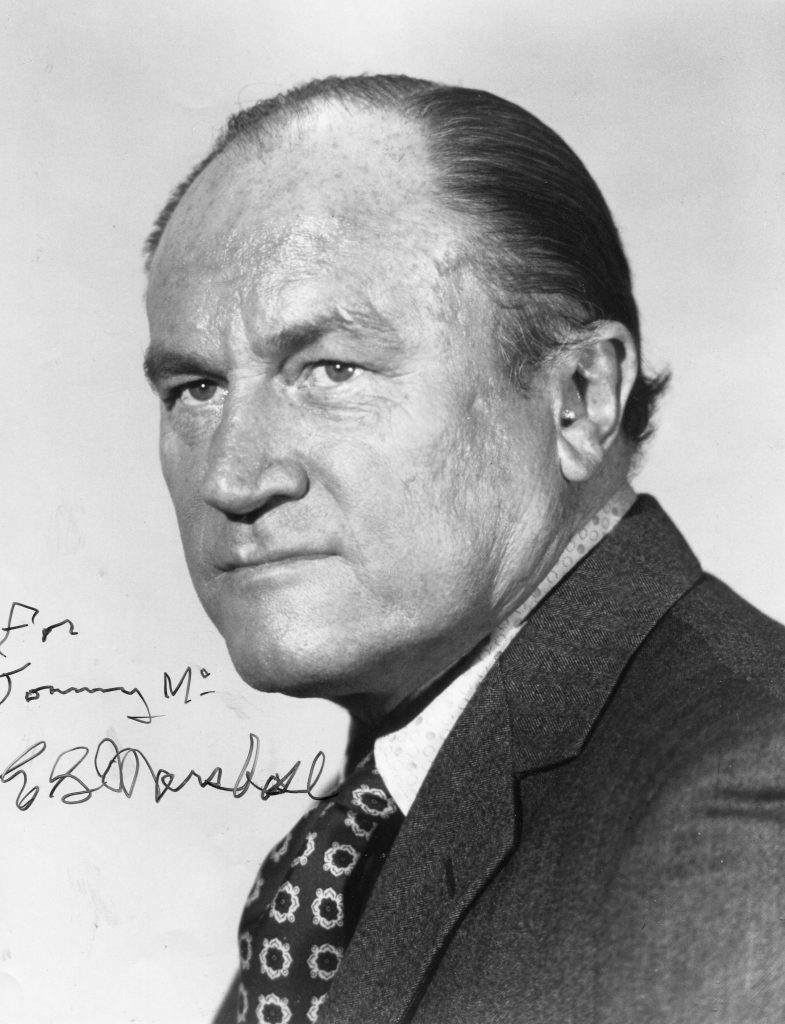 The great character E.G. Marshall was born in 1914 in Minnesota. A great character actor, he was terrific in "Twelve Angry Men" in 1957, "Interiors" and "Absolute Power" with Clint Eastwood in 1997. He died in 1998.
Tom Vallance's "Independent" obituary:
ONE OF America's finest character actors, E. G. Marshall will be remembered by television viewers of the Sixties for his Emmy Award- winning role as half of a father-son team of lawyers in the superior crime series The Defenders.
The often bespectacled actor frequently found himself in legal roles – among his most notable were those of a juror in Twelve Angry Men and the patiently determined prosecuting attorney in Compulsion. On stage, he was in the first Broadway productions of The Iceman Cometh, The Crucible and Waiting for Godot, while both on radio and television his authoritative voice brought him prolific work as a narrator and in commercials. He modestly called himself a "utility actor who fits in easily" but his work was far more distinguished than that self-assessment would suggest.
The son of Norwegians, Marshall was born in Owatonna, Minnesota, in 1910. He was secretive about the middle G. of his name and suggested at different times that his initials might stand for "Edda Gunnar" or "Enigma Gregarious", although the truth of the matter may now never be known (his nickname, however, was "Eej"). He was educated at Carlton College and the University of Minnesota, and his first ambition was to enter the Episcopalian ministry but he abandoned this when he realised that he was agnostic.
In 1932 he made his radio debut in St Paul and then worked in Theatre Guild on the Air in Chicago. Now set on an acting career, he joined the Oxford Players, a touring Shakespearean repertory company, in 1933. He made his Broadway debut in 1938 with a Federal Theatre Project production, Prologue to Glory. He took over the role of Mr Fitzpatrick in Thornton Wilder's The Skin of Our Teeth (1942), played the Brigadier in Jacobowsky and the Colonel (1944) and Willie Oban in The Iceman Cometh (1946).
Always keen to improve his craft, he became part of the Actors Studio when it was formed by Elia Kazan and Robert Lewis in 1947. He created the role of the Rev John Hale in Arthur Miller's The Crucible (1953) and later took over the leading role of John Proctor. He won great acclaim when he played the derelict philosopher Vladimir in the Broadway premiere of Beckett's Waiting for Godot (1956), and vehemently defended the play as a positive, life-affirming work. "Godot is a real theatre piece," he said. "The theatre today is too flaccid, too passive, too dull. It is good to have it stirred up by a piece like this."
He made his film debut (billed as Everett Marshall) as a morgue attendant in Henry Hathaway's landmark thriller The House on 92nd Street (1945). Based on the true story of Nazi agents seeking the formula for the atom bomb, its documentary-style approach started a new genre, and Marshall was in two more Hathaway films shot in similar style – 13 Rue Madeleine (1946) and Call Northside 777 (1948).
By the time he returned to films in 1954 after concentrating on theatre and television, he was being billed as E. G. Marshall and had established a reputation for excelling in figures of authority and integrity, and played such roles in The Caine Mutiny (1954) and Pushover (1954).
In Sidney Lumet's fine version of Reginald Rose's play Twelve Angry Men (1957), Marshall was the implacable Juror Four who, along with 10 of the other jurors, wants to pass a verdict of guilty but is eventually persuaded by the dogged Juror Eight (Henry Fonda) to change his opinion. In Compulsion (1959), based on the notorious Leopold-Loeb murder case, Marshall was at his finest as the diligent prosecuting attorney, holding his own against a scene-stealing performance by Orson Welles as the defence lawyer.
It was as a lawyer, the father and senior partner in the firm Preston and Preston in the television series The Defenders (1961) that Marshall found greatest fame. "I'd been on television for years, in over 400 roles," he said in 1962, "but nobody seemed to recognise me on the streets or in restaurants. Now people are likely to turn around and look at me." The show, with Robert Reed playing Marshall's son, ran for five years, and won Marshall two Emmys. A staunch liberal Democrat, he was delighted that the show earned a reputation for dealing with controversial subjects – in one 1962 episode his character defended an abortionist, and the network, CBS, ran the show despite protests by viewers and cancelled advertising.
Marshall credited the show with deepening his concern about constitutional liberties and leading him to take a course in jurisprudence. He was instrumental in getting a black judge added to the series, aided documentaries on deprived groups in society and volunteered to help legal rights groups.
He starred in another hit television series, The New Doctors, from 1969 to 1973, again playing a role of integrity as the head of a combination hospital and research centre dedicated to finding new medical techniques. Marshall's later film roles included military officials in Is Paris Burning? (1965), The Bridge at Remagen (1968) and Tora! Tora! Tora! (1970), and the US President in Superman II (1980).
Last year he was seen in the important role of an ageing tycoon whose wife is murdered by Gene Hackman (whom he ultimately kills) in Clint Eastwood's Absolute Power. He recently completed two television movies based on The Defenders, with his son now played by Beau Bridges.
Everett G. Marshall, actor: born Owatonna, Minnesota 18 June 1910; married 1931 Helen Wolf (one son, one daughter; marriage dissolved 1953), second Judith Coy (two sons, one daughter); died Mount Kisco, New York 24 August 1998.
The above "Independent" obituary can also be accessed online here.