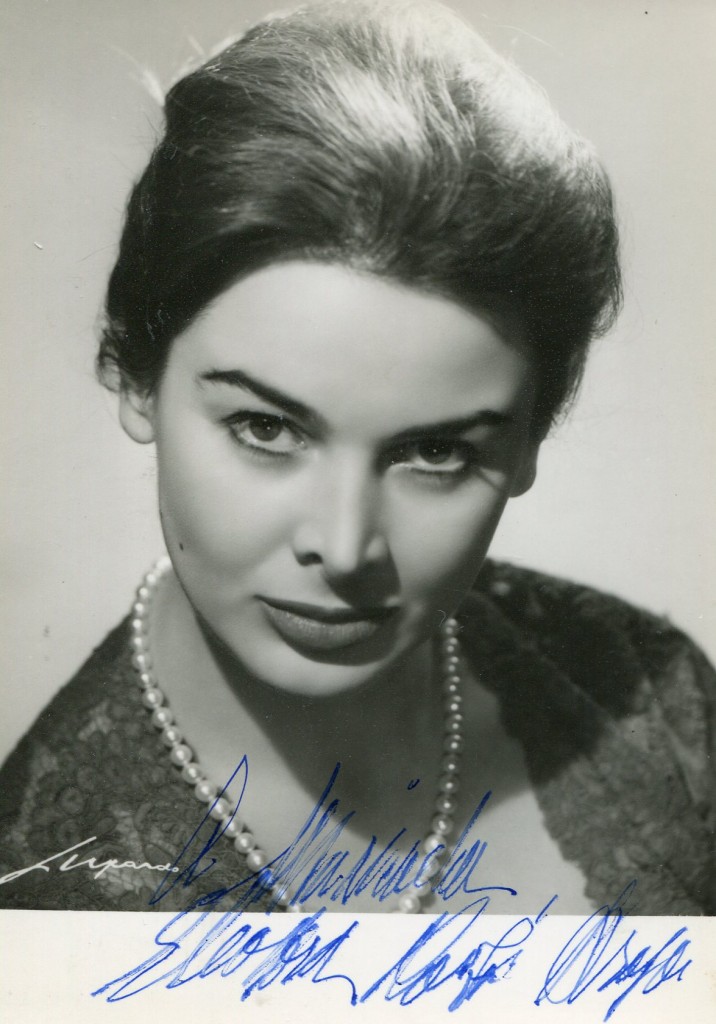 Eleanora Rossi Drago was born in 1925 in Genoa, Italy. She made her movie debut in "The Masked Pirate" in 1949. She starred in Michaelanglo Antonioni's "Les Amiche" in 1955. Her last movie was in 1970 in "In the Folds of the Flesh". She died in Palermo in 2007.
John Francis Lane's obituary in "The Guardian":
Of all those who won fame as sex goddesses of the Italian cinema in the 1950s, Eleonora Rossi Drago, who has died aged 82, was the classiest. Though she had no training as an actor and came from a humble background, she was chosen for dramatic roles by some of the most distinguished directors of the day, including Luigi Comencini, Giuseppe De Santis, Michelangelo Antonioni and Valerio Zurlini. In 1955 she won critical praise for her performance on the stage as Helena in Luchino Visconti's production of Chekhov's Uncle Vanya, in which Marcello Mastroianni, who would later appear opposite her in many films, played Astrov.
Rossi Drago was born Palma Omiccioli, near Genoa, where her father was a sea captain. She had married unhappily in 1942 and had a daughter. She got her first job as a mannequin and then began designing couture herself. In 1947 she went to Stresa to compete in the Miss Italy beauty contest, despite risking disqualification because she had been married. She came in fourth (Gina Lollobrigida was third).
She moved to Rome, where after a few small parts using her married name Rossi, she had the luck to be cast in Persiane Chiuse (Closed Shutters, 1951), a melodrama about prostitution. The direction was taken over by Comencini, and after the film was a success, he cast her in the leading role of his next film La Tratta delle Bianche (The White Slave Trade, 1953), another melodrama.
Both films were box-office hits and launched Rossi Drago as a star. In 1952 she was given the lead role in one of the most daring films of the period Sensualità (Sensuality), directed by Clemente Fracassi. Her character was the object of a violent quarrel between two brothers played by Amedeo Nazzari, the most popular star of melodramas at the time, and Mastroianni. At the time the scandal sheets claimed there was a romance between her and Nazzari.
Her big chance came in the mid-1950s when Antonioni cast her for the main role in Le Amiche (The Girlfriends), based on a novella by Cesare Pavese. She played Clelia, a simple working-class girl who has become successful in the fashion business in Rome and returns to her home town, Turin, to open a new salon. She becomes involved in the tormented private lives of local socialites and has her own sentimental tribulations. Antonioni's casting of Rossi Drago was inspired. She had the sophistication required for the character but also the depth that comes from a more modest social background.
At the end of that same year, 1955, Rossi Drago made her stage debut. Under the directorial guidance of Visconti, she acquitted herself admirably, alongside the experienced stage professionals of Visconti's company playing Helena in Uncle Vanya, proving her worth to those in the film world who still treated her as only a sex goddess.
She continued to get the occasional role in "auteur" films and won plaudits for her performance in a TV adaptation of Cronin's The Citadel, but film producers still preferred to cast her in commercial products. She was perhaps unfortunate in that, unlike Sophia Loren, she did not have a producer husband to take a personal interest in her career.
Among her good roles in the 1950s, she played in Vittorio Gassman's film (co-directed by him with Francesco Rosi) of the Dumas-Sartre play Kean, in which he had triumphed on stage. Giuseppe De Santis, who had tested her for the role of a peasant in one of his early films, but decided she seemed too upper class, was happy to cast her in a similarly rugged role in another controversial peasant melodrama La Strada Lungo un Anno (The Year Long Road, 1958), shot under hazardous conditions in Yugoslavia and boycotted for political reasons by Italian cinemas.
She ended the 1950s with the film which perhaps most of all made those of us who wrote about films from Rome in those years think her career was heading towards new heights. This was Valerio Zurlini's visually stunning Estate Violenta (The Violent Summer), centred on an affair between a married woman in her 30s and a younger man (played by Jean-Louis Trintignant), all on holiday in that beguiling summer of 1943 when Mussolini had been arrested and many Italians were deluded into believing that fascism had been defeated. The film won her the "Silver Ribbon" award, voted for by Italian film journalists, as best actress of the year.
She appeared in unmemorable films in the 1960s, directed by Roberto Rossellini, Tinto Brass and Ettore Scola, and played Lot's wife in John Huston's The Bible, and felt that her career was going downhill. In 1970, after appearing with Helmut Berger in an appalling film called Dorian Gray, she decided to retire. While on a visit to Palermo she met a businessman 10 years her senior, Domenico La Cavera, a much respected citizen of the Sicilian capital with whom she began a relationship. In July 1973 they were married in the city hall by the mayor. It seems they lived a tranquil and comfortable family life in Palermo society until a recent illness kept her bedridden.
He survives her, along with his children from a former marriage and her daughter from that unhappy first marriage, Fiorella.
· Eleonora Rossi Drago (Palma Omiccioli), actor, born September 23 1925; died December 2 2007
The above "Guardian" obituary can also be accessed online here.
Gary Brumburgh's entry:
She never found the international cross-over fame destined for Sophia Loren and Gina Lollobrigida, and most American audiences would not recognize her name, but voluptuous, visually stunning Eleonora Rossi Drago certainly made male hearts pulsate in Europe with her scores of princesses and temptresses throughout Italian cinema of the 1950s and 1960s. She eventually earned respect as a fine actress and elevated her status in the films of Luigi Comencini and Michelangelo Antonioni, among others. But for the most part, she gamely played the sex card in a career that stretched a bit past two decades.
She was born Palmira Omiccioli (some sources also list Palmina as her first name, near Genoa, Italy (Columbus' birthplace) on September 23, 1925, the daughter of a sea captain. She married at the age of 17 and bore a daughter Fiorella but the marriage (to a gentleman named Rossi) did not last. She then found work as a department store mannequin and began actually designing couture clothing herself. An arresting beauty, she started competing in beauty contests and wound up in fourth place in the "Miss Italy" pageant. Gina Lollobrigida came in third. The attention lured her to films.
She moved to Rome and in 1949 began receiving small movie roles while using her married name of Rossi. Her first two big breaks came with Behind Closed Shutters (1951) [Behind Closed Shutters] with Massimo Girotti, a melodrama about prostitution, and the highly controversial Barefoot Savage (1952) [Sensuality] in which Marcello Mastroianniand Amedeo Nazzari violently quarrel over her affections. The earlier picture was directed by Luigi Comencini and considered a strong success. The highly impressed Comencini went on to cast Eleonora as a female lead in his next film La tratta delle bianche (1952) [The White Slave Trade or Girls Marked for Danger], another tawdry melodrama about prostitution that co-starred Vittorio Gassman and also showcased the up-and-comingSophia Loren.
It was obvious that Rossi-Drago had the makings of a bosomy sex goddess but she constantly strove to better her acting reputation in classier material. In 1955 she won critical notice on stage as Helena in Chekhov's "Uncle Vanya" opposite Marcello Mastroianni as Astrov. Her finest hour in films came about that same year with the release of Antonnini's Le amiche (1955) [The Girlfriends], in which she starred in the rags-to-riches story of a humble girl who becomes a respected owner of a fashion salon and the social class struggle therein. Among her other standout roles in the 1950s wereKean: Genius or Scoundrel (1957), again opposite Vittorio Gassman, who also directed, and the award-winning Italian/French co-production Violent Summer (1959), in which she played a married woman approaching middle age who surrenders herself to a younger man (Jean-Louis Trintignant) during the summer of '43 and height of fascism. The film earned her the "Silver Ribbon" award, voted for by Italian film journalists, and the "best actress" award at the Mar del Plata Film Festival in Argentina.
In order to work continuously, however, she was forced to take on provocative roles of lesser quality — roles that usually emphasized her physical attributes or enhanced the scenery around her. While Sophia Loren had a Carlo Ponti to promote her internationally, Rossi-Drago was less fortunate. By the 1960s she was relegated to such unmemorable adventures, horrors and sword-and-sand spectacles as David and Goliath (1960) [David and Goliath] with Orson Welles playing King Saul; The Carpet of Horror (1962) [The Carpet of Horror]; and Sword of the Conqueror (1961) [Sword of the Conqueror] opposite a raping and pillaging Jack Palance. Elsewhere, she was pretty much overlooked in the epic ensemble as Lot's wife in John Huston's mammoth failure The Bible: In the Beginning… (1966).
Things did not improve into the decade and after appearing with Helmut Berger in the critically-panned retelling of Dorian Gray (1970) and Pier Angeli in the pedestrian Sergio Bergonzelli giallo In the Folds of the Flesh (1970) [In the Folds of the Flesh], she decided to call it quits. Blending back inconspicuously into mainstream society, she married Sicilian businessman Domenico La Cavera in 1973, and eventually retired to Palermo, Italy. She died at age 82 of a brain hemorrhage on December 2, 2007, and was survived by her second husband and daughter.
– IMDb Mini Biography By: Gary Brumburgh / gr-home@pacbell.net