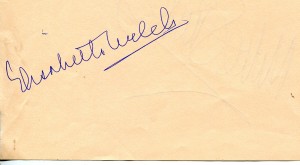 "Telegraph" obituary from 2003:
Elisabeth Welch, who died yesterday aged 99, was one of the last century's most polished interpreters of popular song.
She belonged to an elite group of singers who gave definitive shape to the works of the Gershwins, Cole Porter, Jerome Kern, Noel Coward and the other songwriters of the golden age. Her style was poised, her voice mellow and dignified. She never gave a forced or eccentric reading of a lyric, distorted a melody or misjudged a tempo. Her art was classic.
Some of her peers and contemporaries were more strongly marked by jazz; others refined the intimate art of the supper-club singer. Elisabeth Welch was distinctively a singer of the musical stage, by which she was formed and on which most of her career was spent.
She was born on West 63rd Street, New York City, on February 27 1904. Her mother, who originally came from Leith, Edinburgh, was of Scottish and Irish descent, while her father – the head gardener and coachman on a large estate in New Jersey – was of African American and Native Indian blood. The conflict between strict Baptist beliefs on the paternal side and maternal Episcopalianism proved explosive. When her parents separated, the young Elisabeth stayed with her mother, who was more liberal, though far from lax: when the child learnt When I Get You Alone Tonight, a slightly risque torch-song (We'll keep the organ playing/ so that folks'll think we're praying . . . ) from a Pianola roll, she was beaten for her efforts.
There were other musical influences in her life as well as the Pianola: singing in church choirs and a school production of HMS Pinafore. She also attended the same school as the sister of the great saxophonist, Benny Carter (in 1936 she made the first recording of Carter's beautiful song When Lights Are Low with Carter himself). In 1921 she saw the ragtime pianist Eubie Blake's great Shuffle Along, the first all-black musical to reach Broadway.
Elisabeth Welch began as a singer and dancer, appearing in the Broadway musical Runnin' Wild in 1923, in which she introduced a new dance to the tune of the Charleston. As a chorus girl in Lew Leslie's Blackbirds of 1928, which starred Adelaide Hall, Ada Ward and "Bojangles" Robinson, she was a success, and made a record of two songs from the show. Soon there were cabaret engagements in Paris and New York, which precipitated a violent rage in her absent father, who fulminated about his "Girlie . . . meeting her doom by going on the boards". Elisabeth Welch later recalled: "It was terrible. He associated show business with low life, and he thought I would become a whore."
One can perhaps understand his feelings in view of the circumstances of her appearance in Cole Porter's New Yorkers in 1931. The famous song Love For Sale caused an immediate scandal because it dealt openly with the subject of prostitution (it was banned from the radio for many years), so after a month the scene in which it was sung was moved to Harlem, and Elisabeth Welch substituted for the original white performer, Kathryn Crawford. Shortly after, she gave an early demonstration of her acute taste by spotting the wonderful As Time Goes By and incorporating it in her cabaret act, a dozen years before it attained immortality in Casablanca.
Her first appearance in London was in an all-black review, Dark Doings, at the Leicester Square Theatre in 1933, in which she introduced Harold Arlen's magnificently sad Stormy Weather to English audiences.
Dark Doings was not a success, but after it folded Elisabeth Welch was summoned back from New York by the impresario C B Cochrane to appear in Cole Porter's Nymph Errant, scoring the greatest of all her hits. In a comparatively small role, she regularly stopped the show by performing the song Solomon in a Turkish harem setting (he "had a thousand wives"). It is a blackly humorous piece with a tortuously difficult line. No one ever sang it better, and it was firmly associated with her for the rest of her life.
Porter himself commented that his awkward creation had been "made easy by the tone and pitch of the singer". Obviously, Elisabeth Welch had the knack of pleasing eminent and demanding composers – years later, when she sang Twentieth Century Blues at the celebrations to mark Coward's 70th birthday, he remarked that it was the first time he had heard it performed as he had originally imagined it.
After her success in Nymph Errant, Elisabeth Welch settled in England, where she remained for more than half a century and rapidly became a star prominent on stage, radio and film. There was a succession of London shows. In Ivor Novello's Glamorous Night (1935) she played the part of Cleo Washington, a stowaway whose role, she remembered, had little to do with the rest of the goings-on on stage; nonetheless both the show and her rendition of the song Far Away in Shanty Town were extremely popular. Let's Raise the Curtain (1936) and It's in the Bag (1937) followed.
When war broke out she stayed loyal to her adopted country, and spent a season entertaining the troops in Gibraltar in company with John Gielgud, Edith Evans and Michael Wilding. She also toured the Middle East. In 1943 she starred in another Novello piece, Arc de Triomphe, then in Happy and Glorious with Tommy Trinder at the London Palladium (1944-46). Next there was a review at the Globe, Tuppence Coloured, in which she sang Edith Piaf's song La vie en rose, for the first time in this country – and sang it, daringly for those days, in French.
Tuppence Coloured was succeeded at the Globe by Oranges and Lemons, another review of the intimate type that she herself thought the ideal format for her art.
Elisabeth Welch's considerable popularity in the 1930s and 1940s was not founded on musicals and reviews alone. The radio show Soft Lights and Sweet Music was an important element in making her a star, and she also appeared in films, starting with Val Gielgud and Eric Maschwitz's Death at Broadcasting House in 1934. This was followed by two pictures in which she played opposite Paul Robeson: Song of Freedom (1936) and Big Fella (1937). In these films Robeson and Elisabeth Welch broke new ground for black actors, who hitherto had been cast for the most part as comic servants, to please distributors in the southern states who threatened to boycott anything featuring a black person in a non-servile role.
Making Over the Moon (1937), in which she appeared in a Monte Carlo nightclub singing Red Hot Annabelle, she was not impressed by the picture's star, Merle Oberon, who fired a young assistant for bringing her the wrong pair of gloves. Elisabeth Welch's first play was No Time for Comedy at the Lyric Theatre with Rex Harrison, Lilli Palmer and Diane Wynward.
In the 1950s and 1960s, like many of her contemporaries, Elisabeth Welch entered a period of partial eclipse. But invariably, even when the vehicle or those around her were unworthy, her own performance was gracious and unaffectedly distinguished.
The tide turned in the next two decades. She stopped the show once again in the 1970 musical, Pippin, made new records, and also gave what was perhaps the most startling appearance of her film career in Derek Jarman's Tempest (1980), at the end of which she sings a typically poised version of Stormy Weather surrounded by a chorus line of leaping, high-stepping sailors. There were those who thought she was the best thing about that controversial interpretation of Shakespeare.
In 1985, returning from the London theatre where she was appearing in Jerome Kern Goes to Hollywood, she was beaten unconscious in the street by a mugger, but was back on stage the following day. Also, after decades of absence, she began to re-establish herself in America – her one-woman show, A Time To Start Living, was a success off-Broadway in 1986.
In the same year, the Broadway version of her London hit, Jerome Kern Goes to Hollywood, won her a Tony nomination, the New York Times theatre critic Frank Rich declaring, "We must write letters to our congressmen demanding that Miss Welch be detained in the United States forthwith, as a national resource too rare and precious for export."
In high old age, Elisabeth Welch continued to sing with great aplomb; indeed, although her voice lost some of its range and mobility, recordings from the mid-1980s indicate greater maturity of interpretation than ever. By this stage, in the opinion of many connoisseurs, she had taken over the position, for so long occupied by Mabel Mercer, as the reigning grand dame of the Anglo-American popular song – a fittingly triumphant end to a career that had always combined integrity with distinction.
In 1992 stars gathered at the Lyric Theatre in London to pay tribute to Elisabeth Welch in the Crusaid Concert; she was given an unprecedented five standing ovations. Four years later, at the age of 92, she repaired to a retirement home in west London.
In her teenage years Elizabeth Welch was briefly married to an American musician.
The above "Telegraph" obituary can also be accessed online here.