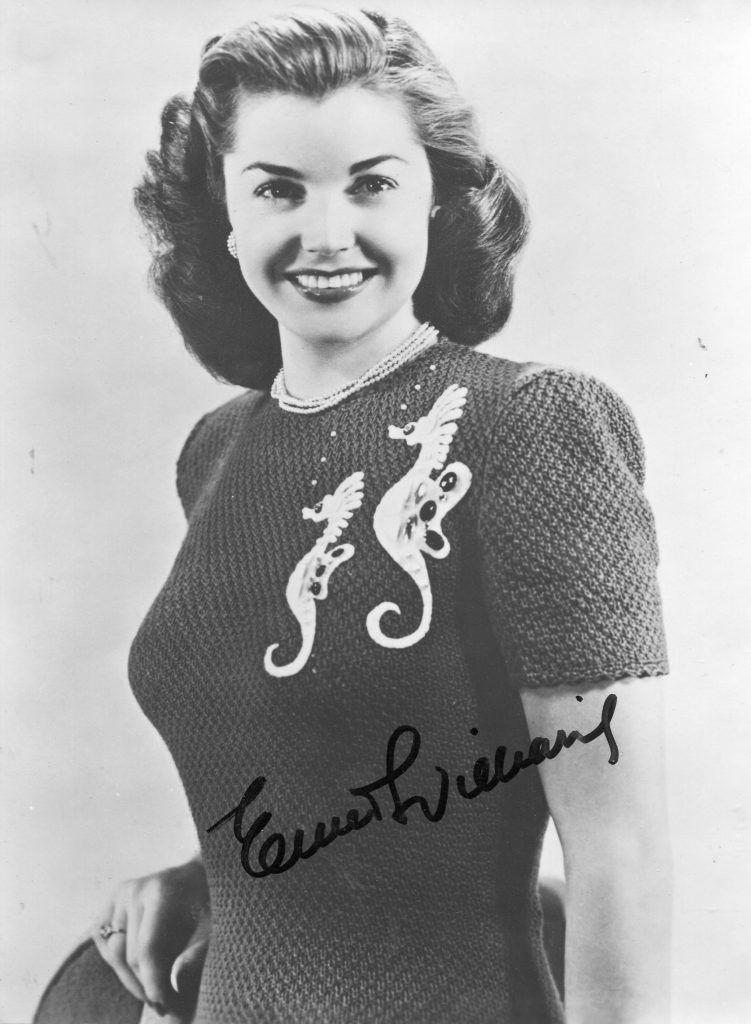 Esther Williams was one of the major MGM movie stars of the 1940's and 50's mainly associated with her swimming musicals.
Her Guardian obituary by Ronald Bergan :
Esther Williams, "Hollywood's Mermaid", who has died aged 91, swam her way through more than a dozen splashy MGM musicals in the 1940s and early 50s. While smiling at the camera, she was able to do a combination of crawl, breast and backstroke, and was forever blowing bubbles under water, seemingly having an inexhaustible supply of air.
Like the starlets Lana Turner, Kathryn Grayson and Donna Reed before her, she started out for MGM in a Hardy Family picture, Andy Hardy's Double Life (1942) – though one that allowed her to swim with Mickey Rooney. After being billed 19th in A Guy Named Joe (1943), she shot to stardom in her third film, Bathing Beauty (1944).
It started out as an average Red Skelton vehicle, first called Mr Co-Ed, then Sing and Swim, but Esther's superb figure and pretty features were heightened by Technicolor to such an extent that her part was built up and the title changed. A special 90-foot square, 20-foot deep pool was built at Stage 30 on the MGM lot, complete with hydraulic lifts, hidden air hoses and special camera cranes for overhead shots.
"No one had ever done a swimming movie before," she explained, "so we just made it up as we went along. I ad-libbed all my own underwater movements." Williams played a swimming instructor at a women's college and the picture ended with a spectacular water-ballet set to the Blue Danube waltz, with alternate jets of water and flame bursting from the pool. Variety magazine said that William was "pulled to stardom by her swimsuit straps".
The movie was a bigger hit than anyone had anticipated, and MGM spent the following decade hiring writers to invent scripts which allowed Esther to get wet. She would later remark: "My pictures were put together out of scraps they found in the producer's wastebasket. All they ever did for me at MGM was to change my leading men and the water in the pool." Actually her films were bubbly entertainments and the aquaballets (the most spectacular being staged by Busby Berkeley) were often breathtaking in their scope.
On An Island With You (1948) and Pagan Love Song (1950) were both set on South Sea islands, giving Williams ample opportunity to strip down to her stylish swim suits and take the plunge. She was a bathing suit designer in Neptune's Daughter (1949), keen to demonstrate her creations herself, and is the last woman to give into the blandishments of a handsome polo player (Ricardo Montalban) who sings to her, Baby, It's Cold Outside.
Most of the time in Dangerous When Wet (1953), co-starring her future husband Fernando Lamas, was taken up by her preparations to swim the English Channel. The best moment is a dream sequence in which Williams anticipates a crossing with the cartoon characters Tom and Jerry, while trying to avoid an octopus in a beret who gropes her with six extra hands.
However, she did not give in to groping very easily on screen: "My movies made it clear it's all right to be strong and feminine at the same time," she claimed.
In Fiesta (1947), Williams struck a blow for senoritas' lib by proving herself the equal of any male matador, while in Take Me Out To The Ball Game (in Britain, Everyone's Cheering, 1949), she played the owner-manager of a baseball team, whose initial interest in Gene Kelly lies in his ability to play ball. Inevitably, she thaws (after a swim) and falls for his rather blatant charms.
Williams portrayed Annette Kellerman, the Australian swimming champion who introduced the world to the one-piece bathing suit – as opposed to a combination of dress and pantaloons – in Million Dollar Mermaid (1952). The high spot of the film was Berkeley's elaborately staged aquatic production number in which Esther rises like Aphrodite from the water surrounded by nymphs, and dives from a tremendous height into the centre of a kaleidoscopic pattern formed by swimmers. Although Williams did all her own swimming, she often had a stand-in for the more dangerous stunts.
She made an even bigger splash in the water-skiing ballet that ends Easy To Love (1953), one of Berkeley's last and most spectacular sequences. Filmed on location at Cypress Gardens, Florida, it has over 30 waterskiers towed in arrowhead formation with Williams at the tip. They jump and slalom around the beautiful amphibian before she seizes a trapeze dangled from a helicopter, rises to the height of 500 feet, and dives into the pleasure-garden lagoon.
After the expensive belly-flop of Jupiter's Darling (1955), a Roman romp in which Esther as Amytis prevents Hannibal (Howard Keel) from sacking Rome, MGM, for whom she had grossed over $80m, sacked her without even a goodbye or a thank you.
Born in Los Angeles, Esther was the fifth and last child of a pyschologist mother, Bula, and a signwriter father, Lou. She grew up swimming in local pools and surfing. By 16, she was a member of the Los Angeles Athletic Club swimming team and had won three national championships in both the breaststroke and freestyle. A year later, she was on the 1940 US Olympic team headed for Tokyo when the second world war intervened, cancelling the Games along with her hopes for international fame.
However, the showman Billy Rose noticed a photo of her, and starred her as Aquabelle opposite the Olympian and screen Tarzan Johnny Weissmuller as Aquadonis in his San Francisco Aquacade review. MGM scouts saw her in the show, and signed her to a contract.
Once her time at MGM had come to a close, the former prima ballerina of the water then tried her hand at dramatic roles at Universal, including The Unguarded Moment (1956) as a schoolteacher sexually attacked by one of her pupils. Her final movie appearance came in Fuente Magica (The Magic Fountain, 1963) directed by Lamas, whom she married in 1969.
Her first marriage, in 1940, had been to Leonard Kovner, and her second, in 1945, to the radio singer Ben Gage. Both ended in divorce. She and Gage had three children, whom she taught to swim soon after birth.
In September 1976, she sued MGM for $1m, claiming they had no legal right to utilise sequences from her films in That's Entertainment (1974) without consulting her about it or offering to share profits. The matter was settled out of court.
Lamas died in 1982, and six years later Williams married a professor of French literature, Edward Bell. Together they made profitable businesses of Esther Williams Swimming Pools and the Esther Williams Collection, one of America's most recognised swimwear brands.
Though denied an Olympic appearance herself, Williams helped to inspire the development of synchronised swimming, an Oympic discipline since 1984. She was at those Games, in Los Angeles, to commentate on the event for television. Her rather fanciful autobiography, inevitably titled The Million Dollar Mermaid, appeared in 1999.
She is survived by Edward, a daughter, Susan, and a son, Benjamin.
• Esther Jane Williams, swimmer and actor, born 8 August 1921; died 6 June 2013
Her Guardian obituary can be accessed on-line here.