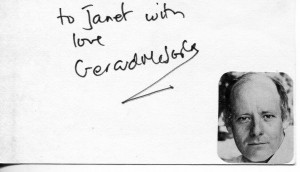 "Wikipedia" entry:
He was born in Omagh, County Tyrone, and after attending a Christian Brothers school in his hometown he attended St. Columb's College in Derry. He then attended Queen's University, Belfast, where he was taught by Seamus Heaney. He currently resides in Gweedore, County Donegal. He is a descendant of John McSorley, who opened McSorley's Old Ale House, the oldest operating pub in New York.
He spent much of his early career working in theatre, notably at the Abbey Theatre in Dublin. After playing Michael Evans in the original West End and Broadway productions ofBrian Friel's play Dancing at Lughnasa in the early 1990s, McSorley started to attract more TV and movie roles. He has appeared in many Hollywood movies including Braveheart(in which his character "Cheltham" was decapitated by William Wallace at the battle of Stirling) and In the Name of the Father. One of his most celebrated performances was his lead role in Omagh, a feature-length television drama depicting the effect of the Omagh bombing on the residents of the town. He is also known for playing "Father Todd Unctuous" in the Christmas special episode ("A Christmassy Ted") of the Channel 4 sitcom Father Ted. His film credits include The Constant Gardener, and he was also cast as Queenan in The Departed but had to pull out (Martin Sheen took over the role). McSorley most recently played the role of Robert Aske in the Showtime historical drama The Tudors. He appeared in the 2010 movie Robin Hood, directed by Ridley Scott and starring Russell Crowe.
The abpve "Wikipedia" entry can also be accessed online here.