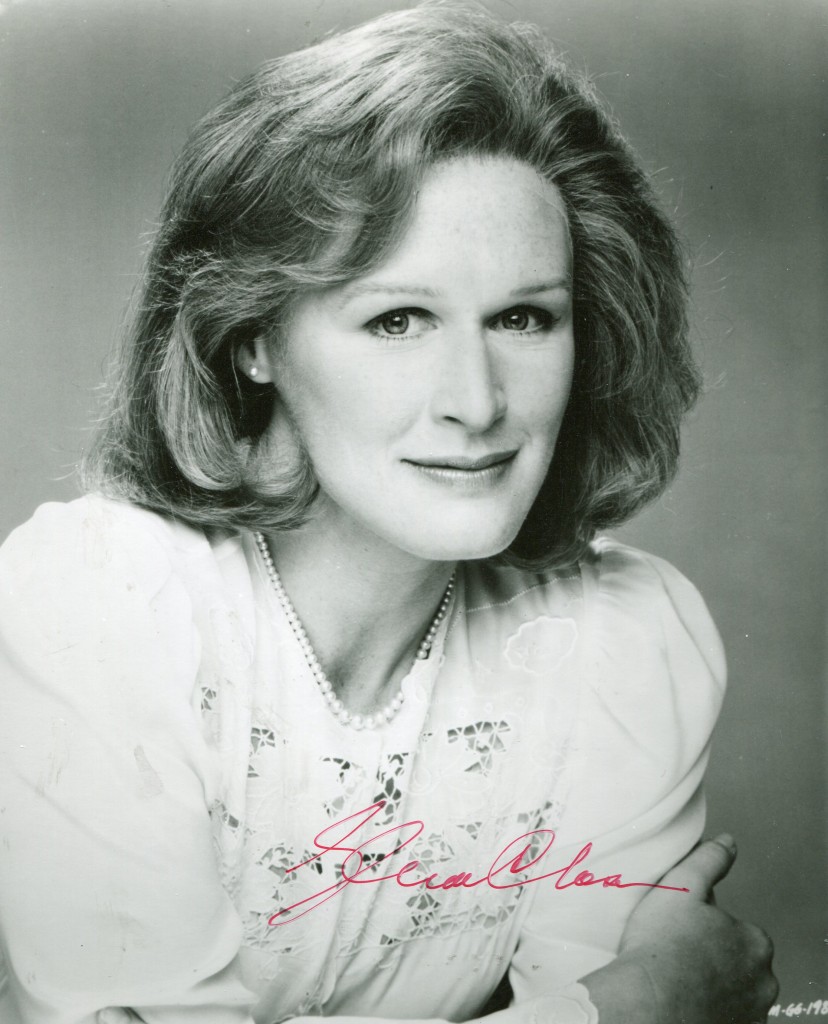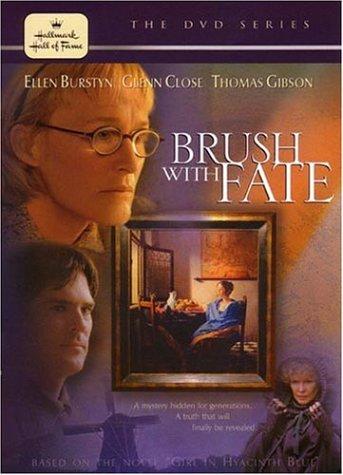 TCM overview:
Seemingly born atop the Hollywood A-list, actress Glenn Close established herself as one of the finest performers of her generation – or any other, for that matter – with her first film, "The World According to Garp" (1982), for which she earned the first of several Oscar nominations. For the rest of the 1980s, Close quickly became a top leading lady who eventually achieved infamy with her portrayal of a psychotic woman avenging a lost affair in one of the decade's most notorious movies, "Fatal Attraction" (1987). Unlike most film stars, however, Close was more than happy to oscillate from the big screen to television to Broadway; often with even more critical and award success. She played Queen Gertrude to Mel Gibson's "Hamlet" (1990) and voiced Cruella de Vil in the animated classic, "101 Dalmatians" (1996). Close earned critical acclaim as well as Tony Awards for her work on Broadway in "Death and the Maiden" (1992) and the musical "Sunset Boulevard" (1994). Following quality turns in "Things You Can Tell Just by Looking at Her" (2000) and "Nine Lives" (2005), Close was Emmy-nominated for her portrayal of Capt. Monica Rawling on season four of "The Shield" (FX, 2002-08). But it was her performances as high-stakes litigator Patty Hewes on "Damages" (FX/Audience Network, 2007- ) that proved to be her most significant small screen role. Regardless of the medium, Close remained one of Hollywood's premier actresses.
Born on March 19, 1947 in tony Greenwich, CT, Close was raised one of four children in an upper-middle class family headed by William Close, a surgeon whose affiliation with the conservative salvation group Moral Re-Armament led him to relocate the family to the Belgian Congo where he ran several medical clinics. At the time, Close was 13 years old and subsequently received her education at boarding schools in Switzerland, followed by Choate Rosemary Hall back in Greenwich. During high school, she took an interest in theater, joining a repertory group called The Fingernails. After she graduated, Close spent several years touring with the folk-singing group Up With People, before leaving to attend the drama school at William and Mary in Virginia. Close graduated late from William and Mary – she was 27 years-old – but immediately found work in New York City with the Ph nix Theatre Company, appearing in "Love for Love" and "The Member of the Wedding." Close was cast as Mary Tudor in the Richard Rodgers' musical "Rex" (1976), then jumped to television, making her small screen debut as a homewrecker in the made for television movie, "Too Far to Go" (NBC, 1979).
Close made her breakthrough on Broadway with a supporting role in the musical "Barnum" (1980), playing the patient wife of the famed 19th century showman. Thanks to her performance, acclaimed director George Roy Hill became aware of Close – he was attracted to her sense of composure, the exact quality he was looking for in an actress to play Jenny Fields in "The World According to Garp" (1982). Though nervous about starring in her first feature after years on stage, Close nonetheless was spot-on in her performance as the prim, hard-nosed mother of an aspiring novelist (Robin Williams), whose own novel about her life raising a son as a single mother becomes a feminist rallying cry. Due to her impressive work, Close earned an Academy Award nomination for Best Actress in a Supporting Role, triggering a run for several Oscar nods in the 1980s – including three consecutive – that ultimately netted zero wins. She next co-starred in the Baby Boomer ensemble comedy-drama "The Big Chill" (1983), earning her second Oscar nod for Best Supporting Actress for her performance as one of seven college friends gathered together to reminisce after the suicide of one of their own.
A third Oscar nomination for Best Actress in a Supporting Role followed her performance in "The Natural" (1984), starring as the childhood sweetheart of a former bush league ballplayer (Robert Redford) finally getting his chance to play in the big leagues. Returning to Broadway, Close won a Tony Award for Best Actress in a Mike Nichols' staging of Tom Stoppard's romantic comedy, "The Real Thing." With firm footing on stage, television and the silver screen, Close was able to alternate between the three throughout the 1980s, all the while attempting to undertake parts with depth on her path to becoming one of Hollywood's top leading ladies. In the groundbreaking TV special "Something About Amelia" (ABC, 1984), Close played a woman who gradually comes to realize her husband (Ted Danson) has been having sex with their daughter (Roxanne Zal). She kept alive her award nomination streak, earning a nod for Outstanding Lead Actress in a Limited Series or Special. Her status as a lead actress was confirmed with a solid performance as a lawyer romantically entangled with a client in "Jagged Edge" (1985) and as a woman sharing her home and her body with a ghost of a silent film star (Ruth Gordon) in "Maxie" (1985).
While she steadily earned a reputation as an actress of the highest caliber, Close gained a great deal of notoriety for what became her most controversial role. In "Fatal Attraction" (1987), Adrian Lyne's dynamic and enormously successful psychological thriller, Close achieved infamy playing Alex Forrest, an obsessive woman with whom a family man (Michael Douglas) engages in a one night stand when the wife and kids are away. When the married man tries to break off the affair, Alex starts to terrorize him and his family in a bizarre and psychotic attempt to win back his affections. For two-thirds of the film, "Fatal Attraction" was a compelling look at the cause and effect of infidelity, until the final third when it digressed into standard revenge thriller territory, complete with a double-scare death scene straight from the horror movie cliché handbook. It was later revealed that Lyne was forced to reshoot the original ending – which depicted Alex committing suicide and framing the cheating husband for murder – after test audiences rejected it. Close later expressed her disappointment with the reshoot, claiming that her portrayal of a damaged, but sympathetic character was undermined by the more fantastical redo. Nonetheless, Close earned an Academy Award nomination for Best Actress in a Leading Role and a whole lot of notoriety, as people often acted afraid of her on the streets, so powerful and frightening was her portrayal.
Close followed her "Fatal Attraction" performance as a sexually manipulative aristocrat in the "Dangerous Liaisons" (1988), which again earned her a nomination for Best Actress in a Leading Role. She brought surprising sympathy to the role of the pathetic, frivolous society matron Sunny von Bulow in the darkly humorous "Reversal of Fortune" (1990), then proved rather effective as a youthful Gertrude to Mel Gibson's mature "Hamlet" (1990). In 1991, Close made her first foray into TV movie-producing with "Sarah, Plain and Tall" (CBS, 1991), a touching drama that depicted Close as a woman who answers a widowed farmer's newspaper ad for a new wife and mother to his two children. Close earned two Emmy Award nominations; one for Outstanding Lead Actress in a Miniseries or Special; the other, as a producer for Outstanding Drama or Comedy Special and Miniseries. Back on stage, she won her second Tony Award for her performance on Broadway in the politically charged "Death and the Maiden" (1992), though she subsequently lost out to Sigourney Weaver when the play was adapted to film.
Because of the popularity and success of "Sarah, Plain and Tall," Close revived her role of replacement wife and mother in "Skylark" (CBS, 1993). On the big screen, Close seemed to be settling into a bit of a rut, starring in "House of the Spirits" (1993), a sweeping melodrama that tried in vain to mimic the sexual tensions of "Dangerous Liaisons" and "Reversal of Fortune." She bounced back with "The Paper" (1984), playing the power-hungry publisher of a New York City tabloid that is host to an assorted cast of characters, including a beleaguered editor (Michael Keaton) struggling between family and career, an editor (Robert Duvall) with prostate cancer, and an alcoholic columnist (Randy Quaid) who winds up passing out on the couch. Attempting her first leading musical role, Close played silent screen star Norma Desmond in the Andrew Lloyd Webber Broadway musical "Sunset Boulevard." In reincarnating this larger-than-life character immortalized onscreen by Gloria Swanson in Billy Wilder's 1950 classic, Close achieved a personal and creative triumph, though not without controversy. Patti LuPone, who originated the role in London, had been slated for the Broadway production. But Close received better reviews for her characterization in Los Angeles, leading to her taking over the New York production. Though some critics found fault with her singing and over-the-top acting, Close nonetheless won her third Tony Award for Best Actress.
On the heels of her Tony triumph, Close won her first Emmy for her nuanced portrayal of a real-life U.S. Army colonel who disclosed her lesbianism and fought to stay in the military in "Serving in Silence: The Margarethe Cammermeyer Story" (NBC, 1995). Perhaps as a nod to Norma Desmond, Close chewed the scenery as a Nancy Reagan-like first lady in Tim Burton's ode to 1950s sci-fi B-movies, "Mars Attacks!" (1996). She carried the Desmond vibe over to her depiction of Cruella De Vil in Disney's live action take on the cartoon classic, "101 Dalmatians" (1996), a role she also reprised in the sequel "102 Dalmatians" (2000). Close delivered an emotional performance as a mother whose AIDS-afflicted son has come home to die in "In the Gloaming" (HBO, 1997), a role that earned her a fifth Emmy Award nomination. After playing a female prisoner of war in "Paradise Road" (1997), she was a U.S. vice president coping with the kidnapping of the president in Wolfgang Petersen's goofy action thriller, "Air Force One" (1997).
After a third go-round playing a fill-in wife and mother in "Sarah, Plain and Tall: Winter's Edge" (CBS, 1999), Close further proved her ability for depicting forceful women in Robert Altman's sunny ensemble comedy "Cookie's Fortune" (1999), playing the niece of a widowed family matriarch (Patricia Neal) who discovers her body after a suicide and rearranges the death scene to make it look like a murder. In "Things You Can Tell Just by Looking at Her" (2000), Rodrigo Garcia's engaging anthology of loosely connected stories about five very different women dealing with various life problems, Close played a successful physician in the segment "This is Dr. Keener," who cares for an ailing mother while contending with her own loneliness. When a remarkably accurate tarot card reader (Calista Flockhart) makes a house call, Dr. Keener begins to assess the true emptiness of her own condition.
Despite Close's venerable career as a lead actress, she recognized that major roles were harder to come by for an actress her age. Further retreating into independent and low-budget films seemed to confirm that her time as a top box office draw was at an end. She did, however, experience a rebirth on television, where she once again found challenging roles. In "The Ballad of Lucy Whipple" (CBS, 2001), Close played a widowed mother of three who travels to California during the Gold Rush of 1850 to start a new life, clashing with her spirited 13-year-old daughter who d s not share her mother's dream. Meanwhile, she tackled the role of Nelly Forbush in an adaptation of the famed musical "South Pacific" (ABC 2001); had a hilariously high camp guest spot as an eccentric photographer on "Will & Grace" (NBC, 1998-2006), which earned her yet another Emmy nod; and starred in "Brush with Fate" (CBS, 2003), an adaptation of Susan Vreelands' collection of stories that trace the history and ownership of what may be an undiscovered painting by 17th century Dutch painter Jan Vermeer.
Back on the big screen, she essayed a couple of supporting roles, appearing as a dutiful mother obsessively tending to her comatose son in "The Safety of Objects" (2001), then as an American academic in Paris who quietly observes her naive assistant (Kate Hudson) have an affair with a married Frenchman in "Le Divorce" (2003). In 2005, Close tackled a role made famous by Katharine Hepburn, playing Eleanor of Aquitaine in "The Lion in Winter" (Showtime, 2004), the wife of King Henry II (Patrick Stewart) who is newly released from prison after staging a coup. Close earned her first Golden Globe Award for this dynamic portrayal, winning the category of Best Performance by an Actress in a Miniseries or a Motion Picture Made for Television. She also chalked up Best Actress wins at the Screen Actors Guild Awards and the Emmys. Close followed with a part in the ensemble "Strip Search" (HBO, 2004), a look at how crime and punishment had changed in the wake of the Sept. 11, 2001 terrorist attacks.
Taking a rare foray into a full-blown comedy, Close grandly hit all the right notes as too-perfect Claire Wellington, the grand dame of the Stepford society of subservient spouses in the otherwise failed satirical remake of the thriller, "The Stepford Wives" (2004). The actress then took on her first regular role in a television series, joining the cast of the gritty crime drama "The Shield" (FX, 2002-08) in its fourth season, playing the shrewd new precinct commander Capt. Monica Rawling, who offered redemption to the series' antihero Vic Mackey (Michael Chiklis). Producers credited a 30 percent rise in viewers due to her presence, but the actress chose to depart at the conclusion of her first season so she could be closer to her East Coast family. Nonetheless, she earned heaps of critical praise, the admiration of the regular cast, and an Emmy nomination for Outstanding Lead Actress in a Drama Series in 2005. Stepping back into the more comfortable realm of character-driven drama, she appeared in the weighty "Heights" (2005), playing the mother of a New York City photographer (Elizabeth Banks) who begins to rethink her open marriage, while her daughter has second thoughts about her pending nuptials with her lawyer fiancé (James Marsden).
Comfortable shifting from television to film, as she had been throughout most of her career, Close gave a typically strong performance in the ensemble anthology "Nine Lives" (2005), playing a widowed mother whose life has been taken over by her precocious young daughter (Dakota Fanning). After matriarchal supporting roles in "The Chumscrubber" (2005) and "Evening" (2007), Close made a triumphant return to series television with "Damages" (FX, 2007- ), playing the simultaneously revered and reviled Patty Hewes, a high-stakes litigator in New York City who takes on a bright and ambitious protégé (Rose Byrne) during a major class action lawsuit targeting a ruthless corporate CEO (Ted Danson). Hewes shows her protégé exactly what it takes to win at all costs, making it clear that often fortunes – and lives – are at stake. Close's gritty portrayal earned the actress a Golden Globe Award for Best Performance by an Actress in a Drama and an Emmy for Outstanding Lead Actress in a Drama Series, both in 2008. Close repeated the triumph when she won the Emmy in the same category the following year. While "Damages" found new life on the Audience Network after being let go by FX, Close found the time to return to movies. She starred in Rodrigo García's indie drama, "Albert Nobbs" (2011), in which she played a 19th century woman who disguises herself as a man to gain employment in poverty-stricken Ireland, only spend the next 30 years growing increasingly confused about her own identity. The role earned Close a Oscar and Independent Spirit Award nominations for Best Actress.
Thed above TCM overview can also be accessed online here.