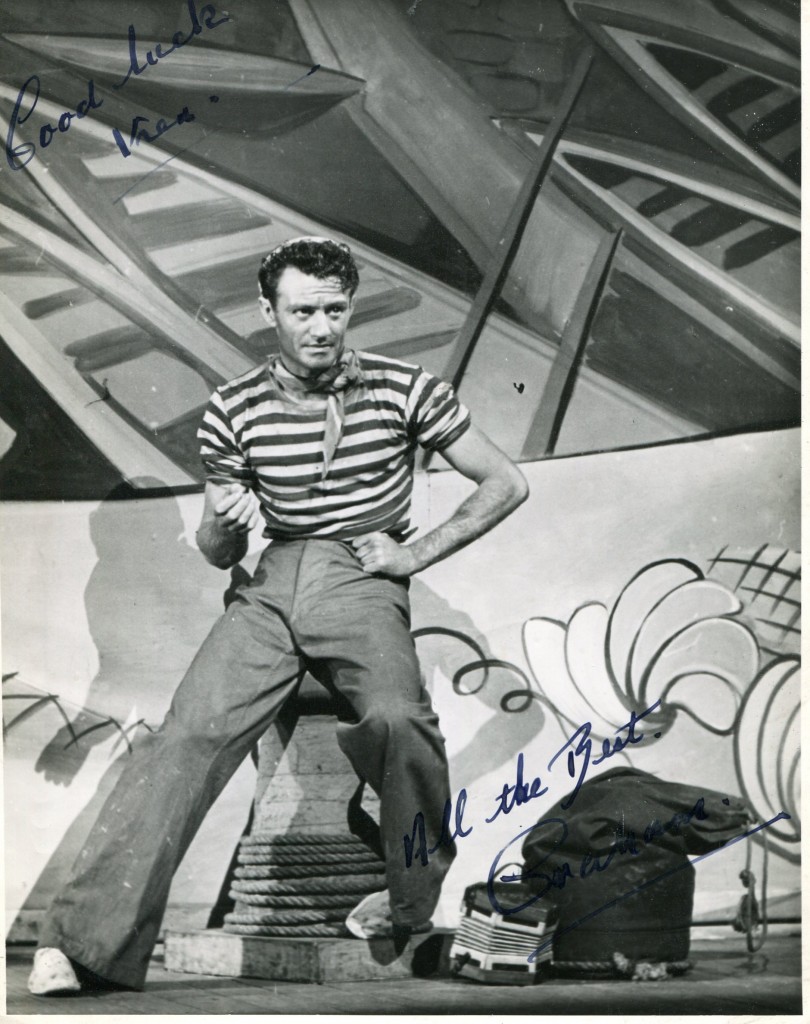 Graham Payn's obituary by Eric Shotter in "The Guardian in 2005":
The actor and singer Graham Payn, who has died aged 87, was Noel Coward's companion for the last 30 years of his life and lit up the playwright's 1945 revue, Sigh No More, with a nostalgic song, Matelot, written for him. As the Evening Standard put it: "Mr Graham Payn shows that he can do something more than dance in tails and white tie." What that something was puzzled Coward for the rest of his life. He wanted his friend to make his theatrical mark; but he, in turn, seemed content to be a character actor.
Known mainly until Matelot as a figure in male chorus lines – having started out as Curly in Peter Pan, at the London Palladium, aged 13 – Payn had also been in numerous pantomimes and musical comedies before and during the second world war. After Matelot, Coward cast him in his next three shows, and Payn was later to direct Coward.
Yet if he was not made of Coward's mettle, Payn's devotion was unquestionable. When, many years later, Coward was behaving with his customary wit and elegance after encountering Kenneth Tynan at the Savoy Grill, the critic noted how the playwright depended on Payn and another old friend, Joyce Carey, to each take an arm. Having edited (with Sheridan Morley) The Noel Coward Diaries, Payn ended up running his estate in Switzerland.
Payn was born at Pietermaritzburg, South Africa, and educated there and privately in England. He appeared in films as a boy soprano in 1932, and his first grown-up stage role in London came with Patricia Burke just before the second world war in Douglas Furber's song-and-dance show Sitting Pretty. With Binnie Hale and Leslie Henson, he played in another musical, Up and Doing (Saville, 1940) before Fine and Dandy, again with Henson, at the same theatre. In Magic Carpet, he was with Sydney Howard and then, after The Lilac Domino (1944), he turned up at the Palace that year as Lewis Carroll, the Mock Turtle and Tweedledum in Clemence Dane's version of Alice in Wonderland. Then came Sigh No More.
Pleased with Payn's success, Coward wrote into Pacific 1860 (1946) the major part of a handsome South Seas islander who falls for Mary Martin as a visiting singer. As the elder son of the principal planter, Payn had eventually to forgo his passion to his brother; but the ability to project emotion was clear and affecting.
In 1947-48, he toured the US in the parts that Coward had created with Gertrude Lawrence in Tonight at 8.30. Back in London, he joined Coward's rather desperate evocation of the London underworld in Ace of Clubs, before returning to his first love, intimate song-and-dance in West End revue. He was back with Coward again in 1954 in what became – because Coward had inflated it – the leading role of Mr Hopper in After the Ball, a musical version of Wilde's Lady Windermere's Fan, with an affecting song called Faraway Land.
In an adaptation from the French of a musical comedy by Diana Morgan and Robert MacDermott, Love Is News, Payn shared the lead with Patricia Cree (his partner in the Wilde musical). Under Norman Marshall's direction, they made a real success of it. It led to a television contract with Richard Hearne (of Mr Pastry fame), though Coward dismissed the opportunity as "unsuitable".
Turning to legitimate roles, Payn did a stint at Windsor rep and then turned up as a detective in a thriller, Subway in the Sky. Even so, Coward fretted about his young friend's sense of achievement. He knew he had been good in facing up to various rebuffs; but he seemed content with so little.
Then Payn ventured into another legitimate play, Paul Tabori's Brouhaha (1959), which Coward rated "a great success". Later that season, Payn played opposite Margaret Lockwood and Yolande Donlan in Jack Popplewell's And Suddenly It's Spring; and in Coward's next piece, Waiting in the Wings (1960), Coward wrote a part for him.
Four years later, Coward appointed Payn assistant director both in New York and London of a musical version (not by Coward) of Blithe Spirit. As High Spirits, however, the musical comedy merely depressed the spirits of onlookers. The following season, the playwright cast his friend as Morris Dix in a revival of Coward's Present Laughter, but though Payn acted well enough, Coward declared him to be "a born drifter".
"He sleeps and sleeps and the days go by. I love him dearly and for ever, but this lack of drive in any direction is a bad augury for the future. I am willing and happy to look after him for the rest of my life but he must do something. If only he would take up some occupation and stick to it. I know that he is unhappy inside but, alas, with his natural resilience these moments of self-revelation dissipate and on go the years and he will be an elderly man who has achieved nothing at all … He won't work unless he has to – then he is at it like a tiger – and he lacks the self-discipline to force himself … He only reads trash and that very seldom."
After Coward died in 1973, Payn wrote (with Sheridan Morley and Cole Lesley) Noel Coward and His Friends (1979). He dedicated to Cole Lesley The Noel Coward Diaries (1982), which he edited with Morley, and settled at Coward's last home in Switzerland, Les Avants.
Philip Hoare writes: Watching the uproarious scene in The Italian Job (1968) in which Noel Coward descends the prison staircase to the applause of his fellow inmates, few could know that the slight figure close behind him was his lover, Graham Payn.
I did not meet Graham until the movie star looks had begun to fade, but you could still see the appeal; more so in the candid album shots of him lounging, naked, around Coward's swimming pool. He seemed lit by a certain glamour, even when merely visiting a star's dressing room. "With hair as shiny as wet coal, a winning smile and ruddy complexion," wrote William Marchant, "he kissed Mary Martin as if it were the fadeout of a particularly romantic film."
Graham came into Coward's life when the older man had been let down by his former lover, Jack Wilson. "Everyone was rather surprised," Pat Frere told me when I was writing my biography of Coward, "he didn't seem quite Noel's genre. But it worked wonderfully."
Graham disproved his partner's assessment of himself as "an illiterate little sod" by publishing his memoir and by managing the Coward estate. He was a generous, uncomplicated man, and he will be missed by his many friends.
· Graham Payn, actor and singer, born April 25 1918; died November 4 2005
The above "Guardian" obituary can also be accessed online here.