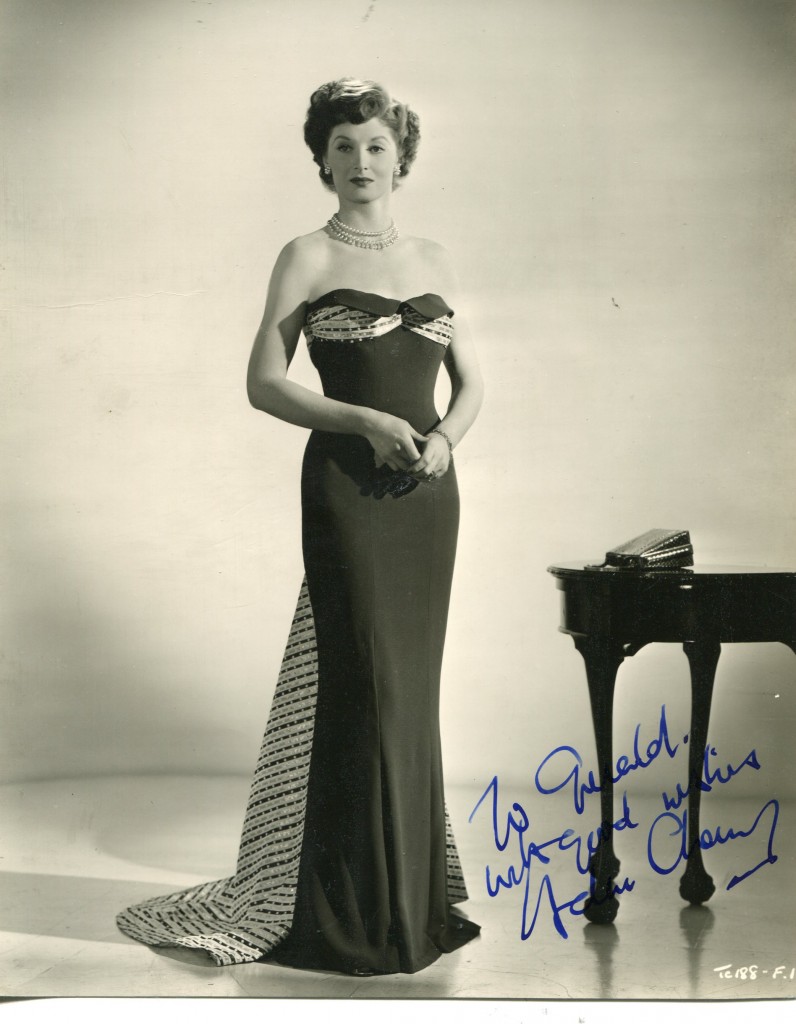 Eric Shorter's obituary in "The Guardian" in 2001:
Helen Cherry, who has died aged 85, had an acting career that spanned nearly half a century on stage, screen and radio. She was staunchly classical by choice – as devoted to Shakespeare, Jonson, Farquhar and co as she was to her notoriously errant actor husband, the late Trevor Howard.
Cherry had a voice and an ear for verse, and spoke with intelligence and wit. Her Rosalind in As You Like It seemed unrivalled in the 1940s; and her cross-dressing Sylvia in The Recruiting Officer (1944) was enchanting. There was often something cool in her acting, yet she had an integrity that brought charm to her performances.
It was in one of Herbert Farjeon's intimate revues, In Town Again, that she made her London debut in 1940 at the Criterion. She was to give ladylike, if hardly sublime, performances in a couple of dozen feature films, including Roy Baker's Morning Departure (1950), when, married to doomed submariner John Mills, she cried: "I'm so sick of sharing you with a lot of damn submarines!"
There was television too, but none of it was, for Cherry, a patch on the theatre. She had entered it at a time when a serious-minded young woman could choose from several companies to act Shakespeare, when the regions were bristling with repertory companies.
She was born in Manchester and brought up in Harrogate. Intending to be a stage designer, she trained as a commercial artist, but the first job she put in for – and what became her professional debut – was in Manchester in 1938 as an extra in The Vagabond King. Repertory theatre followed, in Manchester, Chester and St Annes, and in 1940 a tour of a Farjeon revue, Nine Sharp, followed by In Town Again.
In 1942 she joined Robert Atkins's open-air Shakespearean company in Regent's Park. She played Olivia in Twelfth Night, Oberon in A Midsummer Night's Dream and the Widow in The Taming of the Shrew. When Atkins moved his troupe under cover for the winter, to the Westminster Theatre, Cherry's roles included Jessica in The Merchant of Venice, Lady Percy in King Henry IV Part I, Doll Tearsheet in King Henry IV Part II and Helena in A Midsummer Night's Dream.
In the summer of 1943 her parts included her favourite, Rosalind in As You Like It. That year, too, she joined Alec Clunes's Arts Theatre Club Group of Actors – dubbed in those days "the best national theatre we never had", and in 1944 partnered the young and newly demobbed Trevor Howard as Captain Plume to her Sylvia in The Recruiting Officer. They were married that year at the end of a Stratford season with Atkins, where her roles included Portia in The Merchant of Venice, Lady Corvino in Jonson's Volpone and, again, Rosalind.
As the war concluded, Cherry continued in the West End. She also joined Anthony Hawtrey at the Embassy, Swiss Cottage, an outpost for new plays such as Fit for Heroes, a satire on postwar house-building in which Cherry played a very amusing Hon Elizabeth Wimpole (1945).
After the war she was back in Shakespeare for Hugh Hunt's last Old Vic season, in 1953, and in 1955 she played Ursula in John Gielgud's great revival of Much Ado About Nothing (Palace). In the same London season, Cherry played Goneril to his controversially designed and absurdly stylised "Japanese" King Lear. Her last West End appearance was in Ladies in Retirement at the Fortune in 1982.
In the early 1950s Cherry became well known on television via the Guess My Story quiz show. Later credits included Time After Time, Jury, The Professionals and A Ghost In Monte Carlo.
She made more than a score of films. These included The Courtneys of Curzon Street (1947), They Were Not Divided (1950), Young Wives' Tale (1951), His Excellency (1952), Three Cases of Murder (1955), in which she played opposite Orson Welles, High Flight (1956), The Naked Edge (1961), Lady Scarlett in Tony Richardson's The Charge of the Light Brigade (1968), Conduct Unbecoming (1975) and The Girl on a Swing (1979).
In 1961, as the Campaign for Nuclear Disarmament struggle was reaching its height, Cherry – a CND supporter – was arrested on a demonstration.
Her husband's outrageous philandering and heavy drinking struck outsiders as excessive. Had it not imperilled the marriage? If there were unsettled moments, the couple did not seem to see it that way. Indeed, when, after his death in 1988, it was suggested that Howard's alcoholism spoiled his acting, she sprang to his defence.
Even so, most observers recalled the couple's private life (or what they knew of it) more vividly than Cherry's acting; and though, of course, it hardly rivalled her husband's for gusto, passion, fury or fame, Cherry, throughout her career, demonstrated steady, reliable and subtle quality.
Helen Cherry, actor, born November 24 1915; died September 27 2007.
The above obituary from the "Guardian" can also be accessed online here.