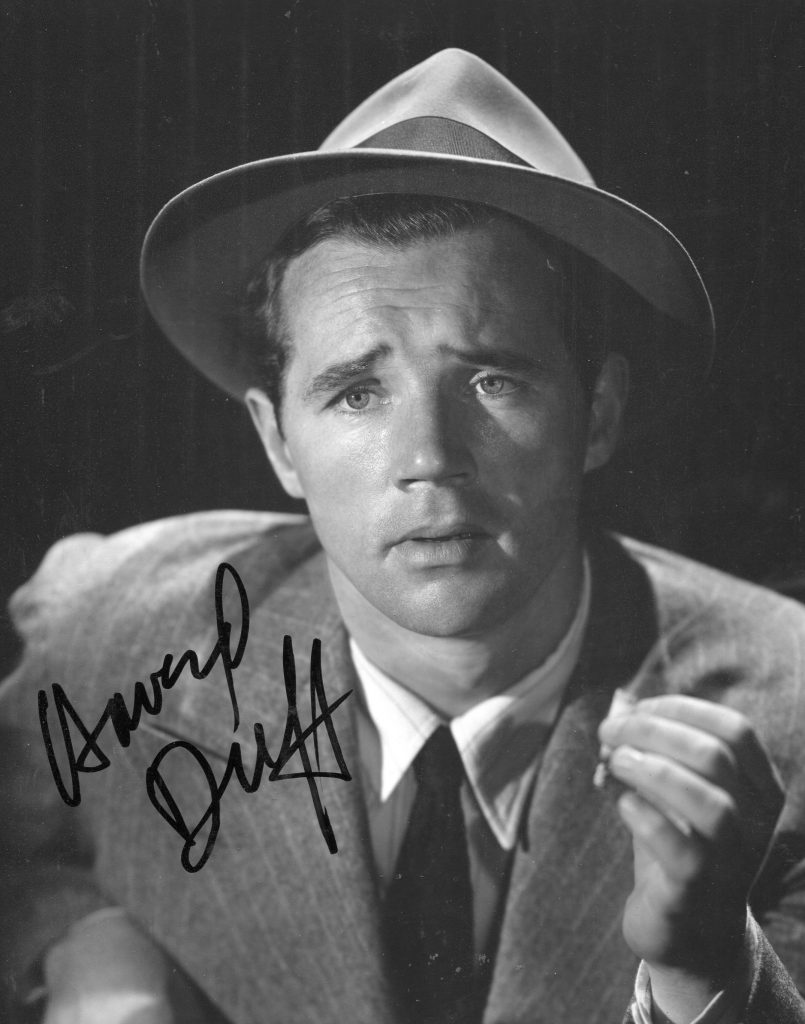 Gary Brumburgh's entry:
Tough, virile, wavy-haired and ruggedly handsome with trademark forlorn-looking brows that added an intriguing touch of vulnerability to his hard outer core, actor Howard Duff and his wife-at-the-time, actress Ida Lupino, were one of Hollywood's premiere film couples during the 1950s "Golden Age". Prior to that, Duff had relationships with a number of the cinema's most dazzling leading ladies, including Ava Gardner (just prior to her marriage to musician Artie Shaw) and Gloria DeHaven.
Duff's talent first manifested itself on radio as Dashiell Hammett's popular private eye "Sam Spade" (1946-1950), and eventually extended to include stage, film and TV. While never considered a top-tier movie star and, despite his obvious prowess, never considered for any acting awards, Howard Duff was an undeniably strong good guy and potent heavy but perhaps lacked the requisite charisma or profile to move into the ranks of a Burt Lancaster, Kirk Douglas or Robert Mitchum. His career spanned over four decades.
His full name was Howard Green Duff and he was born in Bremerton, Washington on November 24, 1913. Growing up in and around the Seattle area, he attended Roosevelt High School where he played basketball. It was here that he also found an outlet acting in school plays and, following graduation, studied drama. He eventually became an acting member of the Repertory Playhouse in Seattle. Military service interrupted his early career and he served with the U.S. Army Air Force's radio service from 1941 to 1945. Upon his discharge, he returned to his acting pursuits and won the role of "Sam Spade" on NBC Radio in the role Humphrey Bogart made famous in The Maltese Falcon (1941).Lurene Tuttle played his altruistic secretary "Effie" on the series. He eventually left the program when his film career settled in and Stephen Dunne took over the radio voice of the detective in 1950 for its final season.
Duff's post-war movie career started completely on the right foot at Universal with the hard-hitting film noir Brute Force (1947), in which he received good notices as an ill-fated cellmate to Burt Lancaster, Charles Bickford and others. Quite well-known for his radio voice by this time, he was given special billing in the movie's credits as "Radio's Sam Spade". This was followed by equally vital and volatile performances in the prescient semi-documentary-styled police drama The Naked City (1948) and in Arthur Miller's taut family drama All My Sons (1948) starring Lancaster, again, and Edward G. Robinson.
After such a strong showing, Howard career went into a period of moviemaking in which his films were more noted for its entertainment and rousing action than as character-driven pieces. A number of them were routine westerns that paired him opposite some of Hollywood's loveliest ladies: Red Canyon (1949) with Ann Blyth, Calamity Jane and Sam Bass (1949) with Yvonne De Carlo and The Lady from Texas (1951) with Mona Freeman. Other adventure-oriented flicks that more or less came and went included Spaceways(1953), Tanganyika (1954), The Yellow Mountain (1954), Flame of the Islands (1956),Blackjack Ketchum, Desperado (1956) (title role), The Broken Star (1956) and Sierra Stranger (1957). Howard also began appearing infrequently on the stage in the early 1950s with such productions as "Season in the Sun" (1952) and "Anniversary Waltz" (1954).
Those films that rose above the standard included gritty top-billed roles in Johnny Stool Pigeon (1949), Illegal Entry (1949), Shakedown (1950), Spy Hunt (1950) and Woman in Hiding (1950), the last a film noir which paired him with Ida Lupino for the first time. Here, he plays the hero who saves Lupino from a murdering husband (Stephen McNally). In 1951, he married Ms. Lupino, already a well-established star at Warner Bros., who was coming into her own recently as a director. The couple had one daughter, Bridget Duff, born in 1952. Lupino and Duff co-starred in four hard-boiled film dramas during the 1950s — Jennifer (1953), Private Hell 36 (1954), Women's Prison (1955) and While the City Sleeps (1956). The demise of the studio-guided contract system had an effect on Howard's film career and offers started drying up in the late 1950s.
Fortunately, he found just as wide an appeal on TV, appearing in a number of dramatic showcases for Science Fiction Theatre (1955), Lux Video Theatre (1950) and Climax!(1954). And, in a change of pace, the married couple decided to go for laughs by starring together in the TV series Mr. Adams and Eve (1957). Here, they played gregarious husband-and-wife film stars "Howard Adams" and "Eve Drake". Many of the scripts, though broadly exaggerated for comic effect, were reportedly based on a few of their own real-life experiences. They also guest-starred in an entertaining hour-long episode of theThe Lucy-Desi Comedy Hour (1957) in 1959 with the two couples inadvertently booked at the same vacant lodge, together. The show ends up a battle-of-the sexes, free-for-all with the two gals scheming to add a little romance to what has essentially become a fishing vacation for the guys. The 1960s bore more fruit on TV than in film. Sans Lupino, Duff went solo as nightclub owner "Willie Dante" in the tongue-in-cheek adventure seriesDante (1960), which lasted less than a season. A few years later, the veteran co-starred with handsome rookie Dennis Cole in what is perhaps his best-remembered series, the police drama Felony Squad (1966), which was filmed in and around Los Angeles. Duff directed one of those episodes, having directed several episodes of the silly sitcom Camp Runamuck (1965), a year or so earlier. In between series work were guest assignments on such popular primetime shows as Bonanza (1959), Twilight Zone (1959), Burke's Law(1963) and Combat! (1962).
The marriage of Ida and Howard did not last, however, and the famous married couple separated in 1966 after 15 years of marriage. Ida and Howard didn't officially divorce, however, until 1984. Howard later married a non-professional, Judy Jenkinson, who survived him. While much of Howard's work in later years was standard, if unmemorable, every now and then he would demonstrate the fine talent he was. A couple of his better film performances came as a sex-minded, booze-swilling relative in A Wedding (1978) and as Dustin Hoffman's attorney in the Oscar-winning drama Kramer vs. Kramer (1979). He also enjoyed a villainous role in the short-lived series Flamingo Road (1980) and had a lengthy stint on Knots Landing (1979) during the 1984-1985 season. Duff died at age 76 of a heart attack, on July 8, 1990, in Santa Barbara, California.
– IMDb Mini Biography By: Gary Brumburgh / gr-home@pacbell.net