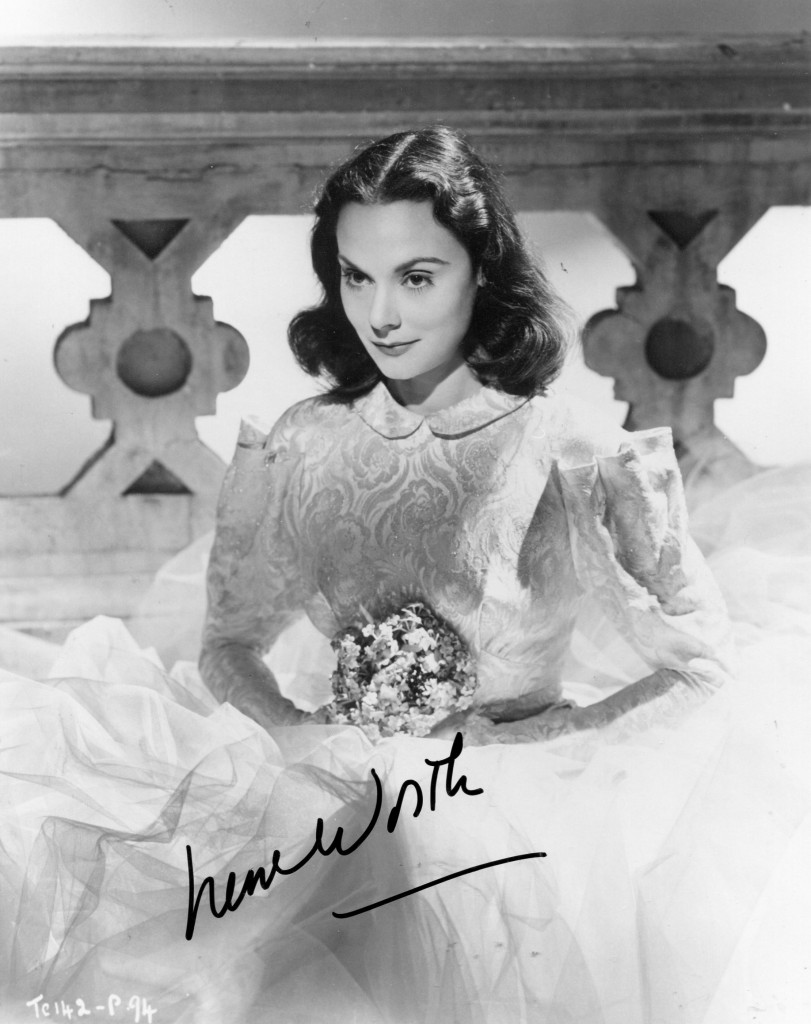 Irene Worth was a higly respected stage actress who did star in a few films. She was born in 1916 in the U.S. She began her acting career on Broadway and then in 1944 moved to London. Her career was concentrated on the stage in the UK. Her few movies include "The Scapegoat" with Alec Guinness and Bette Davis in 1959, "Nicholas and Alexandra" in 1971 and "Lost In Yonkers" in 1993. She died in 2002.
Eric Shorter's obituary in "The Guardian":
Irene Worth, who has died aged 85, was an actor of a quality that no self-respecting playgoer would voluntarily miss, in anything. Original and intelligent, she played havoc with an old critical rule that to think too hard is to be lost.
Her Goneril, to Paul Scofield's King Lear, in the 1962 Peter Brook production at the Aldwych theatre, London, established her importance once and for all. She somehow turned her every move and murmur into an erotic signal, even towards the servants. At the same time, she tilted the tragedy's sympathy away from the tetchy old monarch – because her Goneril became the daughter who had once loved him.
Worth was happiest in the avant-garde, or at a run-through in a gloomy rehearsal hall – "Why should we suddenly have to be perfect on the first night?" She relished improvisation, and preferred the experimental. There had been, in 1953, Tyrone Guthrie's All's Well That Ends Well and Richard III in a tent at Stratford, Ontario, where "the rain poured down, and there were no critics, and the people came, and it was all very basic – but they loved it".
Anything unexpected or unpredictable attracted Worth more than the West End's "horrendous banality". But although she flourished in French farce and Italian tragedy, Shakespearean comedy or American sex drama, she could also do so in Coward and Shaw, in whose Heartbreak House she gave a definitive performance as Hesione Hushabye, at Chichester in 1967.
A year earlier, with Lilli Palmer and Noel Coward in Coward's Suite In Three Keys, Worth won an Evening Standard award – as if to prove herself in drawing rooms – but she was glad to get back to Brook's bleak version of Seneca's Oedipus, at the Old Vic in 1968. Worth was Jocasta and John Gielgud Oedipus. In Iran in 1972, again with Brook, she played in Ted Hughes' Orghast, which tried out nothing less than a new language.
Born in Omaha, Nebraska, Worth took an education degree at the University of California, and spent five years teaching before deciding to act professionally. She made her first appearance in 1942, in Escape Me Never, touring with Elizabeth Bergner, learning to hold the stage – so Bergner said – by listening to the other actors and playing to them, instead of to the audience. Having debuted on Broadway the following year, in The Two Mrs Carrolls, she studied at Elsie Fogerty's famous Central school in London for six months in 1944-45.
No stint in repertory followed. Worth found regular work at outlying London theatres and was critically acclaimed for her incisive style, emotional force and sharply comic – and powerfully tragic – sense.
During the next half century, she played mainly in London, but sometimes on Broadway or at the Canadian Stratford, rarely drawing a discouraging notice. It was as the doomed "other woman" Celia Coplestone, to Alec Guinness's psychiatrist in TS Eliot's The Cocktail Party, that she returned to New York in 1950. A year later, in Othello at the Old Vic, she was perhaps the most heart-rending Desdemona of her generation.
After an orthodox West End run in NC Hunter's A Day By The Sea (1953), she joined the Midland Theatre Company in Coventry for Ugo Betti's The Queen And The Rebels. Her transformation from "a rejected slut cowering at her lover's feet into a redemption of regal poise" ensured a transfer to London, where Kenneth Tynan wrote of her technique: "It is grandiose, heartfelt, marvellously controlled, clear as crystal and totally unmoving." But the audience exploded with cheers.
As if to demonstrate her range, Worth then joined Alec Guinness in Feydeau's Hotel Paradiso (1956), jamming a top hat over her chin as an adulterous Parisian wife. As Schiller's Mary Stuart (1958), her deep, rich, plummy voice reflected that unhappy woman's pride, sensuality – and joie de vivre.
A host of other performances stick in the mind: the giggly Portia, in The Merchant Of Venice (1953); the enigmatic seductress in the title role of Edward Albee's Tiny Alice (New York 1964, London 1970). Her Princess Kosmonopolis, in Tennessee Williams's Sweet Bird Of Youth (1975), gained a Tony award, and on Broadway she also played Winnie, in Beckett's Happy Days (1979).
Worth loved sharing the spoken word with an audience "before television gobbles it up", yet she did award-winning work on TV in Britain, the US and Canada, and on film from the early 1950s into the 1990s. The latter ranged from Orders To Kill (1957) to A Piece Of Cake (1997).
She was revered. At the National in her 70s, when she felt dissatisfied with her delivery, she stopped, apologised, and said she would start again. Her stage authority permitted it. She went on acting into her 80s with that authority and intellectual assurance that had climaxed as Volumnia, to Ian McKellen's Coriolanus (National, 1984), and as Hedda Gabler, at Stratford, Ontario (1970).
London saw her as an old pupil of Matisse, in David Hare's The Bay at Nice (National, 1987) and in Chère Maître (Almeida, 1996), compiled by Peter Eyre from the letters of George Sand and Gustave Flaubert.
She rated herself "very much the homemaker", but marriage and children were out of the question. "It would have been impossible to have been a good actress, a good mother and a good wife."
She was made an honorary CBE in 1975.
· Peter Eyre writes: When Irene Worth walked into my dressing room at the Mermaid theatre in 1967, after a performance of Robert Lowell's Benito Cereno, in which I played the title role, she looked at me, wagged her finger almost in admonishment, and said, "Difficult part. Good performance."
How could I know then that my working life as an actor would be so tied up with her? Not long after that, I played her son in The Seagull, at Chichester, where I learnt that she was a unique actor of her generation in her ability to recreate her performance every night, as if for the first time.
One day before a performance, she said to me, "Do you like improvising? Let's improvise," – and that night, in the scene where Konstantin and Madam Arkadina berate each other, Irene covered the stage with a range of new movements and readings of the text, as if possessed. It was thrilling.
Acting with Irene was like jamming with a great jazz musician. She knew the tune and the rhythm, but one never knew what was going to happen. It was as if, when she performed, she was a deep sea diver, diving into the subtext and inner life of a piece. On the nights it worked, it was difficult for me to say my lines. I wanted to stand and shout, "Bravo. You're a genius!"
She was a great artist, and an extraordinarily warm and humorous personality. In Melbourne, in the middle of rehearsal, she suddenly said, "Have you ever seen a kangaroo? I saw one yesterday. He was eating a piece of cake, and playing with himself at the same time." Irene, aged 80, leapt and hopped across the room. She was the kangaroo; she was improvising.
· Irene Worth, actor, born June 23 1916; died March 10 2002
Her Guardian obituary can be accessed here.