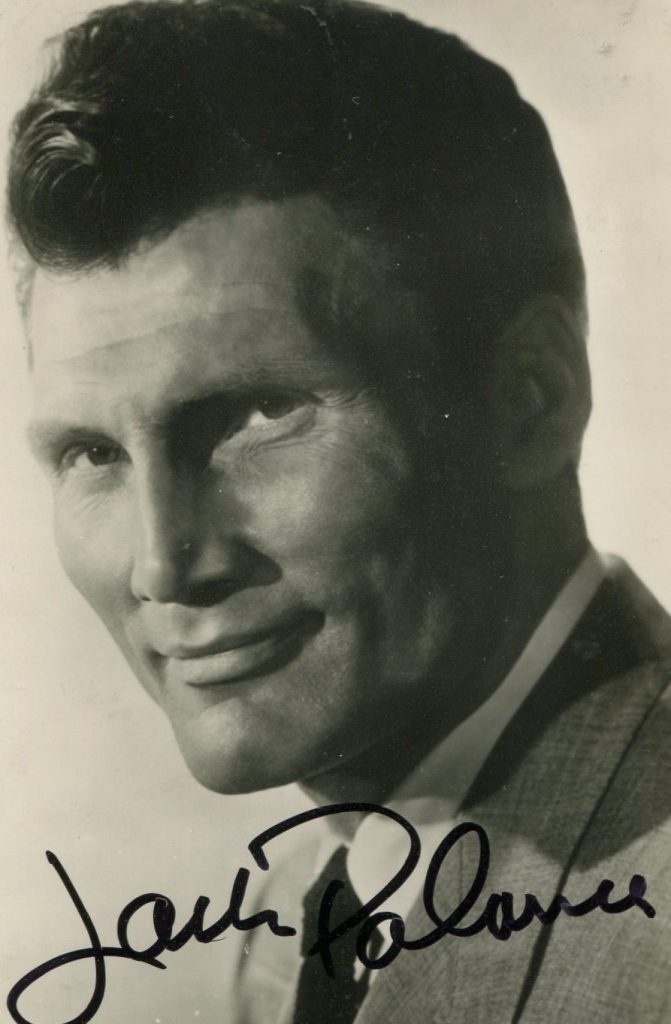 Jack Palance was born in 1920 in Pennsylvania to parents from the Ukraine. He understudied Marlon Brando on Broadway as 'Stanley' in "A Streetcar Named Desire". He made his film debut in "Panic in the Streets" in 1950. He starred opposite Joan Crawford and Gloria Grahame in "Sudden Fear" in 1952 and was a brilliant villain opposite Alan Ladd in the classic Western "Shane" . He had a long career in film winning an Oscar in 1991 fir "City Slickers". He died in 2008 at the age of 87.
Brian Baxter's obituary in "The Guardian":
It was George Stevens's western Shane (1953) that established Jack Palance, who has died aged 87, in cinemagoers' minds. Dressed in black, he was photographed from below, emphasising his domination of the farmers he had been hired to terrorise, or kill. That portrait of gunslinger Jack Wilson earned him a second Oscar nomination. The previous benchmark had been for Sudden Fear (1952), in which he played a murderous husband who is after the money and the life of millionairess Joan Crawford.
But it would be another four decades before Palance, with City Slickers (1991), would finally win an Oscar, as best supporting actor alongside Billy Crystal. In that film, he played Curly, an old trail boss who introduces four urbanites to the rugged life out west. The reward was as much for a career that took in more than 100 films as for that role. His acceptance speech proved a highlight of the evening. His series of one-armed push-ups dispelling any notion that he was a decrepit old-timer.
Palance was born in Lattimer Mines, Pennsylvania, the third son of Ukrainian immigrants. Like his father, he was a miner, but, by the end of the 1930s, Palance, tall and well-built was working as "Jack Brazzo", a professional boxer. Other jobs included modelling, waiting, and working as a lifeguard. In 1942, he enrolled in the US army air corps, but a year later while training in Arizona his B24 Liberator bomber crashed and he suffered severe burns, which needed extensive plastic surgery.
Postwar, via the GI bill, Palance graduated in 1947 in drama from Stanford University, California, and almost immediately got parts on Broadway. In 1948 he began understudying for Anthony Quinn's Stanley Kowalski in the touring production of Tennessee Williams's A Streetcar Named Desire and he then replaced Marlon Brando in the Broadway production of Streetcar, which brought him to the attention of director Elia Kazan.
He made his television debut in 1950 and his first films – as Walter Jack Palance. Kazan's Panic in the Streets, in which Palance played Blackie, a bubonic plague carrier who is being pursued across New Orleans by the police, was followed by the war movie Halls of Montezuma. Then came came Sudden Fear, Shane, the Oscar nominations and a part in Arrowhead (1953) as an Apache.
There was plenty of TV work and in 1954 he played Attila the Hun in Sign of the Pagan (1954), one of Douglas Sirk's lesser films. In 1955 he starred in I Died a Thousand Times – a remake of High Sierra, which had starred Humphrey Bogart. Palance enjoyed greater success in the Requiem for a Heavyweight (1956), winning an Emmy in the television version of Rod Serling's boxing drama. In Robert Aldrich's The Big Knife (1955), the sometime leftist writer Clifford Odets's attack on Hollywood, Palance starred as Charles Castle, a famous actor blackmailed by a vicious studio boss into signing a new contract. Palance and Rod Steiger battled it out at full volume. Aldrich then cast him in Attack! (1956) as a dedicated soldier, who realises that his cowardly commanding officer (Eddie Albert), is endangering his men. Palance brought force and integrity to the role.
It ushered in two decades where, despite working prolifically in American television and films, Palance found most of his employment abroad – mainly in Italy, often working in sword-and-sandal epics and westerns, or occasionally for American directors shooting abroad. The latter included Richard Fleischer's Barabbas (1962) and the superior suspense western, The Professionals (1966), with Burt Lancaster and Lee Marvin. But among other material in that decade was Le Mépris (Contempt 1963) Jean Luc Godard's swipe at movie moguls which starred Brigitte Bardot and Palance, and also featured Fritz Lang – as himself. There was also Torture Garden (1967), a British horror flick. A decent western, Monte Walsh, followed in 1970.
A stream of European films in the 1970s was interrupted by Palance's moving portrayal of the Count in a television version of Dracula and the prestigious, if dull, Oklahoma Crude (both 1973). By the beginning of the 1980s he was moving into an extended break to concentrate on his Californian cattle ranch.
But then, in 1988 he made a spectacular return in the lively western Young Guns and the German director Percy Adlon's cult comedy Bagdad Cafe. In the latter he played an oddball painter dressed in snakeskin boots. In 1989 he returned triumphantly to the big time as Carl Grissom in Batman, the first and best of the revived series. After that he worked with Andrei Konchalovsky as a gun-runner in the action movie Tango and Cash and had a couple of outings in sword-and-sorcery movies. Then came the plum part in City Slickers.
For the rest of the decade he remained busy in television movies. He took on a series of classic parts – Scrooge in Ebenezer (1997) and Long John Silver in yet another version of Treasure Island (1999).
He made four screen appearances in the 21st century – and his sixth decade in the movies. The last was on TV, in Back When We Were Grownups (2004).
From the late 1950s Palance had been an amateur artist and in 1996 he wrote and illustrated the prose poem Forest of Love: A Love Story in Blank Verse.
His marriage to Virginia Baker in 1949 ended in divorce in 1966. They had three children, Brooke, Holly, and Cody, who predeceased him. In 1987 he married Elaine Rogers, but that marriage also ended in divorce.
· Jack Palance (Vladimir Palahniuk), actor, born February 18 1919; died November 10 2006
His obituary can be seen in "The Guardian" here.