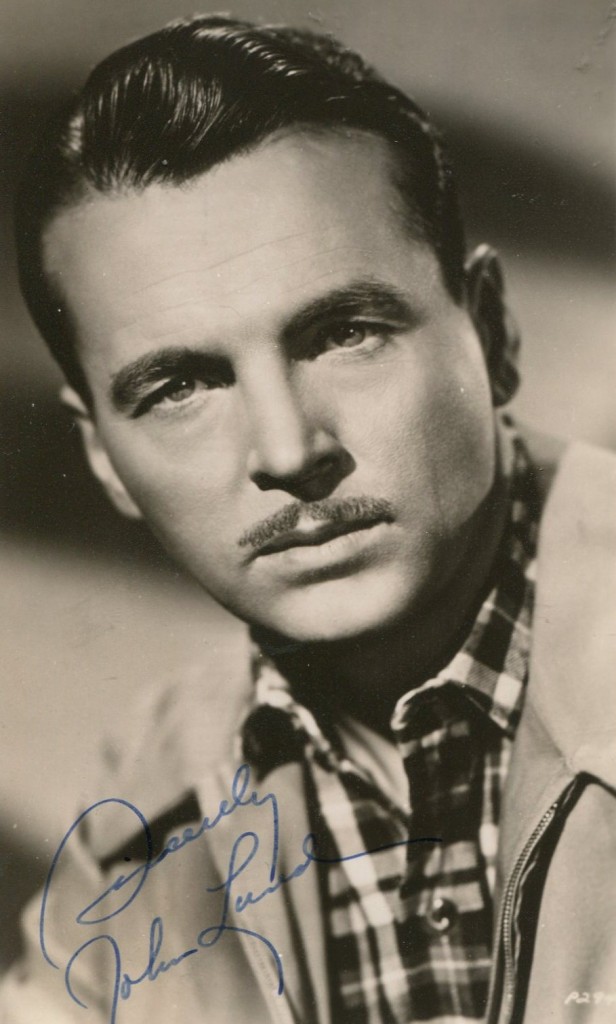 IMDB entry:
One of six children born to an immigrant Norwegian glassblower, John Lund had a somewhat unsettled childhood, dropping out of school at the age of 14. For a while, he tried his hand at several part-time jobs, but never stayed long. He then devised various entrepreneurial ways to generate an income, including a quit smoking program (a fairly novel idea at the time) and a mail order manual on mind-reading. None of these ventures caught on, and Lund, on the off-chance, got a small part in a local Rochester production in the Clifford Odets play "Waiting for Lefty". He went on from there to work in summer stock, eventually made his way to New York and finagled another small theatrical role, while working at the 1939 World's Fair. For the next two years, still restless, Lund alternated jobs in advertising with acting and writing for radio.
In October 1941, he landed a plum role on Broadway in "As You Like It", and the following year penned both book and lyrics for the successful musical revue "New Faces of 1943". A much acclaimed leading role in the Bretaigne Windust production of "The Hasty Heart" followed in January 1945, and led to a six-year contract with Paramount. For the blue-eyed, somewhat saturnine, Nordic-looking Lund, the beginning of his career as a Hollywood leading man was also its apex. He was at his best playing the dual role of an ill-fated World War I flying ace, romancing Olivia de Havilland, and, later, as her grown-up illegitimate son, in To Each His Own (1946). He was then cast as the romantic interest for both Marlene Dietrich and Jean Arthur in A Foreign Affair (1948).
There were still more good roles to come: Lund showed some unexpected comedic flair in the madcap farce Miss Tatlock's Millions (1948), as a Hollywood stunt man posing as an eccentric relative to help beleaguered heiress Wanda Hendrix against predatory gold-diggers. He gave reliable support to Barbara Stanwyck in the underrated melodrama No Man of Her Own (1950) and co-starred with Gene Tierney as one of newlyweds facing class barriers in The Mating Season (1951) (though, Oscar-nominated Thelma Ritter, as Lund's outspoken mother, walked away with the acting honors for this one). By the end of 1951, Lund's star was in decline. He was briefly signed at Universal, but relegated to appearing primarily in routine westerns. His final major appearance was as George Kittredge, the stuffy fiancée who doesn't get the girl – Grace Kelly, in her acting swansong, High Society (1956).
Lund continued for several more years on CBS radio, as the titular insurance investigator of "Yours Truly, Johnny Dollar", a role he played from November 1952 to September 1954. He appeared in minor films by the early 1960s, and retired from acting in 1963. He apparently managed, in the end, to set up his own successful business and spent his remaining years at his house in Coldwater Canyon (Hollywood Hills), where he died in May 1992.
– IMDb Mini Biography By: I.S.Mowis
The above IMDB entry can also be accessed online here.