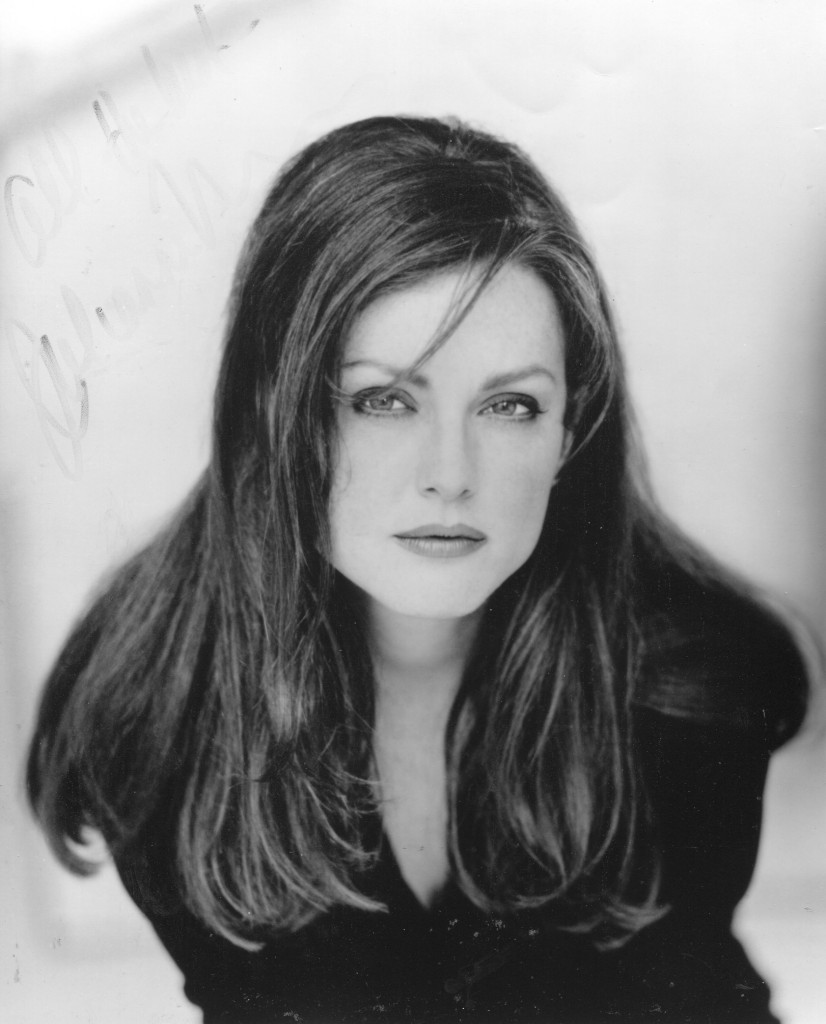 TCM overview{
Award-winning actress Julianne Moore gradually built up an increasingly impressive body of work to ultimately become acknowledged as one of the most talented actresses of her generation. Emerging from the world of daytime soaps, Moore began to attract attention for work in films like Robert Altman's "Short Cuts" (1993) and eventually blockbusters like Steven Spielberg's "The Lost World: Jurassic Park" (1997). But it was her devastating turn as a maternal porn star in "Boogie Nights" (1997) that made everyone sit up and take notice. With a combination of supporting roles in off-beat comedies like "The Big Lebowski" (1998) to starring turns in such dramatic fare as "The End of the Affair" (1999) and "Magnolia" (1999), Moore found herself in ever-increasing demand. With a pair of characters exploring the despair of two separate 1950s suburban housewives in the acclaimed dramas "Far From Heaven" (2002) and "The Hours" (2002), she racked up more award nominations than most performers receive in a lifetime. Moore continued to astonish with her versatility in the dystopian thriller "Children of Men" (2006), the off-key character drama "A Single Man" (2009), and the critical indie darling "The Kids Are All Right" (2010). On the small screen, she topped herself with an uncanny, Emmy-winning portrayal of former vice presidential candidate Sarah Palin in "Game Change" (HBO, 2012), showing yet again that she continually defied expectations and reinvented herself with nearly every role.
Born Dec. 3, 1960 at Fort Bragg, NC, Moore was raised by her father, Peter, a military judge and colonel in the Army, and her mother, Anne, a psychiatrist and social worker who emigrated from Dunoon, Scotland to the United States. Because of her father's position, Moore routinely moved throughout her youth, living in some 23 places across America and Germany. After graduating Frankfurt American High School in Frankfurt, Germany in 1979, Moore attended Boston University, where she earned her Bachelor's in Theater at the School of Fine Arts. In 1983, she graduated and promptly moved to New York City, where she almost immediately made her television debut on the daytime soap opera, "Edge of Night" (ABC/CBS, 1956-1984). She then landed a regular soap opera role on "As the World Turns" (CBS, 1956-2010), playing the dual characters of the good Frannie Hughes and her mysterious, British identical half-sister, Sabrina Hughes. Despite the campy melodramatics such a situation could trigger, Moore nonetheless made both characters realistic and earned a Daytime Emmy for Outstanding Ingenue in a Drama Series in 1988. In a few short years, Moore had emerged as a talented actress who was bound to grow exponentially outside the stifling confines of daytime television.
But her moment in the limelight was still a decade off, leading Moore to meticulously carve out a career that consisted of varied roles that eventually helped grabbed the attention of top filmmakers. In the meantime, she left "As the World Turns" to tackle Ophelia in a production of "Hamlet" at the famed Guthrie Theatre in Minneapolis, MN. She returned to television with the miniseries "I'll Take Manhattan" (CBS, 1987), playing Valerie Bertinelli's best friend. In 1990, she returned to the stage for a workshop production of Anton Chekhov's "Uncle Vanya." Eventually she landed her first feature role, albeit as a coed who becomes the hapless victim of a mummy in the forgettable "Tales From the Darkside: The Movie" (1990). Moore finally made an impact when she played the career-driven real estate agent friend of a new mom (Annabella Sciorra) who meets a horrific, glass-shattering fate in the surprise hit thriller, "The Hand the Rocks the Cradle" (1992). She then attracted notice from none other than Steven Spielberg with a mere three-minute scene as a medical colleague of Dr. Richard Kimble (Harrison Ford) in "The Fugitive" (1993). She amplified her call for notice by famously delivering a confessional monologue while nude from the waist down in Robert Altman's "Short Cuts" (1993).
Following an admitted misfire with the Madonna bomb "Body of Evidence" (1993), Moore further built on her status as rising star with her luminous, poised portrayal of Yelena in "Vanya on 42nd Street" (1994), a filmed version of an Andre Gregory workshop which she followed by playing a housewife who develops allergies to everyday chemicals and fragrances in Todd Haynes' disturbing throwback to paranoia thrillers, "Safe" (1995). Moore attempted to raise her profile in more mainstream features by undertaking roles like Hugh Grant's pregnant girlfriend in "Nine Months" (1995) and an electronics expert targeted for death in "Assassins" (1995), but neither role truly made use of her wide range. She was slightly better served as the artist's mistress Dora Maar in "Surviving Picasso" (1996) and as the moody daughter of a highly dysfunctional family in the indie "The Myth of Fingerprints" (1997), directed by future husband Bart Freundlich. Audiences began to put a name to her face after she was tapped by Spielberg to play a paleontologist pursuing dinosaurs in "The Lost World: Jurassic Park" (1997). But the capper for that year was a richly deserved Best Supporting Actress Oscar nomination for her portrayal of Amber Waves, a drug-addicted porn star who plays mother to a ragtag film crew and becomes emotionally connected to one of her frequent co-stars, Dirk Diggler (Mark Wahlberg), in "Boogie Nights" (1998), a role that propelled the lesser-known actress into a household name overnight.
After time off for motherhood, Moore teamed with the Coen brothers for "The Big Lebowski" (1998), playing the disaffected daughter of an aging millionaire (David Huddleston), an artist who puts paint on her body, then flings herself at the canvas. She followed with a slightly more conventional role, stepping into Vera Miles' shoes as Lila Crane in Gus Van Sant's unnecessary shot-by-shot color remake of Hitchcock's 1960 classic "Psycho" (1998). Moore followed with one of her busiest years, making the first of five feature appearances as an eccentric Southerner in Robert Altman's "Cookie's Fortune" (1999). Segueing to period drama, she polished her flawless British accent to play a scheming woman not above blackmail in Oliver Parker's take on the Oscar Wilde play "An Ideal Husband" (1999), then offered an Oscar-nominated turn as an adulterous wife in the World War II-set drama, "The End of the Affair" (1999). Returning to contemporary times, Moore continued to display her versatility as an almost saintly mother whose child dies while in the care of her best friend in "A Map of the World" (1999). Rounding out this incredible output, she portrayed the pill-popping trophy wife of a dying television executive (Jason Robards) who comes to realize she has fallen in love with her husband in Paul Thomas Anderson's Altmanesque "Magnolia" (1999).
Despite being widely respected by both critics and audiences, she was never considered to be an A-list box office draw. Meanwhile, her career hit a bit of a rocky patch when she took over the seemingly impossible-to-fill role of FBI agent Clarice Starling, made famous in 1991 by Jodie Foster, in the long-anticipated, but ultimately failed sequel "Hannibal" (2001). Despite the film being nearly universally panned, Moore exuded her typical grace and competence in a role many top actresses were loath to take, including Foster herself. Unfortunately for Moore, her string of mediocre movie choices continued with "Evolution" (2001), a much-maligned and rather pointless science-fiction comedy that focused on a team of investigators led by a local college professor (David Duchovny) looking into a meteor carrying alien life forms that crashed in the Arizona desert. After "Evolution" went extinct at the box office, Moore co-starred opposite Kevin Spacey in the uninspiring romantic drama, "The Shipping News" (2001), playing a single mother in a small Newfoundland town who falls for a recently arrived newspaper reporter (Kevin Spacey) struggling to revitalize his life after leaving a wretched marriage. Both films failed to catch on with critics and audiences.
Despite the downturn in 2001, Moore continued to churn out a steady stream of films throughout the following year and returned to reclaim her mantle as the critics' darling. She was particularly praised in her turn as Cathy Whitaker, a suburban housewife who finds her picture-perfect life quickly dissolving in the 1950s-modeled drama "Far From Heaven" (2002), directed by Todd Haynes. As the neglected wife whose husband (Dennis Quaid) is secretly homosexual, Moore turned in a sublime performance, wearing her heartbreak behind a mask of porcelain smiles and polite gestures, while her perfectly-ordered world suddenly crashes around her. For her next film, "The Hours" (2002) – perhaps her finest work to date – Moore again played a 1950s housewife; this one yearning for escape by readingMrs. Dalloway by Virginia Woolf (Nicole Kidman) and contemplating leaving her life behind. With three interconnected stories spanning three time periods – 1923, 1951 and contemporary times – "The Hours" told a deftly emotional tale about the struggles of three divergent woman (Moore, Kidman, Meryl Streep) from similar problems. Both triumphant performances paid off with two Academy Award nominations – Best Actress for "Far From Heaven" and Best Supporting Actress for "The Hours."
After her remarkable string of dramatic roles, Moore next tested the waters of romantic comedy again in the uninspired, little-seen "Laws of Attraction" (2004), playing opposite Pierce Brosnan. The pair played opposing divorce lawyers who, despite their adversarial courtroom relationship, wake up to discover they have gotten married after a romantic, if alcohol-soaked, evening. Her next film, the moody thriller "The Forgotten" (2004), fared better at the box office, with Moore cast as a woman who is told her son never existed, sending her on an investigation that uncovers a paranormal explanation. Moore then played another 1950s-era suburban housewife in "The Prize Winner of Defiance, Ohio" (2005), a true-life tale of Evelyn Ryan, a mother of 12 who keeps her impoverished household afloat by entering and winning jingle contests while her bum husband (Woody Harrelson) drinks away his meager wages. Moore had two starring roles that creeped in under the radar; first in the dismal romantic comedy "Trust the Man" (2006), directed by her husband, Bart Freundlich; then in the equally unpleasant thriller "Freedomland" (2006).
Moore rebounded with a striking appearance in Alfonso Cuarón's "Children of Men" (2006), a futuristic dystopian tale about a former political activist (Clive Owen)-turned-down-and-out bureaucrat who is convinced by a former lover (Moore) to help transport a young pregnant woman (Clare-Hope Ashitey) – who carries the world's only child after all humanity has become infertile – to the fabled Human Project in order to save the future. In a rare action role, Moore starred opposite Nicolas Cage in "Next" (2007), playing an FBI counterterrorist agent trying to track down a Las Vegas magician (Cage) with the power to foresee and change the outcome of future events in order to prevent a nuclear attack. After playing a character based on Joan Baez in Todd Haynes unusual biopic about Bob Dylan, "I'm Not There" (2007), she played the underclass wife of a well-bred man (Stephane Dillane) and mother of a homosexual son (Eddie Redmayne) who tries to cure him of his so-called problem, only to meet a disastrous end in the real-life tale of the affluent, dysfunctional Baekeland family in "Savage Garden" (2008).
After co-starring opposite Keanu Reeves and Robin Wright Penn in Rebecca Miller's indie drama, "The Private Lives of Pippa Lee" (2009), Moore appeared in "Blindness" (2008), playing the wife of an eye doctor (Mark Ruffalo), who pretends to be blind in order enter a government detention center that houses citizens inflicted by a mysterious illness that causes loss of sight. She next earned critical kudos for her performance as the consoling friend of a gay man (Colin Firth) who struggles to deal with the death of his longtime partner (Matthew Goode) in "A Single Man" (2009). Aside from several nods from critics associations, the actress received a Golden Globe nomination for Best Performance by an Actress in a Supporting Role in a Motion Picture. She next starred in the erotic thriller, "Chloe" (2009), playing a respected doctor and wife of a music professor (Liam Neeson) who tests her husband's fidelity by tempting him with a high-class escort (Amanda Seyfried), which leads to disastrous results. Moore returned to award prominence following her performance in "The Kids Are All Right" (2010), playing the career-less lesbian partner of a successful doctor (Annette Bening) whose two children (Mia Wasikowska and Josh Hutcherson) try to track down their sperm donor dad (Mark Ruffalo). Directed by independent filmmaker Lisa Cholodenko, "Kids" received near universal acclaim despite its limited release.
Moore followed with a starring role opposite Steve Carell as a woman in the midst of a mid-life crisis who asks her average Joe husband (Carell) for a divorce in "Crazy, Stupid, Love" (2011), a convention-tinkering romantic-comedy co-starring Ryan Gosling and Emma Stone. Appearing in flashback, she next took on a supporting role as the long-deceased mother of a young man (Paul Dano) who is reunited with his estranged father (Robert De Niro) many years later in the biographical drama "Being Flynn" (2012). That same year, Moore floored audiences with her spot-on portrayal of former Alaskan governor and vice presidential candidate Sarah Palin in "Game Change" (HBO, 2012). Based on the political tell-all of the same name by John Heilemann and Mark Halperin, the high-profile cable movie focused on the selection of and consequent disillusionment with the ill-prepared Palin in the days and months leading up to John McCain's (Ed Harris) loss in the 2008 presidential election. HBO's biggest ratings success in nearly a decade, the film immediately began generating Emmy buzz for nearly all involved, particularly Moore for her Tina Fey-topping embodiment of Palin. As expected, she received Emmy and Golden Globe awards for Outstanding Lead Actress in a Miniseries or a Movie.