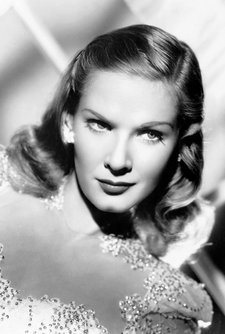 Article from "Shadows and Satin":
June Vincent: Not Just Another Pretty Face — by Guest Blogger Kristina Dijan
Shadows and Satin is pleased and privileged to present our very first guest blog post, by none other than Senior Writer for The Dark Pages film noir newsletter, Kristina Dijan! Kristina also writes regularly for Landmark Report (www.landmarkreport.com/kdijan) and hosts her own blog, Kristina's Kinema, at www.kinoroll.blogspot.com. The following originally appeared in the April/May 2009 issue of The Dark Pages. (For information on subscribing to The Dark Pages, or to request a sample issue, visit:http://allthatnoir.com/newsletter.htm.) Enjoy!
June Vincent strikes a glamorous pose.
At the beginning of 1945, Universal bought the film rights for The Black Angel, a novel by Cornell Woolrich, and a little over a year later, in April 1946, the film was set to start production with Ava Gardner in the lead role. Only days after that casting announcement, however, Gardner dropped out to travel east and visit husband Artie Shaw. The immediate beneficiary of this turn of events was June Vincent, a luminous blonde who replaced Gardner and thus stepped into her first major starring role. Black Angel is a great noir, and possibly Vincent's best known feature, though she did grace a number of good B westerns and crime films. Vincent had to her credit one other notable but brief noir appearance – more on that one later.
Vincent was born Dorothy June Smith in Ohio, the daughter of a pastor. At 17 she went to New York to pursue a modeling career, and received her first break with Harper's Bazaar. While modeling, she struck up a friendship with Lauren Bacall, with whom she went to Hollywood after appearing on Broadway and shooting a screen test for Universal. Vincent started her film work in Honeymoon Lodge (1943).
Next for Vincent came Ladies Courageous (1944), a war film about the Women's Auxiliary Ferrying Squadron, with Loretta Young, Anne Gwynne and Evelyn Ankers. During filming, Vincent was fixed up on a blind date, through which she met her future husband, navy pilot Lieutenant William Sterling. The couple wed in 1944, and the first of their three children was born in August 1945. Vincent worked sporadically, and then came her big break.
Black Angel is a whodunit about a woman whose husband is falsely accused of murdering slinky singer and blackmailer Mavis Marlowe (Constance Dowling). The loyal wife Catherine Bennett, played by June Vincent, embarks on her own investigation to find the real killer and save her husband from execution. Vincent teams up with Mavis' estranged husband, a tortured and alcoholic songwriter played by Dan Duryea, who is one possible suspect until he's cleared by an alibi. Vincent and Duryea follow a clue to Peter Lorre, whom Duryea remembers seeing at Dowling's apartment building the night of her murder. Vincent and Duryea pretend to be a nightclub act to work at Lorre's joint and Vincent further ingratiates herself to get her hands on evidence to clear her husband. In true noir fashion, though, things fall apart.
Vincent in Black Angel is a very appealing presence; elegant, cool and polished, but also warm, kind, concerned. She and Dan Duryea, whom Vincent called one of her favorite leading men, made an interesting couple, with him playing against type as a nicer guy, and highly sympathetic at that. Vincent goes through a fascinating transformation in the film. When she learns of her husband's presence at Dowling's apartment, she's the plain, decidedly un-stylish housewife. As she takes matters into her own hands, she gradually transforms into the ultra-glamorous nightclub singer (her voice in the musical scenes was dubbed). The change is so dramatic it's no wonder other characters think she's familiar but can't quite place her as the humiliated wife seen at he husband's trial. Little wonder also that Duryea falls in love with her. She has several good scenes, like the one where Duryea unveils his latest love song to her, and she conveys both her realization that Duryea loves her and also that she doesn't return his feelings, and feels guilty and sad about it. Vincent is also good at barely hiding her disgust at Peter Lorre's advances, having to tolerate his creepiness to get closer to evidence that might expose him. It's a shame Vincent never progressed to A-list stardom – Black Angel alone proved she had both the talent and the presence.
After Black Angel, Vincent left Universal for Columbia, and the change was reflected in her hairstyle. She had arrived in Hollywood wearing a long, peek-a-boo coif, similar to Veronica Lake, but with her relocation to Columbia, Vincent became a trendsetter when she started sporting white streaks – frosted hair in the front and darker in the back. At Columbia, Vincent worked almost nonstop, and appeared in many westerns and crime films, including Song of Idaho (1948), Trapped by Boston Blackie (1948), the horror film the Creeper (1948) The Arkansas Swing (1948), and Mary Ryan, Detective (1950)
So what was her uncredited cameo in a noir classic? Right after the opening credits finish rolling for In a Lonely Place (1950), a convertible pulls up next to Humphrey Bogart's and June Vincent neatly introduces his character with her words, "Dix Steele! Don't you remember me? You wrote the last picture I did for Columbia!" Her annoyed husband threatens Bogie, then races away.
Vincent made another noir thriller, Night Without Sleep(1952), in which her husband, composer Richard Morton (Gary Merrill), awakens with a nasty hangover and amnesia about last night, and then digs through several flashbacks to figure out if his nightmare of killing a woman was real. With her film appearances dwindling out, Vincent was often seen in TV guest spots, including a number of times on Have Gun Will Travel, and on Perry Mason, since actress friend Gail Patrick was producer of that series. Vincent used to joke with Patrick that they had better start varying her roles because viewers were catching on that she always played the murderess. Vincent worked well into the 1970s, appearing on Bewitched, The Streets of San Francisco, and Kung Fu.
After guesting on Maude in 1976, Vincent said she no longer enjoyed what she saw coming out of Hollywood and retired for good. Some time in the 1980s, Vincent's foot was run over by a supermarket shopper with a full cart. The injury required a lot of surgery and developed into arthritis, and Vincent also was afflicted with Parkinson's disease. In an interview, she expressed her gratitude for the Actor's Guild benefits that helped her through her health problems, a valuable reward for her 30 plus years in Hollywood. Vincent died in November 2008.
Guest post by Kristina Dijan (www.kinoroll.blogspot.com), Senior Writer for The Dark Pages.
The above "Shadows and Satin" article can also be accessed online here.