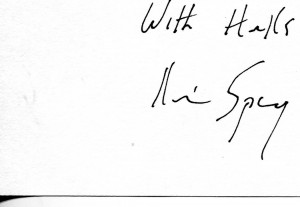 TCM overview:
A chameleonic actor equally at home on stage or in film either as a hero or a villain, Kevin Spacey first gained notice with several strong stage performances both on and off-Broadway. Performing in stage productions of "Ghosts," "Long Day's Journey into Night" and "Hurlyburly" helped pave the way for a feature film career atop the A-list, though his real on-camera start came with his deliciously eccentric performance as a heroin-addicted millionaire on the cult television series, "Wiseguy" (CBS, 1987-1990). After making the segue into features, Spacey bounced around in supporting roles until he gained widespread recognition for "Glengarry Glen Ross" (1992), in which he managed to keep up with heavyweights Al Pacino, Alec Baldwin and his personal idol, Jack Lemmon. But it was his Academy Award-winning performance as the mysterious Verbal Kint in "The Usual Suspects" (1995) that propelled Spacey into the limelight. He made equally impressionable appearances in "L.A. Confidential" (1997) and "Se7en" (1997), cementing his status as a hypnotic performer willing to challenge himself by playing unique characters. Though he slipped a bit with "Pay It Forward" (2000) and "K-PAX" (2001), Spacey remained a vital force in films like "Superman Returns" (2006), while also assuming the role of artistic director of the Old Vic theatre in London in 2003. With award-worthy performances in the made-for-HBO movie "Recount" (2008) and the feature "Casino Jack" (2010), Spacey only enhanced his stature as one of Hollywood's most diverse and accomplished performers.
Born July 26, 1959 in South Orange, NJ, Spacey was raised from an early age in and around Los Angeles by his father, Thomas, an oft-unemployed technical writer, and his mother, Kathleen, a secretary. Though his parents were strict, Spacey was rebellious; even destructive – he burned down his sister's tree house in the backyard of his family's Malibu home and was later expelled from the Northridge Military Academy for hitting a fellow student with a tire. He moved on to Chatsworth High School, where he discovered theater and acted alongside fellow classmate and future actors, Val Kilmer and Mare Winningham. After graduating, he tried his hand at stand-up comedy, even trying out for "The Gong Show" (1975-1980), but failed to make the cut. He then followed Kilmer to the dramatic program at the Julliard School in Manhattan, where he managed to stick around for only two of the required four years. Spacey occasionally landed small roles on small stages, while working as a shoe salesman and a building superintendent to pay the bills. At the beginning Spacey's career was decidedly hard-fought.
Spacey was doing office work at Joseph Papp's New York Shakespeare Festival when the festival director saw him in an off-off-Broadway play and told him he should be acting, not pushing pencils. He soon landed the role of a soldier in the company's production of "Henry VI, Part I" (1981). Other roles soon followed and Papp one day "fired" the office worker so he would be free to find employment as an actor. It was not long until Spacey made his Broadway debut opposite Liv Ullman in "Ghosts" (1982), effectively launching his stage career. After appearing in regional theater, Spacey auditioned for the national touring company of "The Real Thing," but director Mike Nichols instead suggested he try for a role in another one of his productions, "Hurlyburly." After serving as the understudy for the role of Mickey – which was played by Harvey Keitel – Spacey was the standby for two of the other male roles in the same play. Nichols later gave the actor his first onscreen break as a subway rider who mugs Meryl Streep's Rachel in "Heartburn" (1986), then later cast him as a Wall Street broker in "Working Girl" (1989).
In between his two parts, Spacey earned plaudits – though he was the only cast member passed over for a Tony Award nomination – playing Jamie Tyrone in Eugene O'Neill's "Long Day's Journey Into Night" (1986), a part he landed thanks to stealing a cocktail party invitation from an old woman falling asleep next to him at a lecture given by the play's director, Jonathan Miller. Spacey sauntered into the party, sat next to Miller and described his months of difficulty getting an audition. Two days later, Spacey scored an audition and eventually landed the part. After calling upon his background as a stand-up comic for "Rocket Gibralter" (1988), Spacey was cast as the lecherous, heroin-addicted multi-millionaire villain Mel Profitt in the cult favorite drama, "Wiseguy." Spacey continued the television trend, appearing in the miniseries "The Murder of Mary Phagan" (NBC, 1988), which he followed with a return to features with the maudlin "Dad" (1988). As the 1990s dawned, he delivered a dazzling starring turn as disgraced televangelist Jim Bakker in "Fall From Grace" (NBC, 1990), then performed admirably as renowned attorney Clarence Darrow in "Darrow" (PBS, 1991). Both roles preceded his Tony-winning featured performance as a gangster wannabe in Neil Simon's nostalgic play "Lost in Yonkers" (1991), which cemented his status as an exceptional stage performer capable of making the transition to the big screen.
Despite wide exposure from his television and film work, it was his stage performances that helped propel him down a path of critically acclaimed films that eventually vaulted him atop the Hollywood A-list. Al Pacino had been an audience member at "Lost in Yonkers" and came away duly impressed with Spacey's performance, lobbying for Spacey to be cast to as Mr. Williamson, the put-upon manager of an office full of deadbeat salesmen in David Mamet's "Glengarry Glen Ross" (1992). So electric were the scenes between Spacey and the other actors – including Pacino, Ed Harris, Alan Arkin and mentor Jack Lemmon – that Spacey felt beaten down from all the yelling and cursing hurled his way. Later that same year, he visited a suburbia riddled with dark secrets for the first time in Alan Pakula's not entirely successful tale of wife swapping and murder, "Consenting Adults" (1992). Spacey starred in the underrated black comedy "The Ref" (1994) which paired him with the equally formidable Judy Davis as battling spouses whose home is burglarized by a gunman (Denis Leary) who holds them hostage and forces them to reconcile their differences for the sake of his diminishing sanity.
Spacey continued tackling character-centered roles in small films that he helped amplify with his strong, intense performances. In "Swimming With Sharks" (1994) – on which he also served as a co-producer – Spacey let it fly as an abusive Hollywood studio executive who is taken hostage by his lowly assistant (Frank Whaley) after he steals the recent film grad's script idea. Hitting his stride as a variety of villainous characters, Spacey offered a chilling – and unbilled – turn in David Fincher's atmospheric "Seven" (1995), playing serial killer John Doe, who commits a series of bizarre and grisly murders based on the seven deadly sins. As the man who delivered Gwyneth Paltrow's head in a box to her unsuspecting onscreen husband Brad Pitt, Spacey proved no one could do creepy as well as he could. On an unbelievable roll, he stole the show as the seemingly crippled con man, "Verbal" Kint, in "The Usual Suspects" (1995), one of the most talked about films of the 1990s, thanks to one simple question: Who is Keyser Söze? Despite stellar performances from Chazz Paleminteri, Stephen Baldwin, Benicio Del Toro and Gabriel Byrne, Spacey was again singled out by most critics for his intricate portrayal of the pathetic Kint, who narrates to a customs agent the story of a heist gone bad without giving away his ulterior motives. Spacey earned several award nominations and for his work as Kint, won the Academy Award for Best Actor in a Supporting Role.
With his sudden rise to the top of his profession, Spacey began fielding offers for roles in more mainstream Hollywood fare. After playing a researcher at the Center for Disease Control in the unfortunate "Outbreak" (1995), Spacey essayed the role of a smugly crusading prosecutor in "A Time to Kill" (1996). Like many successful performers, Spacey had an itch to direct. So he stepped behind the cameras for "Albino Alligator" (1997), a character-driven thriller about three petty crooks mistaken for big-time bank robbers. While Spacey had much to learn about camera placement and movement, he clearly knew how to deal with actors, eliciting fine work from Gary Sinise, Matt Dillon and Viggo Mortensen. Returning to his stock in trade, Spacey delivered one of his finest screen performances as the smarmy celebrity cop Jack Vincennes in "L.A. Confidential" (1997), Curtis Hanson's brilliant adaptation of James Ellroy's serpentine novel about crime and corruption on both sides of the law in 1950s Los Angeles. In fact, critics considered his death scene a marvel for the way he literally did not move a muscle once shot dead, holding the shot for well over 15 seconds, eyes wide open. Similarly his portrayal of Jim Williams, the homosexual Savannah resident accused of murder in "Midnight in the Garden of Good and Evil" (1997), allowed the actor to plumb the depths of an upstanding public citizen who succumbs to his darker impulses.
His successful turn as Jim Williams merely fueled speculation about his private life, which peaked with an October 1997Esquire cover story by Tom Junod that intimated that the actor was, in fact, gay. The matter proved a double-edged sword for Spacey. He earned sympathy from those who felt the journalist and the magazine had crossed a line, but scorn from those who felt he should offer comments on his private life, and if indeed gay, "come out" already. Spacey later addressed the concerns in a 1999 Playboy interview, effectively denying the rumors. The profile, however, had zero effect on his career – Spacey took on a rare heroic role to play a cop who excels at excising hostages from their kidnappers in "The Negotiator" (1998). Paired with Samuel L. Jackson – who portrayed a good cop suspected of wrongdoings – Spacey proved a mesmerizing presence and matched Jackson's intensity. The pair meshed well and elevated a somewhat pedestrian mystery into an enjoyable film. After a turn voicing the evil Hopper in the animated "A Bug's Life" (1998), Spacey reprised his stage role as the amoral and cynically sarcastic casting agent, Mickey, for the filmed version of "Hurlyburly" (1998).
Unlike many stage-trained actors who achieved Hollywood success, Spacey returned to the theater with a great deal of fanfare. He undertook the difficult role of Theodore "Hickey" Hickman in Eugene O'Neill's mammoth "The Iceman Cometh," originally staged at London's Almeida Theatre in the spring of 1998. By taking on a role that had become associated with Jason Robards, Spacey managed to successfully make it his own, offering a unique perspective on the hardware salesman. Spacey earned himself a Tony Award nomination, but lost to Brian Dennehy, who ironically starred in a Chicago production of "Iceman Cometh." Spacey returned to the big screen as Lester Burnham in "American Beauty" (1999), a character who ranked among his best and most fully realized screen creations. In delineating the mid-life crisis of a man who moves from a henpecked husband, ignored father and impotent employee to an empowered, take-charge guy, Spacey undertook a risky role that firmly vaulted him from esteemed character actor to full-fledged leading man. Spacey earned critical kudos for "Beauty" across the board – as well as his second Academy Award; this time, for Best Actor in a Leading Role.
Returning to his more conventional slickster persona, he joined Danny DeVito to star as a smooth-talking salesman in "The Big Kahuna" (2000) – a dazzling performance in an otherwise little-seen film – before starring in "Ordinary Decent Criminal" (2000), a fictionalized biography of Irish master thief Martin Cahill. Playing juicy roles in small films had no effect on Spacey's reputation as being one of the premiere actors working in Hollywood, but the actor seemed to have lost some steam when he starred in the mawkish "Pay It Forward" (2000), playing a scarred schoolteacher who opens himself up to love when his young student (Haley Joel Osment) devises a system of paying good deeds forward to three people. Spacey's affected manner and overdone makeup did little to aid this already over-sentimentalized tale. Spacey received mixed reviews when he teamed with Jeff Bridges in "K-PAX" (2001), playing a man who claims to be an alien from outer space. Later that year, he was cast – and many argued, miscast – as the milquetoast hero of the screen adaptation of the Pulitzer-winning "The Shipping News" (2001), which also suffered from tepid reviews and indifferent audience response. Meanwhile, Spacey made the requisite appearance on "Inside the Actors Studio" (Bravo, 1995- ), where he impressed host James Lipton and the audience with dead-on impressions of Jimmy Stewart, Johnny Carson, Christopher Walken, Marlon Brando and even Katherine Hepburn.
In between projects, Spacey distinguished himself as a champion of his craft, becoming involved with the Screen Actors Guild and launching Triggerstreet.com as a means for aspiring creative people to form an online community. In 2003, he was named artistic director of London's historic Old Vic Theater, a stage where he appeared in his triumphant production of "The Ice Man Cometh." Despite being a celebrity – guaranteeing not giving him the anonymity enjoyed past artistic directors – Spacey's tenure at the Old Vic was a rocky one. He was heavily criticized for not putting on enough classics, though his "Richard II," in which he starred as the immature and detached king, was critically acclaimed. While the press had a field day lambasting his choices, Spacey cited his success in bringing the theater back into public prominence. Several productions – notably "National Anthems" (2005) and "Philadelphia Story" (2005) – filled seats, but reviews were savage. Then Spacey hit a bona fide disaster with Arthur Miller's "Resurrection Blues," which suffered from poor performances and attendance that failed to reach even half-capacity. Spacey remained unapologetic, however, claiming that the press was out to get him because of his celebrity.
The actor was next seen as an academic with strong views on capital punishment who finds himself accused of murder in director Alan Parker's film "The Life of David Gale" (2003). Again slipping into a now-familiar martyr role, Spacey found his performance praised despite the movie's many flaws, which included an overwrought and unconvincing story, and an overindulgent anti-death penalty message. Changing gears, Spacey returned beyond the camera to helm – as well as co-write and star in – "Beyond the Sea" (2004), a pet project about the popular 1950s and 1960s singer Bobby Darin, who the actor had idolized and imitated since he was a child. Ironically, the singer had died an early death and by the time Spacey got the project into production, he was nearly too old to play Darin. Fortunately, a clever script device had Darin looking back at his life and plugging his later-years self into his memories, allowing audiences to easily forget Spacey's age. The actor provided a tour de force performance and provided all of the Darin-like vocals himself. As a director, he excelled at visually interpreting the film's lavish and energetic musical sequences, though some of the performances were a tough sell. Nonetheless, Spacey delivered an engaging film and one of his finest performances.
Spacey made headlines when he agreed to reunite with Bryan Singer for the first time since "The Usual Suspects," starring in the director's controversial revival of the original comic book film franchise, playing the Man of Steel's brilliant nemesis Lex Luthor in "Superman Returns" (2006). With a shaven head and flashy suits, Spacey exuded a much more subdued evil than did predecessor Gene Hackman's campy take in the 1978 version. Nonetheless, Luthor's plot this time around was no less dastardly – he plans to use Superman's own technology from Krypton to create a new land mass in the Atlantic Ocean so he can destroy the United States, sending Superman (Brandon Routh) on an epic journey through the depths of the ocean and into the reaches of outer space. After playing an efficiency expert hell-bent on ridding the world of Christmas in the terribly unfunny "Fred Claus" (2007), Spacey was an unorthodox math professor and genius statistician who leads a group of likewise brilliant MIT students to Las Vegas to crack the gambling code in "21" (2008), a slick and sexy thriller based on the best seller, Bringing Down the House: The Inside Story of Six MIT Students Who Took Vegas for Millions.
Before he was inked to revive Lex Luthor for Bryan Singer's second go-round with "Superman: Man of Steel" (2011), Spacey generated considerable critical acclaim playing Democratic insider Ron Klain in the made-for-television movie, "Recount" (HBO, 2008), a behind the scenes look at the voting scandal that erupted in Florida in 2000 during the election between Al Gore and George W. Bush. For his work, he was nominated in late 2008 for a Golden Globe for Best Performance by an Actor in a Miniseries or Motion Picture Made for Television. After voicing the robot Gerty in the acclaimed "Moon" (2009), Spacey co-starred opposite George Clooney in the moderately panned military satire, "The Men Who Stare at Goats" (2009). Returning to the political arena, Spacey was the perfect choice to play Jack Abramoff in the satirical comedy "Casino Jack" (2010), which chronicled the rise and fall of Washington's most notorious and disgraced lobbyist. Directed by George Hickenlooper, who died just weeks after the release of the film, "Casino Jack" gave Spacey the right platform to once again put his formidable talents on display, resulting in a Golden Globe nod for Best Performance by an Actor in a Comedy or Musical.
After playing Jason Bateman's manipulative boss in the hit R-rated comedy "Horrible Bosses" (2011), Spacey was a Wall Street executive whose decisions during the first days of the 2008 financial crisis are called into question in the indie financial thriller "Margin Call" (2011). Surrounded by a strong cast that included Jeremy Irons, Stanley Tucci, Demi Moore, Zachary Quinto and Simon Baker, Spacey stood out as a man worn down by the machinations of the cutthroat financial world. In 2011, he returned to the stage to star in a production of "Richard III" directed by Sam Mendes, which premiered at the Old Vic, and later commenced on a worldwide tour that ended in early 2012. From there, Spacey took a rare turn into television with "House of Cards" (Netflix, 2013- ), a remake of a British miniseries of the same name that aired on the BBC in 1990. Set in the world of Washington politics, "House of Cards" starred Spacey as Frank Underwood, the Democratic House Majority Whip who hides behind his genial Southern charm while plotting Machiavellian-like vengeance for being passed over as Defense Secretary. Co-starring Robin Wright as his Lady Macbeth, Kate Mara as an ambitious young reporter and Cory Stoll as a drug-addled congressman under Underwood's thumb, "House of Cards" made waves for being streamed exclusively on Netflix, where all 13 episodes were available for viewing at once. Both the series and Spacey's performance were widely hailed by critics.
The above TCM overview can also be accessed online here.