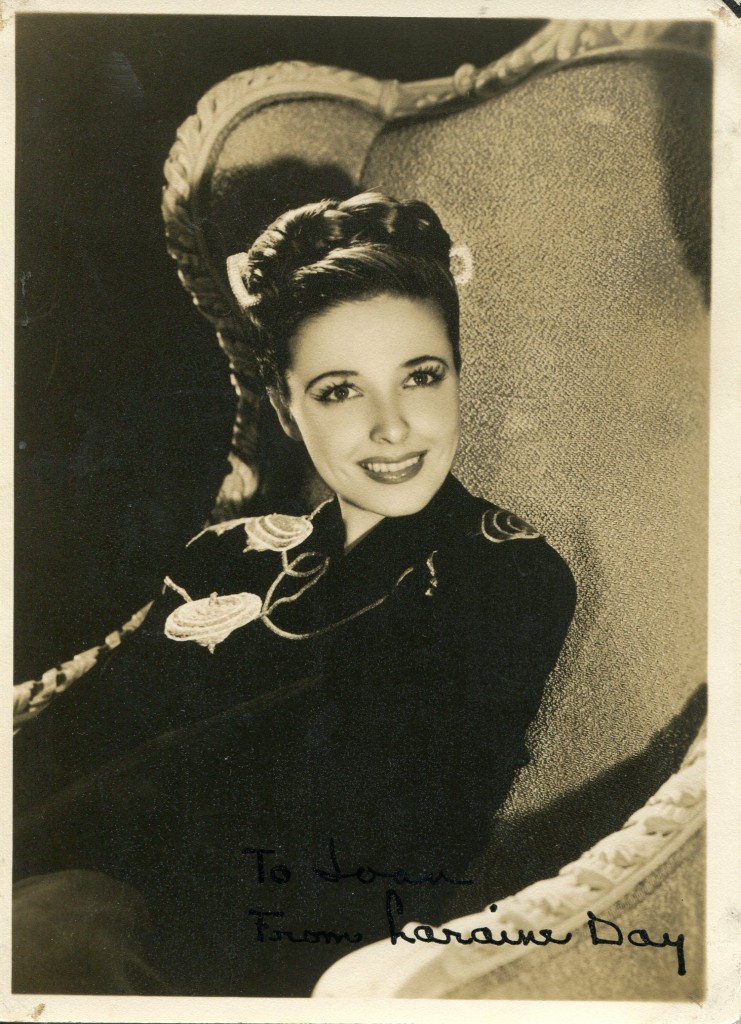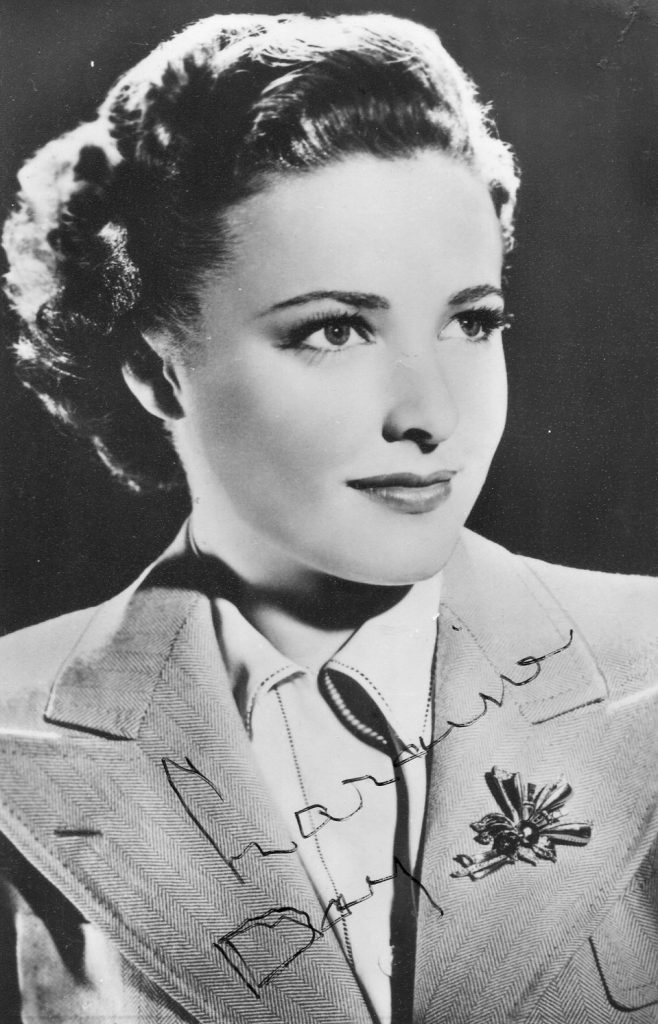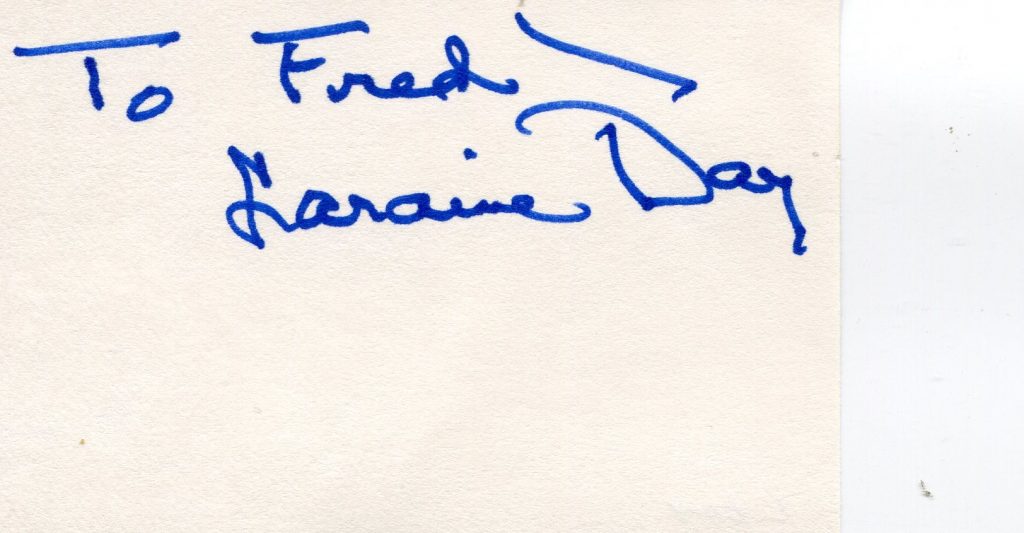 Obituary from the Independent Newspaper in the UK.
A reliable leading lady of Forties cinema, the fresh-faced and demure Laraine Day acted opposite such stars as Cary Grant and Robert Mitchum, and starred in the fine Hitchcock thriller Foreign Correspondent (1940), but she was most identified with the role of Nurse Mary Lamont, the hero's sweetheart in seven of the popular Dr Kildare films. When her character was killed off, it created a furore similar to that aroused today by such drastic departures in the most popular television soap operas.
But she could also portray hidden anguish, such as her destructive psychotic in the disturbing film noir The Locket (1946). Though a contract player at MGM for nearly a decade, she was taken for granted by her studio – one executive memorably described her as "attractively ordinary" – and found her best roles when on loan-out to other studios.
Christened La Raine Johnson, she and her twin brother Lamar were born in Roosevelt, Utah, to a prominent Mormon family, in 1917. Her great-grandfather Charles C. Rich had been one of the pioneers who crossed the plains to establish the Mormon church. Laraine was later to reveal that she never smoked, and she never drank alcohol, tea or coffee. Her father was a grain dealer and government interpreter for the Ute Indian tribe.
When she was six, her family moved to Long Beach, California, where she later trained at the Long Beach Players' Guild under Elias Day (whose surname she later took) along with another aspiring actor, Robert Mitchum. Spotted by a talent scout, she was given a minor role, billed as Lorraine Hayes, in the crime drama Tough to Handle (1937), starring Frankie Darro, followed by several B westerns plus a small role (four lines) in a soda-fountain scene in King Vidor's Stella Dallas (1937).
After briefly renaming herself Laraine Johnson for two westerns with George O'Brien, she was signed by MGM, took the name Laraine Day, and was given small roles in Sergeant Madden (1939), starring Wallace Beery, and I Take This Woman (1939), the Spencer Tracy-Hedy Lamarr romantic drama that had such a convoluted history (four directors and endless alterations) that it was joked that it should have been called I Re-Take This Woman. Day later said that the studio head, Louis B. Mayer, wanted another contract player, Lana Turner, for the role, and that his resentment affected her career. "MGM never really gave me a break. They loaned me out for leading roles, but cast me in programme pictures."
Calling Dr Kildare (1939), in which she played Mary Lamont, a nurse who becomes involved in a murder case with Dr Kildare (Lew Ayres), was the second of the studio's series featuring the young doctor and his gruff mentor Dr Gillespie (Lionel Barrymore), and Day remained as Kildare's love interest for six more films until, in Dr Kildare's Wedding Day (1941), Mary was fatally struck by a truck on the day she was to wed the doctor.
Other MGM films included Tarzan Finds a Son (1939), in which a baby survives a plane crash that kills his mother (Day) and is discovered by Tarzan, and And One Was Beautiful (1940), in which she was one of two sisters in love with the same man. She had better roles on loan-out in Charles Vidor's My Son, My Son (1940) and in her greatest film, Alfred Hitchcock's tale of espionage and murder Foreign Correspondent.
Remembered for such set pieces as the assassination midst a sea of umbrellas, the fight in a windmill and a frighteningly effective plane crash into the ocean, the film featured Day as a woman who helps a reporter, Joel McCrea, uncover a spy ring, not knowing that it is led by her father. "Hitchcock was a character," she recalled.
In one particularly scary scene I had to sneak down a dark corridor. When I got to the end there was Mr Hitchcock, sticking out his tongue and flapping his hands in the back of his ears. I didn't dare laugh, because the cameras were turning. But he certainly eliminated any tension I felt.
At MGM, she was the wise-cracking pal of a newspaperman, Edward G. Robinson, in Unholy Partners (1941) then was awarded top billing as a show girl accused of murder in The Trial of Mary Dugan (1941), a remake of a 1929 Norma Shearer vehicle, but censorship restrictions diluted the story's power and it paled beside the original. She was oddly cast as the wife of Herbert Marshall, who was noticeably many years her senior, in the Shirley Temple vehicle Kathleen (1941), but effectively played a woman who agrees to adopt a war orphan (Margaret O'Brien) in the popular drama Journey for Margaret (1942).
A Yank on the Burma Road and Fingers at the Window (both 1942) preceded two prestigious loan-outs, firstly to RKO for Mr Lucky (1943), in which she reforms a playboy gambler, Cary Grant, who plans to appropriate money she has raised for the war effort. "Cary would arrive on the set and everybody's morale immediately lifted," she said.
The crew were crazy about him and so was I. But, curiously, I never felt the male-female chemistry that you sometimes experience on a set. I could have been talking to my best girl-friend.
Day than went to Paramount for Cecil B. DeMille's The Story of Dr Wassell (1944), starring Gary Cooper as the heroic real-life physician.
Gary turned out to be the surprise of my young life. He was so convincing with his stuttering, stammering awkward little boy manners. When the action called for Dr Wassell to kiss me, I got all set for a bashful boy kiss. Well, it was like holding a hand grenade and not being able to get rid of it! I was left breathless.
At MGM, Day was surprisingly effective as a tough, by-the-book WAC officer who conflicts with a former playgirl Lana Turner in Keep Your Powder Dry (1945). "I didn't want to do it, but they said if I did it they would give me Undercurrent with Robert Taylor," she said. "Then they gave Undercurrent to Katharine Hepburn, so I left MGM."
Day's next film was to be her personal favourite, John Brahm's moody, haunting melodrama The Locket (1946), which also featured her old friend Robert Mitchum.
My character was the greatest challenge I ever had – a destructive young woman who's a kleptomaniac. The form of the film – flashbacks within flashbacks within flashbacks – was criticised by some reviewers of the time as too confusing. Today, though, its style is highly regarded by film historians. . . Many movie fans seem to remember me best from the Dr Kildare series but, first and foremost, I remember The Locket.
Day was leading lady to John Wayne in the sprawling drama Tycoon (1947), and starred opposite Kirk Douglas in My Dear Secretary (1948), but after I Married a Communist (1949, called The Woman on Pier 13 in the UK), she virtually retired, returning to the screen when John Wayne, producer and star of William Wellman's hit suspense movie The High and the Mighty (1954), asked her to play an unhappily married woman who is contemplating divorce but reconciles with her husband (John Howard) when the aeroplane on which they are travelling seems headed for disaster. Though Day was competent, she was overshadowed by the Oscar-nominated performances of Claire Trevor and Jan Sterling.
Day's second marriage, in 1947, was to Leo Durocher, manager of the Brooklyn Dodgers and later of the New York Giants. She took such an active interest in her volatile husband's career that she became known as "The First Lady of Baseball", hosting a radio sports programme and in 1953 writing a book, Day with the Giants.
In 1971 she wrote another book, The America We Love, and she devoted much of her time in later years to the Mormon church. Day's third husband was a television producer, and she continued to act occasionally on television, her last appearance being a Murder, She Wrote episode in 1986.
Tom Vallance