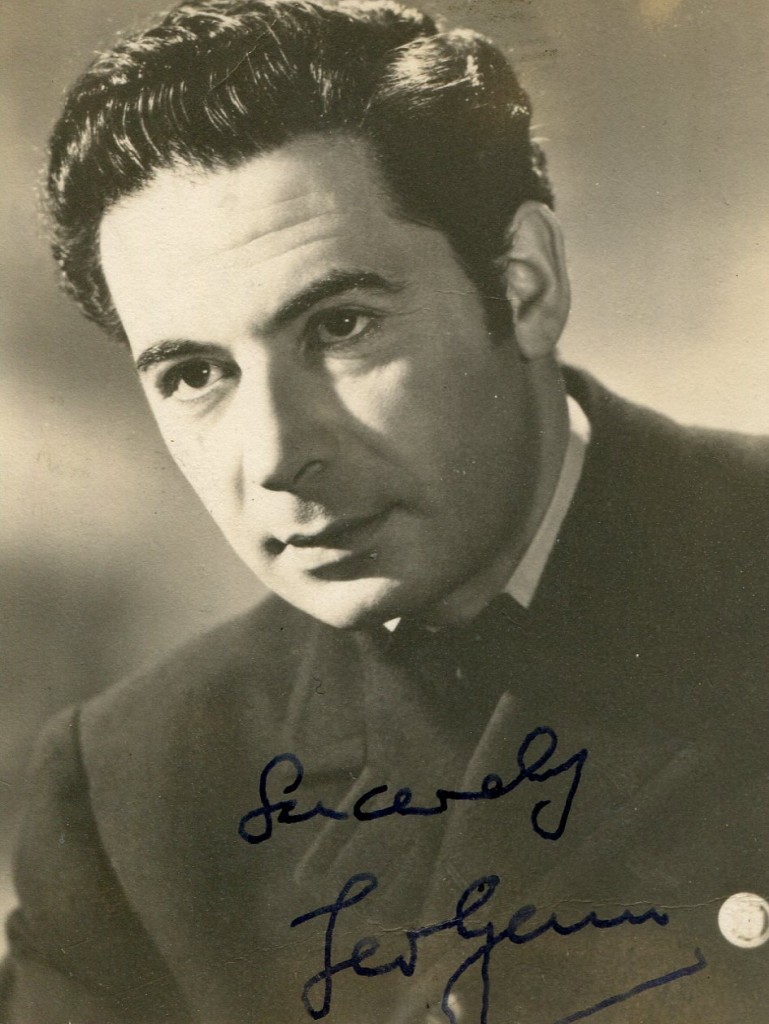 IMDB entry:
Leo Genn was the son of a successful jewelry merchant Woolfe (William) Genn and his wife Rachel Asserson. He attended the City of London School as a youth and went on to study law at Cambridge. He received his law degree as a qualified barrister (which in English law tradition is a lawyer who is a specialist in law and who appears in court as representative of a client, whereas a solicitor is also a lawyer but further defined as an attorney who deals directly with the client, writing all case-related briefs and hiring a barrister for court appearance – there is no such division in the USA). He began practice in 1928, however law was not his only interest. Acting caught his eye, and about 1930 he made the acquaintance of actor/manager Leon M. Lion, who needed an actor and a legal advisor. Genn fitted both and was hired and later that year made his stage debut. It was certainly of practical value that he continued offering legal counsel into the 1930s to augment the small income of a budding stage performer learning his craft. In 1933 he met and married Marguerite van Praag, a casting director at Ealing Studios.
His first screen role was as Shakespeare's Shylock in the UK production Immortal Gentleman (1935). It mortised nicely between his two year (1934-36) period of Shakespearean apprenticeship as a member of the Old Vic Company where he appeared in many productions of Shakespeare. Genn had a very pleasant neutral British accent that could fit anywhere. And his voice was wonderfully smooth and yet authoritative, likened to "black velvet", that fit like a glove to his refined manner. Douglas Fairbanks Jr.., in London for one of his many UK starring vehicles, hired Genn as a technical advisor on the law forAccused (1936) and received a bit role – not for his legal advice – but for a "splendid voice and presence". But the legal side of his character stuck to him as he was in the process of dropping the law for acting full time. He spent 1937 playing film prosecutors and defending attorneys – not something he expected. Things picked up the next year – though still wading through some crime dramas – when he nabbed a small Indian character role inDrums (1938), the ambitious adventure yarn by producer Alexander Korda. And he was the prince dance partner to Wendy Hiller in Pygmalion (1938) – uncredited – as was a youngAnthony Quayle. Obviously, small featured extra roles allowed time for more ambitious outings. He starred in the stage hit "The Flashing Stream" also in 1938. It received the nod from Broadway, and Genn made his American debut in early 1939 in the play's successful run in New York.
Though still tagged for law officialdom in several films, Genn moved on to more hearty supporting roles in 1940 with war looming. He joined the Royal Artillery and received a rank of Lieutenant Colonel in 1943. In that year he was already wanted for film's war effort agenda as movie narrator. In 1944 he was given leave for two flag-waver movies – the second a most unusual and significant cinematic event. For Genn, it was a small part, but it was part of a glorious celebration of England and English history during the crisis of World War II – the Henry V of Laurence Olivier. Genn was the Constable of France, and though the lines were few, Shakespeare infused them with a sardonic wink that Genn delivered perfectly in an understated style that became one of his hallmarks. This part brought him to notice as a film actor, but he did not entertain its fruits until later 1946, for with the end of the war Genn, who had been awarded the French Croix de Guerre in 1945, went back to law counseling. He volunteered his legal knowledge to the British army unit involved in the investigation and prosecution of Nazi war crimes perpetrated at the Belsen concentration camp near Luneburg, Germany. And in the subsequent tribunals, Genn served as assistant prosecutor.
He was back in film in 1946, but more so he was being courted by Broadway to return – which he did in that crowded year with one of his best stage roles in the Lillian Hellmanclassic "Another Part of the Forest". Hollywood waited in the wings to grab him for theEugene O'Neill update Mourning Becomes Electra (1947) of the ancient Greek tragedy triangle "Orestaia". It was not Genn's American film debut, for he had appeared in the UK/US crime drama Girl in the News (1940) – as – what else – a prosecuting counsel – a barrister. He was competing with the American debut of Michael Redgrave in the O'Neill adaptation (3 hours, pared to about 2 hours for general release). The film was a great piece of dialog display but a disaster at the box office. But the chemistry of Genn with Rosalind Russell was such that they were marketed together again the next year in another American film, The Velvet Touch (1948), more whodunit but with snappy lines. Subsequently Genn was about equally in demand for film and stage on both sides of the Atlantic.
His film roles on into the 1950s were somewhat uneven, but Genn was always to form – the calm, understated but in control male lead or supporting character, whether war adventure or the inevitable crime drama – many a steady military officer and understanding professional – with a bit of comedy and a few shady characters thrown in.
Perhaps his best known American film role was as the sardonic Gaius Petronius Arbiter inQuo Vadis (1951). Genn's generous part as the ancient Roman satirist was filled with double meaning quips and understated sarcasm that Genn delivered with his poker face charm and subtle sidelong glances. He is so good that the audience hangs on his next sub-level dig with anticipation that partially eclipses the first rate histrionics of Peter Ustinov as a tongue-in-cheek deranged Nero. The level of Genn's performance was recognized with a Best Supporting Actor Oscar nomination. The next year he was more than just a straight-laced William Bradford of American colonial history fame in Plymouth Adventure (1952), a much maligned American film that was, in fact, a realistic portrayal of the trials and tribulations of the Pilgrims (they were not all religious dissenters, not the dour, black and white Puritans who were later arrivals). Having to compete with a cantankerous, perhaps too hammy Spencer Tracy as the ship's captain, Genn's understated intensity brings off a compassionate portrayal.
Genn helped grace some of the most ambitious films of the later 1950s and into the 1960s:Moby Dick (1956), The Longest Day (1962), and 55 Days at Peking (1963). He embraced TV playhouse, both American and British programs, and US/UK episodic series through the period, as well as more outings on Broadway. He made six appearances on the Great White Way – the last in a short run of "The Only Game in Town" in mid 1968. All along Genn's voice had found welcoming slots in narration. Beside films, he was the voice of the royal coronation programs of 1937 and 1953. And he always kept a foot in his first love, British theater; he was a governor of London's The Mermaid Theatre.
– IMDb Mini Biography By: William McPeak