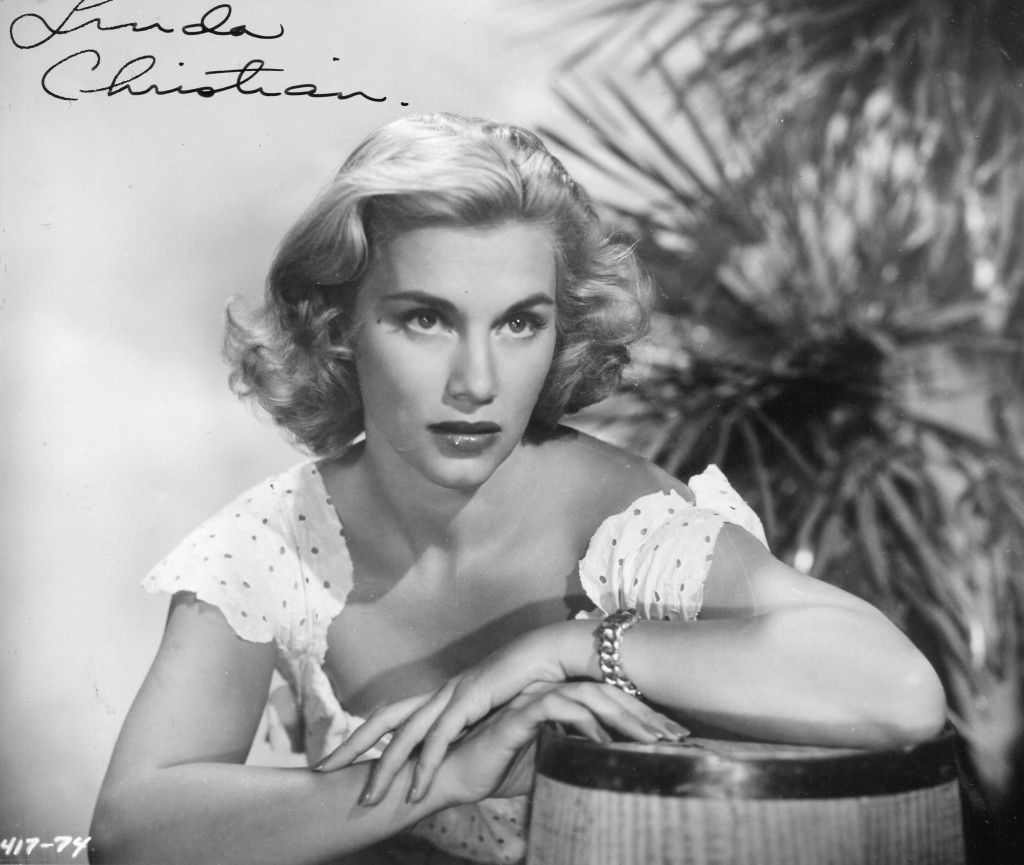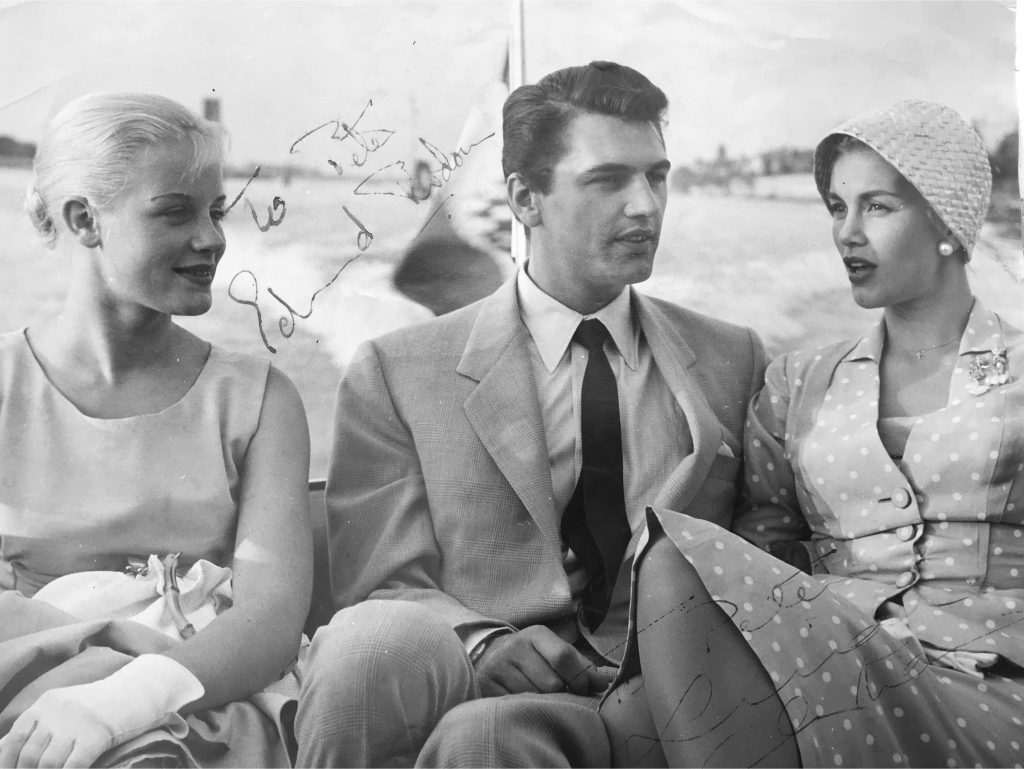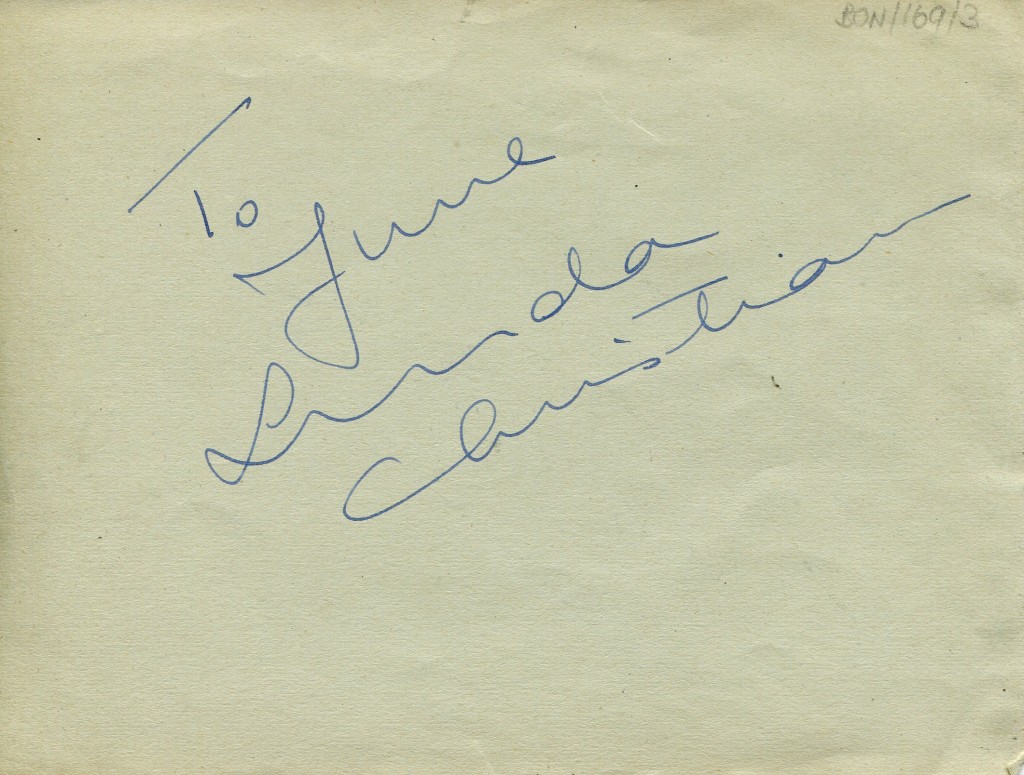 Ronald Bergan's "Guardian" 2011 obituary:
The phrase "famous for being famous" could have been invented for Linda Christian, who has died aged 87. Her celebrity came from her marriages to the handsome film stars Tyrone Power and Edmund Purdom, and her liaisons with various wealthy playboys and bullfighters, rather than her somewhat limited acting ability.
Christian's extravagant, cosmopolitan lifestyle derived from her stunning beauty – she was dubbed "The Anatomic Bomb" by Life magazine – and her ability to speak fluent French, German, Dutch, Spanish, Italian and English. She was born Blanca Rosa Welter in Tampico, Mexico, the daughter of a Dutch executive at Shell, and his Mexican-born wife of Spanish, German and French descent. As the family moved around a great deal, living in South America, Europe, the Middle East and Africa, she gained a taste for globetrotting.
Christian's early ambition was to become a doctor, but after winning a beauty contest and meeting Errol Flynn in Acapulco, she was persuaded to try her luck in films in the US. She was soon cast as a Goldwyn Girl in the actor Danny Kaye's first feature film, Up in Arms (1944), and as a cigarette girl in Club Havana (1945), directed by Edgar G Ulmer. Then, with her name changed to Linda Christian, she signed a contract with MGM, which gave her a small decorative role in the musical Holiday in Mexico (1946), shot in Hollywood, and an exotic one in Green Dolphin Street (1947), as Lana Turner's Maori maid.
At the time, Turner was having an affair with Power. Rumour has it that Christian overheard Turner say when Power was going to be in Rome. Christian decided to fly to Rome, stay at the same hotel and wangle a meeting with the dashing star. A romance led to Christian and Power getting married in January 1949 at a church in Rome while an estimated 8,000 screaming fans lined the street outside.
Prior to the marriage, the only substantial role MGM had given Christian was as an island girl rescued by Tarzan from the clutches of an evil high priest in Tarzan and the Mermaids (1948), the 12th and final time Johnny Weissmuller played the Ape Man. Christian, wearing a skimpy two-piece costume, is referred to as a mermaid because she swims a lot.
After marrying Power, Christian started to get a few leading roles in B-pictures such as Slaves of Babylon (1953), co-starring Richard Conte. More gratifying was her sitting for a portrait by the great Mexican artist Diego Rivera. The painting, reproduced on the cover of her autobiography, Linda (1962), and for which she was once offered $2m, is now in a private collection.
In 1954, Christian played Valerie Mathis, James Bond's former lover now working for the French secret service, in a CBS television version of Ian Fleming's Casino Royale, therefore allowing her to lay claim to being the first Bond girl. At this time, the movie fan magazines were full of photos of Power and Christian as a blissfully married couple with two daughters, while the gossip columns intimated that both husband and wife had strayed. In 1954, Christian played Purdom's snooty fiancee in the MGM musical Athena. Christian had been at the same school as Purdom's wife, the former ballerina Anita Phillips, and the Powers and the Purdoms became good friends, even going on holidays together. But soon sexual jealousy broke up the once cosy foursome. In 1956, Christian divorced Power, charging mental cruelty.
After the divorce, there was no shortage of millionaires to help keep Christian in the manner to which she was accustomed. Once she was called to testify at a Los Angeles court because she refused to return jewels given to her by the socialite Robert H Schlesinger, whose cheque for $100,000, as partial payment for the jewels, had bounced. Christian was also involved with the racing driver Alfonso de Portago, with whom she was photographed a short while before he died in a crash at the 1957 Mille Miglia car race, in which several spectators were also killed. That year, she and the Brazilian mining millionaire Francisco "Baby" Pignatari went on an around-the-world tour together. In 1962 she married Purdom. They divorced the following year.
Christian continued to appear in routine films such as The Devil's Hand (1962), as a seductive high priestess of voodoo, opposite her real-life sister Ariadna Welter. In Francesco Rosi's semi-documentary The Moment of Truth (1965), she played herself as an American in Barcelona who attracts a matador (the bullfighter Miguel Mateo Miguelín). During the filming, she fell for the bullfighter Luis Dominguín, the former lover of Ava Gardner.
In 1968, Christian retired to Rome. She returned to cinema almost 20 years later, at the age of 64, in a couple of dreadful Italian thrillers.
She is survived by her daughters, Taryn and Romina Power.
• Linda Christian (Blanca Rosa Welter), actor, born 13 November 1923; died 22 July 2011
The Guardian obituary for Linda Christian: