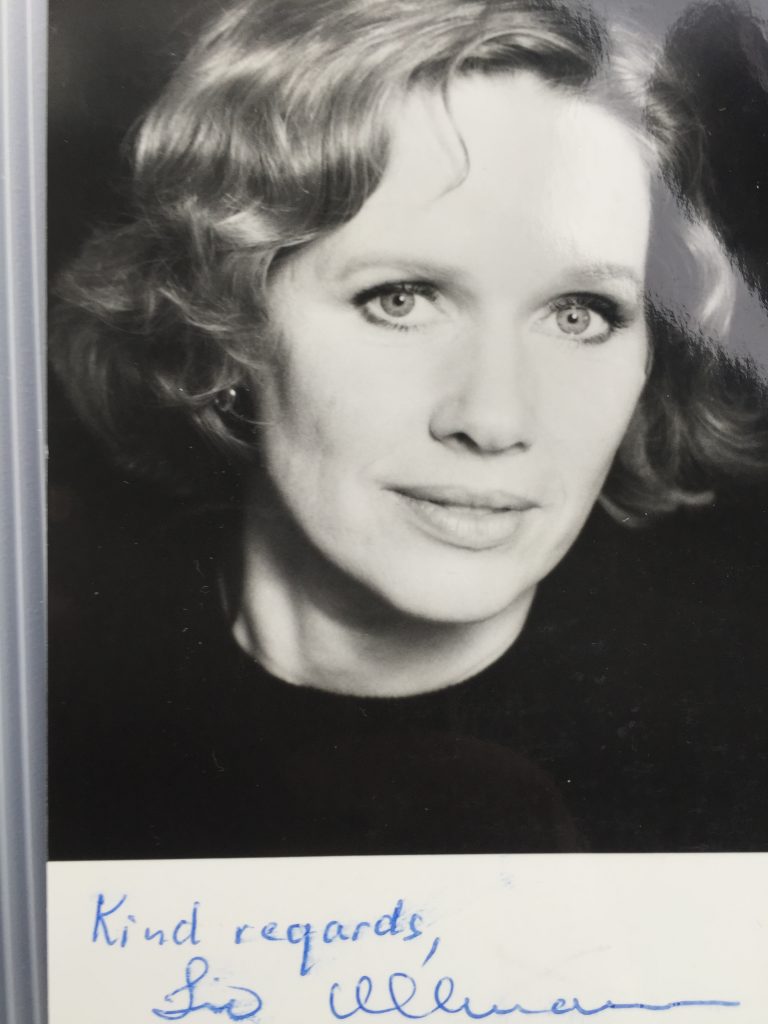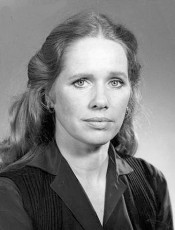 TCM overview:
Possessing one of the most expressive faces in cinema history, Liv Ullmann will forever be associated with the work of her mentor Ingmar Bergman. She was his muse, his female alter ego inspiring him to look deeply into himself. More than any other Bergman actress, she embodied his core themes of anguish, loss and failure, and the nine films they made over 12 years represent the director at his peak, exploring his most private concerns. Throughout their collaboration, Bergman photographed Ullmann extensively in close-up, trusting her honesty completely, and the camera's proximity never intimidated the superb parade of emotions emanating from her luminous blue eyes and softly rounded features. Their professional life survived the dissolution of their private life, and years after she played her last role for him, Bergman asked her to interpret his autobiographical screenplay "Private Confessions" (1997) and allowed her to put her personal stamp on it as director, adding a new dynamic to their artistic relationship.
Born to Norwegian parents in Japan, Ullmann moved from Tokyo to Toronto, Canada at the outbreak of World War II and then to Norway following her father's death. She acquired eight months of acting training in London prior to making her stage debut in a Norwegian production of "The Diary of Anne Frank" (1957) and also appeared in her first film ("Fools in the Mountains") that year. She followed her success in the provinces with success in the capital city of Oslo, becoming a member of the Norwegian National Theatre Company, and continued acting in Norwegian films until Bergman introduced her to a wider audience in "Persona" (1966), the director's landmark take on reality versus art and the larger issues of life and death. Chosen for her remarkable resemblance to co-star Bibi Andersson, Ullmann played an actress whose breakdown has made her mute, and Andersson was the voluble nurse trying to coax her to speak again. Without words, she relied solely on facial and body gestures to tell her tale of alienation, and the lack of text was far from limiting as her questioning, sometimes impenetrable looks poignantly projected her traumatized rejection of the world. And yet . . . her silence becomes a form of power. In the movie's most famous shot, the women's faces fuse into one, symbolizing Andersson's incorporation into the now stronger Ullmann.
While mentor and muse fought their demons as best they could, their art flourished with "Hour of the Wolf" (her first film with actors Max von Sydow and Erland Josephson) and "Shame" (both 1968) and "The Passion of Anna" (1970). The collaboration continued long after the actress had packed up and returned to Norway with their child, perhaps reaching its fullest flowering in "Scenes From a Marriage" (1973), a passionate, probing look into the disintegration of a marriage and the relationship that follows. Ullmann and Josephson were outstanding as the couple in this intimate, often painful slice of art imitating life, originally made as six 50-minute TV episodes and edited into feature-length by writer-director Bergman. She also enjoyed great success during this period in two films directed by Jan Troell, "The Emigrants" (1971) and its sequel "The New Land" (1973), earning the first of two Best Actress Oscar nominations for the former. The films told the tale of Ullmann, husband von Sydow and fellow Swedes who fled their famine-ravaged homeland in the mid-1800s to try their luck in America. She and von Sydow would return to the same era later for "The Ox" (1991), the directorial debut of longtime Bergman cinematographer Sven Nykvist, only this time portraying the plight of those who stayed behind.
Ullmann earned her second Best Actress Academy Award nomination for Bergman's "Face to Face" (1976), but their association was winding down. Only "The Serpent's Egg" (1977) and "Autumn Sonata" (1978) remained, although she has expressed regret at not acting in his swan song "Fanny and Alexander" (1983), her refusal angering him greatly at the time. By then, she had made her Broadway debut in "A Doll's House" (1975) and returned to the Great White Way as Eugene O'Neill's "Anna Christie" in 1977, a part fellow Scandinavian Greta Garbo had played in the 1930 film. Later that year, she also published the first installment of her autobiography, "Changes", and was the subject of a documentary ("A Look at Liv"). At the height of her worldwide popularity, she even made her Broadway musical debut in the Richard Rodgers-Martin Charnin adaptation of "I Remember Mama" (1979), an experience that perhaps eased the embarrassment of warbling Bacharach-David in her disastrous American feature debut, the 1973 musical remake of "Lost Horizon". In 1980, she began her long-standing association with UNICEF as its goodwill ambassador and two years later was back on Broadway as Mrs. Alving in Ibsen's "Ghosts".
Ullmann made a smooth transition to middle-aged roles, and two of her more notable films of the 80s were "Gaby–A True Story" (1987, as the wealthy mother of a girl who becomes a celebrated writer despite her severe cerebral palsy) and "The Rose Garden" (1989, defending Maximillian Schell against charges of having been a Nazi). She also began a second career as a director and screenwriter with the "Parting" segment of the anthology feature "Love" (1981) and in the 90s devoted increasing time to this new passion, starting with her feature debut, "Sofie" (1992), the story of a young Jew in 19th Century Copenhagen. She enlisted Nykvist as her cameraman for her sophomore effort, "Kristin Lavransdatter" (1995), an adaptation of Sigrid Undset's epic novel of 14th Century Norway, and had him back on board for "Private Confessions" (1997). Though her filmmaking style owes much to Bergman (she too favors the close-up), "Private Confessions" (despite being shot by Nykvist) does not especially look like a Bergman film. Screenwriter and director argued over a few things in the rough cut, but in the end he embraced her choices, which included playing up the religious angle a bit more than he might have. Obviously their reteaming was tonic for both, and Ullmann embarked on her second interpretation of Bergman at the helm of his autobiographical "Faithless" (2000).
The above TCM overview can also be accessed online
here.