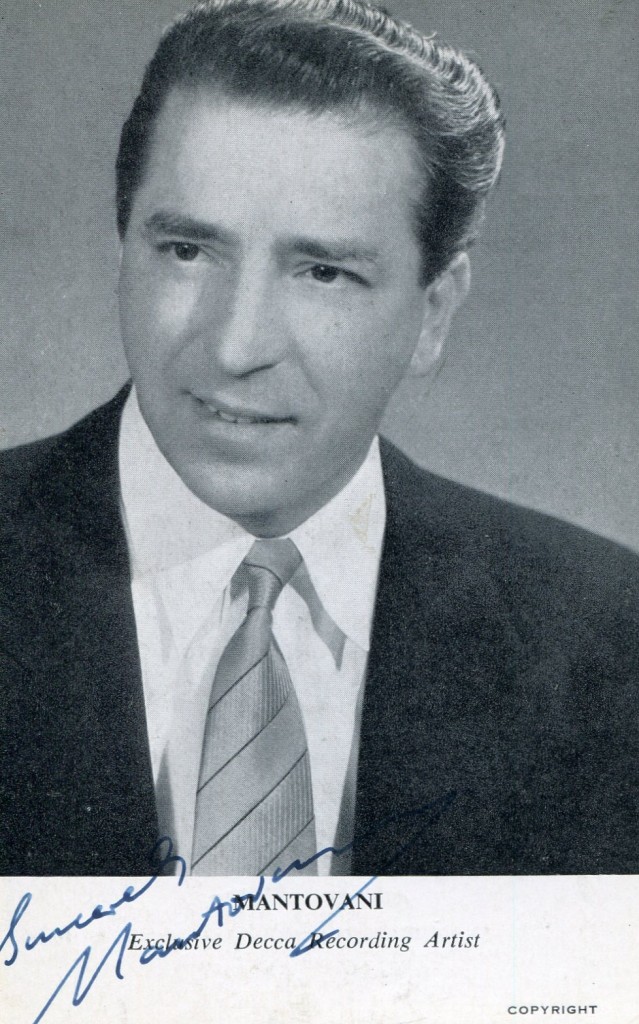 "Wikipedia" entry:
Mantovani was born in Venice, Italy, into a musical family. His father, Bismarck, served as the concertmaster of La Scala opera house's orchestra in Milan, under the baton ofArturo Toscanini. The family moved to England in 1912, where young Annunzio studied at Trinity College of Music in London. After graduation, he formed his own orchestra, which played in and around Birmingham. He married Winifred Moss in 1934, and they had two children: Kenneth (born 12 July 1935) and Paula Irene (born 11 April 1939). By the timeWorld War II broke out, his orchestra was one of the most popular British dance bands, both on BBC radio broadcasts and in live performances.
He was also musical director for a large number of musicals and other plays, including Noel Coward's Pacific 1860 (1946) and Vivian Ellis's musical setting of J. B. Fagan's And So to Bed (1951).[4] After the war, he concentrated on recording, and eventually gave up live performance altogether. He worked with arranger and composer Ronnie Binge, who developed the "cascading strings" effect (also known as the "Mantovani sound") His records were regularly used for demonstration purposes in stores selling hi-fi stereoequipment, as they were produced and arranged for stereo reproduction. He became the first person to sell a million stereophonic records. In 1952, Binge ceased to arrange for Mantovani but the distinctive sound of the orchestra remained.
Mantovani recorded for Decca until the mid-1950s, and then for London Records. He recorded in excess of 50 albums on that label, many of which were Top 40 hits. His single tracks included "The Song from The Moulin Rouge", which reached Number One in the UK Singles Chart in 1953;[2] "Cara Mia" (with him and his orchestra backing David Whitfield) in 1954; "Around the World" in 1957; and "Main Theme from Exodus (Ari's Theme)" in 1960. In the United States, between 1955 and 1972, he released more than 40 albums with 27 reaching the "Top 40", and 11 in the "Top Ten". His biggest success came with the album Film Encores, which attained Number One in 1957.
Similarly, Mantovani Plays Music From 'Exodus' and Other Great Themes made it to the Top Ten in 1961, with over one million albums sold.
In 1958, Mantovani and his family bought a holiday home in Bournemouth in Durley Chine Road, and then in 1961 acquired a new property in Burton Road (now part of Poole). He moved, finally, to a new home in Martello Road in Poole.
Mantovani starred in his own syndicated television series, Mantovani, which was produced in England and which aired in the United States in 1959. Thirty-nine episodes were filmed.[7] Mantovani made his last recordings in the mid-1970s.
He died at a care home in Royal Tunbridge Wells Kent.[1] Cremated on 8 April 1980, his ashes are interred at the Kent and Sussex Crematorium and Cemetery.
The above "Wikipedia" entry can also be accessed online here.