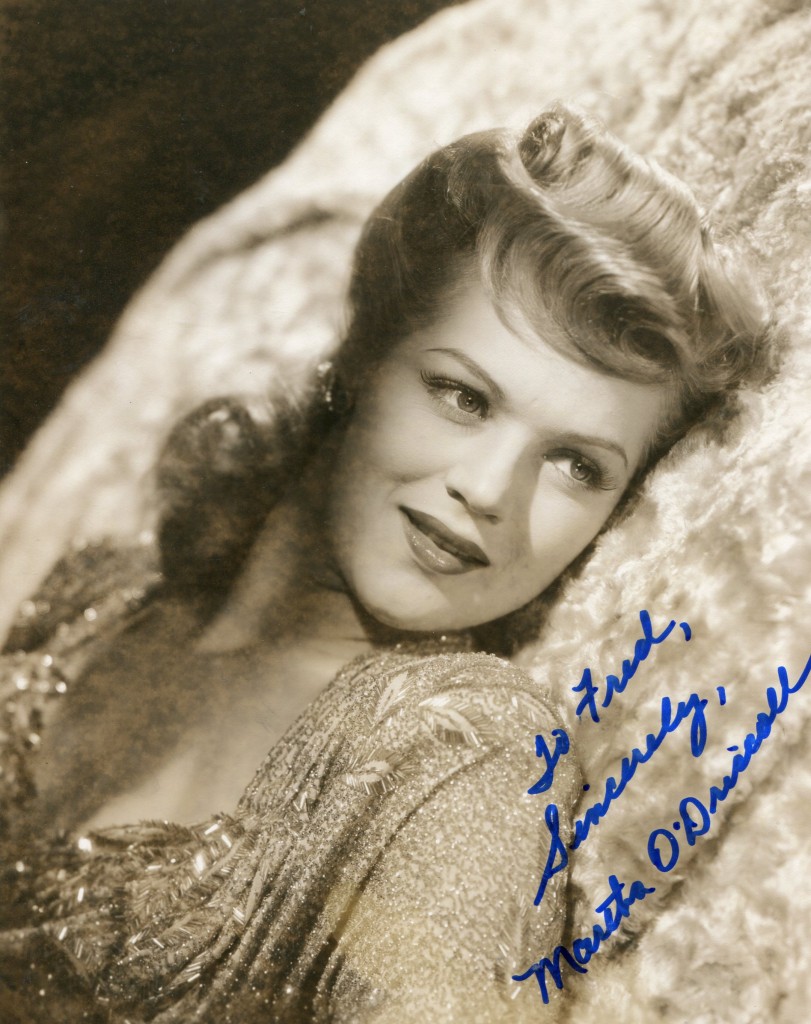 Martha O'Driscoll had a brief career in movies in Hollywood films of the 1940's. Born in 1922 in Tulsa, she featured in such movies as "The Fallen Sparrow" with John Garfield and Maureen O'Hara in 1943 and "Young and Willing". She retired early after her marriage. She died in 1998.
"The Independent" obituary:
EVEN BY Hollywood standards. Martha O'Driscoll was an actress of uncommon prettiness, with blond hair, blue eyes and a slightly pouting mouth. Though strictly a B movie star (her failure to graduate to bigger things is attributed by some to a dispute she had with her studio early in her career), she commanded a loyal following who were sorry when she retired at the age of 24 (after 11 years and 37 films) to marry a millionaire.
Born in Tulsa, Oklahoma, in 1922, she was always a pretty girl and at the age of four was modelling children's clothes. She had started dancing lessons from the age of three, when the family moved to Arizona in 1931. O'Driscoll began appearing in local pageants and plays. The choreographer Hermes Pan spotted her in a production at the Pheonix Little Theatre and suggested to O'Driscoll's mother that Martha would have a good chance in movies.
They moved to Hollywood in 1935, but Pan was out of town, so they answered an advertisement for dancers and O'Driscoll was given a role in Collegiate (1935), a musical typical of its time in which a playboy inherits a college and, as the new Dean, insists that the students' principal efforts should be directed toward learning how to sing and dance. Betty Grable had an early leading role in the film and it was also unusual in having its songwriters, Mack Gordon and Harry Revel, playing themselves as co-chairmen of the school's music department, but otherwise it was unremarkable and O'Driscoll had little to do as a dancing co-ed.
She had other small dancing roles in Here Comes the Band (1935), The Big Broadcast of 1936 (1935) and The Great Ziegfeld (1936), an Oscar-winning success, in which she was spotted by a Universal talent scout who arranged for her to have a screen test, followed by a contract.
Her roles were initially small – in her first Universal film, a B thriller She's Dangerous (1937), she was billed simply as "blonde girl" and in the Deanna Durbin vehicle Mad About Music (1937) she was billed as "pretty girl". But her face soon became familiar to film fans because of the many endorsements she did, sanctioned by the studio. Her face appeared on such advertisements as Charm-Kurl Supreme Cold Wave and Max Factor Hollywood Face Powder.
Around this time O'Driscoll met William Lundigan, a former radio actor then making his way in films, and they started an affair that was to last for several years, though they never married.
Universal loaned O'Driscoll to MGM for parts in The Secret of Dr Kildare (1939) and Judge Hardy and Son (1940), but it was RKO who gave O'Driscoll her first two starring roles, as romantic interest to the cowboy Tim Holt in Wagon Train (1940), and notably as Daisy Mae in a transcription of Al Capp's comic strip Li'l Abner (1940), an attempt to transfer Capp's stylised county of Dogpatch to the screen which did not really come off, though O'Driscoll was captivating as the beauty desperately trying to win the husky Abner (Granville Owen) for a mate.
Paramount now became interested in the actress and acquired her contract, casting her first as a maid in Preston Sturges's classic comedy The Lady Eve (1941). Reap the Wild Wind (1942), Cecil B. De Mille's epic sea story, had two beautiful stars, Paulette Goddard and Susan Hayward, but O'Driscoll held her own as a Southern belle, her hair in long blond ringlets (it was her first film in colour), evincing polite disapproval when Goddard, as a Scarlett O'Hara-like heroine, shocks a society ball with an off-colour shanty.
O'Driscoll was then given the lead in an enjoyable B film, Pacific Blackout (1942), with Robert Preston as an innocent man convicted of murder who escapes during a blackout practice and uncovers enemy plans to destroy a US city during a mock air-raid. The actress followed this with a good role as a show- business hopeful in Paramount's Young and Willing (1943), but then the studio let her return to Universal, who cast her in the Olson and Johnson comedy Crazy House (1943), then loaned her to RKO for Richard Wallace's stylish thriller The Fallen Sparrow (1943).
Unhappy with the progress of her career, O'Driscoll tried to get out of her contract on the basis that she was under age when she signed it, and the studio was forced to sue her. They won the case, and some historians have surmised that the ensuing bitterness may have kept O'Driscoll in B pictures.
Hi Beautiful (1944) was one of five films in which she co-starred with Noah Beery Jnr, the others being Allergic to Love (1944), as a bride who gets hay-fever whenever she is near her husband, Under Western Skies (1945), a pleasant musical about a vaudeville troupe out west, The Daltons Ride Again (1945), as a publisher's daughter in love with one of the notorious outlaw brothers, and Her Lucky Night (1945), in which she is told by a fortune-teller that she will meet the man of her life in a cinema, so she buys two tickets, throws one away and hopes for the best.
O'Driscoll also featured in House of Dracula (1945) and Week-end Pass (1945, as a socialite who runs away to join the WACS and meets a shipyard worker who has won a weekend off with pay). The B movie specialist Don Miller wrote of the latter: "It approached the surprise-hit status . . . Into its slender narrative director Jean Yarborough managed to cram not only several amusing situations but also 10 song numbers, all in 63 minutes."
The following year she made her last Universal film, Blonde Alibi, receiving top billing as a girl who sets out to prove her lover (Tom Neal) innocent of murder. Her last film was Edgar G. Ulmer's Carnegie Hall (1947), after which she retired.
In 1943 she had married a young Lieutenant-Commander in the US Navy, but divorced him 10 months later stating that her husband had no comprehension of the demands on her time made by the studio, while admitting herself that she had not fully understood her duties as the wife of an officer in wartime. The court stayed her divorce for the duration of the Second World War, and in July 1947, less than 48 hours after her decree was final, she married another naval officer, Arthur Appleton, who was also the heir to an industrial empire. On return to civilian life, he became president of his family's electronics firm in Chicago. At their wedding, his bride announced that she was "definitely through with pictures, stage and all of that", and so it was to be.
The happy marriage produced three sons and a daughter, all four college graduates pursuing careers away from show business, though the daughter was elected Dartmouth Winter Carnival Queen in 1971. After Appleton's retirement the couple spent most of their time in their Miami beach house cruising on their yacht, or travelling abroad. They bred and raced thoroughbreds, and founded the Appleton Museum of Art in Ocala, Florida. O'Driscoll served for a time as president of the Women's Board of the Chicago Boys' Clubs as well as serving on the board of directors of various Appleton enterprises.
The actress became noted for her reluctance to talk about her past career, and, when interviewed by Richard Lamparski for his Whatever Happened To . . . radio and book series, she gave vague or non-committal replies to his questions and "gave the impression of being very ill at ease throughout the brief exchange".
In 1987 she attended the annual reunion of Universal contractees, and one of her former colleagues stated afterwards, "It was like being with her sister or double. She remembered everything but as though it happened to someone else. The Martha O'Driscoll I knew doesn't seem to exist any more. There's only Mrs Arthur Appleton." That is doubtless how the former actress wanted it to be. As she told the writer David Ragan some years ago, "My life has been very full since I left Hollywood."
Tom Vallance
Martha O'Driscoll, actress: born Tulsa, Oklahoma 4 March 1922; married secondly 1947 Arthur Appleton (three sons, one daughter); died Miami, Florida 3 November 1998.
The "Independent" obituary by Tom Vallance can also be accessed here.