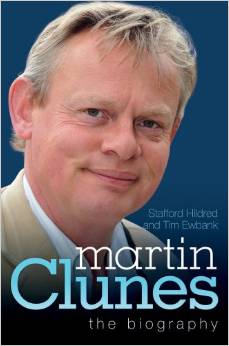 TCM overview:
Martin Clunes rose to the top of the U.K.'s comedy scene in the 1990s on the groundbreaking situation comedy "Men Behaving Badly" (ITV/BBC, 1992-99) and went on to equal his success as the title character of the network's light drama "Doc Martin" (2004- ). A third-generation thespian, the London-born Clunes cut his teeth in the theater and on some short-lived sitcoms in the 1980s before beginning a running collaboration with comic mainstay Harry Enfield. In 1992, he and Enfield were paired on ITV's comedy of ne'er-do-wells, "Men Behaving Badly," and the show kicked into more ribald gear once picked up by the BBC in 1994, with Neil Morrissey taking over as his flatmate. It made Clunes a crossover star, expanding his CV with dramatic turns in telefilms such as "Goodbye, Mr. Chips" (ITV, 2002) and periodic supporting parts, as with his turn as small-town doctor in the sleeper indie hit "Saving Grace" (2002). The film spawned two spin-off telefilms prefiguring his character, Doc Martin, as a London physician simplifying his life; he would reinvent the character as an inveterate curmudgeon for ITV in 2004 in what would become the long-running series franchised into international phenomenon. He kept his hand in series comedy with the well-regarded sitcom "William and Mary" (ITV, 2003-05) and the less successful outing "Reggie Perrin" (BBC, 2009-2010). From behaving badly to being one of his country's better regarded personalities, Clunes made a career spinning ratings gold for U.K. broadcasters.
He was born Alexander Martin Clunes on Nov. 28, 1961 in Wimbledon, London, U.K., the son of two generations British stage mainstays. His father, Alec Clunes, was a renowned actor of Shakespearean fare and British film, while his mother, Daphne, was an aficionado of the craft who encouraged Martin to follow in his father's footsteps and later sat on the board of the London Academy of Music and Dramatic Art. The Clunes patriarch was often on the road for his work, and Martin and sister Amanda only found out years later that his father and mother were estranged when the former died of cancer in 1970. Martin was sent to boarding school at the Royal Russell School in Croydon, a traumatic period in which he suffered both physically and psychologically from the school's draconian disciplinary codes. He honed his own burgeoning talents at The Arts Educational Schools in Chiswick, London, developing a sense of humor, he later said, to cope with school bullies. With the mentoring of his mother's cousin Jeremy Brett, a prolific actor who later gained fame in the 1980s as Britain's latest Sherlock Holmes, Martin decided try his hand at show business. Brett, he later said, even offered to pay for surgery to pin Clunes' prominent ears back. With all this assistance, Clunes won his first paying job as a member of the repertory of the Mercury Theatre in Colchester and spent much of his early career as a stage actor.
He made his television debut in 1982 as a cocky young ally of the U.K.'s long-running sci-fi hero in a brief arc on "Dr. Who" (BBC, 1963-1989), and he would periodically return to the medium in ensuing years on short-lived situation comedies "No Place Like Home" (BBC, 1983) and "All at No. 20" (ITV, 1986-87). In 1987, he landed in auspicious company, doing a run of Shakespearean works for the English Shakespeare Company at London's venerable Old Vic Theatre, and the next year snared a role opposite Edward Fox and Rex Harrison in a revival of the Brit comedy classic "The Admirable Crichton" at the Theatre Royal Haymarket. In 1990 he married fellow actor Lucy Aston. Television kept calling, often with series one-off roles, but that same year, Clunes kicked off what would become a prolific decade of television work when comedian Harry Enfield tapped him for the ensemble of his BBC sketch show, "Harry Enfield's Television Programme" (1990-92) He and Enfield worked together again, alongside Jim Broadbent, on the short comedy series "Gone to the Dogs" for ITV in 1991, and again in the 1994 update of the sketch comedy series "Harry Enfield and Chums." Also in 1991, he joined Hugh Laurie and Stephen Fry for the second season of their the dimwits-in-high-places comedy "Jeeves and Wooster" (ITV, 1990-93), with Clunes doing a four-episode turn as upper-class twit Cyril "Barmy" Fotheringay Phipps.
Meanwhile, Enfield was contacted by TV producer Beryl Vertue about starring in a new sitcom for ITV based on Simon Nye's novel about beer-swilling slackers, Men Behaving Badly. Enfield, taking the role of Dermot, lured Clunes along to play his roommate Gary, a desk jockey who after work indulges a rampant Peter Pan-complex by way of boozing, vegetating, ogling and sundry hijinks. After the first six-episode season, however, Enfield felt uncomfortable in a sitcom format and Dermot was written out in favor of a new flatmate, Tony, played by Neil Morrissey. The show rated poorly during its second season and, with Enfield no longer its tentpole, ITV decided to axe it. The BBC picked it up and gave it a later-evening time slot, loosing writers to create a racier show, and "MBB" found a groove, drawing bigger audiences and a raft of awards, including a Best Comedy Actor BAFTA win for Clunes in 1996 and nomination in 1997. He veered into more dramatic fare off-season, starring in the miniseries "Demob" (1993), the tale of two onetime musical comedians (Clunes and Griff Rhys-Jones) who, after service in World War II, go to extraordinary lengths to reestablish their careers in a much-changed Britain.
In 1994, he garnered the lead in the feature "Staggered," and when two directors dropped off the project, Clunes stepped up and took the helm of the project. In the film, he played a man waking up naked in Scotland and embarking on an odyssey to traverse the length of Britain to make it to his wedding in London. With his own marriage to XXX crumbling, Clunes began a relationship with "Staggered" producer, Philippa Braithwaite, with the couple marrying in 1997 in the wake of his and Aston's divorce. By this time, he became much in-demand for TV movies and as a feature film supporting player, including a small turn in the Oscar-winning "Shakespeare In Love" (1998) and picked up a voiceover job as the title cartoon dog on the children's series "Kipper" (ITV, 1997). After "Men Behaving Badly" shuttered in 1999, Braithwaite produced a little film that would give birth to another long-lived, multi-layered project for the both of them. "Saving Grace," co-scripted by Scottish-born comedian Craig Ferguson, starred Brenda Blethyn as a woman whose recently deceased husband leaves her with nothing but her green thumb, while her inept gardener (Ferguson) helps her raise a crop of marijuana in a small Cornwall town. Clunes took third billing as Dr. Martin Bamford, the town doctor, buddy of Ferguson and partaker of the weed.
One of the bankrollers of the film, Sky Pictures, expressed interest in doing a pseudo spin-off of the show starring Clunes, initially a prequel concept telling the story of how Dr. Bamford came to reside in the remote town. Braithwaite and Clunes' Buffalo Pictures put in motion "Doc Martin" (Sky TV, 2001), which saw Clunes rendering the character as a successful London obstetrician whose life falls apart when he discovers his wife has cheated on him, prompting him to seek a kind of walkabout in a Cornwall town he visited as a child and finding a more blue-collar groove among its eccentric, simpler folk. He kept up his bona fides as comic leading man in whacky-caper ITV movies such as "Hunting Venus" (1999), which Clunes also directed, reuniting him with "MBB" co-star Morrissey; "Dirty Tricks" (2000) and "The Booze Cruise" (2003). He also tapped into more dramatic work, playing the swaggering agent of the king in an updated film adaptation of "Lorna Doone" (BBC/A&E, 2000); the eerily charming 1940s serial killer John George Haigh in "A is for Acid" (ITV, 2002); and the titular, big-hearted boarding school teacher in a remake of "Goodbye, Mr. Chips."
He reprised his Doc Martin character for Sky in 2003 in "Doc Martin and the Legend of the Cloutie," which saw the doc scheming to keep the area around the village pristine by convincing some citified land developers that the land they purchased is haunted. That year, he returned to series television for ITV's "William and Mary," with him playing an amiable but unsatisfied undertaker embarking on a rollercoaster of a relationship with a professional midwife (Julie Graham). "William and Mary" ran three seasons, but even before it concluded, Clunes, Braithwaite and writer-producer Dominic Minghella had taken the Doc Martin franchise to another level. ITV commissioned it as a series, and they began tinkering with the concept. When it debuted in 2004, the sympathetic, well-meant Dr. Martin had (presumably for copyright reasons) a new surname, Ellingham, and a radically altered disposition, reintroduced to the quirky fishing village as a surly, antisocial London surgeon who, having developed an aversion to blood, seeks work as a general practitioner. Even more of a fish-out-of-water tale, the show became a monumental hit, often topping 10 million viewers per episode, as it followed his alienation from and grudging acceptance by the local townsfolk.
The show proved such a phenomenon, its concept and storylines were licensed for adaptations for Greek, German, Spanish and French television, while PBS aired the original in the States. Yet after the third season, and in the wake of his mother's death in 2007, Clunes decided to take a break from acting. He penned a book bespeaking his love of dogs, A Dog's Life, in 2008, which culled memories of his own family's pets and delved deeper into the history of dogs. He would eventually semi-adapt the book for a documentary for ITV. In 2009, "Doc Martin" resumed production to great fanfare. Though it became a rare long-running drama in the U.K., Clunes supplemented his schedule in 2009 with Simon Nye's ballyhooed remake of the BBC classic comedy "The Fall and Rise of Reginald Perrin" (1976-79), simply redubbed "Reggie Perrin." He played the title character, a man in the midst of a midlife crisis who seeks respite in fantasy and plots to fake his own death. Though not well-rated, the show lasted two seasons on the BBC.
By Matthew Grimm