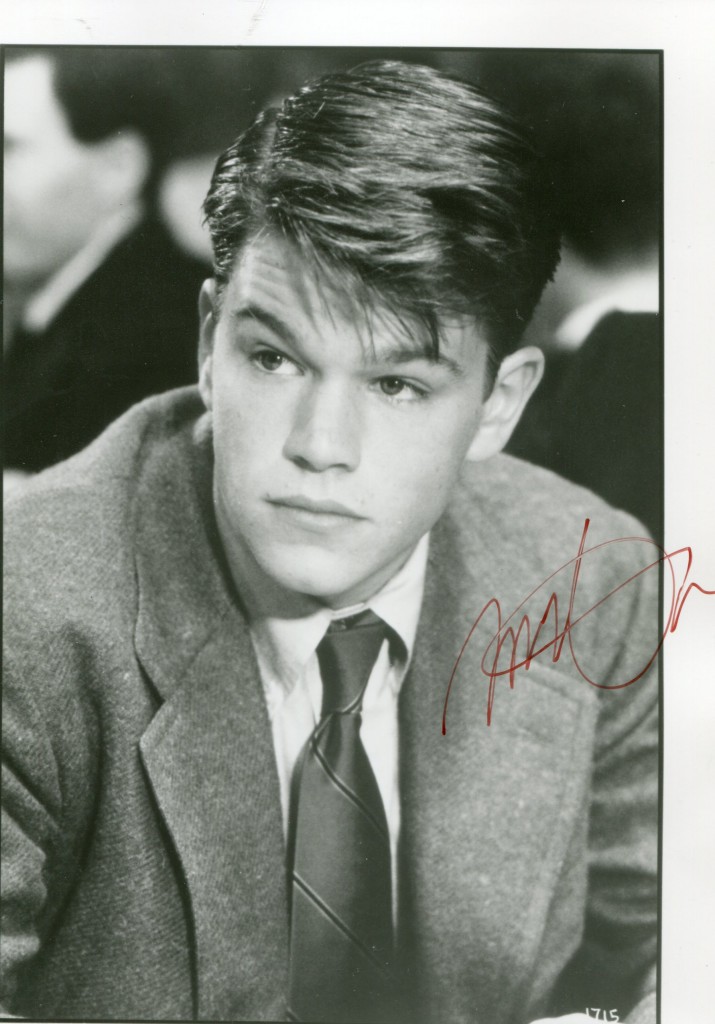 TCM overview:
Despite his all-American persona, actor Matt Damon has thrived in roles that ran counter to his mom-and-apple-pie image. Whether playing a combative mathematics genius, a serial killer hunting the rich and famous or a lethal spy unable to recall his identity, Damon built a strong and respected career tackling characters against type. After appearing in several supporting roles, Damon forged his own path with best friend Ben Affleck by writing and starring in "Good Will Hunting" (1997), which earned the duo an Academy Award for Best Screenplay while opening numerous doors. From there, he delivered a brief but acclaimed performance as the titular soldier in "Saving Private Ryan" (1998), followed by a more devious part as a social-climbing killer in "The Talented Mr. Ripley" (1999). Though he stalled a bit with "The Legend of Bagger Vance" (2000) and "All the Pretty Horses" (2000), Damon became a bona fide star by aptly trading one-liners with the likes of George Clooney and Brad Pitt in the stylish action comedy "Ocean's Eleven" (2001) and its sequels. But Damon became his own man with "The Bourne Identity" (2002), which allowed him to solo drive a successful action franchise that earned big box-office dollars and critical acclaim across the board. By the time he landed a meaty leading role in Martin Scorsese's Oscar-winning thriller, "The Departed" (2006), Damon was one of the biggest stars working in Hollywood.
Damon was born on Oct. 8, 1970 in Cambridge, MA and raised in nearby Newton. His father, Kent, was a stockbroker and his mother, Nancy, a professor of early childhood education at Lesley College. When Damon was two years old, his parents divorced, leaving him to be reared by his mother in a commune-style home back in Cambridge. Because of the open and creative environment, Damon developed a taste for artistic endeavors at an early age. Although he acted onstage in school plays and declared his intention to pursue that career when he enrolled at Harvard University, Damon found it difficult at first. He made his feature debut screen with a one-line role of Adam Storke's younger brother in "Mystic Pizza" (1988). In 1991, Damon ditched Harvard 12 credits shy of his bachelor's degree in English, choosing instead to co-star opposite Brian Dennehy as a medical school dropout in the made-for-cable movie, "Rising Son" (TNT, 1990).
With his acting career on the rise, he excelled as an anti-Semitic preppie in "School Ties" (1992), but later stated that the competition for the roles in his age range was fierce. Nearly all the young men in "School Ties" had auditioned for the co-starring role in "Scent of a Woman" (also 1992), but that plum role opposite an Oscar-winning Al Pacino went to Chris O'Donnell. In fact, Damon and O'Donnell often competed for roles, with the latter generally winning out. Meanwhile, Damon proved adequate as the narrator of Walter Hill's revisionist Western "Geronimo: An American Legend" (1993), only to be overshadowed by more seasoned actors, notably Gene Hackman and Wes Studi. On the other hand, he all but pulled the rug out from under Denzel Washington in "Courage Under Fire" (1996), offering a vivid turn as a guilt-ridden veteran of the Persian Gulf War tormented by an incident in battle. He even lost 40 pounds to achieve the gaunt, haunted look of the character.
When he was at Harvard, Damon began writing a script about a troubled mathematics genius with childhood buddy Affleck. They fashioned a screenplay that soon became the talk of Hollywood, with studios bidding competitively for the project. Old friend and director Kevin Smith did his best to get it noticed by the Weinstein brothers at Miramax, going to bat for his two buddies. In 1994, Castle Rock initially purchased the rights for over a half-million dollars in a pay-or-play deal. The story then focused on Will, a South Boston resident with superior intelligence whom the government attempts to recruit. A year later, with the project in turnaround, Miramax purchased the rights and the script evolved to focus more strongly on the emotional difficulties of the leading character. Before "Good Will Hunting" went before the cameras, however, Damon landed his first screen lead as a newly-minted crusading attorney in Francis Ford Coppola's adaptation of "John Grisham's 'The Rainmaker'" (1997). The one-two punch of the two leading roles – undoubtedly assisted by the resulting mythology building for Damon and Affleck as writers and actors – solidified the actor's status as the so-called "It" boy of 1997, along with Affleck. Earning a Best Actor Academy Award nomination and sharing an Oscar win for Best Screenplay with Affleck only upped his profile and provided Academy Award history with one of its most fairy tale-like moments when, as their respective mothers sat in the audience, the two young men ran cheering to the stage, breathlessly thanking everyone in funny, quick succession. The twosome came off as simply normal guys who had struggled to make it in showbiz and finally hit the big time – something many people could relate to, thus making their win that much sweeter.
Director Stephen Spielberg tapped Damon to play the title role in the World War II epic "Saving Private Ryan" (1998), a film worthy of critical praise for its showy camerawork and impressively staged battle set pieces. As the soldier whose three brothers have been killed in action, the all-American looking Damon was in only the last third of the film, but still managed to make a significant impression. He fared less well as the poker hustler-turned-law student who agrees to help his ex-con best friend in "Rounders" (1998). In this redux of Martin Scorsese's "Mean Streets" (1974), Damon relied on his winning personality, warm smile and good looks than on his acting ability, giving more of a movie star portrayal than a real performance. Repaying writer-producer-director Kevin Smith for his assistance on "Good Will Hunting," he joined Affleck to play a pair of fallen angels trying to get back into heaven in the oddly dark comedy, "Dogma" (1999). Damon followed by undertaking the more challenging title role of an American who decides to murder his traveling companion (Jude Law) and assume his identity in Anthony Minghella's well-crafted "The Talented Mr. Ripley" (1999), resulting in one of the actor's most intense performance. Newcomer Law received the lion's share of the spotlight after giving a charming performance, but it was Damon's obsessive, bespectacled killer who was the glue that held the beautifully shot film together.
Damon's career hit a brief but worrisome slump with the release of three creative and box office duds in a row: director Robert Redford's lethargic "The Legend of Bagger Vance," with Damon as a washed up golf pro opposite wise caddy Will Smith; "All the Pretty Horses," director Billy Bob Thornton's failed adaptation of novelist Cormac McCarthy's romantic Western; and a small supporting turn in Van Sant's by-the-numbers "Finding Forrester" (2000). The actor recaptured his A-list caché when he joined the all-star cast of Steven Soderbergh's remake of "Ocean's Eleven," playing pick-pocket and aspiring big-time thief, Linus Caldwell, in the popular hit – a role he returned to for the sequels "Ocean's Twelve" (2004) and Ocean's Thirteen" (2007). His next film was a complete about-face from a polished crowd-pleaser: Damon and Casey Affleck starred (and co-wrote) the largely improvised drama "Gerry" (2002), a little-seen effort directed by Van Sant about two men named Gerry who are stranded in the desert during a hiking mishap. Although an intriguing experiment, it proved to be unfit for mainstream audiences.
Over the years, Damon cultivated a reputation as one of the most affable movie actors in Hollywood and frequently collaborated with friends to give their projects a boost. His desire to help others get their careers off the ground led he and Affleck to create the HBO reality series, "Project: Greenlight" (2001-02), which documented and bankrolled untried aspiring filmmakers' attempts to create a motion picture to be released by Miramax; the show resulted in the films "Stolen Summer" (2002) and "The Battle of Shaker Heights" (2003), both executive produced by Affleck and Damon. The duo also created and produced the short-lived "Push, Nevada" (ABC, 2002-03), an interactive mystery show that gave viewers the chance to solve the crime and win $1 million. Damon also had a cameo in films by his friend, Kevin Smith, including "Jay & Silent Bob Strike Back" (2001) and "Jersey Girl" (2004); and in films from his "Ocean's Eleven" collaborators, including "Confessions of a Dangerous Mind" (2002); and up-and-coming filmmaker pals, such as the creators of the comedy "Eurotrip" (2004). As a voice actor, Damon lend his distinctive vocals to the films "Titan A.E." (2000), "Spirit: Stallion of the Cimmaron" (2002), "The Majestic" (2001), and "Howard Zinn: You Can't Be Neutral on a Moving Train" (2004).
Demonstrating his increasing diversity and believability, Damon took on the role of the amnesiac über-spy Jason Bourne in the film adaptation of Robert Ludlum's sprawling espionage novel, "The Bourne Identity" (2002), a crackerjack thriller that did solid box office business and became a mega-hit on home video. The actor would reprise the role for the equally well-crafted but ultimately unsatisfying sequel "The Bourne Supremacy" (2004). Demonstrating a flair for goofball comedy, Damon delivered a wickedly funny turn on the small screen as Jack's scheming rival to join the gay men's chorus in a 2002 episode of the hit NBC sitcom "Will & Grace;" a role he reprised the following season. Damon next literallyjoined Greg Kinnear to play one-half of a pair of conjoined twins in the flawed but still winning comedy, "Stuck On You" (2003), a silly romp from the Farrelly Brothers that proved to be a rare miss for the filmmaking duo.
His next film cast him opposite Heath Ledger as a fictionalized version of Wilhelm and Jacob Grimm, the Bavarian fairy tale spinners known as "The Brothers Grimm" (2005), reimagined by director Terry Gilliam as a pair of curse-removing con artists who are suddenly tasked with solving a genuine mystery that will ultimately inspire their famous stories. Damon showed a great deal of panache and charisma as practical scoundrel Wilhelm, but the story ultimately left him too little to do; the film itself lacked the spark and imagination expected of a Gilliam project. Behind the scenes, Damon was credited with frequently playing peacemaker between the embattled Gilliam and the films' producers, the Weinstein brothers. At the end of that year Damon delivered a fine turn in the complex potboiler, "Syriana" (2005), playing an oil industry analyst living a comfortable life in Geneva until the death of his son while visiting an oil-rich country, drives him to obsession with helping the country's benevolent prince (Alexander Siddig) raise his nation with sound business dealings.
Damon next joined an all-star cast that included Leonardo DiCaprio, Mark Wahlberg and Jack Nicholson for "The Departed" (2006), playing a hardened criminal employed by a crime syndicate who infiltrates the police while his counterpart (DiCaprio) on the force g s undercover in the mob. Based on the excellent Hong Kong action thriller, "Infernal Affairs" (2002) and directed by Martin Scorsese, "The Departed" earned a huge helping critical kudos prior to its release as well as several Academy Award wins. In "The Good Shepherd" (2006), a historical look at the beginnings of the CIA, Damon played Edward Wilson, a bright, idealistic Yale student recruited by the OSS to work intelligence during World War II. While later helping to form the CIA, he becomes disenfranchised during the heightened suspicions and deep-rooted paranoia of the Cold War. In 2007, Damon revived two favorite characters for a second time, appearing as Linus Caldwell in the much-improved "Ocean's Thirteen" (2007), and Jason Bourne for "The Bourne Ultimatum" (2007), who comes out of retirement to defeat arch rival, The Jackal, in a once-and-for-all showdown.
In 2009, Damon made a cameo appearance on the hit Hollywood sitcom, "Entourage" (HBO, 2004-2011), playing a hyper-real version of himself in an effort to pressure Vince Chase (Adrian Grenier) into donating money to his real-life charity, OneXOne, only to grow more and more angry as Vince continues to avoid him. Back in features, he reunited with Steven Soderbergh to star in "The Informant!" (2009), a dark political comedy in which he portrayed Mark Whitacre, a former high-ranking executive at Archer Daniels Midland who blew the whistle on the company's illegal price-fixing scheme, only to find himself in trouble with the FBI himself when they discover he has embezzled $9 million. The role earned Damon a Golden Globe nomination for Best Performance by an Actor in Musical or Comedy. He next starred in "Invictus" (2009), director Clint Eastwood's compelling sports drama about how Nelson Mandela (Morgan Freeman) joined forces with South African rugby star Francois Pienaar (Damon) to unite their country. Damon earned his second Golden Globe nomination that year, this time for Best Performance by an Actor in a Supporting Role in a Motion Picture, as well as Screen Actors Guild and Oscar nominations in the supporting category.
After reteaming with Greengrass for the war thriller "Green Zone" (2010), Damon played a factory worker who communicates with the dead in Clint Eastwood's "Hereafter" (2010). Also that year, he delivered a fine performance as Texas Ranger La Boeuf, who joins a determined 14-year-old (Hailee Steinfeld) and a gruff bounty hunter (Jeff Bridges) in tracking down a notorious gunman (Josh Brolin) in the Coen Brothers' Oscar-nominated Western, "True Grit" (2010). In a rare small screen turn, Damon played the pilot boyfriend of Liz Lemon (Tina Fey) in episodes of "30 Rock" (NBC, 2006-2013), which earned him an Emmy Award nomination for Outstanding Guest Actor in a Comedy Series. He also served as the narrator for "Inside Job" (2010), the Academy Award-winning documentary that explored the root causes and high-level players involved in the 2008 economic crisis that revealed widespread corruption by U.S. financial services. The following year, Damon starred in "The Adjustment Bureau" (2011), a romantic thriller about a man fighting for his own destiny that was loosely based on the Philip K. Dick short story "The Adjustment Team." The film proved to be a moderate hit with both critics and audiences.
Not done by a long shot, Damon had much more to offer that year. He reteamed with Soderbergh once more for a 21st-century update of the disaster movie with "Contagion" (2011), in which he played a father desperately trying to save what remains of his family after a deadly pandemic rapidly depopulates the earth. On a lighter note, he lent his voice to the microbial Bill the Krill, who embarks on a journey of self-discovery with his pal Will (Pitt) in director George Miller's animated sequel "Happy Feet Two" (2011). The industrious actor then capped off the year by starring in director Cameron Crowe's endearing comedy-drama "We Bought a Zoo" (2011), the story about a man and his family whose recently purchased home contains a fully stocked zoo that has fallen into disrepair. Clearly catching his breath, Damon had a relatively quiet 2012, with his only feature release of the year being "Promising Land," another thoughtful collaboration with Van Sant-this time focusing on the issue of fracking in a script that he co-wrote with fellow star John Krasinski. In 2013, Damon portrayed the gay lover of Liberace (Michael Douglas) in Soderbergh's esteemed HBO TV movie, "Behind the Candelabra." Shifting gears radically, he next endured futuristic slum life and being turned into a weapon of class warfare in the high-concept film "Elysium" (2013), remarkably the actor's first live-action outing to fall unquestionalbly into clear-cut science-fiction territory.