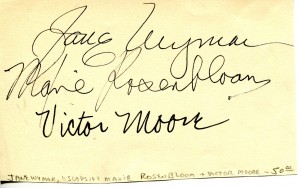 IMDB entry:
Max Rosenbloom was 5'11" and weighed 165-170 lb. during the peak of his professional boxing years (which included 289 fights). In later years the larger-than-life "Slapsie Maxie" would parlay his sports fame into a Hollywood career playing a series of Runyonesque-type thugs and pugs. Born Max Everitt Rosenbloom in Connecticut, the son of an impoverished Russian-Jewish shoemaker and his wife, Maxie was a truant and upstart from the beginning. An older brother, who fought under the name Leonard Rose, helped straighten him out and influenced him to try jabbing away at his own career. The lackluster amateur once called the "Harlem Harlequin" lost most of his matches, working odd jobs as a railroad worker, lifeguard and elevator operator to support himself. Everything turned around for Maxie after he became managed by the seasoned Frank Bachman and turned pro in 1923 as a welterweight. He won all of his first 36 professional fights in various weight divisions. He reached his peak from 1930, after winning the light heavyweight belt in a decision against Jimmy Slattery, to 1932, when he earned international recognition as champion in a decision against Lou Suozzo. Dubiously nicknamed "Slapsie Maxie" by sportswriter Damon Runyon who disapproved of Maxie's less-than-classy style of slapping opponents with open gloves, he is considered the most active champion in contemporary boxing history with a fighting total of 106 while champion (only eight, however, were for the title). Outside the ring, Maxie eased easily into the nightlife and became infamous for his gambling and womanizing. Though he married psychologist Muriel Faider in 1937, the marriage was childless and lasted but 8 years. Hollywood opened its doors to Maxie the celebrity after he permanently hung up his gloves. He would go on play in more than a hundred films, his better known beingNothing Sacred (1937), The Kid Comes Back (1938), Each Dawn I Die (1939) and Irish Eyes Are Smiling (1944). A colorful character with cauliflower ears, fat lips and punch-drunk mug, he was usually only called upon to play various extensions of his own flashy persona. After opening the Hollywood nightclub "Slapsie Maxie's" in 1943, he partnered with another former boxing champion, Max Baer, in a nightclub act and in a few films following WWII. On TV in 1955, he was a regular as Clyde on The Joe Palooka Story(1954). On stage he was ideally suited to the role of Big Jules in a 1961 revival of "Guys and Dolls". Three years earlier he had published his autobiography titled "Fifty Years at Ringside." Maxie's health deteriorated with age, and he suffered from pugilistica dementia (better known as Paget's disease) as a result of the continuous head blows he endured as a boxer. He died at age 71 in South Pasadena, California.
– IMDb Mini Biography By: Gary Brumburgh / gr-home@pacbell.net
The above IMDB entry can also be accessed online here.