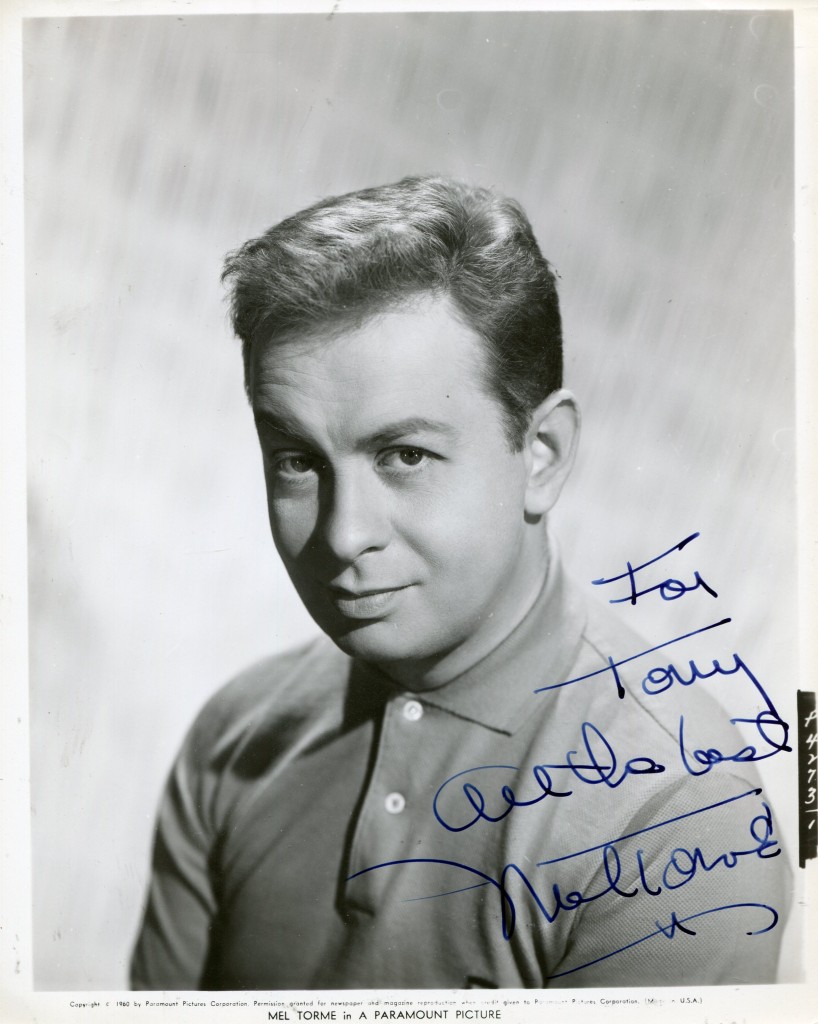 IMDB entry:
A professional singer at the age of three, Mel Torme was a genuine musical prodigy. As a teenager, he played the drums in Chico Marx's band and earned the nickname "The Velvet Fog" because of his smooth, mellow high baritone voice. In the 1940s, he formed his own group, the Mel-Tones, one of the first jazz-influenced vocal groups. As a solo musician, he had a number one hit in 1949 called "Careless Love" and several lesser hits. He also acted in films and wrote several books, including biographies of Judy Garland and Buddy Rich. Torme's career included some songwriting, too. One of his most well-known compositions, "The Christmas Song", was written in midsummer as Torme relaxed by the pool.
Tom Vallance's obituary of Mel Torme in "The Independent":
SINGER, ACTOR, writer, composer, arranger, drummer and pianist, Mel Torme was extraordinarily versatile, but he will primarily be remembered as one of the supreme popular vocalists of this century, a superb song stylist equally persuasive handling tender love-songs, swinging rhythm numbers or giving a cool jazz sound to the best of popular song.
As a singer, his name ranks in the top echelon along with Crosby and Sinatra, but he excelled them when it came to jazz stylings, particularly with the series of superb recordings he made with arranger Marty Paich starting in the mid-Fifties. As a composer, his best-known work, "The Christmas Song" ("Chestnuts roasting on an open fire . . ."), is a perennial favourite, and his books include a novel, a biography of the drummer Buddy Rich and his own autobiography, It Wasn't All Velvet. That title is an oblique reference to the label given him by the disc jockey Fred Robbins, "The Velvet Fog", an attempt to sum up the warm, mellow timbre that gave Torme's voice its unmistakable individuality.
Torme (his surname originally had no accent) was born in Chicago in 1925, to Russian-Jewish immigrants. His father was a grocer, but Mel's musical talents were promoted by his mother, who demonstrated sheet-music in Woolworth's and taught her young son new songs as they came out. He later cited as other influences the radio, to which he was "addicted", and the woman who used to look after him during the week but played barrel-house piano with an all-girl band at weekends.
At the age of four, Torme made his singing debut with the Coon-Sanders Orchestra at the Blackhawk Restaurant for $15 a session. It was while seated on the drummer Carlton Coon's knee that Torme decided he also wanted to play the drums. By the age of six, he was a regular vaudeville performer at weekends, his income helping support the family during the worst of the Depression, and until his voice changed he was one of the busiest child actors on radio.
The youngster's two greatest enthusiasms were movies and swing music, particularly that of Duke Ellington. At Hyde Park School in Chicago he played drums in the school band, and at 15 composed his first song, the Ellingtonian "Lament for Love", which became a hit in 1941 when recorded by Harry James. Torme (he had now added an accent) left high school in 1942 when the veteran bandleader Ben Pollack offered him a job drumming and singing with the Chico Marx band (actually formed and led by Pollack). The following year he made his screen debut in Higher and Higher.
Though primarily a showcase for the new crooner teenagers were swooning over, Frank Sinatra (already regarded by Torme as "the best singer in the world"), the film featured Torme in several numbers including a lively duet with Marcy McGuire, "Minuet in Boogie". For his next film, Pardon My Rhythm (1944), Torme wrote two of the songs as well as playing the drummer boyfriend of teenage soprano Gloria Jean.
It was a time when vocal groups were extremely popular, and Pollack told Torme he had found a quartet of college graduates, the Schoolkids, who needed a lead-singer and arranger. Impressed by the talents of the four singers (Sheldon Disruhd, Betty Beveridge, Ginny O'Connor and Bernie Parke), Torme fashioned them, with himself as lead vocalist, into one of the finest groups of the time, the Mel-Tones, inspired by the pioneering work in group harmonies already done by the Modernaires, Six Hits and a Miss and Kay Thompson. "I patterned the group after a saxophone section," said Torme, "with two altos (the girls), two tenors (Bernie and myself) and a baritone (Sheldon)." When Disruhd was drafted into the army, singer- arranger Les Baxter replaced him, and the team appeared on screen with Torme in his next film, Let's Go Steady (1945), which had songs by Torme and co-starred June Preisser.
In 1946 Torme had small roles in two movies, Night and Day and Janie Gets Married, while with the Mel-Tones he filled a heavy schedule of radio and armed services appearances. During a brief period with Decca records in 1945 the Mel-Tones cut two sides with Bing Crosby, but it was their 1946 period with Musicraft that produced their finest recording work, including their classic version of "What is This Thing Called Love?" with Artie Shaw's orchestra, hailed as "ahead of its time" by Orchestra World. "What made the record a stand-out," said Torme later, "were the advanced harmonies, the originality of singing backgrounds to instrumental solos and the overall hard-swinging sound."
Another of Torme's outstanding arrangements was "It Happened in Monterey", for which he wrote special lyrics and effectively used "Ramona" (a song by the same composer, Mabel Wayne, and with the same chord structure) as counter-melody. At the end of the year the group, which appealed to connoisseurs more than the general public, disbanded and Torme went solo.
Signed by MGM, he made his best film, Charles Walters's musical Good News (1947), in which as one of the collegiates attending Tait College he sang "The Best Things in Life are Free" and was part of the ensemble numbers "He's a Ladies' Man" and "Lucky in Love" – his solo of "Just Imagine" was cut from the final print. In Words and Music (1948), the film biography of Rodgers and Hart, he sang "Blue Moon" – he was originally also scheduled to duet "Mountain Greenery" with June Allyson but the number was instead performed by Perry Como and Allyn McLerie.
"Blue Moon" was to become Torme's first solo record hit, reaching second place in the Hit Parade, and it started Torme's "Velvet Fog" period in which he was a favourite of teenagers. "I spent most of the Fifties getting over the `Velvet Fog' image," he later said.
As a composer he had formed a fruitful partnership with ex-drummer Robert Wells. Their evocative "Christmas Song" was recorded by Nat "King" Cole in 1946 and subsequently by virtually every top singer including Sinatra and Crosby. Other songs included "A Stranger in Town" and "Born to be Blue", while for Disney's 1948 film So Dear To My Heart they successfully conceived an extended narrative paean to rural pleasures, the eight-minute "County Fair". This piece was a precursor to a 35-minute tone poem written by Torme alone in 1949, "California Suite", which became Capitol Records' first long-playing album when recorded by Torme with the Mel-Tones and Peggy Lee (as "Susan Melton").
Although his records were a hit with teenagers and disc-jockeys, Torme's debut at the Copacabana night-club in New York was disastrous, his youth and self-confidence alienating the elderly patrons. "I sang Harold Arlen's `Ill Wind' and a lot of other high-class material," he said later. "I thought I was going to kill those people and I was greeted with ennui." The columnist Dorothy Killgallen called him "an egotistical little amateur" and other reviews were equally unkind. The singer later confessed that he was never one to proclaim false modesty or downgrade his talents. (The comments in his autobiography about his former wife, the British actress Janette Scott and her mother Thora Hird would certainly win him no awards for gallantry.) "All my wives have been beautiful," he once said, "but I'm bad at picking women who are good for me."
Though the early Fifties were productive – records for Capitol, numerous personal appearances, his own television show mixing music and interviews ("one of the first chat shows", he said later), his career musically went into highest gear in 1955 when he signed with a new jazz label, Bethlehem Records, and was told to choose his own material and arrangers.
This was a golden age for lovers of popular music, the long-playing album having transformed the record industry. Classic albums like Sinatra's In the Wee Small Hours, Peggy Lee's Black Coffee and Ella Fitzgerald's Song Books were being made.
Just as Sinatra had discovered the perfect arranger for his style in Nelson Riddle, Torme discovered Marty Paich, who had been writing for Shelley Manne's small jazz group. "They were jazz charts for horns, but rich in content and ideas. I had a strong idea he would be a masterful writer for strings and woodwinds." The album It's a Blue World, with Paich one of five arrangers, was released on Torme's 30th birthday and was followed by an even better set, the first wholly Torme-Paich album, entitled Mel Torme and the Marty Paich Dek-tette ("a 10-man combo patterned after the Gerry Mulligan Tentet and the early Miles Davis nonet sides").
One of its numbers, "Lulu's Back in Town", with an introduction composed by Torme ("You've heard about Margie . . ."), was to become one of the singer's trademark songs, along with "Blue Moon" and "Mountain Greenery". The last-named song had been part of Torme's programme when he appeared at the Crescendo Club in Los Angeles in 1954. His performance had been recorded live by Coral Records and in mid-1956 it was issued in Britain. The disc jockey Alan Dell played "Mountain Greenery" to tremendous audience response, the track was quickly issued as a single and it shot to No 1 on the Hit Parade. Coming to Britain, Torme made a successful tour of the country, topped the bill at the Prince of Wales Theatre in London for two weeks, and made records with Ted Heath, Cyril Stapleton and Roland Shaw.
The following year Torme made his acting debut on television with an acclaimed performance as Mickey Rooney's brother in Rod Serling's The Comedian, directed by John Frankenheimer, and he recorded another album with the Paich Dek-tette, Mel Torme Sings Fred Astaire. When the Bethlehem label went out of business, the Torme-Paich collaboration continued on other labels – for Tops they made Prelude to a Kiss, on which Torme provided linking dialogue between the songs, which included Duke Ellington and Billy Strayhorn's "Something to Live For", and for Verve they made three superb sets: Torme, which included such neglected gems as "Gloomy Sunday" and "The House is Haunted" and an eight-minute arrangement of Arlen and Mercer's "Blues in the Night" that transforms the number into a rhapsodic tone-poem; Back in Town, which reunited Torme with the Mel-Tones in the clarity of stereo recording; and Mel Torme Swings Shubert Alley.
These albums demonstrate that cool jazz need not necessarily be cold, ballads such as the wistful "Nobody's Heart" being immensely moving without becoming mawkish. Torme was, wrote the music critic Will Friedwald, "a perfect example of what a jazz-derived pop singer should be . . . His ability to breathe life into the words of a song rivals anyone this side of Billie Holiday and Frank Sinatra."
In 1963 Torme was asked to work on Judy Garland's television series, writing special material, selecting songs and occasionally performing. The traumatic events that followed became the subject of a book by Torme, The Other Side of the Rainbow (1970). Torme's other books included a western, Dollarhide (1955, written under the assumed name Wesley Butler Wyatt and later adapted by Torme as an episode of the television series The Virginian), a novel about a singer, Wynner (1985), his autobiography It Wasn't All Velvet (1988) and Traps (1991), a biography of his great friend the late drummer Buddy Rich. In 1978 the two men had made an album, Together Again – For the First Time, but the most productive partnership that Torme had in later years was with the pianist George Shearing.
In 1982 the couple were recorded live at a concert and the resulting record won Torme a Grammy Award as Best Male Jazz Vocalist. The following year their next album, Top Drawer, won Torme the award for a second time and further albums followed, most of them displaying the Torme voice as rich as ever, his phrasing as persuasive, his sense of pitch and rhythm as sharp. Shearing's eloquent piano was particularly appropriate on such ballads as "A Nightingale Sang in Berkeley Square" and "The Folks Who Live on the Hill".
In 1975 Bing Crosby was asked by a disc jockey whose records he would want to have on a desert island. Along with jazz musicians, Crosby mentioned just one vocalist – Torme; adding, "Any singer that goes to hear this guy sing has got to go and cut his throat. He's the best musical performer I've ever seen." Torme himself told the jazz critic Whitney Balliett 11 years ago: "I'm a dogged perfectionist with a desperate desire to be super- professional. Do I dare say I finally am?"
Melvin Howard Torme (Mel Torme), singer, songwriter, actor, composer, pianist, drummer and arranger: born Chicago 13 September 1925; four times married (two sons, three daughters); died Los Angeles 5 June 1999.
The above "Independent" obituary can also be accessed online here.