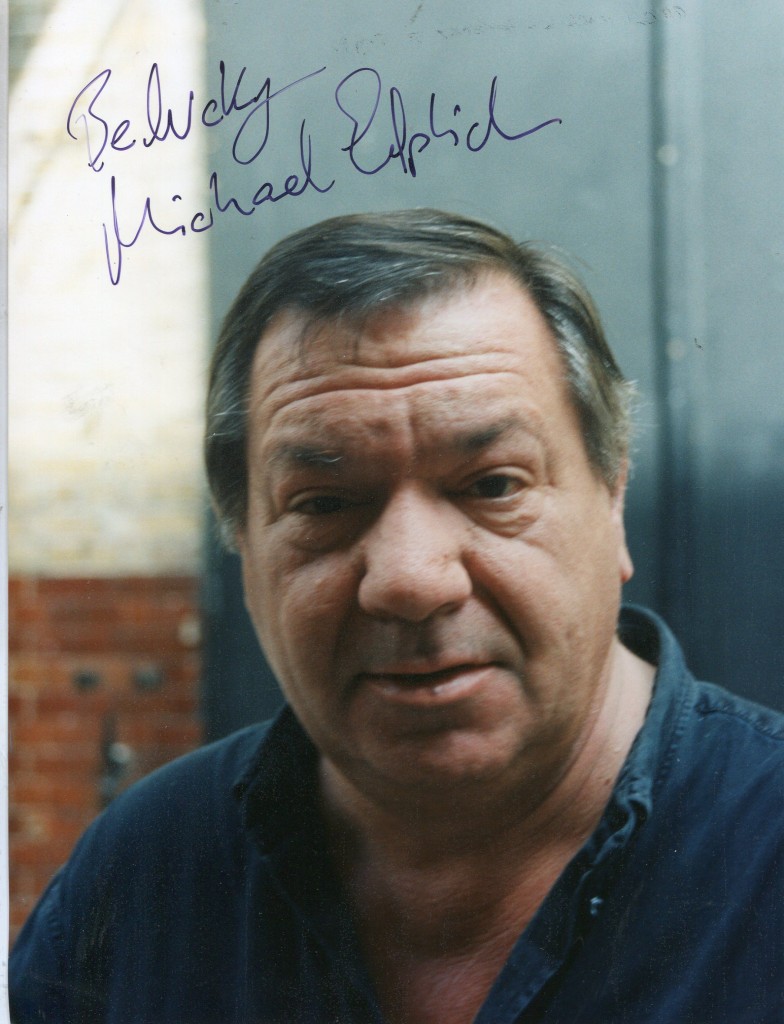 His 2002 obituary in "The Telegraph":
Michael Elphick, the actor, who has died aged 55, made his name in the early 1980s playing a collection of villains for television; he went on to star in Boon, the popular television series about a motorcycle-riding "urban cowboy", and recently appeared in EastEnders as the despicable Harry Slater.
Robust and ruggedly good-looking in his prime, Elphick always looked older than he was, and with his gruff Cockney accent and splendid lip-curling sneer he often played menacing hard men. However, he was cast against type in 1982 when he was given his first starring role in the television series Private Shultz. Elphick played an ineffectual petty criminal who attempts to dupe the Nazis out of their stolen art treasures.
Three years later he starred in Boon, playing the dim but decent eponymous hero, an ex-fireman who founds a motorcycle courier agency in Birmingham, then sets up a private detective agency, which later moves to Nottingham. The somewhat uninspiring setting and storylines were enlivened by Elphick's superior acting, and the supporting cast, which included David Draker as Boon's eternally optimistic business partner and Neil Morrissey as his dopey assistant, Rocky. "I never really expected it to be a success," Elphick recalled, "the stories were about a very ordinary bloke."
Boon was a hit, but by 1988 Elphick's heavy drinking was having a damaging effect on filming and he made the first of many attempts to dry out. The series was re-commissioned and Elphick became one of the most familiar and respected actors on the small screen.
Last year he joined the cast of EastEnders as "Uncle Harry" Slater. Years of drinking had ravaged his looks, but he gave a convincingly sinister performance when it was revealed that Harry Slater had sexually abused his niece and was the father of her teenage daughter. When his character was eventually killed off, one tabloid newspaper squawked "the worst pervert in soap is heading for justice!
Uncle Harry was his last role, and Elphick was forced to leave the show when once again his drinking began to hamper his performance. "I've always been a terrible hedonist," he confessed, "I get bored very easily."
Michael Elphick was born on September 19 1946 at Chichester, Sussex, into a Catholic family and was educated at a local secondary school, where he excelled at rugby.
He left school at 15 and started work as a builder on the construction of the Chichester Festival Theatre. After becoming an apprentice electrician at the theatre he worked on several shows starring Laurence Olivier, Michael Redgrave and Sybil Thorndike. It was Olivier who encouraged him and recommended that he attend drama school. "He gave me two speeches to learn," Elphick recalled, "and I got offered places at all the schools I auditioned for, including RADA, but I went to Central because that's where Olivier went."
On leaving Central, Elphick toured with repertory companies throughout the 1960s. Despite appearing most often as what he called "the Cockney thug", his performances were often favourably noted in reviews. In 1967 he made his film debut in Dino de Laurentis's Fraulein Doctor. Two years later he made his television debut in Roads to Freedom, in which one critic described him as "versatile but evil-looking".
Throughout the 1970s, Elphick's typecasting moved from mindless "heavies" to a selection of sinister, brooding roles. He starred in Arthur Hopcraft's The Nearly Man (1972) and Holding On (1973), and his appearance in Granada Television's This Year, Next Year (1977) captivated The Sunday Telegraph's television critic, who described him as "barrel-chested, capaciously-bellied and, judging by his morning splosh in the water tank . . . well hung".
Elphick's big break came, however, when he appeared in Dennis Potter's television drama Blue Remembered Hills (1979), in which adult actors portrayed children. He described his role as "still the bully but in short pants".
The following year Elphick played Claudius in the Royal Court production of Hamlet. The play was distinguished by Jonathan Pryce's contorted rendering of Hamlet's "possession" by his father's ghost and by the overt sexuality of Elphick's Claudius. One critic claimed that it was "the first time I understood why Gertrude remarried so quickly".
The success of Private Schultz led to appearances in almost every well known television series, including Auf Weidersehen Pet, The Sweeney, The Professionals and Smiley's People. He starred opposite Angela Thorne in the stolid situation comedy Three Up Two Down and also appeared in films as diverse as Quadrophenia (1979), The Great Train Robbery (1979), Privates on Parade (1982), The Elephant Man (1980) and Gorky Park (1983). The latter was filmed in Helsinki, where Elphick justified his predilection for a bottle of vodka a day as the only way to keep warm.
His career was always dogged by his alcoholism, which, at times, he seemed to have beaten. But despite numerous drunken episodes and more than the occasional sexual indiscretion, Elphick was rarely out of work.
In Withnail and I (1988) he played a menacing poacher who kept an eel down his trousers, and in 1991 he appeared in Stanley and the Women on ITV, playing a battered old alcoholic.
Two years later he starred in Harry, a drama series about a hardened hack. "Elphick", said The Daily Telegraph "is one of those actors who couldn't give a bad performance if you put a lighted match between his toes and told him to ham it up."
After the death of his long-term companion Julia Alexander in 1996, Elphick began drinking again in earnest. They had met as teenagers and he was shattered by the loss. But despite threatening suicide he rallied and returned to the stage in Loot.
One of his last roles was in 2000, when he appeared as Peggoty's suitor, Barkis, in a BBC production of David Copperfield. Elphick put his gravelly voice to good use once more with the well known line: "Barkis is willin' ".
He is survived by a daughter from his relationship with Julia Alexander.
The above "Telegraph" obituary can also be accessed online here.