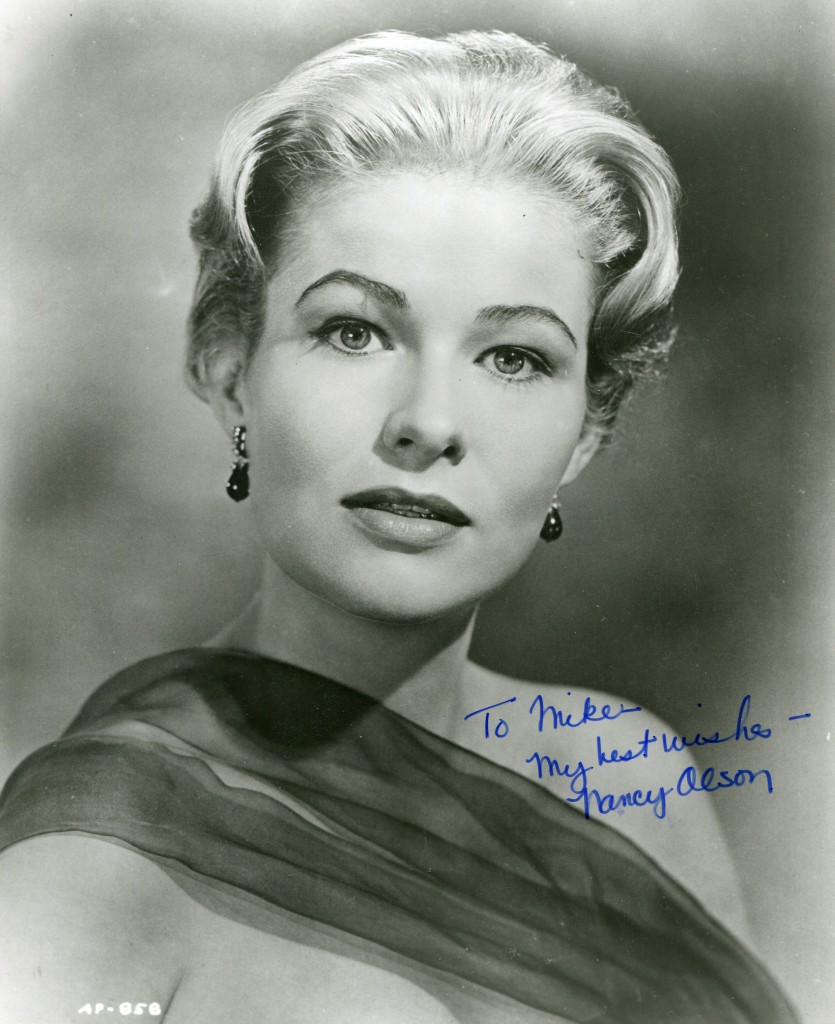 TCM Overview:
Often playing good girl roles in feature films and on television, Nancy Olson rose from relative obscurity and became a Hollywood star, thanks to a scene-stealing performance in Billy Wilder's film noir masterpiece "Sunset Boulevard" (1950). The Wisconsin-born ingénue breathed liveliness into her character, a vivacious studio assistant and William Holden's love interest, providing a shining spot in an otherwise chilling and emotionally intense drama. Olson received an Academy Award nomination for her engaging performance in the film and landed several other starring roles opposite Holden because of it. Olson's career temporarily stalled in the late 1950s, but she reemerged the following decade with plum roles in Disney family films such as "The Absent-Minded Professor" (1961) and "Son of Flubber" (1963), opposite the likeable Fred MacMurray. Her sheer talent and dedication to her craft inspired other actors and actresses who followed in her footsteps, but it was Olson's breakout role in "Sunset Boulevard" that earned her a place amongst the most beloved stars of classic cinema.
Nancy Olson was born on July 14, 1928 in Milwaukee. She attended the University of Wisconsin before transferring to UCLA in Los Angeles, where she majored in theater arts. Olson lived with her aunt and uncle, a dean at UCLA, at their Pacific Palisades home. She was discovered by a talent scout while performing on stage at UCLA, and soon after, signed a contract with Paramount Studios in 1948. During one of her screen tests, Olson was paired with actor George Reeves, who later starred on the hit series "The Adventures of Superman" (syndicated, 1952-58). Olson made her feature film debut in the 1948 drama "Portrait of Jennie," playing an art gallery attendee. She was reportedly up for the lead role in Cecil B. DeMille's "Samson and Delilah" (1949), but was eventually passed over for Austrian-born bombshell Hedy Lamarr.
Olson was still a UCLA student when acclaimed filmmaker Billy Wilder cast her in "Sunset Boulevard," a dark Hollywood-centric drama that starred William Holden as a struggling screenwriter named Joe Gillis, and Gloria Swanson as the long-forgotten and reclusive silent film star Norma Desmond. Olson played Betty Shaefer, an ambitious and vibrant assistant to a movie studio producer who falls in love with Holden's young screenwriter. Described by critics as one of the film's sanest characters, the role of Betty earned Olson an Academy Award nomination in 1951 for Best Actress in a Supporting Role. "Sunset Boulevard" went on to win several major film honors and was later named by the American Film Institute as one of the "100 Best American films of the 20th Century." Following the success of "Sunset Boulevard," Paramount decided to build up Holden and Olson as an onscreen team, positioning her as a "loving wife" screen rival to MGM star June Allyson. The pair starred in a handful of films, including the dramas "Union Station" (1950) and "Force of Arms" (1951), yet none measured up to the impact of their onscreen chemistry in their initial outing.
As one of the most in-demand actresses of the 1950s, Olson starred alongside Hollywood legends, from Bing Crosby in the romantic comedy "Mr. Music" (1950), to John Wayne in the crime drama "Big Jim McLain" (1952). She also began appearing on the small screen, with appearances on the comedy variety series "Your Show of Show" (NBC, 1950-54) and the suspenseful "Alfred Hitchcock Presents" (CBS, 1955-1960; NBC, 1960-62). Olson's stardom waned in the mid-'50s after she put acting on hold to start a family. She had married acclaimed playwright and lyricist Alan Jay Lerner in March 1950 and raised their two daughters. After the couple's 1957 divorce, Olson sought an acting comeback, but by then Hollywood had already moved on to other girl-next-door actresses. She reinvented her career in the 1960s with appearances in Disney-produced films, making her Disney debut in the much beloved "Pollyanna" (1960), about an orphan (Hayley Mills) who cheers up a dreary small town. Olson's charismatic, all-American appeal was a perfect match for Disney's family-friendly movies. Olson went on to co-star opposite Fred MacMurray in some of the studio's most successful and beloved films, including "The Absent-Minded Professor" and its 1963 sequel "Son of Flubber."
Olson returned to Broadway before retiring from acting in the mid-1980s, choosing again to focus once again on family. She had by this time married Capitol Records executive Alan W. Livingston – the man who signed Frank Sinatra and The Beatles – in 1962 and had a son. She was also involved with various programs dedicated to music and the performing arts. One of Olson's last film appearances was a cameo in the 1997 Disney remake of "Flubber," with Robin Williams taking on the role of the absent-minded professor. In 2010, Olson made a memorable guest appearance on the polygamy-themed drama series "Big Love" (HBO, 2006-2011). In the episode, Olson's character mentions that her first husband's name was Joe, a reference to Holden's iconic role in "Sunset Boulevard."
By Marc Cuenco
The above TCM overview can also be accessed online here.