Wikipedia entry:
Patricia Dainton was born in 1930 and is a British actress who appeared in a number of film and television roles between 1947 and 1961. She was born in Hamilton, Scotland, and made her screen debut in the 1947 film Dancing with Crime. She trained at the Rank Organisation's "charm school".
She was born in Hamilton, Scotland, the daughter of film and stage agent Vivienne Black.[ She left Scotland at age ten, moving to London. She attended the Italia Conti Academy of Theatre Arts in London and the Cone school of dance.
Dainton's "dancing and acting debut in Technicolor" came in The Dancing Years, with her screen debut in the 1947 film Dancing with Crime. She trained at the Rank Organisation's "charm school". (Another source says that Dainton "made her first film debut in 1942 in The Bells Go Down."). Her twin brother, George Bryden also made a couple of film and stage appearances around this time.
Patricia was married to the actor turned producer Norman Williams and they had two children.
55 years after her last film role, she appeared in the public eye again, both attending the Renown Film Festival and providing introductions to her films in "An Afternoon with Patricia Dainton" on her 86th Birthday for TalkingPictures TV.
"Quinlan's Movie Stars":
Blue-eyed Dresden china blonde. Born in Scotland and on the stage as a teenager. Started as a glamourpuss following a Rank contract but did well later on as a beleaguredt,declcate but resourceful heroine. Seemed to lack a career drive to become a bigger star.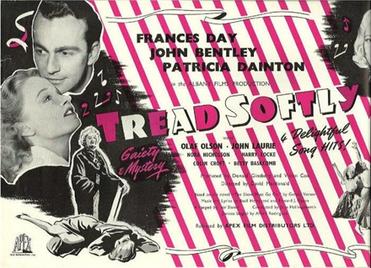 Telegraph Obituary in 2023:
A graduate of the Rank Charm School, she was picked out by Gielgud and Novello but gave up her career to bring up a family
ByTelegraph Obituaries7 June 2023 • 6:00am
Patricia Dainton, the actress, who has died aged 93, starred in Britain's first daily television soap, Sixpenny Corner, launched by ITV on its second day of transmission in 1955.
The serial featured a cast of unknowns, with the exception of the Rank Charm School graduate who first attracted attention with her hoofing talents in The Dancing Years, a 1950 film version of Ivor Novello's London stage musical.
In Sixpenny Corner she and Howard Pays played the soap's leading couple, Sally and Bill Norton, newlyweds starting married life by taking over a rundown garage business in the "old country" town of Springwood. She even featured on the cover of the first TV Times alongside Lucille Ball.
Sixpenny Corner, broadcast on weekday mornings, Monday to Friday, was devised by Jonquil Antony and Hazel Adair as a television version of the popular BBC radio serial Mrs Dale's Diary, for which they wrote.
Once the first six recorded episodes were broadcast – beginning with Sally and Bill's wedding reception – each 15-minute edition was screened live from a studio, first in Kensington, then Wembley.
"We got there at 7am and put on our make-up," recalled Dainton. "About 8.30, we would meet the crew, which was a different one every day. We would do one straight run-through of the episode, check our make-up and then do the programme."
An early lunch would be followed by a rehearsal for the next day's episode and, later, Sunday rehearsals were added. The cast were relieved of the tough schedule only when the serial was dropped after nine months.
The Stage's critic, while applauding Dainton and Pays for portraying a "likeable couple", had observed: "This serial is pretty milk-and-watery and is not likely to keep housewives away from their morning chores."
One of those housewives said: "It's too ordinary and doesn't hold me. I'd rather have Mrs Dale, when I can listen and get on with the house at the same time."
While Hazel Adair created the soaps Compact and Crossroads, and Howard Pays became a successful agent and the father of the actress Amanda Pays, Patricia Dainton – who had married the actor-producer Norman Williams in 1952 – eventually gave up her career for her family.
She was born Margaret Bryden Pate in Hamilton, Lanarkshire, on April 12 1930, the daughter of George Pate and his wife, Vivienne, née Black. At the age of six she appeared in a charity show in aid of the blind at the Garrick Theatre, Southport.
After excelling in ballet lessons, she moved to London aged 10 and trained in dancing and acting at the Italia Conti Academy of Theatre Arts, then the Cone School of Dancing.
The professional name Patricia Dainton came when Margaret elongated Pate and her mother – assistant manager of John Gielgud's acting company before becoming a theatrical agent – picked Dainton from a book, believing that agents and casting directors "skim over" the beginning of an alphabetical list. Then, she explained: "If you find what you want among the 'Ds', you don't look any farther."
In 1943, Patricia Dainton made her screen début, uncredited, in The Bells Go Down, a wartime drama starring Tommy Trinder, and appeared in The Windmill Man at the Shakespeare Memorial Theatre, Stratford-upon-Avon.
Two years later, Gielgud picked the actress, then 14, to play the fairy Peaseblossom in A Midsummer Night's Dream in the West End. Her twin brother, George Bryden, was also in it before appearing in a handful of films.
"I suppose I must have done pretty well," said Patricia Dainton, "because, when that came to the end of its run, Ivor Novello sent for me to understudy as Grete [on tour] in The Dancing Years."
Her talents were also spotted by the Rank Organisation. After signing a three-year contract with its Company of Youth – commonly known as the Rank Charm School – she had small parts in the B-movies Love in Waiting, A Piece of Cake (both 1948) and Don't Ever Leave Me (1949).
When she was dropped in 1949, Novello came to the rescue. He recalled her understudying the innkeeper's daughter in The Dancing Years tour and put her in the treacly Technicolor film version of his Viennese romance.
This began a seven-year contract with Associated British that included starring roles alongside John Bentley in the crime dramas Hammer the Toff, Paul Temple Returns and Tread Softly (all 1952).
Shortly after playing a terminally ill murderer in The Third Alibi and a model with an unconsummated holiday romance in Ticket to Paradise (both 1961), Patricia Dainton left acting behind to bring up her children. She made a return to the screen in 2016 for An Afternoon with Patricia Dainton on the Talking Pictures TV channel, reminiscing about her career and presenting some of her films
Patricia Dainton's husband died in 2010. They had a son and three daughters.
Patricia Dainton, born April 12 1930, died 31 May 2023