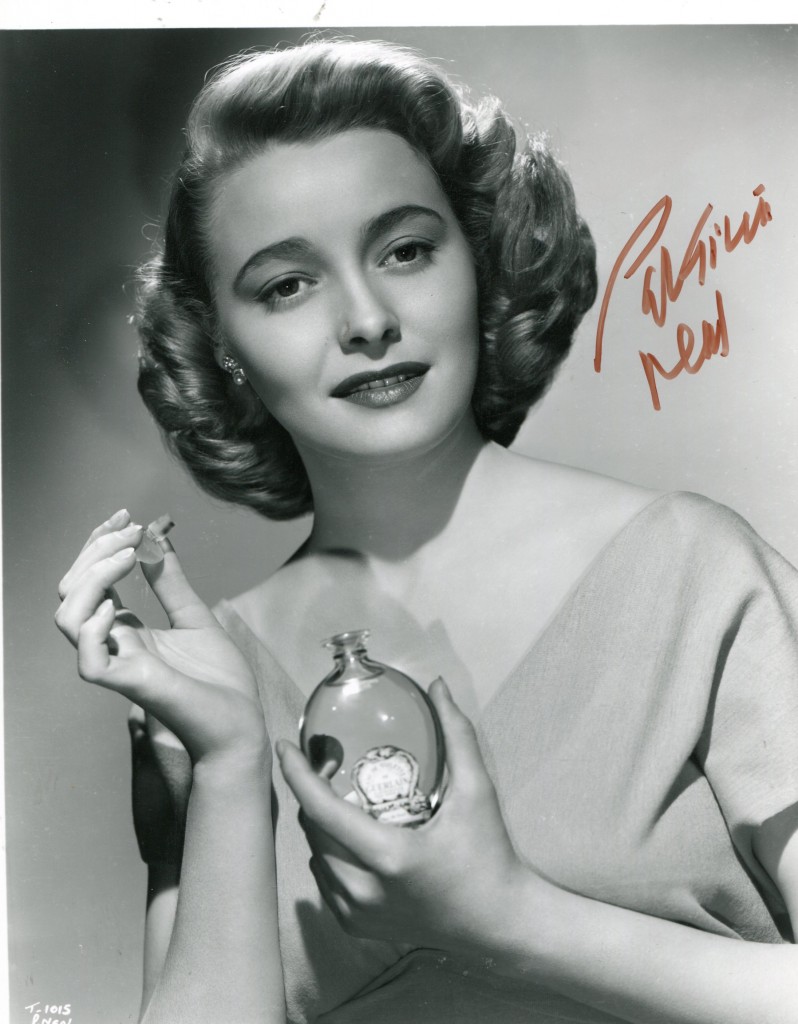 Ronald Bergan's obituary in "The Guardian" in 2010:
Perhaps the most famous line spoken on screen by the actor Patricia Neal, who has died of lung cancer aged 84, was "Klaatu barada nikto!" in Robert Wise's The Day the Earth Stood Still (1951). These incomprehensible words, uttered to a robot which carries her into a spaceship, save the world from destruction. Neal won her Oscar for a more down-to-earth performance, as the cynical, world-weary housekeeper Alma Brown in Martin Ritt's contemporary western, Hud (1963). "It was a tough part to cast," Ritt remarked. "This woman had to be believable as a housekeeper and still be sexy. It called for a special combination of warmth and toughness, while still being very feminine. Pat Neal was it."
Perhaps the most telling indication of Neal's gifts was the fact that, although the role was quite a brief one, the Academy included her in the category of best actress, rather than best supporting actress. One memorable moment in the film was improvised: in response to Paul Newman's kiss, Neal swats a fly, which she happened to notice on the set.
Neal had a sexy, husky southern nasal drawl. She was born Patsy Lou Neal in Kentucky, attended Knoxville high school in Tennessee and studied drama at Northwestern University in Illinois. She then went to New York, worked as a model and, in 1945, got a job understudying Vivian Vance in John Van Druten's The Voice of the Turtle on Broadway, taking over for one night. The following year, aged 20, Neal triumphed as Regina, the spoiled-brat daughter in Lillian Hellman's family saga Another Part of the Forest, directed by the author. One critic hailed her "a young Tallulah Bankhead" and she won a Tony for best actress.
With her dark hair dyed bright blonde, Neal began her film career inauspiciously with John Loves Mary (1949), in which she played a senator's daughter engaged to ex-GI Ronald Reagan. In the same year, with a Warner Bros contract, her special qualities were better used in King Vidor's baroque film of the Ayn Rand bestseller The Fountainhead. As the architecture critic Dominique Francon, she first appears at the edge of a quarry watching, in an erotic manner, a bare-chested Gary Cooper phallically using a pneumatic drill. The sexual chemistry in the film reflected Neal and the married Cooper's real-life romantic entanglement.
Neal played a nurse in the British-made The Hasty Heart (1949), set in war-torn Burma. She consolidated her friendship with Reagan, again her co-star, confiding in him about her involvement with Cooper. In Bright Leaf (1950), she was a ruthless aristocratic southern girl vying with tart-with-a-heart Lauren Bacall for tobacco tycoon Cooper.
Neal was sparky opposite John Garfield in The Breaking Point (1950), which was truer to Ernest Hemingway's novel To Have and Have Not than Howard Hawks's earlier adaptation had been. A few less interesting pictures followed, excepting The Day the Earth Stood Still at Fox, before her three-year affair with Cooper ended. Neal had become pregnant by Cooper and had an abortion, after which she suffered a nervous breakdown. She returned to Broadway in 1952 in a revival of Hellman's The Children's Hour, making an impression as a schoolteacher accused of lesbianism. During rehearsals, Neal met Roald Dahl at a party given by Hellman. They married in 1953 and settled in England, where they would bring up five children.
In 1955, Neal was back on Broadway as the mother of a difficult teenage girl in A Roomful of Roses. In March 1956, she took over from Barbara Bel Geddes as Maggie in Tennessee Williams's Cat On a Hot Tin Roof. The play was directed by Elia Kazan, who cast Neal in his next film, A Face in the Crowd (1957). Revealing vulnerability beneath a hard surface, she was brilliant as the executive of a small southern TV station who discovers a folksy country singer, Lonesome Rhodes (Andy Griffith), and turns him into a national institution. Although in love with the singer, she realises she has created a monster and destroys him.
In 1958, Neal appeared with great success in Williams's one-act play Suddenly, Last Summer at the Arts theatre in London. She was heartbroken to lose out to Elizabeth Taylor when a film of the play was made. In 1959 Neal returned to Broadway to play Helen Keller's mother in The Miracle Worker. The following year her son, Theo, was injured in a road accident and had to undergo several brain operations. In London in 1961, with her hair dyed red, she appeared in Breakfast at Tiffany's as a rich society matron known only as "2-E", a rival of the younger Audrey Hepburn for the affections of George Peppard. In 1962 she suffered another personal tragedy when her seven-year-old daughter Olivia died of measles.
Following Hud, she filmed three days of John Ford's Seven Women (1966), before having a stroke. She was replaced in the film by Anne Bancroft. After suffering further strokes, Neal became partially paralysed and incapable of articulate speech, but she learned to walk and talk again. She worked with brain-damaged children and was awarded the American Heart Association's heart of the year award by President Lyndon Johnson. Several years later she founded the Patricia Neal Rehabilitation Centre in Knoxville for stroke, spinal cord and brain injury patients.
Her remarkable recovery allowed her to return to the cinema. As the embittered wife in The Subject Was Roses (1968), she was again nominated for an Oscar. Among her later roles were a speech therapist in Baxter! (1973); the wife of scientist James Mason, on the run from Nazis in The Passage (1979); the hero's mother in an adaptation of All Quiet On the Western Front (1979); and Heidi's grandmother in a TV series (1993) based on Johanna Spyri's character. She also had a crucial role in Cookie's Fortune (1999), directed by Robert Altman.
She and Dahl divorced after his affair with Felicity Crosland, whom he married in 1983. Neal returned to live in the US. Her life was recounted in a 1981 TV film starring Glenda Jackson, with Dirk Bogarde as Dahl. In her autobiography, As I Am (1988), Neal, who had found comfort in Catholicism, wrote: "A strong positive mental attitude will create more miracles than any wonder drug." She is survived by her children Tessa, Ophelia, Theo and Lucy; her brother Pete and sister Margaret; and 10 grandchildren and step-grandchildren.
• Patricia (Patsy Lou) Neal, actor, born 20 January 1926; died 8 August 2010
The above obituary can also be accessed on "The Guardian" on line here.