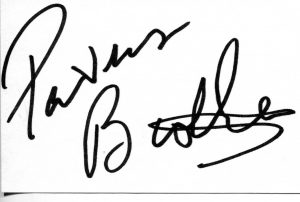 TCM overview:
A dependable character actor for over three decades, Emmy winner Powers Boothe lent grit to powerful men on both sides of the moral fence in a variety of diverse projects like "Red Dawn" (1984), "Nixon" (1995), "Deadwood" (HBO, 2004-06), "24" (Fox, 2001-2010) and "The Avengers" (2012). Boothe made an indelible impression on audiences with his first major screen role as the deranged Reverend Jim Jones in "Guyana Tragedy: The Story of Jim Jones" (CBS, 1980) before making the leap to features with Walter Hill's "Southern Comfort" (1981). He soon became a favorite for directors like Hill and Oliver Stone, who cast Boothe as flinty bad guys in "Extreme Prejudice" (1987), "U Turn" (1990) and "Nixon" (1995). "Deadwood" brought him back to prominence with his complex turn as a brutal but emotionally wounded brothel owner, which in turn led to high-profile parts on "24" and significant smaller roles in "Sin City" (2005) and "The Avengers" (2012). Boothe's tough exterior and talent for intimate drama made him one of the most in-demand character actors in Hollywood.
Born June 1, 1948 on a farm in Snyder, TX, Powers Allen Boothe was the youngest of three sons by Merrill Vestal Boothe and his wife, Emily Reeves. He attended Texas State University, where he earned a degree in theater. Unsure if he could make a living as an actor, Boothe considered teaching before being encouraged by fellow members in a summer stock troupe to audition for the graduate program at Southern Methodist University. After receiving his Master of Fine Arts degree in 1972, Boothe was a member of the Oregon Shakespeare Festival, then made his stage debut in New York in a 1974 production of "Richard III" at Lincoln Center. He would return to the play for his screen debut in 1977's "The Goodbye Girl," which featured him as a cast member in a doomed, off-off-Broadway production which depicted Richard – as portrayed by Richard Dreyfuss' character Elliot Garfield – as a camp homosexual.
Boothe made his Broadway debut in 1980 with the comic one-act "Lone Star," but his stage work was completely overshadowed by his terrifying performance as the Reverend Jim Jones, the fanatical leader of the People's Temple who led his followers to commit mass suicide, in "Guyana Tragedy: The Story of Jim Jones" (CBS, 1980). For his formidable turn as the messianic madman, Boothe received not only critical praise but also the Emmy for Best Actor in 1980. He was the only actor in any category to attend the ceremony that year, which was under boycott by the Screen Actors Guild due to a strike. In his acceptance speech, Boothe admitted that his appearance at the ceremony was either the bravest moment of his career or the most foolish.
Boothe's fears proved unwarranted, as the acclaim for "Guyana Tragedy" led to a string of lead and supporting roles in features. Blessed with considerable height (6'5″) and a strong jaw, he was a natural to play men of action, as he did for Walter Hill in "Southern Comfort" (1981) and John Milius in the cult favorite "Red Dawn" (1984). But Boothe brought more than brawn to his tough guy roles; there was also an all-too-evident humanity that made him both vulnerable and appealing to audiences. These traits were put to excellent use in John Boorman's "The Emerald Forest" (1985), with Boothe as an engineer in Brazil whose son (the director's son, Charley Boorman), was abducted by and inducted into a primitive tribe. Boothe also possessed the right mix of brass and world-weariness to play Philip Marlowe, Raymond Chandler's iconic detective, in the cable series "Philip Marlowe, Private Eye" (ITV/HBO, 1983-86).
By the end of the 1980s, Boothe's movie career seemed stuck in conventional action roles, playing heavies or cops in Hill's ultra-violent "Extreme Prejudice" (1987) and Brandon Lee's sidekick in "Sudden Death" (1990). He found more substantive work on the small screen, where he essayed Navy officer and convicted spy John A. Walker, Jr. in "Family of Spies" (CBS, 1990), and "By Dawn's Early Light" (HBO, 1990), as a B-52 bomber pilot who refused to honor orders to drop nuclear weapons on the Soviet Union. In 1993, he played real-life outlaw "Curly Bill" Brocious in the all-star "Tombstone" (1993), about the events leading up to and after the famed gunfight at the O.K. Corral.
In the mid-1990s, Boothe settled into character roles, often as imposing authority figures, ruthless villains or some combination of both attributes. He faced off against Jean-Claude Van Damme as a terrorist holding the vice president hostage at a hockey game in Peter Hyams' "Sudden Death" (1995), then shifted gears to play the hawkish Alexander Haig, White House chief of staff in Oliver Stone's "Nixon" (1995). Boothe reunited with Stone in 1997 to play a corrupt Southwestern sheriff in the neo-noir "U Turn." His gravely voice also found frequent employment on animated series like "Justice League" (Cartoon Network, 2001-04) and full-length animated features like "Superman: Brainiac Attacks" (2006), for which he voiced the DC Comics supervillains Gorilla Grodd and Lex Luthor, respectively.
In 2004, he enjoyed something of a revival with a recurring role on "Deadwood" as Cy Tolliver, a polished brothel owner whose dandified veneer hid both an iron hand in business dealings, as well as a damaged heart over Joanie Stubbs (Kim Dickens), a former prostitute made madam under Tolliver's aegis. The exposure afforded by the critically acclaimed but short-lived "Deadwood" led to small parts in major features like "Sin City" (2005) and steady work on television, most notably as the duplicitous Vice President Noah Daniels on "24" (Fox, 2001-2010).
In 2008, Boothe's steely, conservative screen persona made him the ideal choice to narrate a television campaign for Senator John McCain's bid for the Presidency. He worked steadily over the next few years in projects ranging from the wildly popular animated series "Ben 10: Alien Force" (Cartoon Network, 2008-2010) to the dismal failed comedy "MacGruber" (2010). However, 2012 proved to be a banner year for Boothe, with a bit role as the World Security Council Leader in the box office blockbuster "The Avengers" (2012) landing shortly before his appearance as judge Valentine "Wall" Hatfield, whose decision in a case involving stolen livestock leads to a bloody feud in "Hatfields & McCoys" (A&E, 2012), one of the highest-rated made-for-cable miniseries in history.   He died in 2017.
By Paul Gaita
The above TCM overview can also be accessed online here.