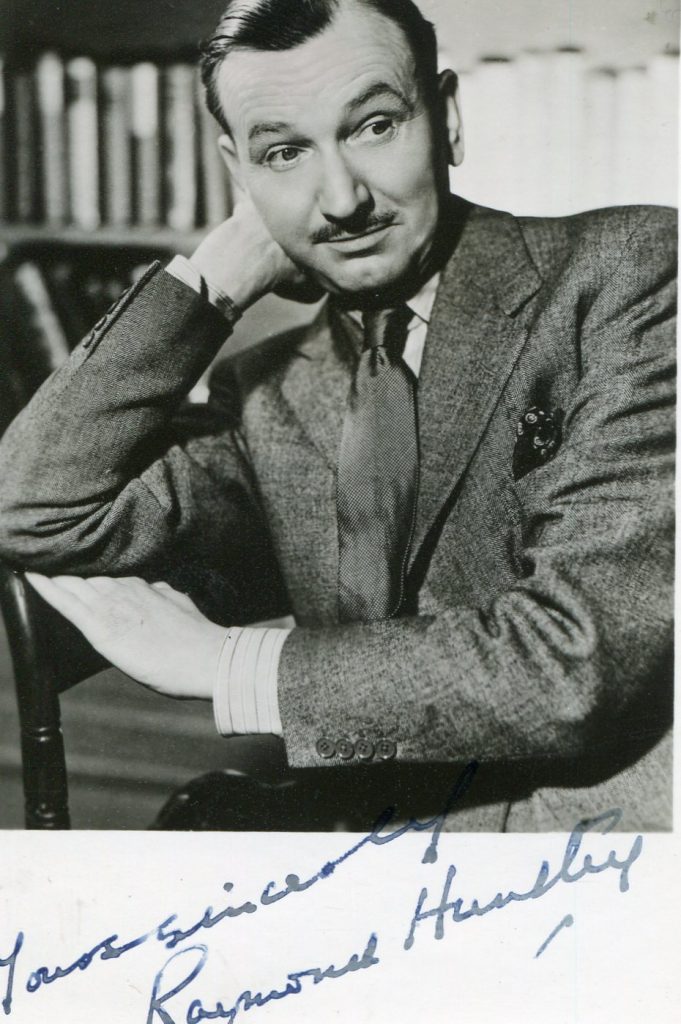 Raymond Huntley was born in 1904. He is best remembered for his role as 'Sir Jeffrey Dillon' the family solicitor in the 1970's British TV series "Upstairs Downstairs".
IMDB entry:
Birmingham-born Raymond Huntley was one of those instantly recognisable, mannered types that popped up in classic British films of the 1940's and 50's. Tall and austere, he had a somewhat mean, sour-faced look, accentuated whenever staring with icy disdain from behind horn-rimmed spectacles. This, and his trademark dry delivery, made Huntley such perfect casting for an extensive array of ever-so-superior, humourless civil servants, mean-spirited bank managers, dullish clubroom snobs, smug business types, dour undertakers or sinister cold war spooks. Earlier in his career, Huntley essayed rather more overtly menacing characters, effectively typecast during the war years as Nazi officers ('Pimpernel' Smith (1941)) or German spies (Mail Train (1941)). It is hard to pick out two outstanding performances above all others, but he was arguably at his best as the local bank manager Wix in Passport to Pimlico (1949), emphatic in his greed to reap whatever benefits from the Burgundian declaration of independence; as the irascible boffin Laxton-Jones in Secret Flight (1946); and as Henry Chester, made resentful by his illness, in the Sanatorium segment of Trio (1950). Towards the end of his career, Huntley achieved his greatest popularity when he was cast as the grumpy family solicitor, Sir Geoffrey Dillon, in TV's Upstairs, Downstairs (1971).
Educated at King Edward's School, Raymond Huntley made his theatrical debut with the Birmingham Repertory Company in 1922. By the age of twenty-one, he played a septuagenarian farm labourer and was consequently hired as a comedian by a North Country revue for a starting salary of ten pounds a week. Huntley was reputedly the first actor to play Dracula on stage (in Hamilton Deane's hit 1927 London adaptation of the original novel), though it is fair to point out that an earlier reading of the play took place on May 18th, 1897, at the Lyceum Theatre, arranged by none other than the author Bram Stoker himself. In any event, Huntley's superb handling of the character established the direction his future career would take.
– IMDb Mini Biography By: I.S.Mowis
The above IMDB entry can also be accessed online here.