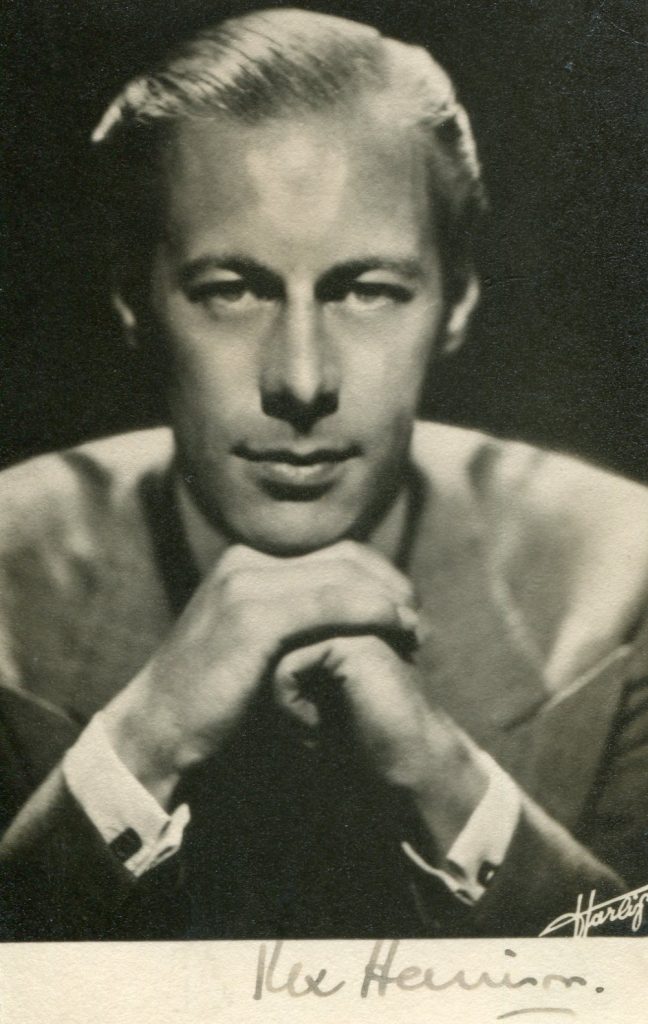 "In an interview once, Rex Harrison referred to Alan Jay Lerner, the writer of 'My Fair Lady':' I owe that man such a great deal'.   Few actors are so in debt.   'My Fair Lady' cam to him when he was past middle age and transformed him from leading man to super-star.   He had even been a formidable light comedian but a fairish run of poor films had kept this Rolls Royce of actors going in only low gear.   He is a player of strong personal style, presumably achieved by much work but looking deceptively easy., the aristocratic elegant Englishman, with ingratiating hints of well-being and devilry.   He can play with real bite.   Noel Coward's famous crack is not quite fair:' If next to me, you were not the finest light-comedian in the world, you'd be good for only one thing: selling cars in Great Portland Street'.   It suggests that behind Harrison's smooth surface bravado, there is not very much – which is intriguingly possible; ut it also suggests superb self-confidence and it was that deepened into arrogance, which made him such a marvellous Higgins.   To the extent that 'My Fair Lady' put him right to the forefront of actors, with roles to match, we all owe Alan Jay Lerner a great deal". – David Shipman in "The Great Movie Stars – The International Years". (1972).
TCM Overview:
Stagestruck from boyhood, suave British actor Rex Harrison joined the Liverpool Repertory Theatre at the age of 16, beginning a 66-year career that would culminate with his final performance on Broadway, May 11, 1990, three weeks prior to his death. Best known for his Tony- and Oscar-winning portrayal of Professor Henry Higgins in Alan Jay Lerner and Frederick Loewe's "My Fair Lady", he made his West End debut in "Getting George Married" (1930) and his Broadway debut in "Sweet Aloes" (1936), but it was a two year run on the London stage in Sir Terrence Rattigan's "French Without Tears" that made him a star. Appearances in other sophisticated comedies, S N Behrman's "No Time for Comedy" and Noel Coward's "Design for Living" (both 1939), established him as what Coward himself called "the best light comedian in the world–after me."
Harrison's feature debut came in "The Great Game" (1930), and starring turns in movies like "Night Train to Munich", (1940) "Major Barbara" (1941) and "Blithe Spirit" (1945) brought him to the attention of Hollywood, leading to a seven-year contract with 20th Century-Fox. He scored a major triumph as the King in "Anna and the King of Siam" (1946) and recorded another success with "The Ghost and Mrs. Muir" (1947), but subsequent films performed poorly at the box office, although Preston Sturges' "Unfaithfully Yours" (1948) later acquired a cult status. Actor and studio parted company by mutual agreement, and Harrison returned to Broadway, earning a Tony for his 1948 performance as King Henry VIII in Maxwell Anderson's "Anne of the Thousand Days". Continued acclaim followed for his work in T S Eliot's "The Cocktail Party" and John van Druten's "Bell, Book and Candle" (both 1950). He directed and starred in "The Love of Four Colonels" (1953) and a revival of "Bell, Book and Candle" (1954) and helmed "Nina" (1955), all for the London stage. He made his Broadway directing debut with "The Bright One" (1958).
Despite having, in his own words, a vocal range of "one-and-a-half notes", Harrison talked his way through the numbers of Lerner and Loewe's "My Fair Lady" (1956), directed for the stage by Moss Hart, and became the darling of the critics, playing the show for two years in New York and another in London. His waspish professor of phonetics was "crisp, lean, complacent and condescending until at last a real flare of human emotions burns the egotism away," wrote Brooks Atkinson in THE NEW YORK TIMES, and the success of "My Fair Lady" once again brought Harrison important film offers. He earned his first Oscar nomination for his portrayal of Julius Caesar in "Cleopatra" (1963), stealing the picture from his more famous co-stars, Elizabeth Taylor and Richard Burton. Reprising Higgins for the 1964 film version of "My Fair Lady" opposite Audrey Hepburn brought him a Best Actor Oscar and international fame, and "Dr. Dolittle" (1967) introduced him to a new generation of moviegoers as he shamelessly enjoyed himself playing the fanciful jungle gentleman who conversed with wildlife.
Harrison devoted most of his remaining years to his first love, the stage, taking parts in such diverse plays as Luigi Pirandello's "Henry IV" and Rattigan's "In Praise of Love" (both 1974). He co-starred with Claudette Colbert in a Broadway production of "The Kingfisher" (1978), and, after returning to Broadway in "My Fair Lady" (1981), garnered some of the best reviews of his career for a Broadway revival of "Heartbreak House" (1983), later captured for posterity in a 1985 Showtime cable special. Harrison portrayed Lord Grenham in London and Broadway productions of "Aren't We All?" (1984-85) and Grand Duke Cyril Romanov in the NBC miniseries, "Anastasia: The Story of Anna" (1986). He last appeared on the London stage in "The Admirable Crichton" (1988) and bowed out in a Broadway revival of W Somerset Maugham's "The Circle", playing eight times a week just prior to his June 1990 death. The oft-married man dubbed 'Sexy Rexy' by Walter Winchell never wanted to be anything but an actor and never intended to retire. "He died with his boots on, no doubt about it," said "The Circle" producer Elliot Martin.