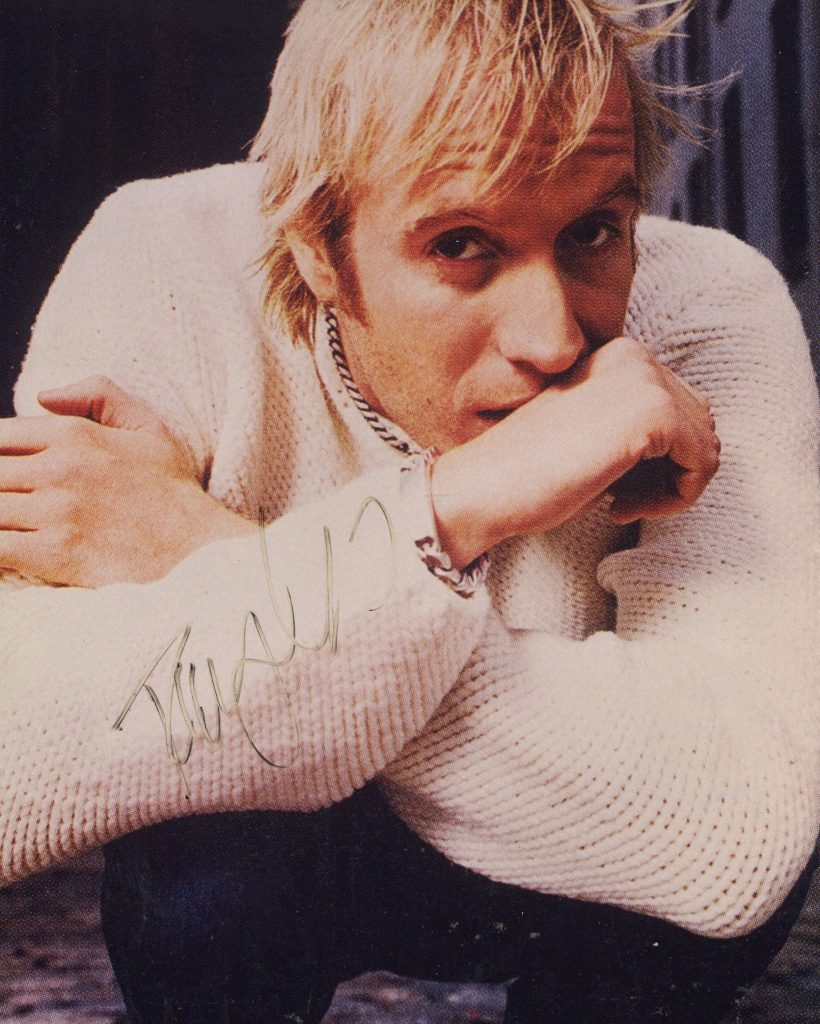 TCM overview:
After a decade on the UK stage, actor Rhys Ifans was propelled into the mainstream with his scene-stealing performance as the unkempt and uninhibited roommate of Hugh Grant in the blockbuster "Notting Hill" (1999). Having provided 90 percent of the romantic comedy's more hilarious moments, Ifans' big personality was snapped up for a few more Hollywood supporting roles in the Adam Sandler comedy "Little Nicky" (2000), Lasse Hallstrom's adaptation of the novel "The Shipping News" (2001), and the thriller "Hannibal Rising" (2007). However, the Welsh actor remained better known overseas, where he was associated with a group of similarly-aged hip London actors including Jude Law and Ewan McGregor; all three being collectively known as the Primrose Hill set. Ifans earned a BAFTA TV Award for his portrayal of English comedian Peter Cook in the biopic "Not Only but Always" (Channel 4, 2004), and was steadily recognized for his assortment of slightly damaged common men and mischievous dreamers in films like "Dancing at Lughnasa" (1998), "Danny Deckchair" (2004) and Richard Curtis' "Pirate Radio" (2009). With his remarkable ability to become unrecognizable and a versatility that could channel sensitivity or unbridled swagger with equal flair, Ifans laid out a path for a long career as a valuable, quirky screen player.
Born July 27, 1968, Ifans was raised in a Welsh-speaking home in Northern Wales by parents who were primary school teachers. He was drawn to performing at an early age, captivated by the building of the regional Theater Clywd and the touring actors he saw come and go. He became active with youth theater programs and made his stage debut playing a rat in "Toad of Toad Hall," before going on to dramatic training at Guildhall School of Music and Drama in London. The bilingual actor amassed theater credits in London and Wales including "Hamlet" and "As You Like It," and in 1990 was cast as the host of a children's quiz show on Welsh television. During the early 1990s, Ifans also performed with the Welsh rock band Super Furry Animals. In 1994 he made a mark on London's West End in a production of "Beautiful Thing," playing the laid back and likable young companion of an older woman whose teenaged son is coming of age. Ifans' early film appearances included "Streetlife" (1996), a gritty urban drama screened on the film festival circuit, and he was cast by Anthony Hopkins in the fellow Welshman's directorial debut, "August" (1996), a reworking of Chekhov's classic "Uncle Vanya" set in 19th Century Wales.
Ifans teamed with his real-life younger brother Llyr Evans (Ifans preferred using the traditional Welsh spelling of their surname) in 1997 and gave a breakout screen performance as one of a pair of sociopathic brothers in "Twin Town." Presumably setting out to do for Swansea what "Trainspotting" did for Edinburgh (and even executive produced by Danny Boyle and Andrew Macdonald), the less moralizing "Twin Town" proved a mixed success, with many finding the subversive elements of the film troubling, while others enjoyed its boundless energy and irreverence. Ifans' grimace-laden portrayal of the gleefully violent Jeremy was at once enrapturing and disturbing. The following year, Ifans' performance in the Irish period drama "Dancing at Lughnasa" (1998) showcased a different side of the actor. In a much more likable and inspiring role, Ifans played an endearing dreamer whose pure-heartedness sparks a sense of independence and abandon in a family of small town sisters.
While Ifans' previous performances were strong and compelling, they did not capture the public notice of his scene-stealing turn as the flaky, unwashed, oddball Spike in the blockbuster romantic comedy, "Notting Hill" (1999), starring Julia Roberts and Hugh Grant. Ifans earned Best Supporting Actor nominations from the BAFTA and Satellite Awards for playing the uninhibited roommate of a mumbly, self-doubting bookshop owner (Grant) who becomes linked to a world famous actress (Roberts) and endures 'round the clock paparazzi as a result. Ifans reportedly prepared for the role by going unwashed and unshaven for an unpopular amount of time prior to being cast, but in the wake of the film's runaway success he was eager to clean himself up for a starring turn in the darkly comic crime caper "Rancid Aluminum" (2000). In this adaptation of the novel by Welsh author James Hawes, Ifans co-starred alongside Joseph Fiennes, Tara Fitzgerald and Sadie Frost as a young businessman who mistakenly takes up with the Russian Mafia in a bid to end his financial woes, though with disastrous results.
Ifan's post-"Notting Hill" buzz led to a steady string of releases in 2000, including another mainstream Hollywood offering "Little Nicky" (2000), in which Ifans supported Adam Sandler as his brother – one of three sons of Satan. He charmed again as a cheeky Welsh pub owner and soccer player in the sports comedy "The Replacements" (2000), starring Keanu Reeves and Gene Hackman, and joined Primrose buddies Jonny Lee Miller, Jude Law and Sadie Frost in the crime drama "Love, Honour, and Obey" (2000), about rival London street gangs. Ifans also supported in the light British comedy "Janice Beard: 45 wpm" (1999), the thriller "You're Dead" (2000) starring John Hurt, and the teen buddy comedy "Kevin and Perry Go Large" (2000), based on popular British television characters. From this string of mostly light, mainstream films, Ifans was increasingly tapped by independent-minded filmmakers, beginning with his casting in Michel Gondry's and Charlie Kaufman's collaboration, "Human Nature" (2001), an absurdly offbeat drama in which Ifans played a man raised in the wild by apes. He followed up with a performance as Beaufield Nutbeem in "The Shipping News" (2001), director Lasse Hallstrom's disappointing adaptation of Annie Proulx's Pulitzer Prize-winning novel about a newcomer in a small Newfoundland town.
Following a supporting turn as a dealer in the drug drama "Formula 51" (2001), Ifans gave another standout comedic turn in the warm-hearted "Once Upon a Time in the Midlands" (2002), in which he and fellow Primrose Hill mate Robert Carlyle competed for the affections of a working class single mum. Ifans appeared onstage at the Donmar Theater in "Accidental Death of an Anarchist" and proved he could ably carry a film with his charming performance in the Australian comedy "Danny Deckchair" (2004), as a man who floats away from his unsatisfying life in a lawn chair hoisted by helium balloons, to crash land miles away and make a fresh start with a new identity. Ifans continued his run of strong pictures with "Enduring Love" (2004), starring as a man who witnesses a violent accident and thereafter begins to stalk a fellow passerby (Daniel Craig) who shared the experience. Ifans' complex turn in the psychological drama earned him a Best Actor nomination from the Empire Awards UK. And while that film was only released in limited theaters, Ifans' work went wide again when he was cast as love-starved Dobbin in director Mira Nair's adaptation of Thackeray's "Vanity Fair," starring Reese Witherspoon.
Rounding out a year of solid screen achievements, Ifans won a much-deserved BAFTA and earned an International Emmy Award nomination for starring as Peter Cook in "Not Only But Always" (Channel 4, 2004), a biopic about iconic British comedy duo Peter Cook and Dudley Moore. Ifans also achieved critical acclaim as a kind-hearted, vulnerable social worker opposite terminally ill call girl Penelope Cruz in the ensemble drama "Chromophobia" (2005) and returned to the stage where he offered a sly, energetic update of "Don Juan" in a West End staging of the Moliere classic. The actor was back in the international eye the following year for his supporting roles in "The Silence of the Lambs" prequel "Hannibal Rising" (2007) and the sequel "Elizabeth: The Golden Age" (2007); both of which found Ifans playing against his easy charm as antagonistic characters. Much to his dismay, the actor earned the most attention of his career for his year-long relationship with actress Sienna Miller in 2008, though the renowned partier had always been photographed around London with pals the Gallagher brothers of the rock band Oasis and fellow actors from the Primrose Hill set.
The following year, Ifans gave a classic display of his kinetic personality as a voracious-living disc jockey aboard an illegal, seafaring pirate radio station during 1960s England in "Pirate Radio" (2009), from Richard Curtis. Ifans took a villainous turn in the family film sequel "Nanny McPhee and the Big Bang" (2010) before appearing as Xenophilius Lovegood in "Harry Potter and the Deathly Harrows" (2010), the hotly anticipated final installment of the film franchise which ensured another spike in Ifans' international film profile. He returned to star billing in "Mr. Nice" (2010), based on the biography of an infamous and charismatic British drug trafficker who, while behind bars, taught illiterate inmates to read and write.