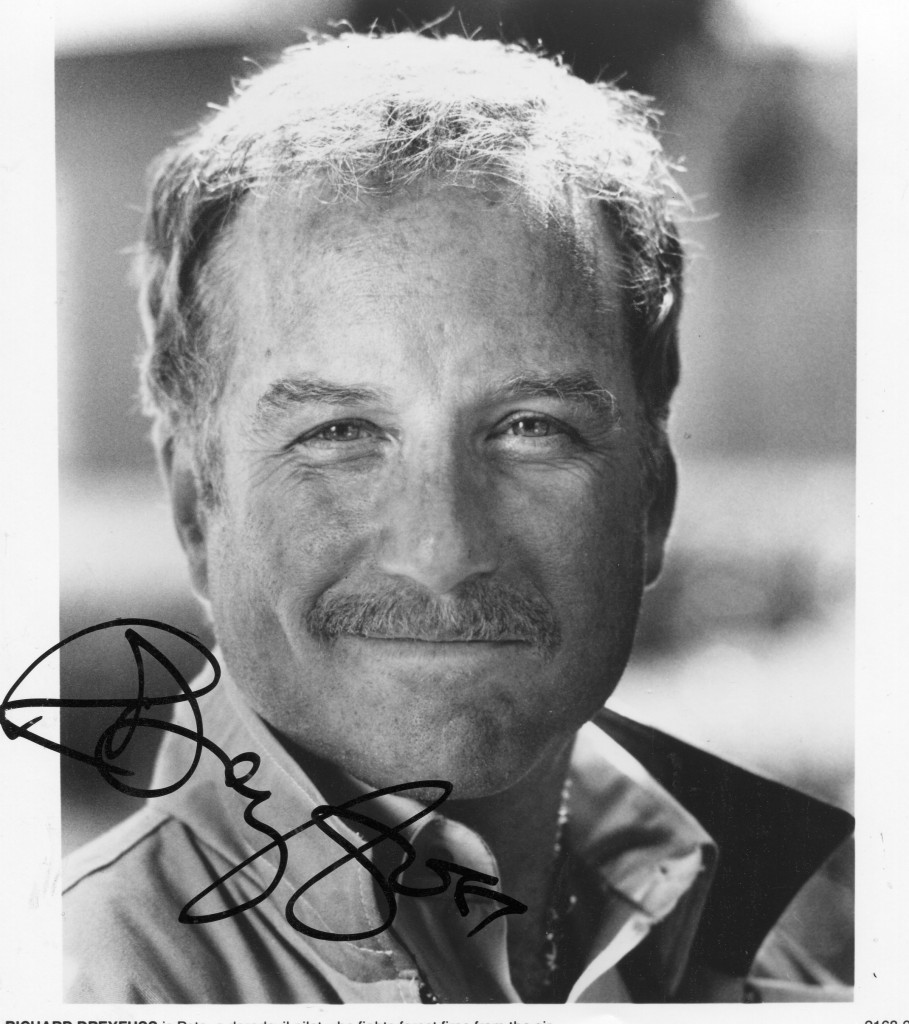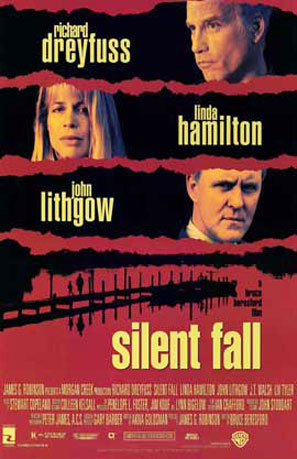 The great Richard Dreyfuss is in Dublin soon to be honoured at the Jameson Film Festival. He was born in 1947 in Brooklyn, New York. He starred in some of THE major movies of the 1970's including "American Graffiti", "Jaws", "Close Encounters of the Third Kind", "The Goodbye Girl" for which he won an Oscar, and of course "Jaws". More recent successes include "Mr Holland's Opus".
TCM overview:
At one time, the youngest actor ever to win the coveted Best Actor Oscar, Richard Dreyfuss – at age 29 – was propelled to stardom with his complex performance in "The Goodbye Girl" (1977). Thanks to his uncanny ability to make annoyingly vain, pompous, whiny or supercilious characters seem both heroic and likable, he rose to the top of the Hollywood heap with memorable turns in "American Graffiti" (1973), "Jaws" (1975) and "Close Encounters of the Third Kind" (1977). Though he was the epitome of cockiness on screen, there was always something reassuring about his presence, though he did gain the dubious off-screen reputation for being exceedingly arrogant. On top of the world at the end of the 1970s, Dreyfuss was poised to become one of the major superstars of the next decade. Instead, Dreyfuss blew his movie-star career sky-high through a cocktail of cocaine, booze and pills; yet another example of too much, too fast, too soon. After a period of recovery, Dreyfuss rebounded, both chastened and wiser with "Down and Out in Beverly Hills" (1986), "Stakeout" (1987) and "What About Bob?" (1991), reclaiming his mantle as one of Hollywood's most gifted comedic and dramatic actors.
Born Oct. 29, 1947 in Brooklyn, NY, Dreyfuss was raised in Bayside, Queens by his father, Norman, an attorney who later became a restaurateur, and his mother, Gerry, a peace activist. When he was nine, the Dreyfuss family moved from the East Coast and settled in Los Angeles, where he began acting in plays at the Beverly Hills Jewish Center. He later attended Beverly Hills High School alongside the likes of Rob Reiner and Albert Brooks, and continued to pursue acting, particularly at the Gallery Theater in L.A. After graduating high school, Dreyfuss went to San Fernando Valley State College to continue his studies, but was kicked out for demanding a theater professor to apologize to the class for criticizing Marlon Brando's performance as Marc Antony in a production of "Julius Caesar." He spent the next two years working as a clerk in a Los Angeles hospital and managed to slip out of serving during the Vietnam War in 1967 by convincing the military that he was a conscientious objector. Soon after Dreyfuss landed an agent, he began appearing in episodes of "Gidget" (ABC, 1965-66) and "Bewitched" (ABC, 1964-1972) while performing both on and off-Broadway.
It was only a matter of time until Dreyfuss made his feature debut, which he did "in the last 40 seconds of the worst film ever made" – the campy show business melodrama, "Valley of the Dolls" (1967). Following a small, one-line role in "The Graduate" (1967), Dreyfuss attracted notice for playing a cocky, draft-dodging car thief in "The Young Runaways" (1968). After spending time in New York on Broadway in "But Seriously " (1969) and off-Broadway as Stephen in Israel Horowitz's "Line" (1971), Dreyfuss exploded onto the scene as Baby Face Nelson in John Milius' "Dillinger" (1973), then had a career-marking turn in "American Graffiti" (1973), playing the ambivalent college-bound Curt Henderson, who spends the last night of summer with his friends trying to find a mysterious blonde (Suzanne Somers), which ultimately leads to the discovery of Wolfman Jack's secret radio station. Dreyfuss put himself on the map for good with a star-making performance in "The Apprenticeship of Duddy Kravitz" (1974), playing an ambitious kid from Montreal's Jewish ghetto in the 1940s whose dreams of becoming successful eventually lead to drug smuggling, alienation and misery.
By the mid-1970s, Dreyfuss bypassed playing twentysomethings in favor of more adult roles. He further established himself in two of the decade's top-grossing films – both directed by Steven Spielberg. His first collaboration with the director was on "Jaws" (1975), the first feature to break the $100 million mark at the box office and establish the concept of the summer blockbuster. Dreyfuss was memorable in a supporting role, playing an excitable ichthyologist whose warnings about a great white shark attacking vacationers at an Atlantic Ocean beach go unheeded by everyone except the town's police chief (Roy Scheider). Dreyfuss followed with perhaps his two most important films, starting with his second effort with Spielberg, "Close Encounters of the Third Kind" (1977). In the director's acclaimed epic sci-fi adventure, Dreyfuss played an Indiana power company technician bedeviled by an enigmatic obsession triggered from an encounter with aliens. His obsessive building of anything resembling what would be revealed later as Wyoming's Devil's Tower – specifically sculpting the tower with a plate of mashed potat s – amused audiences who connected with the everyman touched by something he could not understand and frustrated with a family who had no sympathy for his otherworldly predicament.
Confirmed now as a major talent, Dreyfuss went on to win an Academy Award for his first romantic role, playing an out-of-work actor who is forced to share an apartment with an ex-Broadway dancer (Marsha Mason) and her daughter (Quinn Cummings) in "The Goodbye Girl" (1977). Benefiting from arguably the best screenplay Neil Simon ever wrote, Dreyfuss ran the gamut in his performance, displaying both hilarious charm as an actor forced to play a flamboyant Richard III and poignant vulnerability as a – surprisingly – romantic lead. His hilarious staccato delivery of the line "and. I. don't. like. the. panties. drying. on. the. rod" became a classic in the annals of famous movie lines. At age 29, Dreyfuss became the youngest performer to win an Oscar for Best Leading Actor. There was no denying that 1977 was, indeed, a good year for the quirky actor.
After his Oscar win, Dreyfuss was flying high over Hollywood – in more ways than one. By 1978, Dreyfuss had been fully indulging in cocaine, though his habit failed to affect his polished performances in "The Big Fix" (1978), a comedy thriller in which he played an aging 1960s radical-turned-private detective, and "The Competition" (1980), a romantic drama that saw him as a piano prodigy falling in love with his rival (Amy Irving). Both films, however, failed to perform at the box office unlike his last few mega-hits. He made several more inauspicious appearances, including in "Whose Life Is It Anyway?" (1981), a film that later caused him to remark, "Whatever it was that I accomplished in that film, I'm not very proud of myself. It's really the only film that I've ever done that I feel uncomfortable taking credit for." Then tragedy struck in 1982, when Dreyfuss crashed his Mercedes into a tree, leading to a trip to the hospital, and his arrest for possession of cocaine and prescription drugs. Ordered by the court to enter rehabilitation, Dreyfuss successfully completed the program and had both felony charges against him dropped. He then met his second wife, Jeramie, whom he married in March 1983.
Despite his personal recovery, Dreyfuss suddenly found his career in trouble. After all but vanishing from the screen for five years, he returned clean and sober to co-star in Paul Mazursky's popular "Down and Out in Beverly Hills" (1986), playing a philandering businessman who saves a homeless man (Nick Nolte) from downing in his pool. He provided the opening and closing narration for the timeless Rob Reiner-helmed classic "Stand by Me" (1986), then played a struggling lawyer who tries to prove that a high-class call girl (Barbra Streisand) is fit to stand trial for murder in "Nuts" (1987). Dreyfuss was at his comedic best as a wisecracking Seattle detective tasked with his partner (Emilio Estevez) to keep watch on the girlfriend (Madeline Stowe) of an escaped thug (Aidan Quinn) in the surprise box office hit, "Stakeout" (1987). In Barry Levinson's "Tin Men" (1987), later said to have been Dreyfuss' personal favorite, the actor played a disgruntled aluminum siding salesman butting heads with a colleague (Danny DeVito) after getting involved in a traffic accident, leading to an all-out war of harassment against each other. Dreyfuss continued to work steadily, giving strong performances in "Moon Over Parador" (1988), "Always" (1989) and in his good friend and fellow drug addict Carrie Fisher's autobiographical dramedy, "Postcards From the Edge" (1990).
Once the 1990s were ushered in, Dreyfuss was once again firing on all cylinders, but this time without the aid of cocaine. After playing the leader of a wandering actors troupe in "Rosencrantz and Guildenstern Are Dead" (1990), he was both charming and obnoxious as a big shot salesman who sweeps an aimless Boston woman (Holly Hunter) off her feet, only to run afoul with her family in the underappreciated romantic comedy, "Once Around" (1991). In "What About Bob?" (1991), Dreyfuss was in top form as an arrogant psychotherapist whose dismissive treatment of a highly neurotic, but ingratiating patient (Bill Murray) eventually drives him over the edge. Following an unnecessary and unwanted sequel, "Another Stakeout" (1993), Dreyfuss starred in the film version of Neil Simon's "Lost in Yonkers" (1993), then played a child psychologist brought out of retirement to coax an uncommunicative autistic child (Ben Faulkner) into revealing his parents' murders in "Silent Fall" (1994). He gave another amazing performance in "Mr. Holland's Opus" (1995), playing to perfection a musician who puts aside his own ambitions in order to dedicate his life to teaching music to high school students and try to connect to his deaf son. Such was his touching performance, Dreyfuss earned his second Academy Award nomination for Best Leading Actor.
Throughout his career, Dreyfuss was an outspoken advocate for media reform and freedom of speech, while actively speaking out against the erosion of individual rights. In an ironic turn, he convincingly played a cunning Republican senator who tries to smear an unabashedly liberal president (Michael Douglas) in "The American President" (1995). Meanwhile, throughout the majority of his career, Dreyfuss was a presence on the stage, performing in numerous plays over the years – most notably opposite Christine Lahti in Jon Robin Baitz's "Three Hotels" (1995). After receiving a star on the Hollywood Walk of Fame in 1996, he was cast by director Sydney Lumet in his moody courtroom drama, "Night Falls on Manhattan" (1997), playing a contentious lawyer who defends a drug dealer (Shiek Mahmud-Bey) after a shootout with the police leaves several officers dead. He next co-starred in a Disney production of "Oliver Twist" (ABC, 1997), then took a few steps back with the mind-numbingly dumb comedy "Krippendorf's Tribe" (1998). Returning to the small screen, he gave a sterling performance in "Lansky" (HBO, 1999), playing the famed Jewish gangster Meyer Lansky, who rose from being a petty gambler to one of the most powerful mobsters in history. He then portrayed a mobster for laughs in "The Crew" (2000), playing one of four aging gangsters looking to save their retirement complex by pretending to take a job executing a Miami mob boss.
Without a substantial hit under his belt for several years, feature roles slowly became less available to Dreyfuss, making television a more viable outlet. He turned in a fine performance as the U.S. president in Stephen Frears live broadcast remake of the tense Cold War drama, "Failsafe" (CBS, 2000), then was convincing as former Secretary of State Alexander Haig in "The Day Reagan Was Shot" (Showtime, 2001). Meanwhile, he landed his first regular series role in the short-lived drama, "The Education of Max Bickford" (CBS, 2001-02), playing a troubled college history professor battling inter-office politics while dealing with an equally difficult family life. In "Coast to Coast" (Showtime, 2004), he played a husband trying to mend his marriage by taking a road trip with wife (Judy Davis), which he followed with a return to the big screen, appearing in "Silver City" (2004), John Sayles' sharp satire about small town politics. In 2006, he joined the ensemble cast of "Poseidon," a flawed remake of the 1972 original, in which he played a suicidal gay man who struggles to escape a capsized ocean liner with a ragtag group of passengers who must rely on and trust one another despite their differences. In a bit of inspired casting, director Oliver Stone tapped Dreyfuss and all his intensity to play Vice President Dick Cheney in "W" (2008), a look at the charmed life and troubled presidency of George W. Bush (Josh Brolin).