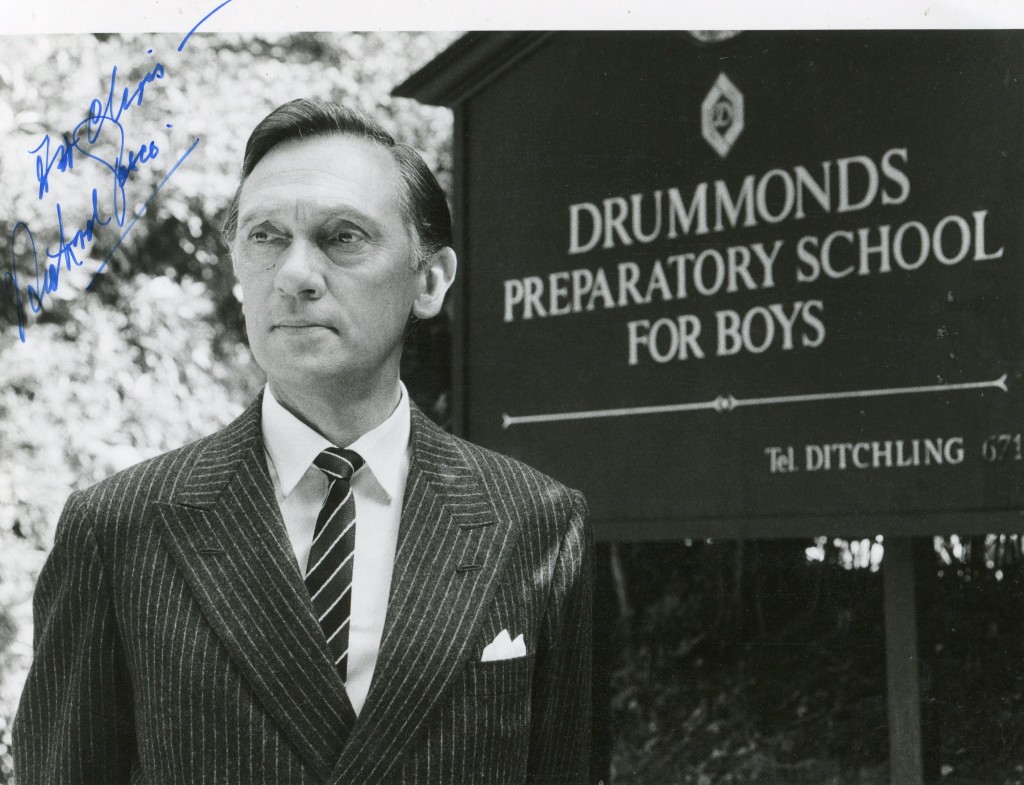 Michael Billington's obituary of Richard Pasco in The Guardian":
Richard Pasco, who has died aged 88, was one of the finest classical actors of his generation. Though he did not achieve the star status that would have come from appearing in a long-running TV series, no one who saw it will ever forget his alternation of the roles of Richard II and Bolingbroke in a famous 1973 RSC production. Gifted with a mellifluous voice and a strong presence, he worked with all the major companies, including long stints at Bristol Old Vic andBirmingham Rep in their heyday. Pasco had a prolific, stage-driven career that few young actors today can hope to emulate.
Born in Barnes, west London, to Cecil and Phyllis, he was educated at King's College school, Wimbledon, and pitched into the business at 16 as an apprentice stage manager, and occasional actor, at the old Q Theatre, near Kew Bridge. After military service (1944-48), he trained at the Central School of Speech and Drama, from which he emerged with a gold medal. Two seasons at the Old Vic were followed by three more at Birmingham Rep (1952-55), then under the directorship of Douglas Seale. A typical Birmingham season in those days included Euripides, Shakespeare, Molière, Sheridan, JM Barrie and Clifford Odets; and Pasco emerged from the theatrical equivalent of university a stronger, more versatile actor.
I first saw him when he played Jimmy Porter in 1957 in one of the Royal Court's countless revivals of John Osborne's Look Back in Anger; my chief memory is of Pasco's mercurial vitality and ability to bring out Jimmy's gift for vitriolic comedy. In the same year, Pasco, who became a good friend of Osborne, played Archie Rice's son, Frank, in The Entertainer; in his memoirs, Osborne recalled the two of them singing "Don't be afraid to sleep with your sweetheart" at the raucous first-night party.
After several West End appearances, in 1964 Pasco joined the Bristol Old Vic, where he blossomed into a major actor and where the list of his performances over three seasons is astonishing: Henry V, Berowne (Love's Labour's Lost), Angelo (Measure for Measure), Peer Gynt, John Tanner in Shaw's Man and Superman, and Hamlet (twice). I saw his 1966 Hamlet, in Val May's Regency-set production, and was bowled over by it. JC Trewin wrote that "Pasco was not a man for back-room mumbling or jagged, saw-toothed Shakespeare." But, apart from Pasco's sublime music, I remember the physical bravura that led him, during "O, what a rogue and peasant slave," to send the throne hurtling down the steps.
It seemed almost inevitable that Pasco would sign up with the RSC, which he duly did in 1969 – and stayed, more or less continuously, for the next 11 years. In his first season, he was Polixenes in The Winter's Tale, Proteus in The Two Gentlemen of Verona and Buckingham in Henry VIII. Gradually the roles got bigger. I remember him in 1972 as a charismatic Becket – a role he dubbed his favourite – in Terry Hands's production of TS Eliot's Murder in the Cathedral.
The famous alternation of Richard II and Bolingbroke, with Ian Richardson, was his finest hour. John Barton's idea of seeing the two leading characters as mirror images of each other, rather than violent opposites, was a revelation. If Richardson's Richard II was – in the words of Christopher Ricks – "Charles I in the first half and Jesus Christ in the second", Pasco's Richard was a flamboyant despot who acquired dignity in defeat.
The moment I have never forgotten came when Pasco, on "God omnipotent is mustering in his clouds on our behalf," descended a flight of steps while spreading his golden cloak like a giant bird. And, as Bolingbroke, Pasco was no mere burly baron but an acquisitive power-seeker, quickly broken.
In that same season, Pasco was Jacques, to Eileen Atkins's Rosalind, in Buzz Goodbody's As You Like It, giving a brilliant performance as a blinkered cynic in a crumpled white suit. In more than a decade at the RSC, Pasco also played the Bastard in King John, Aleister Crowley in Snoo Wilson's The Beast and, most memorably, Timon of Athens in Ron Daniels's 1980 production. In the first half, he had the air of an innocent prodigal. But it was in the later tirades that he came into his own. As I wrote at the time: "With his red-rimmed eyes, patchwork costume and habit of gnawing passionately at root vegetables, he is the picture of desolation: a poor, bare, forked animal with vast reserves of hate."
In later years, Pasco settled into the routine of the jobbing actor, appearing in occasional films, such as Mrs Brown (1997), in which he played the physician to Judi Dench's Queen Victoria, and popular TV series including Inspector Morse, Kavanagh QC and Hetty Wainthropp Investigates. He and his second wife, Barbara Leigh-Hunt, whom he married in 1967, were also in constant demand at poetry recitals. In 1977 he was appointed CBE.
It was good to see Pasco back on stage in the David Hare trilogy about religion, the law and the Labour party at the National in 1993. He was especially memorable as the bishop of Southwark, whose "brass balls clang as he walks", in Racing Demon: in a classic scene, borrowed from Brecht, Pasco acquired ever more dogmatic rigour as he donned his ceremonial vestments. But, whatever role he played, in a glorious, predominantly classical career, Pasco invested it with authority and adorned it with an unforgettable voice that could switch naturally from trumpet to cello.
He is survived by Barbara and by William, the son from his first marriage, to Greta (nee Watson), which ended in divorce.
• Richard Edward Pasco, actor, born 18 July 1926; died 12 November 2014