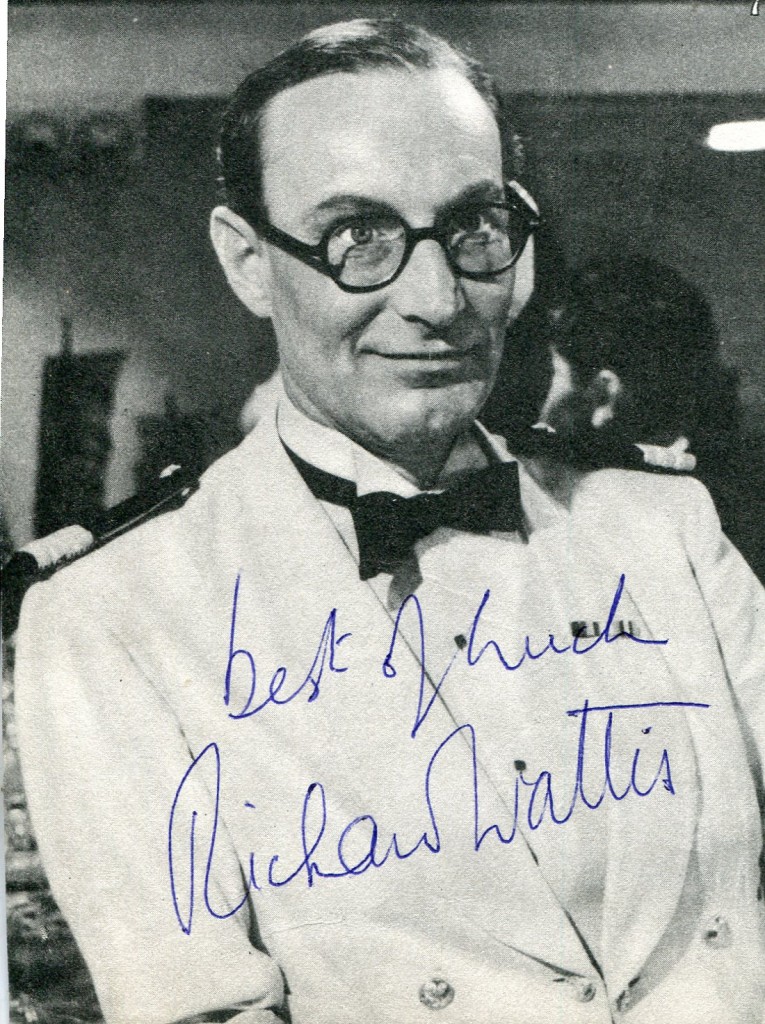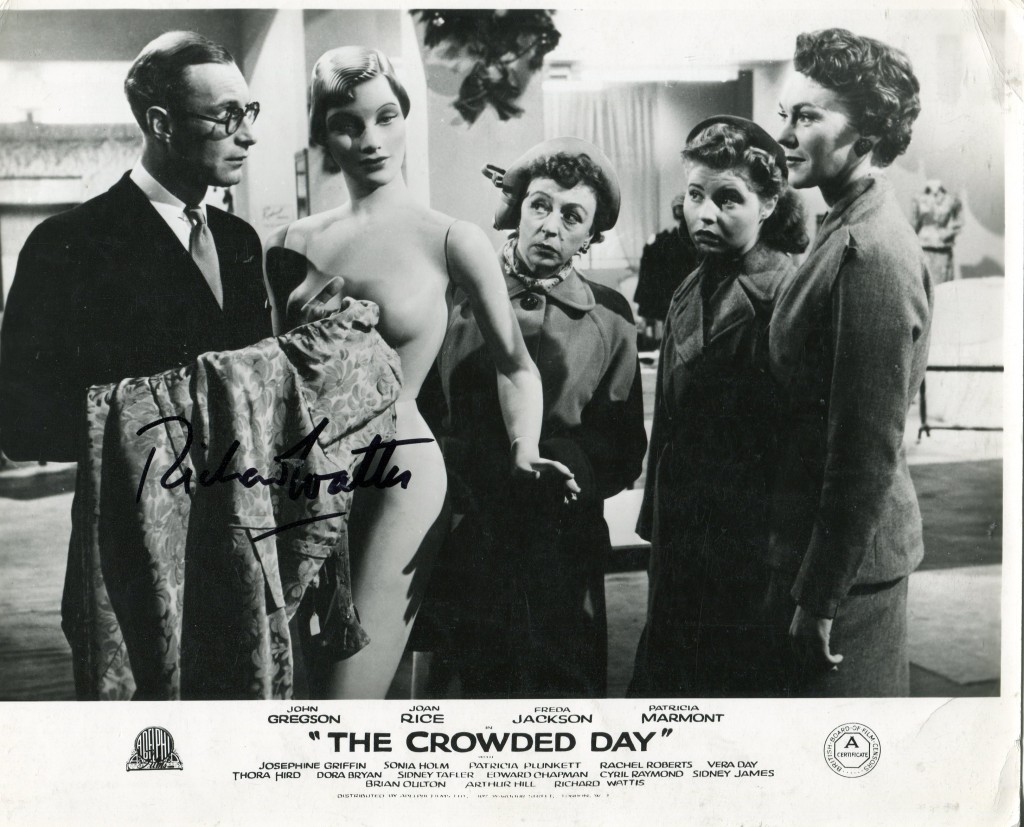 IMDB entry:
A balding, bespectacled, bird-like British comic actor, Richard Wattis was an invaluable asset to any UK comedy film or TV programme for nearly thirty years. Much associated with the Eric Sykes TV series for the latter part of his career. He was often seen in officious roles, such as snooty shop managers, secretaries and policemen. He was working right up to his sudden death from a heart attack in 1975.
– IMDb Mini Biography By: Anonymous
Article on Richard Wattis in "Tina Aumont's Eyes" website:
In the 1950's and 60's, it seemed to me that just about every British movie had either Cyril Chamberlain, Victor Maddern or Richard Wattis in it. A prolific and instantly recognisable character actor, with his balding hairline and often bespectacled appearance, Richard Wattis specialised in snobbish authority figures, and comfortably mixed small comedy fare with large-scale blockbusters, often working with some of the biggest directors of the time. If it was a stuffy civil servant you required, you needn't look any further!
Born in Staffordshire, England on February 25th 1912, Wattis began onscreen with uncredited parts in numerous pictures including 'A Yank at Oxford' ('38) and 'Kind Hearts and Coronets' ('49), before landing a supporting role in the excellent Alastair Sim-Margaret Rutherford school comedy 'The Happiest Days of Your Life' ('50). Richard was great fun as a scathing English professor and followed this with another good role, that of Seton the butler in Noel Coward's 'The Importance of Being Earnest' ('52), again with Margaret Rutherford. Following parts in notable pictures such as David Lean's 'Hobson's Choice' ('54) and P.O.W favourite 'The Colditz Story' ('55), this busy period for Richard also saw him work with Alfred Hitchcock on 'The Man Who Knew Too Much', and play a Scotland Yard inspector in the Oscar-winning 'Around the World in Eighty Days' (both '56).
One of Richard's most fondly remembered roles was as Northbrook, Laurence Olivier's trusted diplomat, in the enjoyable comedy-drama 'The Prince and the Showgirl' ('57). It was a great part and gave Wattis one of his biggest and best opportunities. Other notable appearances that year were his researcher aiding Peter Cushing and Forrest Tucker, in Hammer's mediocre adventure 'The Abominable Snowman', and his droll civil servant Manton Basset, in the comedy sequel 'Blue Murder at St Trinian's'. A small role came next in Mark Robson's 'The Inn of the Sixth Happiness' ('58), a missionary epic with Ingrid Bergman which had North Wales successfully standing in for China. After a few comedies including 'Dentist on the Job' and 'Very Important Person' (both '61), Richard could be spotted as a paratrooper in the star-studded 'The Longest Day' ('62). After brief bits in 'The V.I.P's' ('63) and the excellent mystery 'Bunny Lake is Missing' ('65), more big-budget fare included 'Casino Royale' ('67), and 'Monte Carlo or Bust!' ('69).
The Seventies began with a large role in Roddy McDowall's under-rated revenge piece 'Tam-Lin' ('70), wonderfully playing against type as a secretary to Ava Gardner's wealthy widow. Back in comedy land, Wattis was chased around by Joanna Lumley and Penny Brahms in the tired sex farce 'Games That Lovers Play' ('70). For television Richard had a recurring role in the popular sitcom 'Sykes' ('72-'74) playing Charles Fulbright-Brown, the pompous neighbour to Eric Sykes and Hattie Jacques' unmarried twins. Back on the big screen Richard's final movie was the hugely successful sex comedy 'Confessions of a Window Cleaner' ('74), as frisky Katya Wyeth's father.
Sadly, on February 1st 1975, while eating in a London restaurant, Richard suffered a fatal heart attack. He was 62 years old. From Alfred Hitchcock to David Lean, from Vivien Leigh to Marilyn Monroe, Richard Wattis was a reliable character actor who, no matter what the production, whether it be a grand studio picture or a 1970's sex farce, was always good value for money, and a consummate professional to the very end.
Favourite Movie: Bunny Lake is Missing
Favourite Performance: The Prince and the Showgirl
The above article can also be accessed online here.