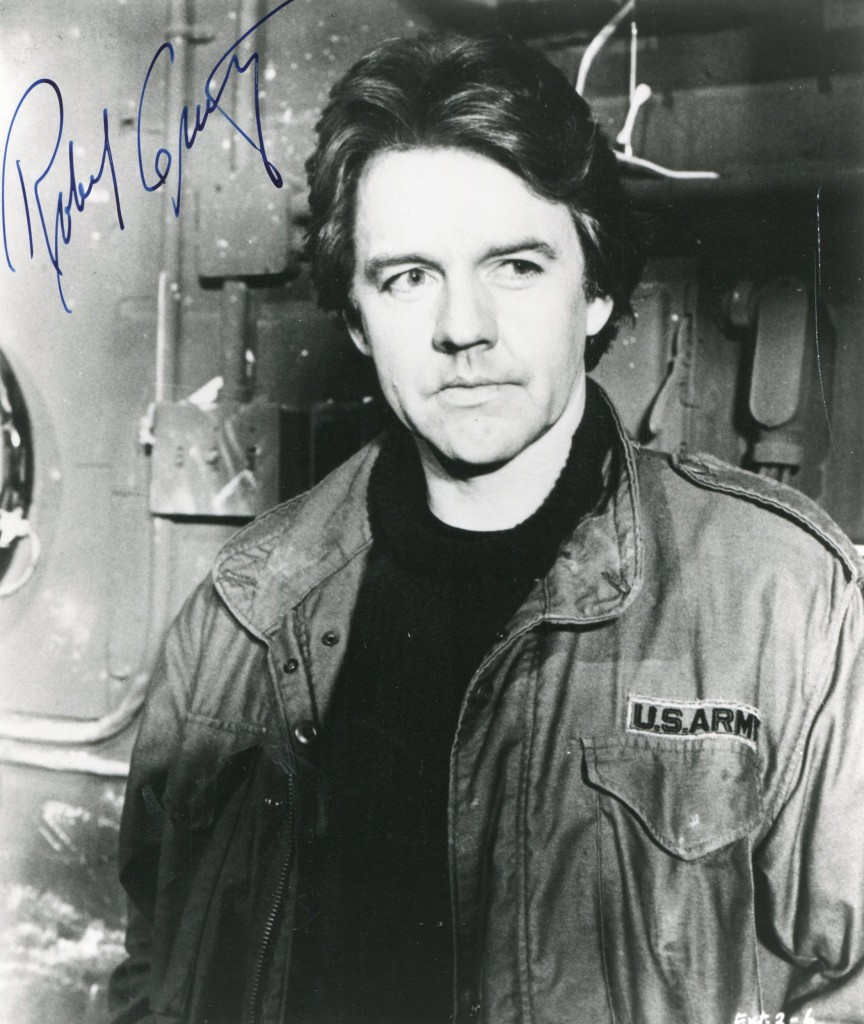 Robert Ginty was an American actor best known for his lead performance in the movie "The Exterminator" . He spent some time living in Dublin. He was born in 1948 and died in 2009.
His Independent obituary by Tom Vallance is as follows:
The actor Robert Ginty became a leading star of action movies after he played the title role in the low-budget hit The Exterminator (1980). For the next decade he was the cut-price equivalent of Schwarzenegger or Stallone, making violent thrillers that invariably went straight to video but built him a large following of action fans. Ginty was usually the hero, often a war veteran using his skills to clean up the city streets, or a mercenary fighting corruption in the far corners of the world (where hordes of extras could be hired cheaply for scenes of mayhem). He was a man of many talents, however, and later found favour as an activist for experiment in the arts, a champion of human rights, a writer, a theatre and opera director, curator, artist and photographer.
Born Robert Winthrop Ginty in 1948 in Brooklyn, New York, where his father worked as a construction engineer and his mother worked for the government, he was of Irish ancestry and a direct descendent of Lord Edward Fitzgerald, member of Parliament and disciple of Thomas Paine, who died in the Irish Rebellion of 1798. Ginty's first love was rock music, and at the age of 16 he was touring with bands, playing drums with Carlos Santana, Jimi Hendrix, Janis Joplin and John Lee Hooker.
He was educated at Yale and the City College of New York, then studied acting at the Neighborhood Playhouse, the Actor's Studio, and with Robert Lewis at the Yale School of Drama. He starred in Tennessee Williams's Orpheus Descending and Eugene O'Neill's More Stately Mansions at the Provincetown Playhouse, and at the New Hampshire Shakespeare Festival he played Hotspur in Henry IV, Part One and Bottom in A Midsummer Night's Dream.
The producer Harold Prince saw these performances and hired him as both an assistant and actor for his Broadway productions of The Great John Brown (1972), Don Juan (1973) and The Government Inspector (1974). After returning to New Hampshire to star in Israel Horovitz's one-act play The Indian Wants the Bronx, he moved to California, where he developed a reputation as a rugged player who could fill television roles that demanded physical action.
He was in episodes of Police Woman and The Rockford Files, and he had small roles in the films Bound for Glory (1976), and Two-Minute Warning (1976). His first notable role was in the TV series Baa Baa Black Sheep (1976-78), about the exploits of a Second World War flying ace and his squadron of misfits. Ginty was Lt. T. J. Wiley, one of what he later described as "a bunch of gung-ho young kid pilots". The series prompted him to take up flying, a lifelong passion that culminated in his becoming in 2004 an honorary captain in the United States Navy's Blue Angels.
Hal Ashby, director of Bound for Glory, then gave Ginty a strong supporting role in the powerful Vietnam war-drama Coming Home (1978), starring Jane Fonda. Ginty was the best friend of a marine (Bruce Dern) whose wife falls in love with a paraplegic while her husband is overseas.
Ginty next acted in the acclaimed television series The Paper Chase (1978-9), based on the movie about student life in a competitive law school. Ginty portrayed one of the students; another was played by Francine Tacker, who became the second of his three wives. Despite being hailed as the best new series of the year, The Paper Chase was cancelled after one season.
Ginty was on the verge, however, of his major breakthrough. He was cast in The Exterminator as a Vietnam veteran out for revenge on the gang who beat up his comrade. Deploying his most brutal combat skills, he battles the police and CIA as well as various criminals, at one point thrusting a villain through a meat grinder. Cheaply produced, the film made a huge profit, and though Ginty was billed third to Christopher George (as chief villain) and Samantha Eggar, he stole the film, and would often be billed afterwards as Robert "Exterminator" Ginty.
The image would carry him through a decade of low-budget, violent thrillers, shot in France, Italy, Mexico and Thailand, with such titles as Gold Raiders (1983), Maniac Killer, Programmed to Kill, Mission: Kill, Code Name Vengeance (all 1987), and Cop Target (1990). He also both starred in and produced Exterminator 2, an inevitable sequel to his biggest hit. He wrote and directed The Bounty Hunter (1989), and he also produced, directed and acted in Vietnam, Texas (1990), about a priest (Ginty) who discovers he fathered a son while on a tour of duty in Vietnam, though few priests would be as handy with a gun or their fists as Ginty proved to be. The film won him Best Director awards at the Houston International Film Festival and the Taormina Film Festival in Italy.
As his phase as an action star waned, he worked more frequently in television as both an actor and director. He appeared in seven episodes of Falcon Crest (1989-90) and such shows as Father Dowling Mysteries and Murder, She Wrote, and he directed episodes of Nash Bridges, Charmed and Tracker.
In 1994 Ginty responded to his heritage by becoming artistic director of the Irish Theatre Arts Center in Hollywood, whose goal is to sponsor stage, film and music projects dealing with the Irish experience, as well as allowing playwrights to hear their works read by actors in front of an audience. He lectured regularly at Trinity College, Dublin, and with film-makers Neil Jordan and Jim Sheridan he founded the Director's Guild of Ireland.
Ginty also became noted as a champion of experimental theatre. In 2004 he directed a hip-hop version of A Clockwork Orange in Toronto, and in 2005 at the Edinburgh Festival he directed Bertolt Brecht's Mother Courage and Her Children, set in Iraq. As a stage director, Ginty favoured modern playwrights, staging revivals of Sam Shepherd's True West, Tom Stoppard's Arcadia and David Mamet's Glengarry Glen Ross.
An exhibition of his paintings and photographs was presented at the Pompidou Centre in Paris in 2006. He was also a Unesco Goodwill Ambassador for the United Nations Global Market Place and a member of the International Centre for Human Rights. A staunch advocate of preserving classical American architecture, in 2005 he was appointed as ambassador for the Prince's Trust by Prince Charles.
He and his family, who lived in Toronto for several years, were also patrons of several arts bodies, including the Royal Ontario Museum, the Toronto Symphony Orchestra and the National Ballet of Canada. When asked how he felt about his period as a top action hero, he replied that he had no regrets. "I've played a very violent repertory of movies, and what they've done for me is given me an economically viable career."
Tom Vallance
Robert Winthrop Ginty, actor and director: born Brooklyn, New York 14 November 1948; three times married (one son); died Los Angeles, California 21 September 2009.
This obituary can be accessed also on line here.