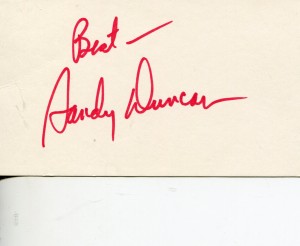 TCM overview:
Forever known, fairly or not, as a perky, pixie-cut performer, Sandy Duncan earned Tony nominations for her wonderful theatrical turns in "Canterbury Tales," "The Boy Friend" and "Peter Pan." The epitome of all-American charm, Duncan shined in such fluff as "Million Dollar Duck" (1971) and "Star Spangled Girl" (1971) and received an Emmy nomination for starring in "Funny Face" (CBS, 1971). That series became "The Sandy Duncan Show" (CBS, 1972) after filming was suspended while she underwent surgery for a tumor, which left her without vision in one eye. So pervasive was the subsequent urban legend that Duncan had a prosthetic eye, that the joke was referenced, decades later, most notably on "Family Guy" (Fox, 1999-2002; 2005- ). Although she earned another Emmy nomination for a powerful dramatic turn in the miniseries "Roots" (ABC, 1977), Duncan seemed more comfortable in featherweight family fare like "The Cat from Outer Space" (1978); animated projects like "The Fox and the Hound" (1981), "My Little Pony 'n Friends" (syndicated, 1984-87), and "The Swan Princess" (1994); and a ubiquitous series of Wheat Thins commercials. Her highest-profile screen role, however, came when she controversially replaced Valerie Harper as the sunny matriarch of the retooled "The Hogan Family," formerly known as "Valerie" and "Valerie's Family" (NBC, 1986-1990; CBS, 1990-91). Artistically gifted and endlessly charismatic, Sandy Duncan achieved pop culture immortality based more on the strength of her persona and her body of work than on any one role in particular.
Born Feb. 20, 1946 in Henderson, TX, Sandra Kay Duncan grew up with a unique spark that, even from a young age, helped her stand out from her fellow aspiring actresses. Determined to act since childhood, she gained her first professional experience as a teenager in regional theatrical productions of "The King and I" and "The Music Man" before making the leap to Broadway. Duncan's screen debut came on the soap opera "Search for Tomorrow" (CBS, 1951-1982; NBC, 1982-86), but she garnered more critical and popular buzz on the Great White Way, earning back-to-back Tony nominations for "Canterbury Tales" and "The Boy Friend," and winning a Drama Desk Award for her charming work in the latter musical. The winner of a Theatre World Award for her work in "Ceremony of Innocence," Duncan received an outpouring of positive media attention for her delightful stage performances, and the buzz buoyed her to Hollywood, where she filmed a string of popular TV commercials as well as earning a Golden Globe nomination as a featherbrained housewife in Disney's sweet but extremely silly family comedy "Million Dollar Duck" (1971).
Although very much in line with Disney's live-action output at the time, "Duck" was savagely plucked by critics and achieved a sort of cult status as one of the only three films ever to cause famed reviewer Gene Siskel to walk out. Duncan's star remained very much on the rise, however, and she landed the starring role on the sitcom "Funny Face" (CBS, 1971), playing an aspiring teacher and part-time actress. Although the show earned strong ratings and earned Duncan an Emmy nomination, it was canceled when she experienced a substantial health scare. After successful surgery to remove a tumor, Duncan lost all sight in her left eye, giving rise to an oft-repeated but untrue urban legend that she had it replaced with a glass prosthetic. Upon receiving a clean bill of health, the actress toplined "The Sandy Duncan Show" (CBS, 1972), which drew heavily from the "Funny Face" concept, but also proved equally short-lived. A similar lukewarm reception awaited her Golden Globe-nominated performance as a patriotic athlete in Neil Simon's "Star Spangled Girl" (1971). Not surprisingly, Duncan stepped back from screen acting for a spell.
Remaining a popular favorite for her sunny disposition, Duncan played "Pinocchio" (CBS, 1976) opposite Danny Kaye's Geppetto, hosted two Disneyland-themed specials, and impressed critics with what was arguably her best dramatic performance as Missy Anne Reynolds, a young woman of the plantation who teaches Kunte Kinte's daughter Kizzy (Leslie Uggams) to read and write, but then denounces Kizzy when she refuses to be her servant in the groundbreaking miniseries "Roots" (ABC, 1977). Duncan earned an Emmy nomination for her heartbreaking work, but focused her later career efforts on lighter fare, including the Disney romp "The Cat from Outer Space" (1978). Back on Broadway, she won a Tony nomination and the hearts of countless fans for her wonderful interpretation of the titular boy who would not grow up in the revival of "Peter Pan." Animation also proved a lucrative outlet for the sweet-voiced Duncan, who lent her pipes to such projects as "The Fox and the Hound" (1981), "My Little Pony 'n Friends" (syndicated, 1984-87), "Rock-A-Doodle" (1991) and "The Swan Princess" (1994).
For many viewers, Duncan was best known as the perky, pixie-cut Wheat Thins spokesmom and for stepping in to Valerie Harper's shoes when the actress left "Valerie" (a.k.a. "Valerie's Family") after two troubled seasons. The entrance of Duncan's Sandy Hogan gave the series new life as the revamped sitcom "The Hogan Family" (NBC, 1986-1990; CBS, 1990-91), but it sparked considerable controversy for the unprecedented manner in which Harper was fired, as well as her subsequent lawsuits against NBC (dismissed) and Lorimar (she won). Although Duncan joined Judith Light and Jill Eikenberry as one-time members of a girl group who reunite for a TV show in "My Boyfriend's Back" (NBC, 1989), she slowed her onscreen acting output after "The Hogan Family" wrapped, but continued to make time for hosting and talk show appearances. She returned to Broadway for a successful run, replacing Twiggy in "My One and Only," and went on to serve a stint as Roxie Hart in "Chicago."
Although she never truly earned a breakout screen role, Duncan remained a familiar and well-liked pop cultural figure. The animated series "Family Guy" (Fox, 1999-2002; 2005- ) featured a memorably bizarre joke in which show patriarch Peter (Seth MacFarlane) remembers his former job as the actress' glass eye. The urban legend surrounding her injury continued to fascinate, and a punk rock band experienced minor success under the name Sandy Duncan's Eye. Demonstrating a refreshing sense of self-deprecation, Duncan laughed about the strangeness of the myth in interviews while following her musical theater muse in multiple regional productions.
By Jonathan Riggs
The above TCM overview can also be accessed online here.