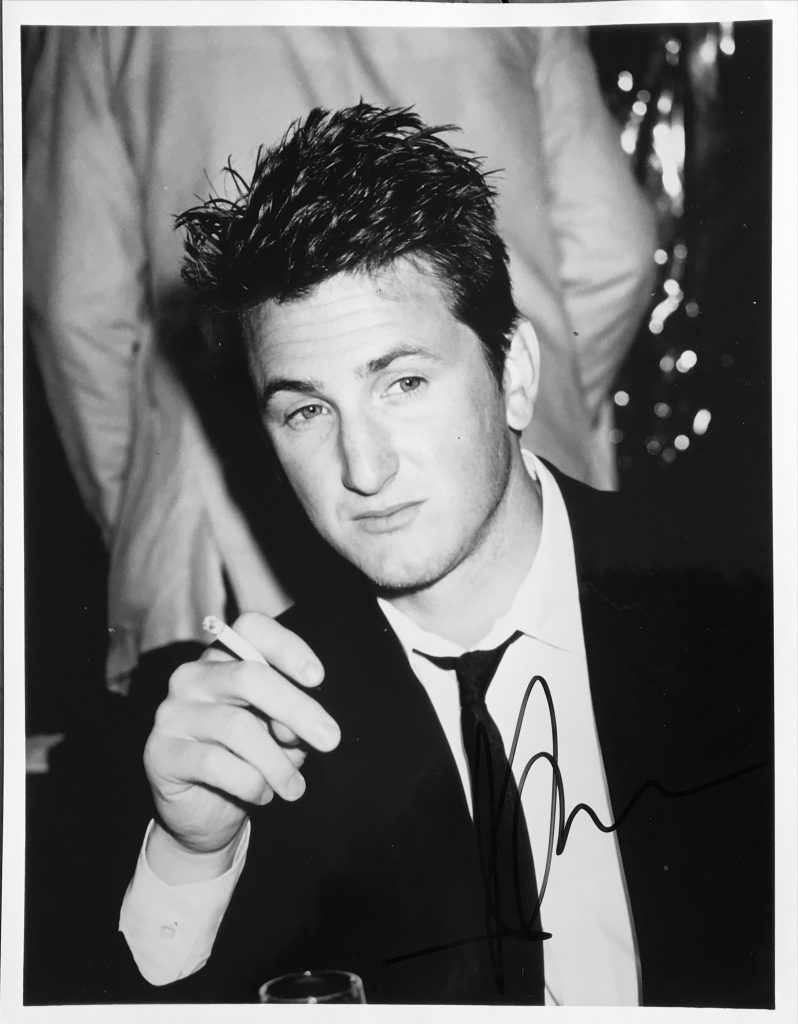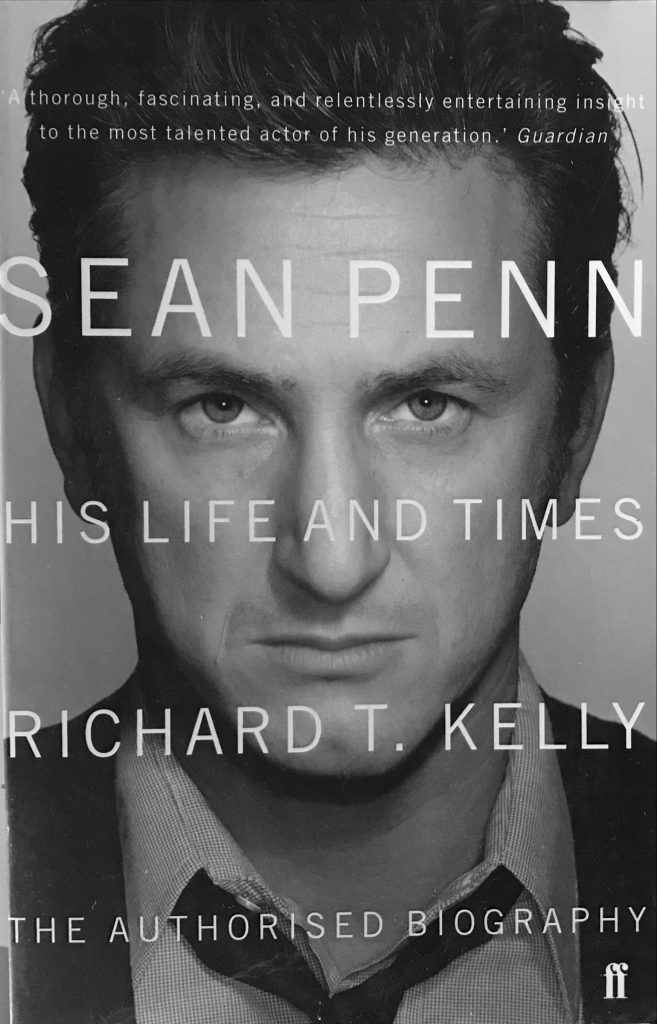 TCM overview|:
Hailed as one of the finest actors of his generation, Sean Penn earned multiple Oscar nominations for his onscreen intensity and proved a powerful filmmaking talent at the helm of his own character-driven dramas like "The Crossing Guard" (1995) and "The Pledge" (2001) – all the while remaining the ultimate Hollywood outsider. Penn originally broke through with his iconic turn as stoned surfer Jeff Spicoli in "Fast Times at Ridgemont High" (1982), but he established himself as a serious actor with "Bad Boys" (1983), only to be hounded by paparazzi due to his high-profile, short-lived marriage to Madonna, which resulted in the box-office dud "Shanghai Surprise" (1985) and violent run-ins with photographers. He entered a long and slightly less turbulent marriage to Robin Wright, while earning acclaim as a smarmy lawyer in "Carlito's Way" (1993) and a death row inmate in "Dead Man Walking" (1995). After "Sweet and Lowdown" (1999) and "I Am Sam" (2001), Penn won the Oscar for his portrayal of a streetwise father out to avenge his daughter's murder in "Mystic River" (2003). Meanwhile, he traded his bad-boy persona for political outspokenness, which included calling for the impeachment of President Bush while rankling conservatives for hobnobbing with reviled world leaders. Still, Penn continued to deliver onscreen with "Milk" (2008), though his refusal to play the Hollywood game earned him an unshakable reputation as hostile and arrogant. Despite such opinions, no one could deny that Penn's work was consistently of the highest caliber, making him a modern-day Marlon Brando.
Sean Penn was born on Aug. 17, 1960 to actors Eileen Ryan and Leo Penn. His father was a drama teacher at the Actor's Studio who had fled from L.A. to New York during the 1950s after he was blacklisted from Hollywood for refusing to testify in anti-Communist hearings. While performing in a production of "The Iceman Cometh" on Broadway, he met actress Ryan. The pair married and moved back to Los Angeles, where Penn had a successful career as a television director and Ryan raised the couple's three sons, Michael, Sean and Chris, before returning to acting later in her life. Eldest brother Michael – who went on to make a name for himself as a songwriter and musician – had all the musical talent, and youngest brother Chris was the spirited extrovert, while the middle Penn was serious and shy; an unlikely acting candidate. But from a young age, Penn was fascinated by filmmaking. When he was not surfing the beaches of Malibu, he was shooting films with a Super 8 camera. Out of necessity, he also wound up in front of the camera.
After graduating from Santa Monica High School, Penn began learning the technical aspects of stage production with an apprenticeship at the Group Repertory Theater, as well as studying acting with famed drama instructor, Peggy Feury. Before he was 20 years old, he had produced his first play, the one-act "Terrible Jim Fitch" by "Midnight Cowboy" author Leo Herlihy, and decided that if was going to be serious about his career, he needed to spend some time working in New York. Penn drove across country and very quickly was starring on Broadway in "Heartland" (1981), where he turned heads as the timid teenage son of an abusive father. A casting agent caught his performance and called Penn in to read for a role in "Taps" (1981), where he provided strong support as Timothy Hutton's more level-headed roommate in the sleeper drama about cadets who take over their military academy. A newly confident Penn headed back to Los Angeles having no idea his life was about to change. The following year, he scored mainstream success in Amy Heckerling's superior teen comedy, "Fast Times at Ridgemont High" (1982), where his portrayal of the perpetually stoned surfer Jeff Spicoli introduced catchphrases like "let's party!" into the American lexicon. While it was only a supporting role, unknown Penn received top billing, dominated the movie poster, and emerged as a future star.
Jeff Spicoli became a pop cultural touchstone for eighties youth, but interestingly enough, the light comedy role was an anomaly in Penn's drama-based career. The next year he garnered excellent reviews in "Bad Boys" (1983), a tough urban melodrama about life inside a juvenile prison, following it up with the charming WWII-era, coming-of-age film "Racing With the Moon" (1984), where he seemed equally at home in his first romantic lead opposite Elizabeth McGovern. The pair became romantically involved over the course of the film and were engaged for a short while before Penn met someone whose talent – or, at least her ability to market the talent she did have – matched his own. Madonna, who was at that time a fringy New York club talent who had not yet taken over the pop music landscape, met Penn and was instantly smitten with the actor who was already gaining a cocksure reputation off-screen. In 1985, Penn gave an outstanding performance in "The Falcon and the Snowman" (1985), a fact-based drama where he portrayed an erratic, small-time drug dealer who gets in way over his head when his greed leads him to become a spy for the KGB. During the year, the career of limelight-loving girlfriend Madonna began to take off, creating a rift between she and Penn, who was notoriously private and uninterested in "movie star" attention. Their summer 1985 wedding was a nightmarish circus of paparazzi and helicopters that interfered with the lovers' ability to even hear each other's vows as they circled above the Malibu Cliffside. It was a bad omen of things to come.
In the 1986 film "At Close Range," Penn was in top form as the unloved son of a rural career criminal. The actor held his own opposite the scenery-chewing Christopher Walken and worked alongside mother Eileen Ryan (as his onscreen grandmother) and brother Chris while his wife sang the hit "Live to Tell" on the film's soundtrack. Penn and Madonna co-starred in perhaps the worst film of Penn's career, "Shanghai Surprise" (1986), a dull adventure set in 1937 China. While filming "Colors" (1988), where Penn co-starred as a cocky young cop opposite police force veteran Robert Duvall, Penn was arrested for assaulting an extra who was attempting to take his picture and spent 30 days in a Los Angeles jail after removing his prop uniform. The media had long painted Penn as a "bad boy," mainly due to his disinterest in playing the Hollywood fame game, refusing to promote his films, as well as his tendency to come off as arrogant in interviews. It was no surprise then that his detractors got a lot of mileage from the violent outburst and subsequent arrest. However, "Colors" – a solid police drama set in the gangland of Los Angeles and directed by reformed bad boy Dennis Hopper – did quite well at the box office and marked one of Penn's more commercially accessible outings.
Penn's ill-fated marriage to the ever-evolving Madonna ended in 1989. It was no surprise then that the actor retreated from the weary spotlight to the comfort of friendships with writer Charles Bukowski, Dennis Hopper and other Hollywood oddballs with whom he shared a creative and intellectual sensibility. He collaborated with playwright David Rabe on the Los Angeles stage production of "Hurlyburly" and offered one of his strongest screen performances as a possibly psychotic American officer who instigates the rape and murder of a Vietnamese girl in Brian De Palma's "Casualties of War" (1989), which was scripted by Rabe. "State of Grace" (1990), Penn's last acting appearance for three years, cast him as an undercover cop who infiltrates his old Irish mob. The film paired him for the first time with future wife Robin Wright, whose artistic sensibilities mirrored his own, making for an intensely talented if volatile couple in the years to come. It was around this time that Penn grandly announced he was retiring from acting to concentrate on writing and directing, making an impressive indie film debut with "The Indian Runner" (1991), a moving character study featuring David Morse and Viggo Mortensen as two brothers on opposite sides of the law. Say what they would about Penn's offscreen mystique, critics were aware that he had enormous promise as a director and storyteller.
The need to finance another of his own movies prompted Penn to return to the screen in 1993, giving a harrowing, Golden Globe-nominated supporting performance as a coke-crazed criminal lawyer in Brian De Palma's "Carlito's Way" (1993) which proved well worth the wait. With salary in hand, Penn turned his attention to his second writer-director effort, "The Crossing Guard" (1995), featuring one of Jack Nicholson's best performances in years as a man destroyed by the death of his young daughter at the hands of a drunk driver (David Morse). Later that year, Penn delivered arguably one of his own best performances as a Louisiana death row inmate counseled by a nun (Susan Sarandon) in Tim Robbins' bleak but balanced examination of capital punishment, "Dead Man Walking" (1995). The actor who was commonly referred to as one of the best actors of his generation was lavished with official praise, including nominations from the Golden Globe Awards, the Screen Actors Guild, an Independent Spirit Award win, and an Academy Award nomination, though Mr. anti-Hollywood was conspicuously absent from the event.
Wright and Penn separated in 1995 and in typical tumultuous fashion, decided to marry in the spring of 1996. Penn remained busy, copping the Best Actor Prize at that year's Cannes Film Festival for his turn as a mentally unstable loser who seeks out his former wife after 10 years in Nick Cassavetes' "She's So Lovely" (1997), which co-starred Wright. Penn, who also served as executive producer, delivered an emotionally pure portrait of a man tortured by love and followed this up with David Fincher's psychological thriller "The Game" (1997), co-starring Michael Douglas. Penn directed his parents in a Los Angeles stage production of Irish playwright Graham Reid's "Remembrance" and returned to the screen to play a drifter whose paranoia increases when he becomes stranded in a desert town in Oliver Stone's "U-Turn" (1997). Penn's open criticism of Stone's talent raised eyebrows, but when he vocalized his desire to work with famously infrequent film director Terrence Malick, the director responded by giving Penn a headlining role in his adaptation of "The Thin Red Line" (1998). Opening at the same time as Malick's WWII saga was the film version of Rabe's "Hurlyburly," an ensemble piece dominated by Penn's powerhouse performance as a Hollywood agent permanently wired on coke and weed. He won an Independent Spirit Award for Best Lead Actor for this lesser-seen effort.
Despite rumblings from the set that Penn did not want to be there, the actor gave a winning performance as the brash, mostly unlikable jazz guitarist at the center of Woody Allen's Depression-set comedy, "Sweet and Lowdown" (1999), a role that garnered his second Academy Award nomination as Best Actor and marked his second no-show at the festivities. Finally setting aside pronouncements that he was going to retire from acting at any moment, Penn remained active before the cameras with roles in Phillip Haas' adaptation of Somerset Maugham's "Up in the Villa" (2000), Julian Schnabel's art-house rendering of Cuban p t and novelist Reinaldo Arenas' "Before Night Falls" (2000) and Kathryn Bigelow's "The Weight of Water" (2000). He returned to the director's chair with "The Pledge" (2001), a thriller starring Jack Nicholson that earned respectful reviews. Later that year, Penn garnered a third Best Actor Academy Award nomination for his work as a mentally-challenged man seeking custody of his young daughter (Dakota Fanning) in "I Am Sam," a surprisingly treacly and audience-pandering effort from the generally edgy Penn.
Lest Penn's followers fear that this clichéd, heart-tugging melodrama signaled a shift towards mainstream Hollywood, the dyed-in-the-wool outsider reasserted his position by launching a series of political commentaries on the Bush administration and its threat to invade Iraq. He began by taking out costly full page ads – open letters, essentially – in The Washington Post and The New York Times which begged the president to "help save America before yours is a legacy of shame and horror." The eerily prescient statement was followed by the actor's visit to Iraq in December of 2002 and a publishing of his journalistic observations in his local newspaper, The San Francisco Chronicle. In the meantime, Penn returned to his ferocious onscreen territory at the invitation of Clint Eastwood, who directed Penn in the Boston-set crime drama "Mystic River" (2003), where he played a man consumed with rage over his daughter's murder and enlists childhood friends (Kevin Bacon and Tim Robbins) in the homicide investigation. Penn's trademark intensity was finally recognized with wins from the Golden Globes as well as the Academy Awards, though his first visit to the Oscars was not without feather-ruffling drama, as Penn's defense of Jude Law (following a criticism in jest by host Chris Rock) was picked up as further evidence of the actor's exhausting seriousness.
Penn delivered yet another virtuosic big screen turn in "21 Grams" (2003), where he played a dying professor who receives a heart transplant that consumes him with guilt. That role also resulted in a flurry of nominations and wins on the festival circuit and accolades from many film critics. Penn topped himself yet again with "The Assassination of Richard Nixon" (2004), in which he played an emotionally and socially disconnected furniture salesman whose tenuous grip on sanity slips away when he plots to highjack an airliner and crash it into the Nixon White House. In 2005, Penn made a journalistic visit to Iran and again reported on his layman's observations for The Chronicle, and followed with a guest speaker spot at the "Out of Iraq Forum" hosted by the Progressive Democrats of America. That same year, the passionate activist was on the scene in a drowned New Orleans after the decimation of the region by Hurricane Katrina, rescuing people and pets by boat faster than the National Guard had managed, openly expressing his disgust at the slow national response later in interviews. Further demonstrating his growing interest in politics, Penn took a starring role in the Sydney Pollack-directed thriller "The Interpreter" (2005), playing a federal agent assigned to protect a U.N. translator (Nicole Kidman). That international blockbuster trounced the remake of "All the King's Men" (2006), a plodding fictionalized chronicle of Louisiana governor Huey P. Long starring Penn and based on Robert Penn Warren's Pulitzer Prize novel.
After weathering some backlash for a journey to Venezuela to meet with controversial president Hugo Chavez – to say nothing of dealing with the unexpected death in January 2006 of younger brother, Chris at age 40 from cardiomyopathy, or an enlarged heart, Penn unveiled "Into the Wild" (2007), his fourth feature directorial effort and among the top-grossing of his independent film offerings. Penn adapted the screenplay from Jon Krakauer's fact-based book about an idealistic college graduate (Emile Hirsch) who drifts around the country in search of an authentic, free lifestyle, finally settling in the wilds of Alaska. Penn was honored multiple times for his successful adaptation of the challenging story, which often relied on Hirsch's lone screen presence and no dialogue, and earned the director nominations from the Director's Guild of America and the Writer's Guild of America, in addition to multiple Best Director wins at several international film festivals. Following tabloid gossip over his divorce filing with Wright-Penn at the end of 2007 and subsequent withdrawal in the spring of 2008, Penn returned to screens in the title role of "Milk," Gus Van Sant's biopic about influential gay activist and San Francisco politician, Harvey Milk. Only weeks after its release, he received a Golden Globe nomination for Best Performance by an Actor in a Motion Picture, which was soon followed by a win at the 15th Annual Screen Actors Guild Awards. He would go on to win the Best Actor Oscar for his role in "Milk."
From there, Penn played former U.S. diplomat Joe Wilson, whose CIA agent wife, Valerie Plame (Naomi Watts), is outed for political reasons by George W. Bush's administration in Doug Liman's hailed political thriller "Fair Game" (2010). He went on to reunite with Terrence Malick for the reclusive director's existential drama, "The Tree of Life" (2011), where he played an adrift older man who reminisces about life with his father (Brad Pitt) in the 1960s. Later that year, he delivered another offbeat performance, this time playing a retired goth rocker who looks for his dead father's Auschwitz tormentor in Italian director Paolo Sorrentino's comic drama "This Must Be the Place" (2011). Of course, Penn did not go very long without being the subject of tabloid headlines. In 2010, after finalizing his divorce with Wright early that year, he caused an uproar in the British media for his remarks about colonialism directed at the United Kingdom over the ongoing dispute with the Falkland Islands. But Penn did display his humanitarian side by co-founding the J/P Haitian Relief Organization, which helped thousands of victims from the catastrophic earthquake in 2010 and led to his appointment as Haiti's Ambassador-at-Large in 2012, becoming the first non-Haitian to ever hold the post.
The above TCM overview can also be accessed online
here.