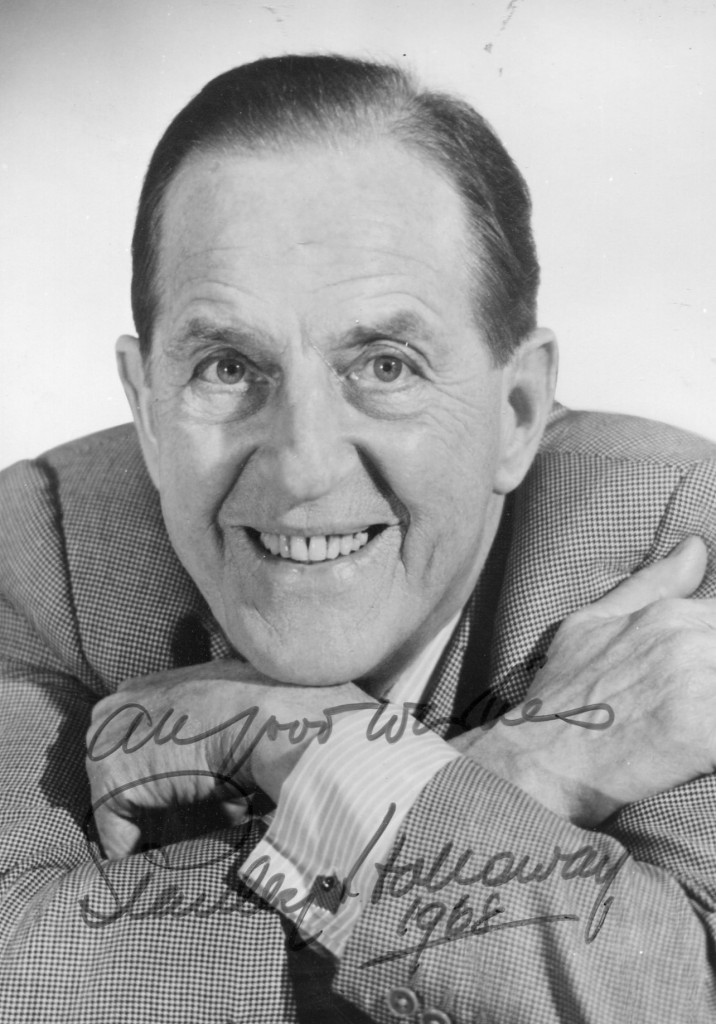 Stanley Holloway had a very long career both as a music hall entertainer and then a popular character in British films of the 1940's. In 1956 he had a major success on Broadway as 'Alfred Doolittle" in "My Fair Lady" and repeated his rle in the 1964 film.. His last movie was "Journey Into Fear" in 1976. He died in 1982 at the age of 92.
"New York Times" obituary:
Stanley Holloway, the actor who gained wide recognition for his portrayal of Eliza Doolittle's father in the original Broadway and London productions of "My Fair Lady," died today in the Nightingale nursing home in Littlehampton, Sussex. He was 91 years old.
Mr. Holloway, who established himself early as a song-and-dance man, comedian and actor, was once asked to look back over his life from his first job as an office boy in Billingsgate Market, where he learned the Cockney that served him well in "My Fair Lady," and choose a turning point.
"That must have been 1954," he said, "when absolutely out of the blue I was asked by the Royal Shakespeare Company to tour America with them, playing Bottom in 'A Midsummer Night's Dream.' From that American tour came the part of Alfred Doolittle in 'My Fair Lady' and from then on, well, just let's say I was able to pick and choose my parts and that was very pleasant at my age."
Mr. Holloway shared the stage in both the original Broadway and London productions with Rex Harrison and Julie Andrews. He also appeared in the film version. In Vaudeville in Teens
Born on Oct. 1, 1890, in London, the son of a law clerk, he had a typically strict Victorian education and was delighted when his school shut down when he was 12 and he was able to go to work in the fish market.
By 14 he was soloist in a choir and, still in his teens, in vaudeville entertainments at seaside resorts. His ambition then was to sing in opera, and he saved all the money he could to that end. By 1913 he had enough in the bank to take lessons in Milan, Italy, but after a few months the outbreak of World War I sent him back to Britain, where he enlisted as a private in the infantry. At the end of the war, he was a lieutenant. f In 1920, Mr. Holloway and nine other young performers wrote and played in a revue, "The Co-Optimists." It ran for six years. Mr. Holloway began in films in 1921 and was a featured player in the British comedies "The Lavender Hill Mob," "Passport to Pimlico" and "The Titfield Thunderbolt."
But after World War II, he was also offered more serious roles, such as first gravedigger in "Hamlet" – a role he repeated in the 1948 film with Laurence Olivier. Played Bottom at the Met
His appearance as Bottom at the Metropolitan Opera House in 1954 was his New York debut. His next appearance on the New York stage, at the Mark Hellinger Theater on March 15, 1956, came as Alfred Doolittle. a role for which he won critical acclaim.
He left the American production the following year to open with the other principals in the London production at the Drury Lane Theater April 30, 1958.
Mr. Holloway was involved in all aspects of his craft. He first performed on television in the 1930's when it was still experimental, and in 1960, he played Poo-Bah in "The Miikado" for NBC-TV, a program in which Groucho Marx also starred.
His own ABC-TV series, "Our Man Higgins," in which he played an English butler, had its premiere in October 1962 to good reviews for the star and criticism for the scripts.
In recent years he made guest appearances only, although he appeared in a television film, "Dr. Jekyll and Mr. Hyde," in 1973 and contended he was always ready for work.
One of his last assignments on a stage was at the Royal Command Performance of 1980 in which as the oldest member of the company – he had celebrated his 90th birthday a few weeks earlier -he introduced the youngest, a ventriloquist. He was still in good health for his years then.
The above "New York Times" obituary can also be accessed online here.