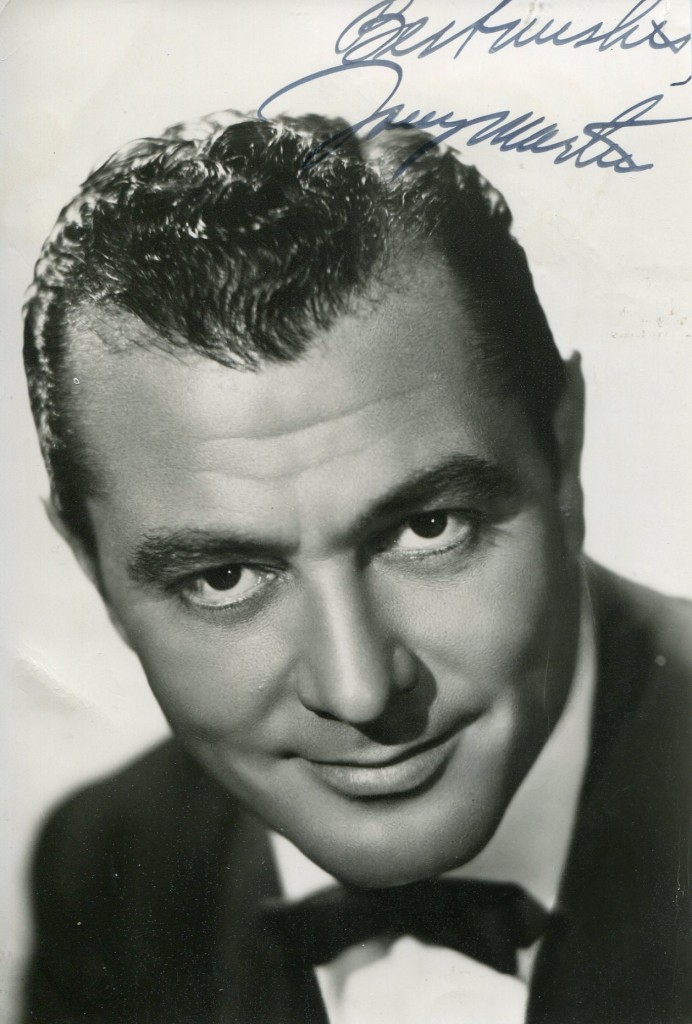 Tony Martin had a long career as a singer in the U.S. In the 1940's and 50's he also had success in Hollywood movies. He was born in 1913 in San Francisco and lived until he was 98. He was long married to Cyd Charisse. He died in 2012.
His "Guardian" obituary by Ronald Bergan:
The American entertainer Tony Martin, who has died aged 98, was once described as a singing tuxedo. Although he was rather a stiff actor, he was handsome and charming, with a winning, dimpled smile. What mattered most, however, was his mellifluous baritone voice, which he used softly in ballads such as To Each His Own and I Get Ideas, and powerfully in Begin the Beguine and There's No Tomorrow, all hit records in the 1940s and 50s.
He was one of the top crooners of the period with Vic Damone, Andy Williams and Dick Haymes, all of them just below Bing Crosby and Frank Sinatra in esteem and popularity. According to Mel Tormé: "Tony Martin was technically the greatest singer of them all, as well as being the classiest guy around, both as an entertainer and a person."
He was born Al (Alvin) Morris in San Francisco into a Jewish family and brought up in Oakland. The young boy started singing at his mother's sewing club. He switched to the saxophone when his voice changed, and quickly mastered that instrument and the clarinet, organised a band and began playing professionally.
One night a Hollywood agent heard him singing on a radio show, saw that he had the good looks to match his voice, and promised to get him to Hollywood on condition he change his name. He took "Tony" from a gambler in a story in Liberty Magazine and "Martin" from the bandleader Freddy Martin. When his father heard of the name change, he shouted: "Tony's a name for a horse."
Martin's first film was the Fred Astaire-Ginger Rogers musical Follow the Fleet (1936), in which he had a bit part as a sailor. A contract followed with 20th Century-Fox, where he met his first wife, Alice Faye, soon to be the studio's leading musical star. Married in 1937 and divorced in 1940, they appeared in four films together, although Martin usually just had a number as a band vocalist. The first, Sing, Baby, Sing, brought him the Oscar-nominated number, When Did You Leave Heaven?, and in You Can't Have Everything (1937), Faye was the star, while Martin, eighth-billed, sang The Loveliness of You.
In his first starring role, he was billed as Anthony Martin in Sing and Be Happy (1937), little more than a vehicle for what Variety called, characteristically, his "socko vocalisthenics". He then played the romantic lead and straight man to the Ritz Brothers in Life Begins in College (later known as The Joy Parade, 1937) and Kentucky Moonshine (later Three Men and a Girl, 1938), and to Eddie Cantor in Ali Baba Goes To Town (1937). More satisfying to him was his co-starring with Rita Hayworth in Music in My Heart (1940), a modest Columbia musical.
Martin's most prestigious film was Ziegfeld Girl (1941) at MGM, in which he warbled You Stepped Out of a Dream to a statuesque Hedy Lamarr, and Caribbean Love Song. The Big Store (1941) is not considered the Marx Brothers' funniest movie but, for most critics, the comic high spot, albeit unintentionally, was Martin's heartfelt rendition of the bombasticTenement Symphony – "The sounds of the ghetto inspired the allegretto."
In the second world war, Martin served briefly in the navy then switched to the army amid rumours that he had tried to buy a navy commission. The rumours persisted after the war, even though he served bravely in the Pacific, and was decorated with a Bronze Star. After the war, Martin returned to Hollywood and Casbah (1948) in which he was miscast as Pépé le Moko, jewel thief in hiding, previously played by Jean Gabin and Charles Boyer, though he did make full use of the tuneful Leo Robin-Harold Arlen songs.
In Two Tickets to Broadway (1951), Martin bravely attempted the Prologue from Pagliacci, less ill-conceived than Sinatra's version of Mozart's La Ci Darèm La Mano in It Happened in Brooklyn a few years earlier. He was more at home as a smoothie romancing Esther Williams in Easy to Love (1953), in which he had the best number, That's What a Rainy Day Is For. Other songs he delivered with panache were Lover Come Back to Me, in Deep in My Heart (1954), and More Than You Know, in Hit The Deck (1955).
As the Hollywood musical declined, so did Martin's film career – his last musical was the British-made Let's Be Happy (1957), starring Vera-Ellen. He then began to concentrate on his cabaret shows around the US and abroad, sometimes appearing with his second wife, the leggy dancer Cyd Charisse, whom he married in 1948. They remained together for 60 years until her death in 2008. Martin reappeared on the big screen in 1982 in a German-made film, Dear Mr Wonderful, in which he genially took himself off as a Las Vegas nightclub singer. The voice had not changed much and the tuxedo still fitted him perfectly.
He is survived by Nico Charisse, his adopted son from Cyd Charisse's first marriage. Tony Martin Jr, his son by Charisse, died last year.
• Tony Martin (Alvin Morris), actor and singer; born 25 December 1913; died 27 July 2012
The "Guardian" obituary can also be accessed on-line
here.