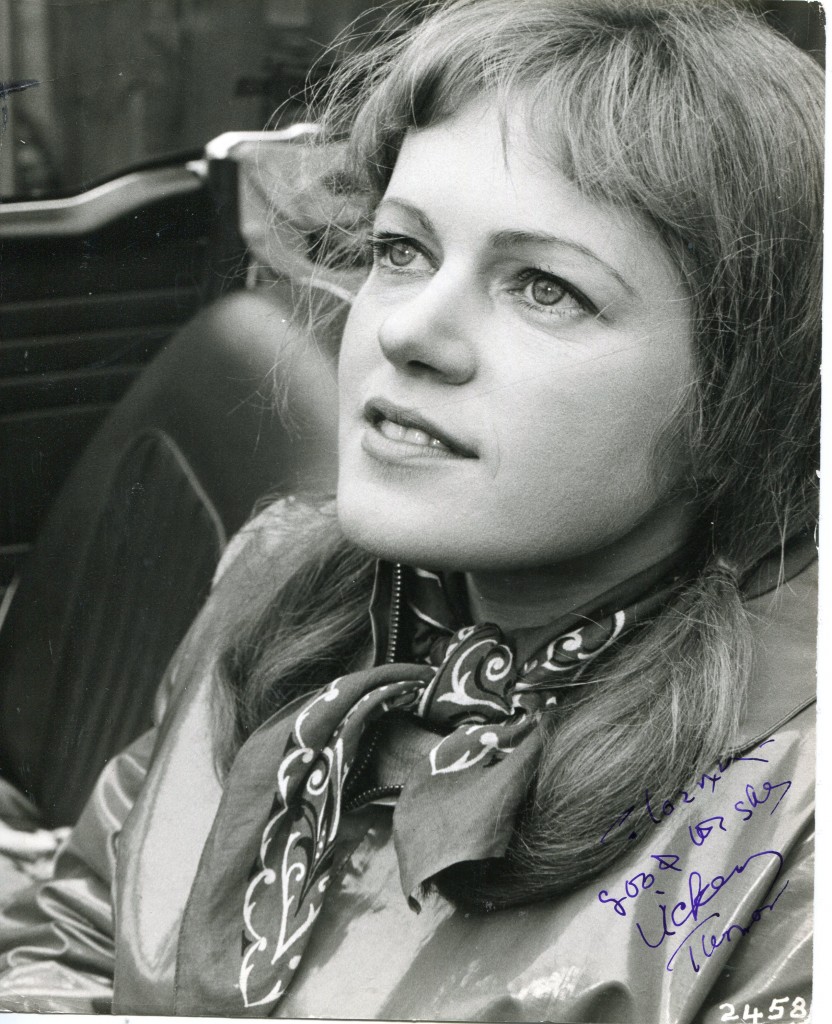 Vickery Turner was born in 1945 in Sunbury-on-Thames. Her breakthrough role came in the UK stage production of "The Prime of Miss Jean Brodie" which starred Vanessa Redgrave. While filming "Crooks and Coronets" with Edith Evans, she met and married the U.S. actor Warren Oates and went to live and work in the U.S. She was also a published novelist. She died in 2007.
"The Stage" obituary:
A distinguished stage and screen actress, Vickery Turner also enjoyed a successful career as a novelist and a celebrated screenwriter.Ê She created the role of the schoolgirl Sandy in the original stage production of Muriel Spark's The Prime of Miss Jean Brodie (Wyndham's 1966) for which she won the London Critics' Award and the Clarence Derwent Award. She was best known to television viewers for her role as Charlotte Bronte in Yorkshire Television's The Brontes of Haworth. Born in London on April 3, 1945, she was educated at Selhurst School for Girls and trained for the stage at RADA. After leaving she worked briefly as a journalist on a south London newspaper After her awarding-winning performance in The Prime of Miss Jean Brodie, she starred in Ken Loach's adaptation of Nell Dunn's gritty novel Up The Junction (1967). In 1968 she appeared opposite Edith Evans in the film comedy Prudence and the Pill. She went on to play Olivia in Twelfth Night (Royal Court) with Malcolm McDowell and played a leading role in the play Mr. Pim Passes By (Hampstead Theatre). She also appeared in many major television dramas including Dennis Potter's award-winning Stand Up, Nigel Barton (1965), Ibsen's Ghosts, with Tom Courtney (1968,) Hay Fever, with Ian McKellen (1968) and The Year of the Sex Olympics (1968) with Brian Cox. Later, notable stage roles included appearing opposite Richard Chamberlain in Jonathan Miller's production of Richard II at the Ahmanson Theater, Los Angeles and she played Celimene in The Misanthrope (Oxford Playhouse). She also starred in The Day After the Fair, which toured the USA.
In 1981 she starred in the Granada Television production of The Good Soldier. Turner wrote many widely acclaimed television and film scripts. Her first, Keep on Running, appeared as part of the BBC's Thirty-Minute Theatre series. Other credits included Magnolia Summer, Kippers and Curtains and The Children's Teeth Are Set on Edge, which dealt with drug addicts on the streets of London. She also wrote the screenplay for A Lady's Life in the Rocky Mountains, based on the letters of Isabella Bird, an English woman who rode through the Colorado mountains in 1873. Recently she adapted her novel The Testimony of Daniel Pagels for the screen. Her other novels included Lovers of Africa, Delicate Matters and Lost Heir. She died at her home is Los Angeles on April 4, 2006. She is survived by her husband, Michael J Shannon and her daughter, Caitlin.
Patrick Newley
The above "Stage" obituary can also be accessed online here.