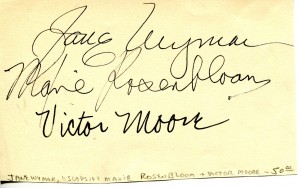 IMDB entry:
Moore and his first wife were a vaudeville team for several decades before her death. Moore did not announce his marriage to Shirley Paige until they had been married for a year and a half. At the time of the announcement he was 67 and she was 22.
Moore, or his family, was into buying real estate. A building in the Jackson Heights section of Queens is named after him. The Victor Moore Arcade is bounded by Roosevelt Ave., Broadway (Queens' Broadway) and 75th St. It houses stores, offices, a bus terminal and two entrances to a subway station. The Victor Moore Arcade was actually seen in a movie. 
Henry Fonda
 exits from the subway at this building at the start of 
Alfred Hitchcock
's 
The Wrong Man
 (1956).
Children: Victor Jr. (c. 1910), Ora (c. 1919) and Robert (c. 1921)
There is a rarely shown sound film in existence that shows Moore as Vice President Throttlebottom in a dialogue scene from "Of Thee I Sing" (the scene in which Throttlebottom is lost in the White House and gets mixed up with a group touring the building). It was part of an 
Edward R. Murrow
See It Now
 (1951) program on the Vice Presidency, and not, as is assumed by some, part of a film version of "Of Thee I Sing". "Of Thee I Sing" has never been filmed theatrically, although there is a videotaped 1972 television production of the musical.His last film was 
The Seven Year Itch
 (1955).
His first part was a non-speaking role in an 1893 Boston Theatre production of "Babes in the Woods". He subsequently appeared on Broadway and in vaudeville (1913-15). Came to Los Angeles for an appendectomy in 1915, and decided to stay and try his luck in the movies. He initially appeared in 5-reel features for Jesse L. Lasky, then starred in his own series of one-reel situation comedies for Paramount, 1916-17. Resumed stage work in 1918 with only occasional forays to the screen until the mid-30's.
The above IMDB entry can also be accessed online
here.