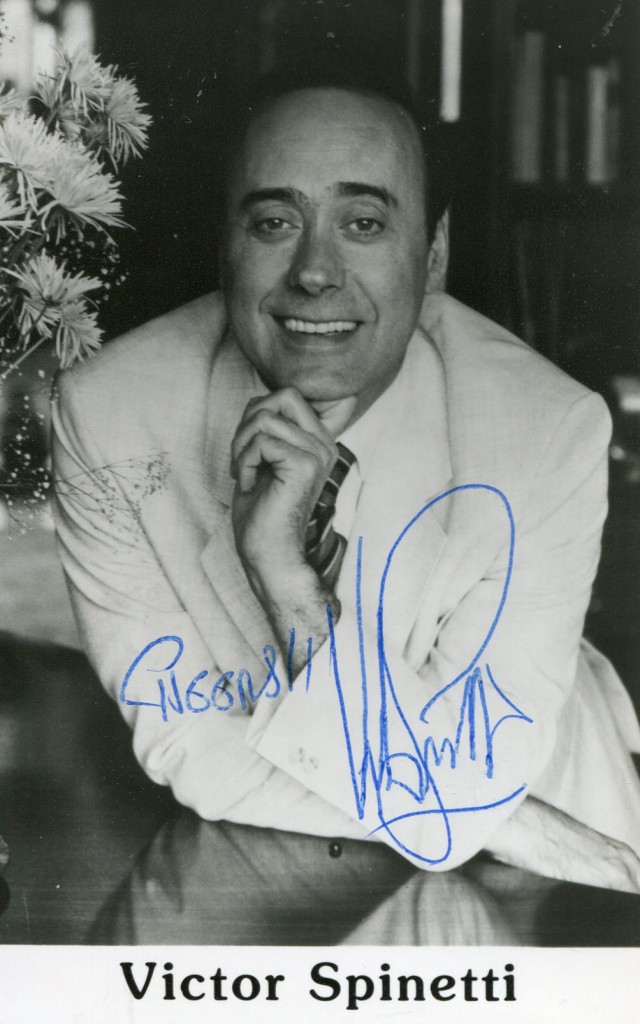 His 2012 "Guardian" obituary by Michael Coveney:
Victor Spinetti, who has died of cancer aged 82, was an outrageously talented Welsh actor and raconteur who made his name with Joan Littlewood's Theatre Workshop and found fame and fortune as a friend and colleague of the Beatles, appearing in three of their five films, and with Richard Burton and Elizabeth Taylor in Franco Zeffirelli's The Taming of the Shrew (1967).
It was while he was giving his brilliantly articulated and hilarious "turn" as the gobbledegook-shouting drill sergeant in Oh, What a Lovely War! in the West End in 1963 – he won a Tony for the performance when the show went to Broadway – that the Beatles visited him backstage and invited him to appear in A Hard Day's Night (1964).
George Harrison later said that his mother would refuse to go and see the group's films unless Spinetti was in them. These, and other tales of the stars, would be recounted by Spinetti himself in his one-man shows, and in the wonderful autobiography he wrote, Up Front (2006), with the help of another Littlewood associate, Peter Rankin.
"The people I miss most are all in the show," Spinetti told me over lunch four years ago, "so I don't miss them at all, really. It's like a seance, and there they all are, Noël and Marlene, Frank, Joan and Tennessee. Tenn came to see me in a play that was a disaster. 'Victor,' he said, 'I'll see you in anything. But don't be in this again.'"
Spinetti was the eldest of six children, born in the mining village of Cwm in the Ebbw Vale. His father, Giuseppe, who ran a fish and chip shop, was interned on the Isle of Man when the second world war broke out. Spinetti was educated at Monmouth school, then became embroiled in amateur dramatics and was discharged from his national service, and a TB ward, in 1948 with a pleural effusion. He then attended the Cardiff School of Music and Drama where he met his partner, the actor Graham Curnow (who died in 1997). They shared a house, and an openly non-monogamous life, thereafter.
Spinetti's grounding in show business was both louche and demanding: a Welsh concert party, revues, variety theatres, US air force bases and hotel functions. He made his London debut in Expresso Bongo (1958) by Wolf Mankowitz and Julian More at the Saville theatre. Paul Scofield was the star in this satire on the entertainment industry, but a multitasking Spinetti made a comic mark as a Fleet Street editor, a parson, a psychiatrist and a head waiter.
He was more than ready for the swinging 60s, living a champagne lifestyle and dressing colourfully, even when he could not pay all the bills. And if that happened, he told me, he "spanked old gentlemen for money" so he could buy Christmas presents. "My dear old mother told me that, if she'd known at the time, she would have come along and given me a hand!"
Littlewood snapped him up at Stratford East, where his association, in a great company including Barbara Windsor, Harry H Corbett, Avis Bunnage, George A Cooper and Murray Melvin, stretched from 1959 to 1965. This was a golden age in British theatre, running in parallel with first stirrings at the Royal Shakespeare Company and the National theatre.
He appeared as Brain-Worm in Ben Jonson's Every Man in His Humour, as an IRA officer in Brendan Behan's The Hostage (which he also played in New York), and as Tosh in Frank Norman and Lionel Bart's Fings Ain't Wot They Used T'Be with Windsor before Lovely War took him back into the West End.
After his New York success and the first two Beatles films – Richard Lester's Help! followed A Hard Day's Night in 1965 – he played opposite Jack Klugman in Neil Simon's The Odd Couple at the Queen's in 1966 and then accepted an invitation from the critic Kenneth Tynan to co-write and direct John Lennon's zany, poetic In His Own Write at the National (then based at the Old Vic) in 1968.
His career after this phenomenal start was erratic. He clocked up more than 30 films, including the third Beatles collaboration, Magical Mystery Tour (1967) for television, and Andrew Sinclair's Under Milk Wood (1972) with the Burtons again, as well as Peter O'Toole, Siân Phillips and Vivien Merchant.
Spinetti was always in work but there was not much focus to it. He started directing musicals in the 1970s, taking charge of Hair in Amsterdam and Rome, and Jesus Christ Superstar in Paris. In 1980 he directed The Biograph Girl, a mediocre musical about the silent movie era at the Phoenix theatre, London, and shortly afterwards launched his one-man show of tart and funny reminiscences, A Very Private Diary, at the Edinburgh festival, but only on the fringe.
A season with the RSC at Stratford-upon-Avon in 1995 was not a happy experience ("we were called by page numbers and I didn't know the names of the people I was on stage with") but he delivered superb performances as Lord Foppington in John Vanbrugh's The Relapse and as a composite of cardinals opposite David Troughton's four-square Richard III.
Later film work included a nice cameo in Peter Medak's The Krays (1990). On television he played in an early sitcom opposite Sid James, Two in Clover, but became even better known as a Mexican snack thief in adverts for McVitie's Jaffa cakes. In the 1980s he was the voice of Texas Pete in the children's series SuperTed, and 10 years ago played the "man of a thousand faces" in the popular children's show Harry and the Wrinklies.
His last on-screen appearance was in a recent DVD of an independent film, Seth Swirsky's Beatles Stories, issued to celebrate the 50th anniversary of the Beatles' first recording session at Abbey Road. And on stage he last garnered acclaim as Einstein in Albert's Boy at the Finborough theatre in Earl's Court in 2005. There he was, taking an audience by surprise right to the end.
• Vittorio (Victor) Giorgio Andrea Spinetti, actor, born 2 September 1929; died 18 June 2012
• This article was amended on 22 June 2012. The original described Expresso Bongo as a satire on the newspaper industry.
The above "Guardian" obituary can also be accessed online here.